Last Updated: January 14, 2020
Part of what drives people to workout at home is to escape the noise of a commercial gym, full of people chatting, answering phone calls, screaming while lifting weights, and the more normal sounds of exercising. Rather than try and work out in this environment, it makes sense to want to do your running at home.
As most runners have experienced, there is a peaceful, almost meditative state that can be achieved while running. But if you choose a home treadmill that clanks or is loud, it can be tough to release your stress enough to reach that happy running place.
Also, if you have a noisy treadmill, it is almost guaranteed that your workouts will disturb other family members. Plenty of our readers are parents who are looking for ways to exercise at home so that they don't have to find childcare for their young children and don't want to disrupt naptime. Well, Treadmill Guru is here to tell you that it is entirely possible to find a quiet treadmill.
While there are hundreds—if not thousands—of treadmills available, we have sorted through these treadmills and have a list of six of 2020's best, quietest treadmills for you to choose from.

Top Quiet Treadmills Include:
Quiet Treadmills – Our Top Recommendations

Out of all the treadmills we considered, the NordicTrack Commercial 2950 treadmill was the quietest treadmill, snagging the number one spot. This treadmill is one of the top NordicTrack treadmills from that impressive manufacturer, and it is stuffed with excellent features, many of which contribute to the quietness of this treadmill.
One of the standout features of the NordicTrack 2950, is the 4.25 CHP DurX Commercial Plus motor. While the general rule of thumb is that the larger the motor, the noisier, that rule does not apply to the Commercial 2950.
The motor runs smoothly and with minimal noise, putting out a gentle humming sound that wouldn't disturb a sleeping baby. It's likely that your feet making contact with the deck as you workout will be louder than this treadmill.
Even if you tend to stomp as you exercise on other treadmills, you will enjoy how the NordicTrack Commercial 2950 cushions you. The deck of this treadmill comes with the NordicTrack-patented Runners Flex cushioning. With this cushioning, you can control how soft you want the treadmill to feel or how rigid the deck should be. This feature assists in making this treadmill quieter than others and far more comfortable even during intense workouts.
This top-of-the-line treadmill is also packed with other exciting features such as its enormous 22" high-definition touchscreen, and incline range of -3% to 15%, is able to be easily folded up and unfolded and has 40 built-in workouts. Along with the built-in workouts, you can access iFit Coach for even more workouts. The NordicTrack Commercial 2950 provides all this and much more.
Also, you navigate around the Commercial 2950 console, you will hear beeps when you change speeds, inclines, programs, and other input responses. It is easy to make these beeps quieter by using the two volume controls that are right below the console. That way, you aren't annoyed with loud beeps every time you select a program or other things.
Pros
The NordicTrack Commercial 2950 come with adjustable cushioning.
You can choose from 40 different workouts.
A powerful motor comes with the Commercial 2950 treadmill.
High-definition, 22-inch touchscreen display is included.
Wide treadmill belt area that measures 22" wide by 60" long.
The Commercial 2950 can fold up easily and unfolds gently.
Free year of iFit Coach membership comes with the Commercial 2950 along with 40 built-in workout programs.
Generous incline range is available.
Cons
No USB ports available.
The fans have recently been removed from this treadmill.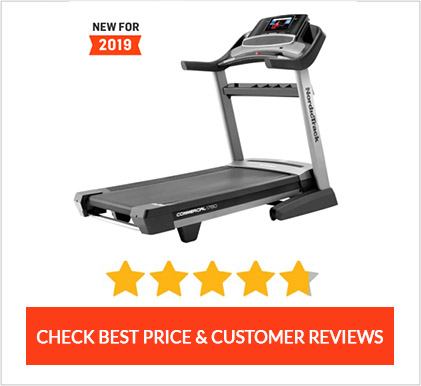 Almost $1,000 less than the Commercial 2950, the NordicTrack Commercial 1750 treadmill is the next on our list of the best quiet treadmills of 2020. This treadmill is also part of the NordicTrack Commercial series, helping to lend that higher build quality to this treadmill.
You see, the more plastic parts and thinner metal that is used during the construction of a treadmill, the most noise it will generally make. That's why with the Commercial 1750, you have a much quieter treadmill. This treadmill is built with quality materials, from the heavy-duty steel frame to the thicker plastic that doesn't vibrate and carry sound the way that other treadmills would.
Even at the highest speeds that the NordicTrack 1750 treadmill can reach—ranging from 0.5 to 12 MPH—this treadmill won't bother the neighbors or family members who are in the next room over. The Commercial 1750 also comes with Runners Flex cushioning, which assists in dampening sounds while protecting your joints from injuries due to the motions of walking and running.
The motor in the NordicTrack Commercial 1750 is both powerful and quiet when operating. This commercial 3.75 CHP motor will power you through your workouts, whether you choose one of the 50 onboard workout programs or choose to use iFit Coach, which you can use free for a whole year after activating your treadmill.
Also, as you shift between program, use the speed and incline buttons, and select things on the touchscreen, you are giving an audible beep to help notify you that the Commercial 1750 has received input from you. You can adjust the volume level from louder to quieter on the console to ensure it isn't too loud.
Pros
Provides a wide variety of features for its price.
50 exercise programs are built into the Commercial 1750.
iFit Coach free year membership comes with this treadmill.
The strong motor provides smooth workouts for users of all fitness levels.
Can support a user who weighs up to 300 lbs.
NordicTrack Commercial 1750 comes with a 10" HD touchscreen that is water- and sweat-resistant.
Adjust the cushioning to your preferred level.
The speed range on the NordicTrack Commercial 1750 is 0.5-12 MPH, and it is easy to switch speeds.
There is room to move on the 60" long by 22" wide treadmill belt.
Cons
Some of the recent upgrades have raised the price of the Commercial 1750.
There are fewer fans on this treadmill than expected.
No USB ports are available.

An excellent treadmill from ProForm, the ProForm SMART Pro 5000 is another one of our quiet best treadmills of 2020. When it comes to sound, features, and build quality, the SMART Pro 5000 and the NordicTrack Commercial 1750 treadmill are very similar. Which you prefer can mostly come down to a matter of personal preference, as they have so many similarities, down to their quiet running functionality.
As part of the SMART series, the Pro 5000 has received a number of quality upgrades for 2020. One of the upgrades which affect the noise level of this treadmill is the motor. In this treadmill, you can find a 3.75 CHP MachZ Commercial Pro motor.
The motor operates at a steady hum, allowing you to easily enjoy your entertainment, whether you are using the 3" Bluetooth speakers or an iFit Coach workout on the 10" touchscreen. These workouts are worth cranking up the volume, as the virtual personal trainers guide you through different exercises and help keep you motivated. However, you don't have to blast the volume to hear the training program, as the SMART Pro 5000 stays quiet even when you break into a sprint.
When on this treadmill, you can also control the sound that the controls make. To ensure that you have audible feedback when you select a new program, start or stop working out, change incline or speed, the Pro 5000 beeps. Turning down the volume of these beeps is easy. All you need to do is press the smaller volume button on the console.
Along with the quality build that helps to muffle sound, the SMART Pro 5000 comes with ProShox cushioning that cuts down on how much noise this treadmill makes. While the cushioning on this treadmill is not adjustable, the sturdy deck helps enormously to muffle the sound your feet makes as you workout. Also, thanks to the thickness of the deck and various components, there is nothing to vibrate and make irritating sounds.
Pros
SMART Pro 5000 comes with ProShox cushioning to reduce the impact on joints.
A ten-inch, high-definition touchscreen helps you navigate on the SMART Pro 5000.
Both decline and incline functionality comes with this machine.
Choose from 50 exercise programs onboard.
An excellent motor comes with the SMART Pro 5000 treadmill.
With the SMART Pro 5000, you can enjoy a free year of iFit Coach access.
Great warranty coverage included.
Bluetooth speakers provide sound clarity and easy connection.
Cons
Having the speed and incline controls right next to each other can lead to some confusion, especially during intense workouts.
There are only two speeds available on the fan settings.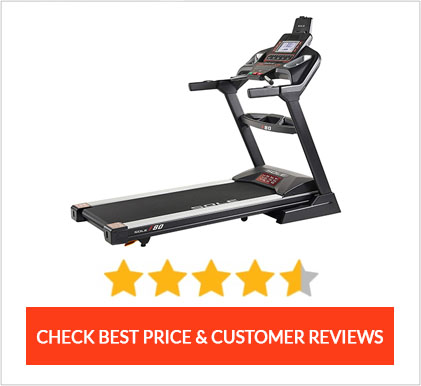 With the highest weight limit, the Sole F80 treadmill is already impressive in its ability to accommodate users who weigh up to 375 lbs. Users who are around this weight and lower can enjoy the fact that the durable F80 remains quiet even when operating under a high load.
A hallmark of Sole treadmills helps to reduce the sound produced by the F80. As Sole treadmills are welded together, there are fewer parts that need connecting with bolts. With fewer bolted sections, the F80 is able to stay quieter and not vibrate noisy bits of metal.
Along with the solid frame that comes with the Sole F80, you have a solid 3.5 CHP motor under the hood of this treadmill. While some of the budget Sole models can acquire a whine when ran at the higher speeds, the F80's powerful motor runs evenly without any annoying sounds to break into the even hum of the running motor.
With the rest of these sound-dampening treadmill features, the F80 also comes with Cushion Flex Whisper Deck cushioning built into it, bringing both quietness and cushioning to your home. While it is not as soft as a deck where you can adjust the cushioning, with the cushioning on the Sole F80, you can reduce the impact your body takes up to 40% according to Sole.
There is also no extra noise when you change speeds or inclines on the F80, which is great since you have an incline range of 0% to 15% and a speed range of 0.5 to 12 MPH. The console does beep when you press buttons to choose one of the 10 built-in programs or changing the speed or incline. You may want to turn down the volume on the buttons so that you don't get startled by a loud beep.
Pros
Chest strap included with F80 for heart rate monitoring.
A strong motor that operates quietly.
EasyAssist folding comes with the F80 to make it simpler to fold up this machine and save on space.
Has a wide treadmill belt of 22" in width and 60" in length.
The F80 has a top user weight of 375 lbs, far more generous than many treadmills.
Bluetooth speakers are built into the console of the F80.
Incline range goes from 0% to 15%.
The F80 has excellent warranty coverage.
Cons
Very heavy machine that can be tough to move.
Arm rails can be a bit on the short side.
Assembling the the F80 can be difficult.
For more about the Sole F80 treadmill, click here for our full review of the "
Sole F80 treadmill
."

New for 2020, the NordicTrack T 6.5 Si treadmill is one of the more affordable treadmills that made our list of quiet treadmills. This treadmill is lighter than the other treadmills we have recommended so far, but when it is assembled correctly, it runs quietly and smoothly.
Generally, you should hear nothing but your footsteps and the gentle hum of the motor when you workout on the NordicTrack T 6.5 Si. However, if you do hear any rattling or clicking, it is best that you tighten up the bolts on your treadmill.
As one of the more budget-friendly treadmills, this treadmill will take a little more regular maintenance that the commercial-grade treadmills. However, it is still a quality treadmill that will carry you through years of workouts, with the 2.6 CHP commercial motor powering your exercise. With the more compact motor, you can also enjoy the natural quietness this provides you with when you are trying to keep from bothering anyone.
To assist with lowering the sound level, the T 6.5 Si comes with FlexSelect cushioning. No matter whether you choose to make the cushioning soft or more rigid, these little shock absorbers will also act as sound absorbers, making your treadmill workouts far quieter than other treadmills could provide.
This treadmill also comes with a commercial tread belt that measures 20" wide by 55" long. The higher quality belt will both hold up better over time and help in preventing that annoying squeaky sound that cheap treadmills can acquire.
Pros
Affordable pricing for a quality machine.
Easy to use controls on the T 6.5 Si.
The T 6.5 Si has a quiet motor while you workout.
Choose how cushioned you want the treadmill deck.
Decent belt area available.
A lightweight treadmill that isn't difficult to move.
Can use EasyLift Assist to make folding and unfolding simple.
Free membership to iFit Coach training programs for a year.
Excellent, HD touchscreen built into the console of the T 6.5 Si.
Cons
No wireless chest strap included for accurate heart rate monitoring.
No built-in fan for cooling.

An entry-level treadmill that also operates quietly, the Horizon T202 treadmill is a great choice if you are on a budget but still want a quality treadmill. This treadmill is sturdy, which helps to reduce the sound the treadmill would make with vibrations when you workout. You may want to monthly tighten up the bolts on the T202 treadmill to ensure that they don't work loose to make a bunch of noise as you exercise.
Powering your workout, you have a 2.75 CHP motor that runs quietly. This compact motor is plenty strong enough to take you smoothly through the various incline levels on this treadmill, which range from 0% to 12%. You have a lot of variety when it comes to speed on the T202, as it can go from 0.5 to 12 MPH, all without making much noise.
This treadmill also comes with cushioning, which helps protect you and dampen noise. As with all Horizon treadmills, the T202 treadmill comes with 3-Zone Variable Response cushioning. With this cushioning, there are three different zones of cushioning that are designed to provide the right amount of cushioning and rigidity depending where in your stride you strike the deck.
Funny enough, the fan on the T202 can be a bit louder than the motor, especially if you are walking. However, the sound isn't enough to disturb anyone. And for when you aren't worried about your treadmill noise levels, you can make use of the Bluetooth speakers.
Also, as you make your choices on the Horizon T202, whether you are choosing one of the many exercise programs or using the one-touch keys to switch speeds or inclines, be sure to turn down the button volume. The default setting is pretty loud, but you can turn it down so that the sound doesn't bother you or anyone else.
Pros
Affordable pricing for a good quality machine.
The T202 has a decent motor that works well for walkers and joggers.
Has a max user weight of 325 lbs.
Can be easily folded up and moved since the T202 is a light treadmill.
Good warranty coverage comes with this machine.
There is a USB port available.
Bluetooth speakers provide easy connectivity and sound quality.
Cons
The Horizon T202 is not meant for serious runners and intense workouts.
The built-in fan is fairly weak.
Conclusion
As running and walking continues to be one of the most accessible forms of exercise, more and more people want to bring treadmills into their homes. However, not all treadmills are worth adding to your home gym, especially if they are too noisy for you to use without bothering both your own household and your neighbors.
This review of the Best Quietest Treadmills of 2020 was designed to help you cut through the confusion surrounding the countless treadmills that are currently available and help you make sure you have the right treadmill for your needs.
We have provided a short synopsis of the six quietest treadmills, and if you are interested in learning more about these individual treadmills, we highly encourage you to read the full review. That way, you can be sure your chosen treadmill has all the features you are looking for in your next piece of equipment so that you can feel happy with your decision.
Best Quiet Treadmills Review 2020 By Fitness Experts
NordicTrack Commercial 2950

NordicTrack Commercial 1750

ProForm SMART Pro 5000

Sole F80

NordicTrack T 6.5 Si

Horizon T202
Summary
Finding a quiet treadmill for your home doesn't have to be difficult when you rely on Treadmill Guru! With our extensive knowledge of treadmills and experience with a wide variety of treadmills, from ones that cost thousands to humble budget treadmills, Treadmill Guru has the insight into the world of treadmills that you need.
To ensure that you find the best, quietest treadmill that you can easily use at home, we have selected six treadmills. These treadmills come at a variety of price points and technology levels to help make sure that one of these treadmills will work for you and your lifestyle. That way, you don't have to spend the time and money on a treadmill that isn't right for you.
So, whenever you are looking for a new treadmill for your home, make sure that you come by Treadmill Guru to see what the best treadmills are and what you should be considering.