Disturbing noise is without a question a stress booster. When you are working under stress you cannot enjoy what you are doing and you might also experience headache. What else is obvious is that the noise will get your attention and you won't be able to focus on your training. When you aren't focused, you won't achieve the desired results in the end.
Except all of these, if your baby is in the same room with you the noise will also affect his/ her brain which according to some recent studies may lead to some serious diseases in the future. As a result, it won't pass much time until you will regret your decision of buying a particular treadmill.
Mostly this happens because there are a variety of treadmills available in the market and customers often get confused in choosing the right one. So in this article after reviewing more than 70+ treadmills our experts have listed the top 5 best treadmills that will provide you with a quiet workout experience. As working out in silence is very important in order to stay focused and motivated for achieving fitness goals.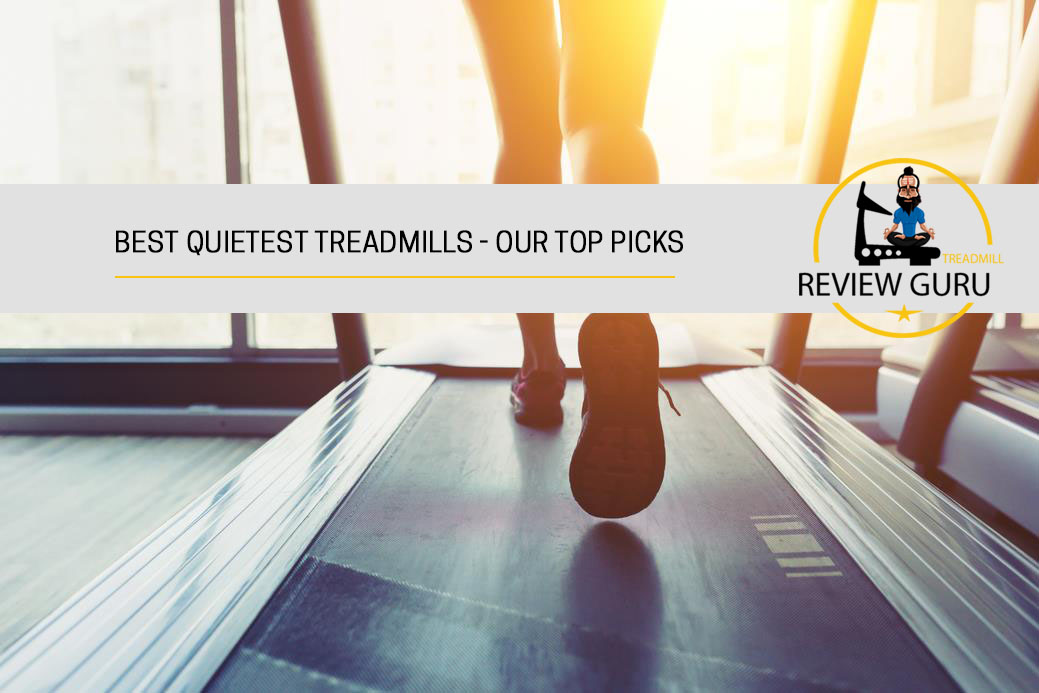 Top Quiet Treadmills Include:
Quiet Treadmills – Our Top Recommendations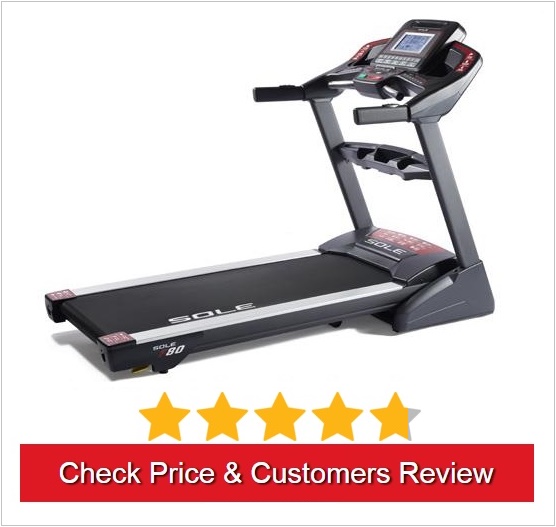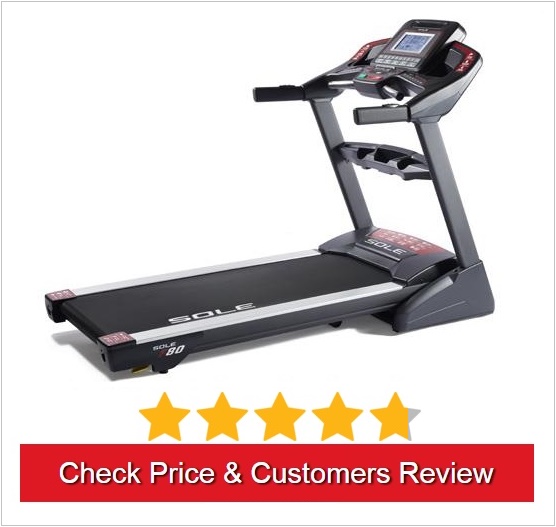 It is really worth spending the money on this purchase, as among all the treadmills, Sole F80 is the best by a mile. You will experience the best running with its silent and powerful 3.5 CHP continuous duty motor which will provide you with a top running speed of 12 mph and you can incline up to 15% for an intensive workout.
Obviously, this treadmill is created to give you a hard challenge, but something won't change you unless it challenges you. However, this doesn't mean that it will make you be dead on your feet. Considered as the best treadmill in its category, Sole F80 is designed to offer you comfort while working, it comes with a reversible deck which reduces the impact on joints by up to 40% as compared with outdoor training surfaces.
You just need to knuckle down and start walking, jogging or running on its two-ply track which is 22" wide and 60" long and is equipped with 2.75" rollers. Being a folding machine it is equipped with EasyAssist which makes folding process much easier. It has a 9" Backlit LCD Console with iPod/ MP3 compatible sound system, which lets you have a joyful experience during workout. With Bluetooth feature you can easily transfer your workout data to your smartphone or any other smart device to monitor your daily progress.
What would a treadmill be without its workout programs? Last but not least, Sole F80 has 10 present workout programs including six classic workout programs, two-heart rate workout programs and the last two programs can be customized by the user. And if you feel the need of getting any information for these workouts than the message board will be your solution. What else really matters in this treadmill is the fact that there can be saved two users profile to the console.
Whether you are a rookie or an expert, this product is an ideal choice. Based on the reviews, Sole F80 creators take many credits for their job. As per reviews from existing costumers they have really enjoyed the wide range of programs it offers, its advanced technology and most importantly its high-powered motor which works without creating any disturbance.
Its worth owning this product because of its multiple advantageous features and user-friendliness. To those who wish for a device which can offer the benefits of different types of workouts and yet be comfortable to use, this product is the best choice.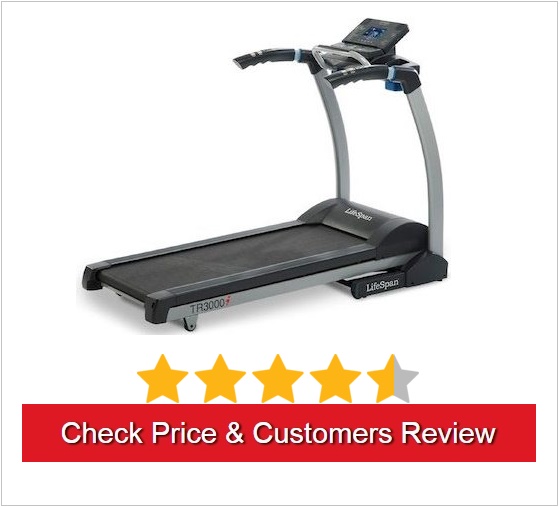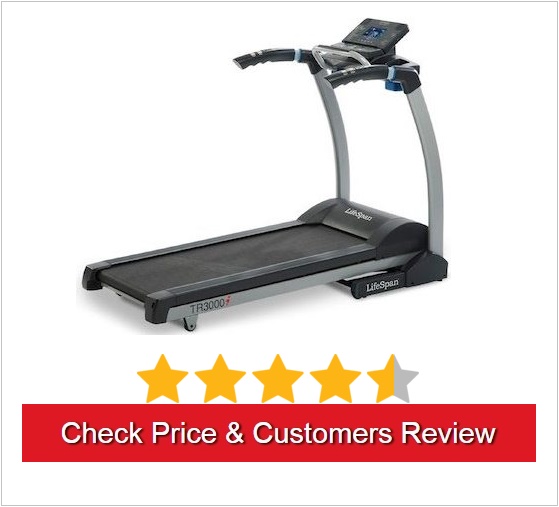 Public opinion has judged LifeSpan TR3000i as a quiet, durable, well-built and reliable treadmill, but in order to get to the bottom of it just keep on reading.
From time to time people like to go to the gym, but LifeSpan TR3000i is the reason why home can also be a perfect place for workout. It is designed to make people be taken aback by its perfection. Its 2.75 CHP heavy duty motor operates fast and quietly, and it will maintain the same rhythm for many years as it is associated with a lifetime warranty.
Being a newbie you can start warming up at 0.5 mph and if you are a professional runner, you can challenge your skills by speeding up to 12 mph and an incline range from 0 to 15% is provided for high intensity workout. Furthermore, what makes it one of the best treadmill at the moment is its technology. It comes with EZfold, Intelli-Guard, Intelli-Step and Intelli-Key technology.
It is a must to say that when it comes to the workout programs LifeSpan TR3000i deserves a thumbs up. It has a variety of programs designed to teach you a healthy living, make you lose weight, for sports training and also for monitoring your heart rate.
You can monitor your workout data on the blue backlit LCD display, but if you want to give a closer look to your daily workout progress you can transfer your data to your computer, laptop or smartphone for viewing in chart form by using the USB connectivity option provided. Its MP3/ iPod compatible sound system will make those training hours much more enjoyable. Moreover while listening to music you can feel the air fondle your skin, thanks to its three-speed fan.
If you really consider buying it then you should know more about its dimensions. The running belt is 20" wide and 56" long and the treadmill's dimensions are 71"L, 33" W and 56"H. When it comes to its dimensions after being folded the length goes to 42" whereas the width and the height stay the same.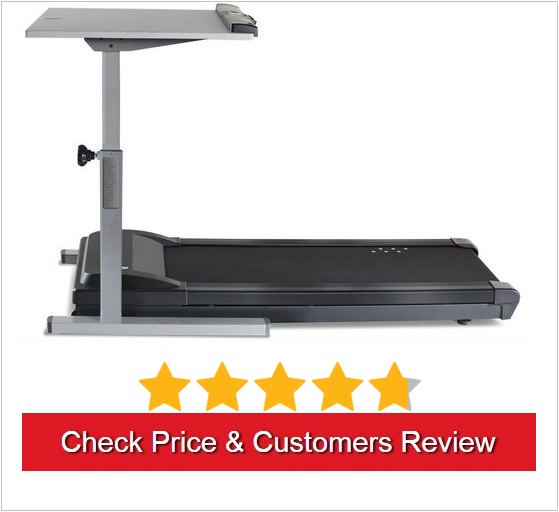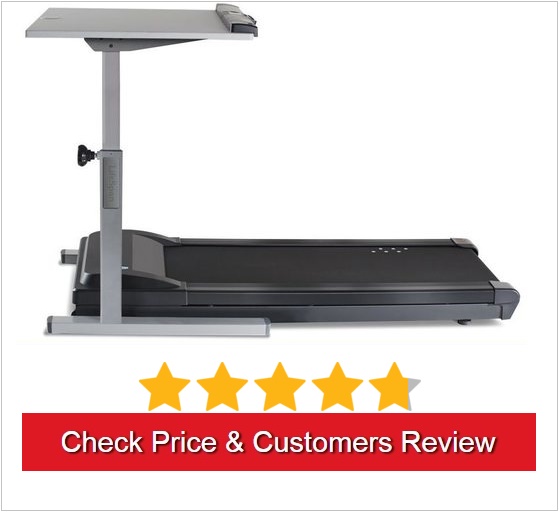 LifeSpan TR1200-DT5 Treadmill Desk comes with whisper quiet 2.25 HP continuous duty motor providing consumer with a speed range from 0.4 mph to 4 mph. This treadmill desk lets one exercise and work simultaneously in silence. Yes you heard it right, this treadmill desk by lifespan makes it possible for you to exercise and to work on your computer at the same time provided with the desktop area where you can keep your laptop/ tablet.
Moreover, the weight capacity of this treadmill is 350 lbs and there are 6 impact-absorbing compression shocks provided to make your training as much efficient as possible. It works quietly without creating any noise so that it doesn't affect office environment and coworkers' focus and provides stability of office productivity. Furthermore, its desktop has height adjustment range from 33.5" – 52.5" with integrated Armrest, making it an ideal treadmill for professionals/trainees from height 4'10" – 6'8″.
This treadmill desk comes with Bluetooth Integration, which lets you connect your smartphone with treadmill console through Active Trac app. This app lets you monitor your progress and gives the graphical output of steps, distance, calories and intensity. With this app, you can set your daily goals and monitor your workout progress.
LifeSpan TR1200-DT5 Treadmill Desk is also compatible with some top fitness applications such as Apple Health and Google Fit meaning you can actually connect your treadmill to these applications for more precise results and progress monitoring. Plus, the treadmill also has Facebook and Twitter Integration which lets you share your progress with your peers, friends and family.
Its the best choice for busy people who spend most of their time sitting in front of computer and live a sedentary life, which leads to many serious diseases as well as gives rise to back problems. With its exquisite look (4 desktop colors and 2 Frame colors), you can add more beauty to your home or your office matching the interior designing.
At the end, LifeSpan TR1200-DT5 Treadmill Desk has 2-front mounted transport wheels which allows you to move the treadmill around with great ease. The overall weight of the treadmill is approximately 174 lbs including the desktop. It comes with lifetime warranty on frame, 3-years warranty on motor, 2-years warranty on parts and 1-year warranty on labor.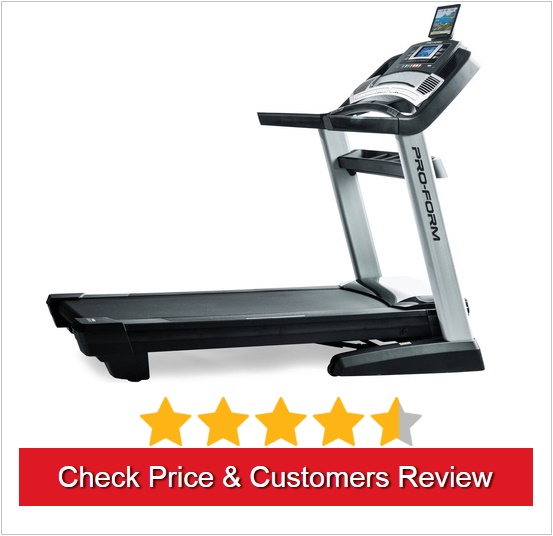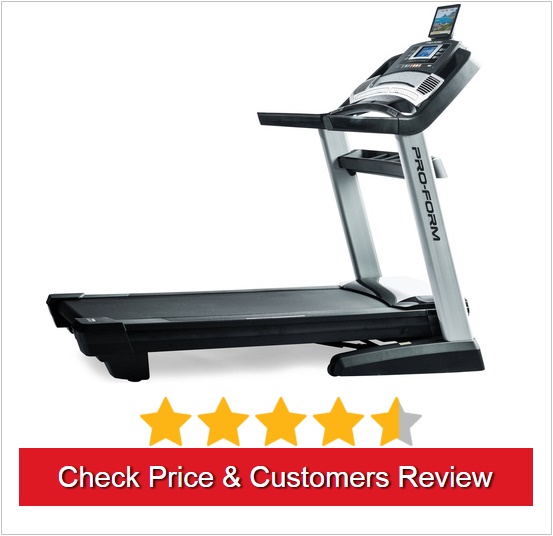 ProForm is a leading fitness company that has been producing fitness equipment for home use from more than 30 years. The ProForm Pro 2000 is a well engineered treadmill that brings you the opportunity of burning more calories and boosting cardio endurance to keep you stay healthy and be physically fit.
This treadmill comes at an unbelievable price with excellent and latest features that'll tend to your fitness goals. Pro 2000 is equipped with 3.5 CHP Mach Z™ commercial motor which works on quiet mode and comes with lifetime warranty. It provides consumer with a speed range from 0.5 to 12 mph with integrated Quick Speed® that lets you switch between speed ranges by a push of a single button. It can handle a whooping 300 lbs.
Its step-up height is 12" and tread-belt's dimensions are 22" W x 60" L. Moreover, it has a ProShox™ Cushioning System which consists of 4 patented shock absorbers to reduce impact on joints, ankles, hips, knees and feet while you're running, jogging or walking. The treadmill is also equipped with Premium Firm Grip™ to give you the kind of support that you need while working out.
Now, it's time to unravel the awesome integrated features that make this treadmill an ideal choice for beginners as well as professional runners. It has a console comprising of 7" black backlit LCD where you can easily monitor the progress of your heart-rate, distance covered, calories burned and speed. The most important feature which makes this treadmill standout among most of the other treadmills available in the market is iFit, it gives you the possibility to walk, jog or run in an indoor place and feel like you are actually somewhere outdoor.
Moreover, it has Inbuilt Entertainment System consisting of iPod/ MP3 compatible music port and (2) 3" digitally amplified long-throw speakers with digital volume control. Furthermore, it has Dual CoolAire fan to provide you with comfort and ease. From the console, you can change between 32 Built-in Workout programs designed for burning calories, incline training, speed goals and high intensity training speed to pursue your fitness goals. The console also contains storage for holding water bottles and integrated accessories tray where you can keep all your valuable items such as cellphone and keys safely at an arm's reach.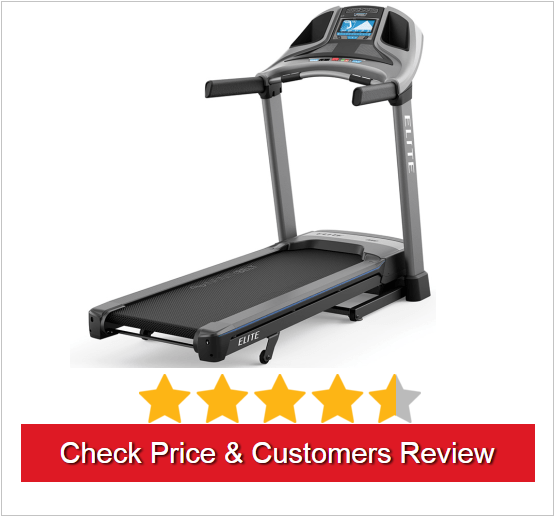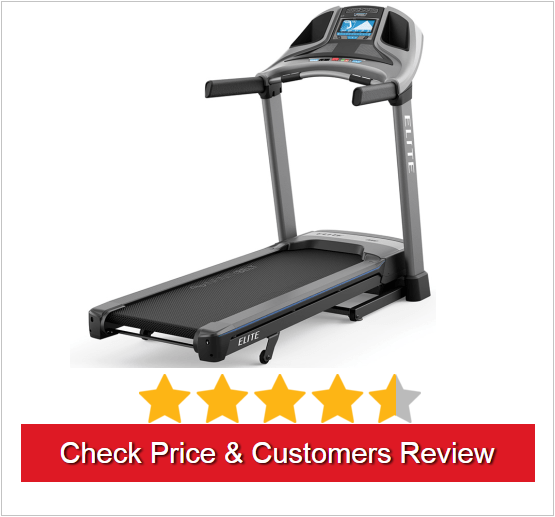 Horizon Fitness Elite T7, as the name suggests, is one of the elite treadmill ever introduced to the market. Its console comprises of 8.5" wide blue LCD to display your workout progress in terms of speed, calories burned, incline, distance covered and pulse rate. Not only that, Horizon Elite T7 also includes a free add-on polar wireless chest strap, which is the leading heart rate monitoring system through which you can monitor your heart rate accurately up to 99.9%.
The most valuable and entertaining feature of this treadmill is the Passport Video which lets you connect your treadmill to the TV screen over the Wi-Fi and the high-definition video lets you virtually experience beautiful scenery. How? Well, the passport videos are programmed with treadmill and they change according to your running, walking or jogging pace to provide you with a feel like you are actually running out in those places.
This ultimate running machine is equipped with 2.75 CHP silent motor having the speed range from 0.5 mph to 12 mph, enough speed for high intensity workouts. It offers incline range from 0 to 15% giving you the opportunity to enhance your metabolic rate and to build up the muscles.
Elite T7 comes with 42 Built-in workout programs. The 40 built-in programs are targeted specifically towards calorie burning, distance, interval, performance and step goals and the rest 2 programs can be customized by the user.  The best thing about this heavy duty machine is that it has an adequate entertainment system comprising of two large speakers and music port for iPod or any other MP3 Players. Other than that, it has two beverage holders and a fan to keep you cool while you are working out on the treadmill.
Moreover, you can also connect your smartphone to the treadmill through ViaFit which is horizon's new fitness web app for data tracking. Using which you can stream your fitness data, monitor your daily progress and pursue your fitness goals over the internet. This treadmill is also compatible with numerous other fitness applications available in the market. Further, it comes with a lifetime warranty on frame and motor, 5-Years warranty on parts and 1-year warranty on labor
Lastly, it is available in the market at a very reasonable price as compared to the features offered by the treadmill. The overall product weights around 227 lbs, you don't need to worry about its weight as it includes Bronze Delivery. Which means that they won't just leave this 227 pound machine outside; they'll bring it in to the first floor. It's worth if you are planning on using it upstairs.
Conclusion
Getting a treadmill for home or office is becoming a trend nowadays. But one should always remember that running is very important for physical health and so is calmness for the mental health. People often waver between one treadmill and another due to the lack of information available related to treadmills. But now you know what you are buying, this review was created with the aim of providing true information to save you from a rip-off situation and to help you in making the right decision according to your needs and budget range.
Best Quiet Treadmills Review 2019 By Fitness Experts
Sole Fitness F80 Folding Treadmill

LifeSpan TR3000i Treadmill

LifeSpan TR1200-DT5 Treadmill Desk

ProForm Pro 2000 Treadmill

Horizon Fitness Elite T7 Treadmill
Summary
Finding a quiet treadmill for your home or apartment is a tedious task!
In order to make this task of yours easier, in this article after reviewing 15+ brands and more than 70+ treadmills our fitness experts have listed the top 5 quietest treadmills that will provide you with a quiet workout experience. Our main aim is to help you make right decision in choosing perfect treadmill for yourself according to your needs and budget range, so that later you won't regret your decision of buying a particular treadmill!