*TreadmillReviewGuru helps consumers find the best home fitness products. When you buy a product we recommend, we may earn a commission.
Last Updated: May 8, 2023
Aviron's goal is to make working out fun for their users, and we have to say that they've nailed it with all of the features on the Aviron Rower. We are blown away by all of the content that is packed on the 22" touch screen. You can do everything from play video games, watch Netflix, take guided workouts, explore beautiful locations around the world, and even compete against professional athletes. I know I've missed a few of the features in there, but don't worry I'll get into everything you need to know about the Aviron Rower in this review below.
It's shockingly lightweight, yet feels incredibly stable. Aviron also offers the Tough Series Rower which is their premium model that's rated for commercial use, but for this review, we tested the more affordable Impact Series. All of our reviewers ranging from about 5' up to 6'5" fit on it comfortably. It also has around a 400 lb weight capacity (397 lbs to be exact), so it can handle larger and smaller users and everyone in between. I can't wait to tell you more, so let's get into it.
Rowing Machine Awards:
The Aviron has been awarded as our Best Gamified Rower. With the amount and quality of the video games on this rower, the Aviron takes this title hands down. We love the wide variety of games. Some bring out your competitive side, while others function as complete workouts. In addition to games, there's a wide variety of other content. The Aviron is also a pretty solid rowing machine on its own, so we've rated it 4.6 out of 5 stars.
Why You Should Trust Our Review Of The Aviron Rower
Our reviewers are personal trainers, fitness trainers, and workout enthusiasts who are experts when it comes to fitness equipment. We use and test all kinds of equipment regularly and have been doing this for years. You can trust that our reviews are honest and thorough and that we've spent a lot of time on each machine. In order to give you this in-depth review of the Aviron, we've spent a lot of time using it.
We have also spent a lot of time using rowers like the Hydrow, Ergatta, and Concept2. We often draw similarities and differences when we're testing different rowers, so we can let users know how popular models compare. We compared the Aviron Rowing Machine to these rowers and we dive into how it compares and differs from these models in this review.
Our Aviron Rower Review Video
---
---
Pros
There's so much content! Everything from playing a wide variety of engaging video games, to streaming from apps like Hulu and Netflix to taking guided workouts, competing against members and professional athletes to virtually exploring outdoor water locations can be done from the 22" touch screen.
This rower is light at 97 lbs, yet has impressive steel and aluminum construction which feels very stable to use.
It folds in half to save space and has 4 wheels so it can be pushed to a new location if need be.
The monorail sits up high, making it easier for users to get on and off.
This is a hybrid rower that uses both air and adjustable magnetic resistance to give you more tension to row against.
The handle is round and lightly padded. You can get a comfortable grip while keeping your wrists in alignment for better form.
Cons
The air resistance does make noise and requires the volume to be almost all the way up to hear streaming content like movies and TV shows.
The seat is wide but very stiff and uncomfortable to use.
---
Stream from preloaded apps: Netflix, Hulu, Disney+, Youtube, and Amazon Prime.
Play video games and compete against friends, other members, and even professional athletes.
Take guided workouts with and without an instructor for training on and off the rower.
Explore on your own in locations around the world, virtually.
2×5 Watt Speakers
2MP Camera
Bluetooth Enabled
Hardened Glass Touch Screen
Folds Up
Four Transportation Wheels
22" Touch Screen
Footprint: 97" L x 21" W 43" H
Folded Footprint: 54" L x 21" W x 62" H
Construction: Steel and Aluminum
Weight Capacity: 397 lbs
Rower Weight: 97 lbs
Height Limit: 6'7"
Adjustable Foot Pads
Whisper Nylon Belt
Dual Air and Magnetic Resistance
Warranty: 10-year for the frame and 1-year for parts. Additional warranty sold separately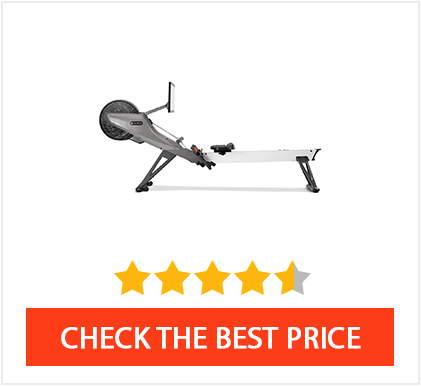 In-depth Review of Aviron Rower
---
Content
The Aviron comes with an extensive variety of content. This is by far the most amount of content we've seen on a rower. You can play games, engage in competitions with friends or against professional athletes, stream from apps like Netflix, and more.
You can use the Aviron without a subscription. Without a subscription, you can change your resistance, see your metrics, and track your progress. Even without wifi, you'll have access to the metrics monitor to track your workouts. There are a bit more metrics to track with a subscription, though. The metrics monitor is where you can see your scores, calories, output, strokes, strokes per minute, heart rate, experience coins, time, meters, and high scores globally and among your friends.
We highly recommend subscribing to the membership because, frankly, the content is really fun and engaging. However, we appreciate that Aviron designed it to be used without a subscription since it can be costly over time. It's $29 per month or $25 per month if you pay upfront annually. One membership gives you unlimited profiles. Below is everything that's included with the membership.
Games
The video games are definitely one of the aspects that makes the Aviron stand out. Currently, there are 14 different computerized games that vary in length and difficulty. Some of the games are single-player only, but in others, you can play with multiple players. This is where if you have friends who have the Aviron, they can join you to play a game.
Each game has a description to explain the objective. The games are from a first-person point of view. The goal is to stay at a specific stroke rate to level up, and the stronger you row the more power you have behind each shot.
There are 3D and 2D games, so if you're nostalgic for more retro games, you'll find comparable games as well as newer-aged shooter games, too.
Competition
The Competition category consists of more games that you can compete with yourself or other members. There are currently 7 of these games that all are different races. The races have a leaderboard and show where you're at on the track against the members and/or friends you're playing with in real-time. These are great if you're competitive and are looking to get in a quick rowing session on the rower.
Power Play
The final gaming category is Power Play. There are around 27 of these games which are each structured like a workout. You can take them with up to 3 people in real-time as well as choose the difficulty level. The resistance is adjusted for you as you row, but you can bypass this. You can adjust your own resistance in the competition as well as in the other games. Power Play has games in a variety of durations. Your avatar for these is a car that drives down multiple lanes to earn points. The goal is to row at a specific cadence to stay within lanes that offer points rather than subtract points for your score. This is how Power Play works to give you a more structured workout.
Preloaded Apps
Under streaming on the main menu is where you can stream from preloaded apps. These apps include Netflix, Amazon Prime, Disney+, Hulu, and Youtube. There are also a couple of rowing tutorial videos to help with your form and using the rower. Once you select one of the apps, you just need to log in to your respective account and start watching like you would on your television. Well, except you'll be rowing and working out on the Aviron Rower. What a way to work out and get off the couch though, huh? Your metrics and resistance are displayed at the top of the screen, but you can close out of them if you prefer not to see things like your strokes per minute while watching Stranger Things on Netflix.
With fitness equipment that has attached touch screens, like the Aviron, we constantly get questions if you can watch movies and tv shows on them. We are thrilled that Aviron includes these apps on their rowers.
Coached Programs
This category features guided workouts on and off the rower from fitness coach, Training Tall. His name is Austin and he has a Youtube channel called Training Tall where he guides you through various workouts. Aviron suggests that these are more for beginners, and we agree. These are helpful to gain insight into proper rowing form, as well as other helpful techniques like stretching as well as strength training which is important to incorporate into your fitness routine.
While these aren't quite as interactive as say, iFit or Hydrow's outdoor rowing content, they're beneficial and there's a surprisingly large amount of them. Austin also is really engaging and has an energetic personality, which makes his classes pretty fun.
The programs let you take them in order over the course of a few weeks or so, or at random when you want to change up your workouts. Rowing is a challenging workout and without proper form, you're more likely to get injured. This is a great way to help you get acquainted with using the Aviron properly, as well as encourage other types of training to ensure your fitness routine is well-rounded.
Guided Programs
Another option for guided workouts is the Guided Programs feature. You can take these with multiple people in real-time, which can be nice for added accountability. These workouts include different exercises to do on and off the rower and display a graphic that demonstrates how to perform each exercise. These encourage all kinds of training like strength training. Each workout provides form feedback and gives you a score on how you did on each exercise. You even get scored during rest periods!
Pros vs Joes
If you've ever wondered how your rowing skills stack up to professional athletes, then the Pros vs Joes category is for you. You can race against a variety of athletes like boxers, football players, and rowers. The screen displays yours as well as the athlete's metrics and a cartoon video of two rowing boats racing. One is your boat and the other is your competitor. Sometimes, a video of the athlete using the Aviron Rower is in the top right corner of the screen, too.
While it's definitely intimidating and very humbling, this is a fun feature. All of the visual components on the screen add to the intensity of the race too – at least they did for me, but I'm a little competitive.
Virtual Rowing
These videos aren't the best quality but they're great if you want to do some free rowing. The graphics aren't as crisp as iFit's outdoor content, but they let you explore beautiful locations around the world. This feature seems comparable to JRNY, which is found on equipment from BowFlex. Unfortunately, there is no music in the background in this feature though.
Overall, all of these categories and content features let you use the Aviron in a myriad of ways. Aviron really allows you to connect with people virtually, too. You can work out with friends and invite them to workouts. There is also a leaderboard that displays your ranking globally and among your friends.
Console
Being that it comes with a 22" touch screen attached to the frame, most of the functionality of the Aviron is on the screen. This is pretty on-trend for most equipment that we test with attached touch screens. The screen can be tilted to avoid overhead glare and so it's eye-level with you when you're rowing. I am pretty short at 5'1" (barely), so the screen is a little challenging for me to reach when my feet are strapped into the pedals. I have this problem on a few other rowers we've tested, but I also have tight hips, so that doesn't help. I can reach the screen strapped in, but if I'm browsing for a specific game or show, then I like to unstrap one of the feet to reach a little better. Taller and more flexible users shouldn't have this issue.
Navigating the screen is easy. There's a menu on the left, a search bar and filters at the top, and programming options below the search bar. All of the content options are clearly labeled as I've listed them above. They also have images to clearly show which category is which.
There's a camera built into the screen at the top. This is where you can take selfies to send to your friends and take a photo for your profile picture. Maybe in the future, this will have more functionality, like live-streaming with friends or something. Right now, I don't plan on using it. The speakers are mounted on the back. We would like to see them mounted on the front because right now with the air resistance, it can be harder to hear streaming content. I found that I had to have the volume almost all the way up completely to hear the content more clearly.
There's a power button at the top of the screen and buttons to adjust the volume on the right side. At the bottom of the screen is where you can adjust the resistance level by using the arrows.
Construction Quality/Durability
The construction of the Aviron Impact Series Rower is surprisingly comfortable and impressive.
It has a unique design and folding mechanism that is not only space-saving but very functional. There's a pin that you pull out to fold up the rower, and the handle mounted in front of the rail where it folds is there for you to lift to unfold it. This is pretty easy. My favorite part is that when it's folded there are 4 wheels for you to simply push the rower where you need to.
Aviron claims that a lot of the internal construction of the Impact Series is commercial grade with "industrial components" built into the design. We feel this is true and are impressed by the overall quality of the Impact Series.
Frame
Another surprising aspect about the construction of the Aviron Impact Series is that it's made of steel and aluminum yet it's lightweight. It only weighs 97 lbs. In comparison, the Hydrow weighs 145 lbs. Even though it's light, it can handle up to 397 lbs of user weight. This is about 100 lbs less than the Ergatta's weight capacity, but the Aviron sits up a lot higher than the Ergatta which is very low to the floor. The Ergatta also has a dual rail system, which provides a bit more support for the user, too. The Aviron's monorail is definitely sturdy, however. We all felt stable on it.
The rail is also pretty long and Aviron claims it can handle users up to 6'7" in height. Our tallest reviewer is 6'5" and he fits on it well.
Geometry/Dimensions
Footprint: 97″ L x 21″ W x 43″ H
Folded: 54" L x 21" W x 62" H
Pedals: 13" L
Monorail: 46" L x 18" H
Seat: 13" W x 10" D x 20" H
Belt Drive: 30" from where the belt appears from the flywheel
Footboard & Pedals
The pedals and footboard are spaced nicely, so your feet aren't too close together, like the Ergatta. The footboards are 13" long and the pedals are adjustable to accommodate any athletic shoe of pretty much any size. The straps aren't my favorite to adjust, but they're easy enough to tighten and hold my feet securely in place. The bottom of the pedals grip onto my shoes and offer plenty of flexion for my ankles when I'm in the catch position.
Handle
We are fans of this handle. It's round, which most of our reviewers prefer, and lightly padded. It isn't angled like the Hydrow's handle, but we find it comfortable to use like Hydrow's. It allows for your wrists to stay aligned, too. We do wish it offered the ability for single-armed rowing like on the Concept2 though.
Seat
Most seats on rowing machines aren't the most comfortable and they're definitely not like sitting on a couch. The Aviron's seat is firmer and more uncomfortable than other rowers' seats though. We prefer the Hydrow's seat because the padding is softer and it has nice contouring to support your tailbone. We do like how wide this seat is. It offers a bit more surface to sit on for added support.
The seat glides over the monorail but does make a little bit of noise as you row.
FlyWheel
The Aviron Rower uses a belt drive system to attach the flywheel to the handle. This helps makes for a quieter rowing experience than a chain, like the Concept2. The belt remains tight throughout the stroke, which is nice. In our experience testing, sometimes belts can get some slack in the finish. The Aviron doesn't.
The flywheel on the Aviron also provides a smooth, consistent feel to every stroke. There is also a fan that provides resistance to pull against.
Resistance
The Aviron Rowing Machine is a hybrid rower. It uses both air and magnetic resistance. The air resistance makes for a more realistic feel to the stroke, and the magnetic resistance is adjustable. You get the best of both worlds by combining these resistances. Hybrid rowers also offer more resistance, so the Aviron should work well for users of all abilities.
The magnetic resistance adjusts up to level 16, which definitely offers a lot of tension. One thing to keep in mind is that since the Aviron uses a fan, it does make some noise. The noise isn't quite as loud as other air rowers like the Concept2. Considering magnetic rowers are much quieter it is important that we point out that the Aviron does generate some sound.
When watching a show on Netflix, I had to turn the volume up pretty high to hear the dialogue clearly over the rower.
Performance & Functionality
We really enjoy using the Aviron Rower. Of course, we love all the content choices, but the rower itself is sturdy and comfortable. All of our reviewers were able to fit on the rower well, too.
The Aviron is suitable for users of all skill levels and sizes up to the 397 lb weight capacity. The air and magnetic resistance give more tension to row against making it perfect for strong and advanced rowers. The coached workout programs and guided workouts are made for beginners who want more guidance with form as well as training.
One aspect we noticed is that it is harder to practice proper form, especially if you're a beginner when playing some of the games and engaging in competitions. That might be why Aviron has included guided training in the programming. If you're new to rowing, we highly recommend checking out the guided and coached programs to ensure you're using proper form. Rowing is a tough exercise, physically yes, but also mechanically. Not having proper technique can make you more susceptible to injury.
Having a pause button could be a handy addition to some of Aviron's content, especially the games. I do really like that there is a wide range of durations for the games and workouts, but being able to pause midway through is helpful if you have to get to the front door or answer a phone call, or even tend to little ones at home.
The Aviron has a bit of everything for everyone with the content. Those who are competitive have plenty of choices, and so do users who want to play games and/or stream content. As mentioned above, we definitely recommend subscribing to Aviron's membership because the content is the major draw to this rower. It's really why we like it so much and find the rower to be fun to use.
Warranty
Aviron offers a pretty standard warranty. The warranty includes 10 years for the frame, and 1 year for parts. Additional warranties are sold separately. Setting up the Aviron is pretty simple and straightforward. We recommend having two people for assembly, but one of our reviewers was able to put it together, himself.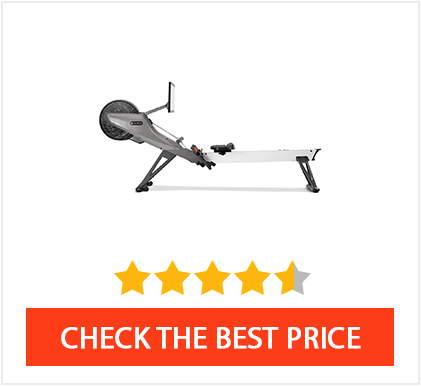 Bottom Line Review: Aviron Rowing Machine
The Aviron Rowing Machine is an engaging, lightweight, hearty piece of equipment that will work well in most homes. We recommend it for all skill levels, but especially if you are looking for a rower with top-notch content. The Aviron itself is really solid, but what makes it stand out is the variety of content on the 22" touch screen. The Aviron is a hybrid rower that uses magnetic and air resistance. It does generate some sound, but it's not as excessive as air rowers.
You can play games, get guided training, row outside virtually, and stream from apps like Hulu and Netflix. We love this range of content and think most users will find at least one aspect of the membership that they will love. Even though you can use the Aviron without a subscription we highly recommend subscribing to get full access to all the content.
Playing video games and watching Netflix all while working out? Consider us sold! If this sounds good to you, then check out the Aviron Rower.