*TreadmillReviewGuru helps consumers find the best home fitness products. When you buy a product we recommend, we may earn a commission.
Last Updated: May 5, 2023
A new treadmill to just hit the market is the Bells Of Steel Blitz Manual Treadmill. This is the first treadmill from the brand that has a nice lineup of strength equipment. This isn't our first experience with Bells Of Steel. We've heavily tested and continue to enjoy using the Blitz Air Bike 2.0, so we were eager to try out their new manual treadmill. The Blitz Treadmill doesn't have a motor so you control the speed of the slat belt with your feet. Plus, if you want to make your workouts even more challenging and incorporate exercises like sled pushing, this treadmill has adjustable magnetic resistance to give your legs extra tension to move the belt against. This Bells Of Steel Blitz Manual Treadmill Review goes over how it performed for us and if it's worth considering for your home gym.
Why You Should Trust Our Review Of Bells Of Steel Blitz Manual Treadmill
Our team of reviewers has years of experience testing all kinds of treadmills. We all come from various fitness backgrounds, such as instructors, personal trainers, and garage gym owners. When we get a new model in our studio, we put it through its paces and assess everything from the construction to the feel of the deck, and the console functionality. We also compare new models to models we have in our studio.
During our testing of the Blitz Manual Treadmill, we pulled out the AssaultRunner Elite, TrueForm Trainer, and TrueForm Runner so we could get a good idea of how this treadmill compares to these popular models that have been around for years. Throughout this review, you'll see comparisons of all of these models with the Blitz.
---
Our Bells of Steel Blitz Manual Treadmill Review Video
---
Pros
The motorless design incorporates adjustable magnetic resistance to provide extra tension to run and walk against.
The curved belt is controlled by your legs so you can walk, run, and sprint as fast as you can, and sled push for even more of a burn.
This treadmill is built for heavy use and runners, athletes, and fitness enthusiasts who want a more challenging treadmill workout.
The handles are versatile to offer different areas to grip depending on the activity like sled pushing, side shuffles, and using the treadmill in reverse.
The console is easy to use and offers customized training settings.
Cons
The price tag makes this treadmill a bit of a splurge compared to other models.
The console requires you to press start in order to track your metrics like time and distance, so it isn't quite a hop-on-and-go treadmill.
The warranty has less coverage than others.
---
The belt has 6 levels of adjustable magnetic resistance to move the belt against.
LCD display is battery-powered and non-backlit.
Custom interval and target settings.
Metrics displayed: time, pace, distance, speed, calories, watts, resistance level, and heart rate
Connects to a compatible heart rate monitor for heart rate tracking.
The belt has a high curve of 17 degrees.
The console features no storage options for your phone or water.
The resistance is controlled with a lever and can be used as a brake to stop the belt when you need to.
There are transportation wheels and a rear handle to move the treadmill.
Adjustable leveling feet help prevent any rocking.
Footprint: 70" L x 30" W x 62" H
Non-Motorized
Running Surface: 17" W x 65" L
Step Up Height: 13" (at the lowest curve of the belt) 15" (at the rear of the belt) 20" (at the highest curve of the belt)
Treadmill Weight: 325 lbs
Weight Capacity: 400 lbs
Unlimited Max Speed
No Incline
200 Ball Bearings
Construction: 9-Gauge Steel
Belt Slats: Aluminum Slats Coated In Rubber
Warranty: 5-years for the frame, and 1-year for parts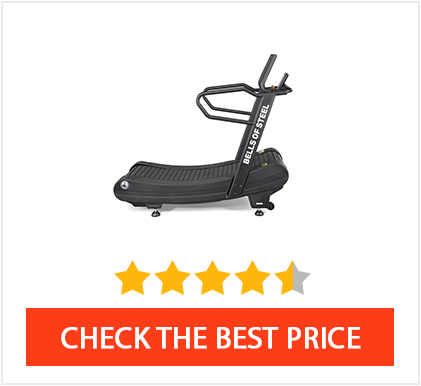 In-depth Review of Bells Of Steel Blitz Manual Treadmill
---
Preprogrammed Workouts
A factor that makes manual treadmills appealing (among many other features that I'll get into) is that they don't require an outlet to use.
Manual treadmills typically have simple, straightforward consoles, and the Bells Of Steel is among this majority. When the belt starts moving, the console turns on to track your workout metrics. Again, typical for a manual treadmill.
The Blitz Treadmill's console requires you to press start in order for metrics like time and distance to start tracking, though. I might be getting a little nit-picky here, but having to press a button on the kind of treadmill that I'm used to just hopping on and going, is a little annoying. It makes sense to have to press the start button when using the custom workout settings because, for the time goals and intervals, you need to start the timer. But, if I'm just using the manual mode I would assume my time and distance would start tracking the moment I start moving the belt. The Bells Of Steel Blitz Air Bike 2.0 doesn't require me to press start when I start pedaling, so I'm not sure why the treadmill does.
Other than this little inconvenience, the console is intuitive to use and it tracks everything that I like to know when I'm using a treadmill. You can see your time, pace, distance, speed, calories, watts (power), resistance level, and heart rate on this display. Keep in mind that you'll need to use a compatible heart rate monitor to see your heart rate on the screen. Bells Of Steel says that it will connect with your ANT+ device to show your heart rate.
The Blitz Manual Treadmill has buttons on the right side of the screen where you can create custom intervals (all the way up to 99 rounds!), and set goals based on time, distance, calories, or heart rate. Compared to the TrueForm treadmills' consoles, this one has a lot more metric tracking and workout options.
Console
The console isn't backlit so using this treadmill in a darker room might be hard to read, however, I don't really recommend using any treadmill in a dark room for safety reasons, so this isn't a big deal. The console can adjust a little bit. It tilts slightly up and down, so depending on your height and overhead glare from lights, you can angle it a little bit to get a better view.
There isn't any storage available on the Bells Of Steel Blitz Manual Treadmill, like the TrueForm Trainer and Runner. The AssaultRunner Elite has two holders for water and a small ledge to place your phone. I think a cup holder would be a nice addition to the Blitz, especially for those who plan to use it for distance training or running for long periods of time.
Construction Quality / Durability
When it comes to construction, the Bells Of Steel Blitz Manual Treadmill is pretty impressive and has nice features that make it a versatile training tool. It's heavy at 325 lbs and can handle users up to 400 lbs. Considering it's a bit of a splurge, we're glad it handles a lot of weight. The weight capacity also indicates a hearty design, which the Blitz definitely has.
Frame
The frame is made out of 9 gauge steel, which feels sturdy and well-built. It's powder-coated to help prevent corrosion and rust. It has 200 steel bearings that make the belt feel smooth to move. The frame definitely helps contribute to how stable this treadmill feels underfoot, as well as how heavy it is.
You can move the Blitz, but with its weight, we recommend keeping it in a designated space. When you need to move it there are front transportation wheels and a steel rear bar to lift and tilt up the backend. The four adjustable leveling feet help prevent rocking, and we didn't experience any movement when using it. The leveling feet are a little oversized though, and their placement compared to the front wheels makes this treadmill a little hard to move and place in specific spots.
The steel uprights connect on either side of the deck to the frame. The Bells Of Steel has more areas to grip for handles than the TrueForm Treadmills and AssaultRunner. It's more comparable to the Technogym SkillMill in that respect. Considering the added feature of adjustable magnetic resistance (which I'll get into in a moment), the variety of handles makes sense and is needed.
The side handles extend along both sides of the deck and includes an upper, lower, and back area to grip. The front handles have a thin foam covering for grip and extend vertically on either side of the console. They come in handy (no pun intended) when you crank up the resistance on the deck to sled push. Depending on your height, you might not be able to fully extend your arms to sled push, or you might need to use the bar that's in front of the two vertical handlebars.
I'm only 5'1" so I don't have any problems using any of the handles. We're pleased that the Blitz Treadmill offers this amount of handles and they all serve to be useful and provide leverage and balance when you need them.
Motorless
The Bells Of Steel Blitz is a manual treadmill meaning it doesn't have a motor built into it to control the speed of the belt. Instead, you control the speed when you walk and run on it. Your feet get the belt moving and this requires more muscle activation, especially in your lower body, as well as burns more calories than motorized treadmills. Motorized treadmills require you to keep up with the set pace, whereas, on a manual treadmill like this one, you set the pace.
So, when you're running on the Blitz Manual Treadmill, you can run as fast as you want. The belt won't top out at a max speed because a motor doesn't control it.
Deck
The deck is 17" wide and 65" long. It's really comparable to other models like the TrueForm Runner, Trainer, and AssaultRunner Elite, in size. Curved, manual treadmills typically have narrower decks compared to motorized treadmills of similar size, to keep your body aligned and in more of a linear pattern. This length of the deck should be plenty long for most users to run as fast as they can, too. On the manual treadmills we've tested, including the Blitz, this length offers plenty of room for all stride lengths.
The Bells Of Steel is curved like other comparable manual treadmills, however, it has a pretty significant amount of curve to it. Unlike TrueForm Treadmills which are said to have the shallowest amount of curve in the deck, the Blitz has a high curve of 17 degrees. Even the AssaultRunner Elite, only has about a 9-degree curve to its belt. Like the Assault, the curve on the Blitz is mainly at the front of the deck.
The curved angle in the deck typically positions users to run on the midpoint of the deck, rather than the very front. To get up to speed, you might run toward the front of the deck, but once you hit the pace you want, you'll find that your position will shift back to hover over the lowest point of the deck, which is around the middle. So, even though curved, manual treadmills have a curve to their deck, it doesn't serve as an incline and doesn't feel like you're running uphill.
On the Bells Of Steel, however, you can feel the curvature as you run. It kind of feels like a tiny incline. I've noticed that it makes the Blitz Manual Treadmill feel pretty challenging and forces my posterior chain, especially my hamstrings, to engage a bit more than when I run outside or on a motorized treadmill, for instance. It's also important to remember that manual treadmills in general help you burn more calories than motorized treadmills, so overall they feel harder to run on.
Adjustable Magnetic Resistance
Speaking of challenging; the Bells Of Steel Blitz Manual Treadmill has adjustable magnetic resistance. There are 6 different levels. I can walk, jog, and run on levels 1-3. Level 4, the resistance really feels like it adds on, and I'm only able to walk with this amount of resistance added to the belt. Levels 5 and 6 are best for sled-pushing and pulling when you're using it in reverse. The resistance is tough at level 6 so that's where the handles come in to use them for leverage to move the belt. Level 1 feels like no resistance and is easy to get the belt moving.
Both TrueForm Treadmills are a bit harder to run on and get their belts moving, especially without proper form compared to the Blitz at level 1. The Blitz feels challenging but is easier to sprint on than TrueForm's treadmills. I think the high curvature of the deck gives you more leverage to get the belt up to speed since you don't have a high angle to get leverage on with the TrueForms. This isn't a bad thing by any means, it's just something we noticed when testing. TrueForm Treadmills are great for helping to correct your stride, while the Bells Of Steel functions to be more versatile by giving additional training options with the resistance.
The magnetic resistance is easily adjusted with a lever on the right side of the Blitz Treadmill by the handle.
Bells Of Steel isn't the first to use magnetic resistance. Manual treadmills such as the Grit Runner from Tru Grit, Cascade Ultra Runner, and Xebex Runner Smart Connect have magnetic resistance.
Performance & Functionality
Even though the Bells Of Steel Blitz Manual Treadmill is a new treadmill to hit the market, it's a worthy contender in our opinion to other comparable models. It is pretty pricy, but if you're in the market for a manual treadmill that offers more training versatility than most, it's one to consider for your home gym. Not only is the resistance challenging, and at the highest levels really makes it feel like you're pushing a sled, but running on the lower levels really gets your legs working, too. I think if you're looking to level up your runs, definitely check out the Blitz.
You have to physically move yourself to face the rear of the treadmill to walk backward because the belt doesn't disengage to be used both ways, but the side handles are plenty long to give you assistance to do this.
The rubber doesn't make it feel springy but instead helps to prevent your joints from feeling sore and achy due to the impact that comes with running. It's firm underfoot but doesn't feel like running on concrete. Overall the cushioning is comfortable and comparable to other manual treadmills.
The noise from the movement of the belt sounds slightly different than other manual treadmills. It's hard to describe, but it sounds smoother. The noise from our feet hitting the deck is low so it doesn't produce much thudding and thumping sounds overall. It's still a treadmill, so it generates sound and isn't best for homes where noise is an issue, but for a manual treadmill it isn't the loudest we've tested.
As far as maintenance, manual treadmills are known for requiring little to no maintenance, especially compared to motorized treadmills. We don't expect the Blitz Manual Treadmill to require much, if any, maintenance, however, we aren't sure how the magnetic resistance will hold up over time since it's an extra component. We've heard of other treadmills with this feature having problems down the road. However, Bells Of Steel makes high-quality equipment and we are very pleased with their air bike, so we assume the Blitz Treadmill will be able to handle a lot of use and last a long time.
Warranty
Bells Of Steel include a 5-year frame warranty and a 1-year parts warranty when you buy the Blitz Manual Treadmill. This warranty is a little less extensive than what other models include. It only ships by freight and requires assembly. We recommend at least two people for set up because of its hearty size and weight.
---
Bottom Line Review: Bells Of Steel Blitz Manual Treadmill
Overall, the Bells Of Steel Blitz Manual Treadmill is a high-quality machine that doesn't require electricity and offers a lot of versatility for your training. The belt has a higher curve than most manual treadmills and it offers 6 levels of adjustable magnetic resistance to give you extra tension for your legs to move against. Runners and athletes looking for a challenge and more training variety from their treadmill should consider this one for their home gym. It is a bit of a splurge, but well worth the investment to take your fitness to the next level and beyond.