*TreadmillReviewGuru helps consumers find the best home fitness products. When you buy a product we recommend, we may earn a commission.
Last Updated: January 5, 2023
The Bowflex TreadClimber TC200 provides the ultimate walking workout, combining the modalities of a treadmill, elliptical, and stair stepper. If you are in the market for low impact, high yield fitness equipment that is silent and smooth, the TreadClimber is a great option. The Bowflex TreadClimber TC200 incorporates the functionality of a treadmill, so it's easy to use; it's has the smooth motion of an elliptical, so it is low impact; and it is part stair stepper, so you get the benefit of incline training as you lift your feet up in between each step. The TreadClimber conditions your powerhouse muscles of quads, calves, hamstrings and glutes and allows for gentle to intense conditioning — depending on your needs. This is a large machine that does not fold up and requires a dedicated workout space. It has a multifunction console, integrated app functionality, smooth motion, and is quiet when in use.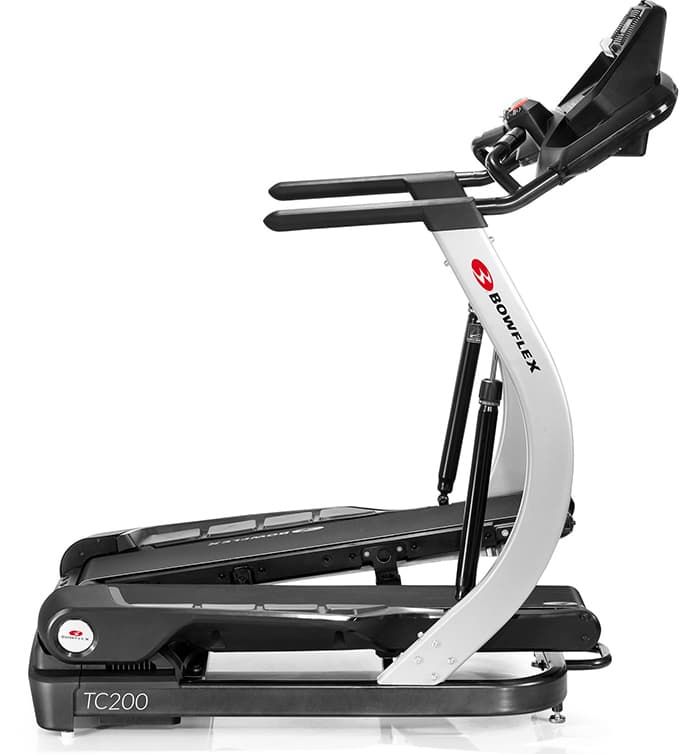 Who It's For: Walkers looking for enhanced calorie burn on a low impact machine with integrated app functionality
The Bowflex TreadClimber TC200 offers:
Smooth treadle motion for comfortable walking motion
5 Different Workout Programs, such as: Just Walk, Calorie Goal, Time Goal, Distance Goal, and Interval
Speed Range of .5 – 4.5 mph
Free TreadClimber App with integrated Bluetooth® 4.0 connectivity syncs with My Fitness Pal, Apple Health Kit and Google Fit.
TreadClimber App provides four different user profiles
Fully Backlit LCD Display with intuitive console layout
Heart-Rate Monitor with integrated contact grips + chest strap
Built-In USB Charging Port
Pros
Smooth motion with integrated modalities of a treadmill, elliptical and stair stepper
Has 12 Levels of Resistance for customizable training
Supports up to 300lbs of user weight
Low impact walking workouts
Great for those with joint or mobility issues
Bluetooth enabled
Tablet shelf holds personal devices, phone, tablet, etc. so you can read/watch a show while you workout
Comfortable and supportive handlebars with heart rate sensors
Cons
Limited training options on console (only 5)
No subscription option for additional classes or content
High price tag
Some reports of rocking or instability during use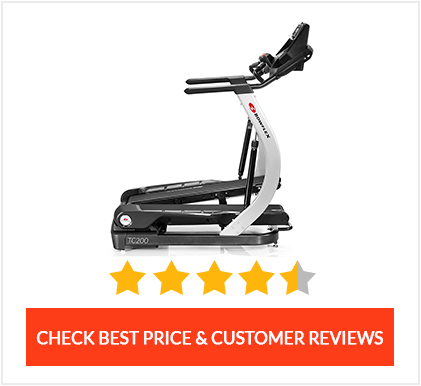 ---
Provides the elements of a treadmill, stepper and an elliptical in a single machine

For users who value a low impact workout, the TC200 is smooth and gentle on your spine and joints. You still gain the benefits of calorie burn and conditioning.

Speed ranges from 0.5 to 4.0 miles per hour, which is perfect for walking

The speed doesn't compare well with running treadmills, but the TC200 is designed for walkers with a good speed range for walking workouts.

12 Levels of Resistance

Select any of the 12 resistance levels to tailor your training as needed with each workout. You can go light and fast on a low resistance level, or crank it up and really power through a heavy resistance challenge.

Included heat rate chest strap and integrated grips for heart rate workouts

Heart rate training is the most accurate way to assess how hard you are working and how your body responds to different challenges. The TC200 includes built in heart rate sensors on the static handlebars as well as an included chest strap for accurate monitoring.

Console layout includes water bottle cups, media shelf/tablet holder, and USB charging port

In addition to being comfortable underfoot, the TC200 console has been updated with a few enhancements that make your experience more enjoyable. Cup holders, a media shelf, and USB charging port are nice additions on this upgraded model.

Tread App sync with multiple platforms

The Bowflex Tread app syncs your data with multiple platforms, including Apple Health Kit, Google Fit, and My Fitness Pal.

Four User Profiles

If you have multiple users in your family, there are four profile options so different users can get accurate metrics with each workout.

Goal Coach with 5 Training Functions

The Bowflex Goal Coach allows you to set challenges for yourself which the TC200 will then help you accomplish. Goal Coach includes challenges for: Calories, Time and Distance. You can also select: Just Walk or an Interval workout.
Construction:
Height: 62.5"
Width: 31.5"
Length: 55"
Item weight: 202 lbs
Max user weight: 300 lbs
Console:
Backlit LCD console with 5 Workout functions
Four user profiles
Bluetooth enabled
TreadClimber App syncs with Apple HealthKit, My Fitness Pal and Google Fit
Goal Coach training included
Climb indicator on console
Oversized cup holders
Large buttons
Stationary handlebars with heart rate sensors
Functionality:
12 Levels of Resistance
.5 – 4.5mph Speed Range
Two Treadles with individual belts
Smooth elliptical motion
Gentle walking yields high intensity workout
Burns calories and strengthens muscles as you walk
Low impact design
Warranty:
3 Years parts
90 Days labor
In-depth Review of TreadClimber TC200
---
Construction
Frame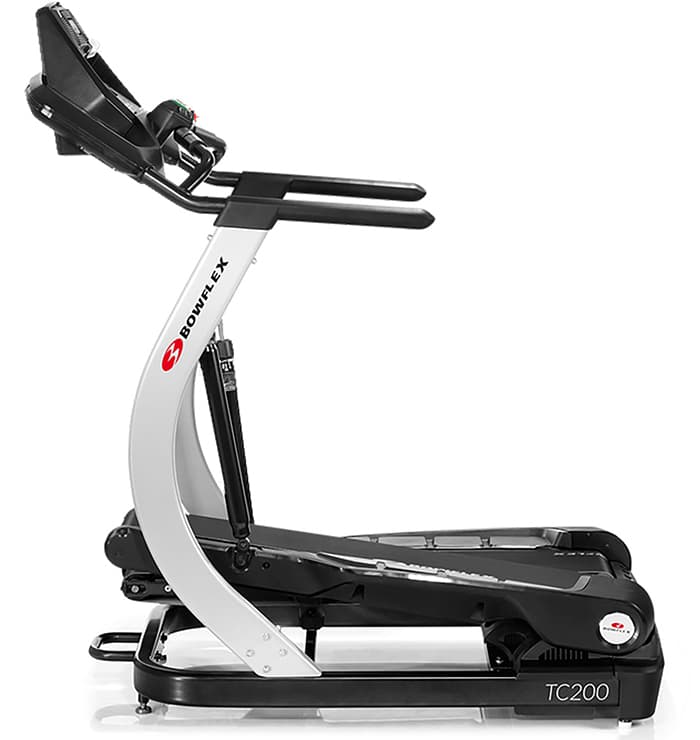 The TreadClimber TC200 utilizes a dual treadle track. Each treadle has its own walking belt and they operate separately, so one foot can lift up while the other steps down. This bipedal design is a step up (literally) from the standard treadmill frame that has one solid deck. The upwards motion of the deck with each step supports users' feet while they walk, so even as your workout becomes more intense, you aren't running or bouncing on the track.
The TC200 frame is supported by a semi-circular base with two adjustable leveling feet on the front end and two wheels on the base. A handle on the front of the frame allows the machine to be lifted and rolled slowly when needed.
Each treadle has its own rollers and belt guide to hold the belt on securely. A drive motor and drive belt keep the motion fluid and smooth.
Deck
Cushioning/Feel

There is some travel under each treadle so as you step down, the treadle adjusts beneath you to mitigate some of the impact from walking. This adds a feeling of cushioning while you walk since the deck is slightly elevated for enhanced comfort.

Belt

Each treadle has its own rollers and belt, which may need to be adjusted from time to time. Treadmill belts often wander just a touch with extended use and the Bowflex treadles are similar. The rollers move the belts along the deck so they create a fluid motion underfoot.
Motor
The Bowflex TreadClimber TC200 includes a drive motor under the deck, but Bowflex doesn't include any information about the power, size or capacity of the motor.
---
Console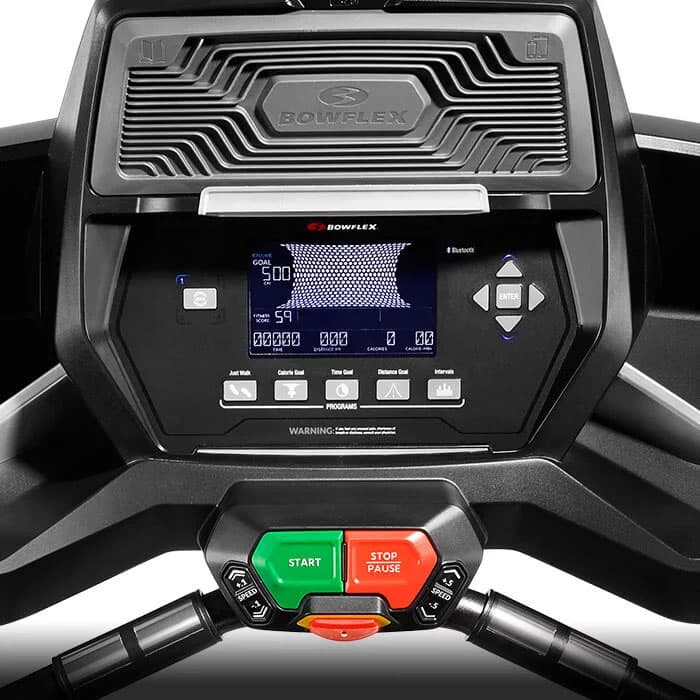 Screen
The TC200 features an updated fully back lit LCD display that provides a readout of your stats while you workout. There are five pre-programmed fitness programs including Just Walk, Calorie Goal, Time Goal, Distance Goal, and Intervals. This is not a touchscreen, so there are arrows on the right side to toggle through settings and metrics.
This is pretty limited screen functionality for fitness equipment in this price range. The Bowflex is currently listed at $2500 which puts it in the same price range as the Peloton bike, NordicTrack 2450 treadmill, NordicTrack FS7i elliptical and $500 more than the ProForm HIIT Trainer Pro. All of these machines have subscription content and full color touchscreens, so the Bowflex TreadClimber falls short when comparing tech options on other machines. While some users may appreciate the simple console and limited program options, others may be looking for additional content or video options on a machine in this price range.
Console Features
The TreadClimber syncs with Bowflex's TreadClimber App with integrated Bluetooth 4.0 so you can share your data with My Fitness Pal, Apple Health Kit, and Google Fit. Also, the app has four user profiles, so you can track and store the data for up to four separate users. This is ideal for families who share the equipment.
Console Layout
Bowflex updated the console on the TC200 so it is significantly roomier with oversized cup holders, a media holder, and contact grip sensors.
There are also up/down arrows to select your display metrics and an enter button in the center. One button for each program makes it easy to see and select which one you want to run. Bowflex also includes a large green START button and red STOP button on the bottom of the console. On the right hand side of the stationary handles you have buttons that increase or decrease speed by .5mph and on the left hand side you can increase or decrease by 1.0mph. The buttons are large and easy to see and touch. We especially like the speed buttons that are an easy reach for your thumb, this way you don't have to lift your hand off the handlebars to adjust your speed.
Tablet Holder
There is a media shelf or ledge for a phone, tablet or other device on the TC200. A tablet holder allows users to watch or read from their personal device while using the machine. A tablet holder is a nice addition on a piece of fitness equipment, especially one that doesn't include a color touchscreen or video options. You can turn on Netflix or read the news on your tablet while you do your daily workout.
Storage
Aside from the oversized water bottle holders in the console, there is no extra storage tray or other storage area on the TC200.
---
Functionality
12 Resistance Levels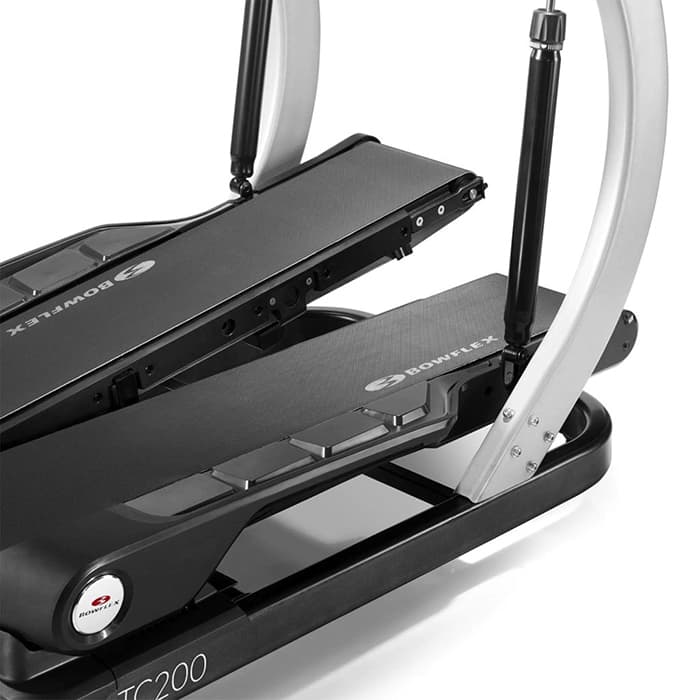 Users can decide what level of difficulty they want to choose with a good range of 12 different levels. New users can start off light while seasoned walkers or those with more strength can enhance the challenge by adding more resistance (via higher levels). Preset resistance levels on an exercise machine make it so you always know the amount of resistance you are using at any given time. Rather than have to guess via a tension knob or other non-specific resistance mechanism, the preset levels are the same each time and are easy to find and use.
Pre-programmed workouts
The TreadClimber TC200 has five pre-programmed workouts. This is a limited number of workouts, but you can customize the settings using Goal Coach.
Subscription Options: Tread App on phone
The TreadClimber TC200 treadmill does not feature any subscription videos or content. As mentioned above, the TreadClimber App can be downloaded to your phone to keep track of your workout stats, including calorie burn, heart rates and duration. It also syncs your stats from the machine to tally your metrics over time. But this does not correspond to an online subscription database of programs you can run via WiFi on the treadmill. The TreadClimber is perfect for those who don't want to worry about ongoing subscription costs or downloaded content.
Noise Level
The TreadClimber TC200 is very quiet. There is a bit of foot noise as your shoe connects with the treadle, but the resistance and motion of the treadle itself does not create extra noise. This would be a fine machine to use at home without disturbing those around you.
Storage / Folding
The TreadClimber TC200 does not fold. It has two wheels on the base and a handle on the front so you can tilt and roll it as needed. However, it does take a bit of space, so make sure you have adequate clearance and floor space for the TC200. However, the treadles stay in line with the frame of the TreadClimber, so you don't have to worry about the pedals jabbing forward or backward into walls or people. The design fully supports and encloses the movement of the treadles within the footprint of the frame.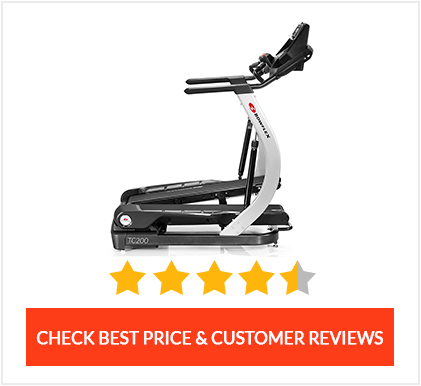 Bottom Line:
Bowflex's TreadClimber TC200 is the higher grade model in their TreadClimber series. A step up from the TC100 in many ways, the TC200 provides a smooth workout that is ideal for those who need low impact training. This machine would be an excellent choice for anyone looking to enhance their conditioning while maintaining a comfortable upright posture and ergonomic body position. The TreadClimber is gentle on joints and works well for injury recovery or for those who may have mobility issues. The console has been updated with more functions and space. There is an included tablet holder to support your personal device. However, the console itself and especially the screen is not as tech-enhanced as others in this price range. For users who want a simple, easy to use console and LCD screen with large digital numbers, the TC200 is a good option. If you are looking for additional subscription content and/or classes or videos, then this is not on par with what other treadmills and ellipticals have to offer. However, for ease of use and overall functionality, we find the Bowflex TreadClimber to be supportive and low impact. The 3 in 1 design incorporates the benefits of a treadmill, elliptical and stair stepper all in one so you get an enhanced calorie burn even while walking. The TreadClimber TC200 also has a 300 pound max user weight and provides a 3 year warranty.