*TreadmillReviewGuru helps consumers find the best home fitness products. When you buy a product we recommend, we may earn a commission.
Last Updated: April 5, 2023
Fitness equipment comes in all shapes and sizes. Fitness also can look a little bit different to everyone. One of the smallest machines that's rolled into our studio is the Cubii Total Body+. This is a seated elliptical, aka an under-desk elliptical. It's a way for those with balance issues and limited mobility to get in some movement throughout the day. It's also great if you work at a desk and are forced to sit for the majority of the day. The Total Body+ isn't your average seated elliptical though because it has handles in addition to the pedals to work your upper and lower body. It's also Bluetooth-enabled to pair with the Cubii App to offer a surprising amount of workout videos to follow along with. This isn't all that this tiny machine has to offer, so keep reading our review of the Cubii Total Body+ to see how it worked for us.
Why You Should Trust Our Review Of The Cubii Total Body+
We work to test and review all kinds of fitness equipment. To bring you reviews like this one, we use the equipment like you would at home, and then some. Our team tests out all of the components to give you insight so you know what to expect. I used the Cubii Total Body+ at my desk for several weeks before compiling this review, so I'll share my experience using it throughout this review.
---
Pros
The combination of using the pedals and handles make this under-desk elliptical better for full-body training.
It's practically silent to use, so it's appropriate to use in any home or office.
You can use it while seated at any type of seat including an office chair, kitchen chair, or couch.
The seated elliptical connects with the free Cubii App for guidance and workout videos to take while using it.
It's compact and comes with transportation wheels to use under most desks and tables.
Cons
It is expensive.
The resistance handles aren't the best to use at a desk and they get in the way of the position of your legs.
Cannot be used while standing.
---
Backlit LCD Monitor
Bluetooth connectivity to Cubii App
Cubii App: Offers trainer-led content and extra guidance
Upper body resistance handles with a pulley system
Carrying handle
Transportation wheels and handle
Footprint: 25.2" L x 17.6" W x 10.1" H
Weight: 19.3 lbs
Resistance Levels: 12
Oversized Pedals
Included Charger
Included Wheeled Chair Stopper
Textured Rubber Bottom
Warranty: 1-year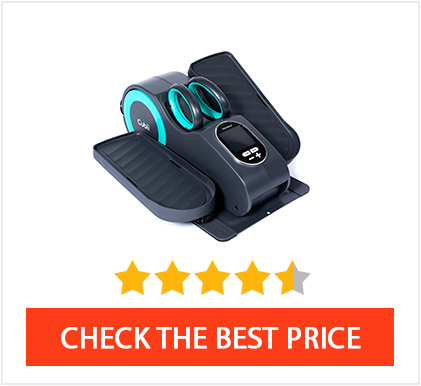 ---
In-depth Review of Cubii Total Body+
Construction
The overall construction of the Cubii Total Body+ is pretty standard compared to other seated elliptical machines. It has a small footprint, so it should fit under most tables and desks. This makes the Cubii beneficial to those with limited space. The Total Body+ is also designed to work for pretty much anyone.
Frame
It's longer than it is wide, and not very tall which makes it best for most spaces. The frame is made out of plastic with a metal base and only weighs about 19.3 lbs. Since it is only meant to be used when seated, rather than standing, it feels plenty solid. It sits directly on the floor so we didn't expect it to be made entirely of metal because this would make it heavier and less easy to move around. Because it's lightweight, you can carry it using the black nylon handle on the back, or wheel it around with the 2 rear transportation wheels by using the front built-in handle to tip up the front end.
The frame has rubber on the bottom so you don't have to worry about it sliding around or scratching your floor.
Pedals
They're textured so your feet won't slip and they have a raised ridge that wraps around the front and sides to help keep your feet from sliding off the fronts.
The pedals move in a circular lateral motion that's low impact. This pattern makes for some ankle flexion throughout the stroke, while working your lower body. The motion of the pedals is smooth, and consistent while not taking up a lot of space through the entire stroke.
Resistance
The Cubii comes with 12 different resistance levels. It uses magnetic resistance that feels smooth and quiet. You can very slightly hear the resistance change, but it's very quiet overall. You have to bend forward and use the "minus" and "plus" buttons on the console to change the resistance level. The level is shown on the LCD screen.
It isn't the most amount of tension to push your legs against, but it is plenty considering how small and compact the Total Body+ is. A lot of tension also isn't appropriate for the nature of the machine and the type of activity it offers.
Handles
Because this Cubii seated elliptical is called the Total Body+, it makes sense that it has handles to work your upper body.
The pulley system works like resistance bands and feels similar to using resistance bands. The amount of tension is consistent with every rep. The handles also retract when you let go of them, so be careful not to hit yourself with the plastic handles if you let them go.
I noticed when doing curls and rows, I have to keep the handles close to my body and let the pulleys attached to the handles extend up between my legs. The handles are also not practical to use when you're pedaling at your desk.
Console
It is decent-sized and displays your strides, time, distance, resistance, calories, and RPMs. The distance can be changed between miles and kilometers. You'll use the mode button below the screen to do this, and for changing between some of the metrics displayed. The user button is where you can switch between profiles. There are two user profiles as well as a guest mode.
You do have to look down at your feet to read the screen, but it's large enough to see everything fairly well. The console and resistance require a charge to use. The Cubii comes with a wall plug to charge it. I've found that ours holds a charge well, so you don't have to worry about using it near an outlet all the time.
Cubii App
The Cubii Total Body+ is Bluetooth enabled to use with the Cubii App. I will say for a free training app, Cubii has a lot of content! The app connects through your device to the Cubii Total Body+ to track your metrics, see your progress, and get guidance while you're using it.
The Cubii Studio+ is where you'll find classes led by instructors. There are over 300 trainer-led videos! You can take classes made for stretching, and strength, as well as fully seated and standing plus seated classes. You'll never stand on the Cubii though because it isn't meant to be used while standing.
Classes are available in different durations, and they come with music built in that plays in the background. I was pleasantly surprised by the amount and quality of classes on the Cubii App. It's beneficial if you want some guidance and motivation when using the Cubii.
Functionality & Performance
The Cubii Total Body+ is extremely quiet, smooth, and stable to use. It's so quiet and compact that it can be used in most homes and even at the office. It slips under your desk so your coworkers might not even notice you're using it. Since the motion is more like an elliptical, your knees don't raise much, so if you have longer legs and a low desk, you should still be able to get in full strides.
I will say it took me a little longer than expected to get into a good position while using the Total Body+. I'm only about 5'1" and I have short legs so I had to lower my office chair and sit closer to the edge of my seat to fully use the pedals. Our taller reviewers didn't have a problem and required less adjusting to get started.
The Total Body+ also comes with a wheel stopper so you can use it with a wheeled office chair. It fits at the bottom of the frame below the screen. You place one wheel of your chair in it to keep your chair from moving around. This is especially helpful to get a good placement of the wheels, and if you're using the Cubii on hard floors. The Cubii can also be used in front of a couch, or at other types of chairs.
Under-desk bike pedals move in more of a circular motion that requires your knees to bend and lift higher. I think the Cubii Total Body+, like other under-desk ellipticals, works better for more people and spaces than under-desk bikes, although both are compact and require little space to use.
Of course, if you're already able to get in 8-10k steps per day and regular activity like walking, an under-desk elliptical probably isn't for you. It obviously doesn't provide the most strenuous type of exercise, but a seated elliptical can certainly help if you have balance issues and are limited to being seated, and also if you spend a lot of your time working at a desk. For that, we love how compact, and quiet the Cubii Total Body+ is. It also is nice to have the option to work your upper body with the resistance handles.
This seated elliptical is a bit of a splurge, however, compared to others on the market. This is because of the added features like handles and Bluetooth connectivity. So, keep this in mind and know that with the Total Body+, you're getting the souped-up version of under-desk ellipticals.
Warranty
Cubii includes a 1-year warranty with the purchase of the Total Body+. Assembly is easy and most people should be fine to set it up themselves. It just requires using a screwdriver.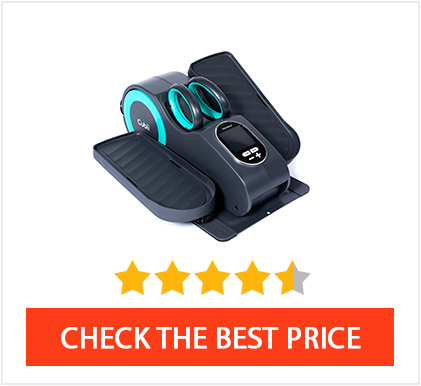 Bottom Line Review: Cubii Total Body+
If you sit a lot during the day, want to get in some movement at your desk, or have balance issues and limited mobility, then an under-desk elliptical might be for you. The Cubii Total Body+ can be used under a desk, even with a wheeled chair, in front of a couch, or at the kitchen table. We love how non-disruptive and quiet the Total Body+ is. Most people will be able to place this in front of their chair whether at a desk or not, without adjusting their seat or position much. The elliptical motion of the oversized pedals requires minimal bend and raising of your knees, so even if you have longer legs you shouldn't have to worry about knocking them on your desk or table. For some guidance and motivation, the Cubii App is surprisingly helpful and the trainer-led classes are of good quality, especially for a free training app. The Cubii Total Body+ takes using a seated elliptical up a notch with the resistance handles, so if you're looking for maximum specs on a tiny piece of equipment like this one, then check it out.