*TreadmillReviewGuru helps consumers find the best home fitness products. When you buy a product we recommend, we may earn a commission.
Last Updated: January 5, 2023
The Cycle Boxer is a unique combination of boxing, mental concentration and cycling rolled into a surprisingly compact piece of fitness equipment. The Cycle Boxer offers more upper body engagement than traditional workout equipment and keeps you focused and engaged the whole time! The frame is an upright stationary bike with flat rotating pedals and extra wide seat. At the front, a panel of boxing sensors hovers just above the handlebars which users strike with boxing gloves. Behind each sensor is a light which indicates where the user should strike. Lights appear in random patterns that vary from easy, medium to hard. The Cycle Boxer is a fun combination of hand-eye coordination and mental concentration added to full-body conditioning.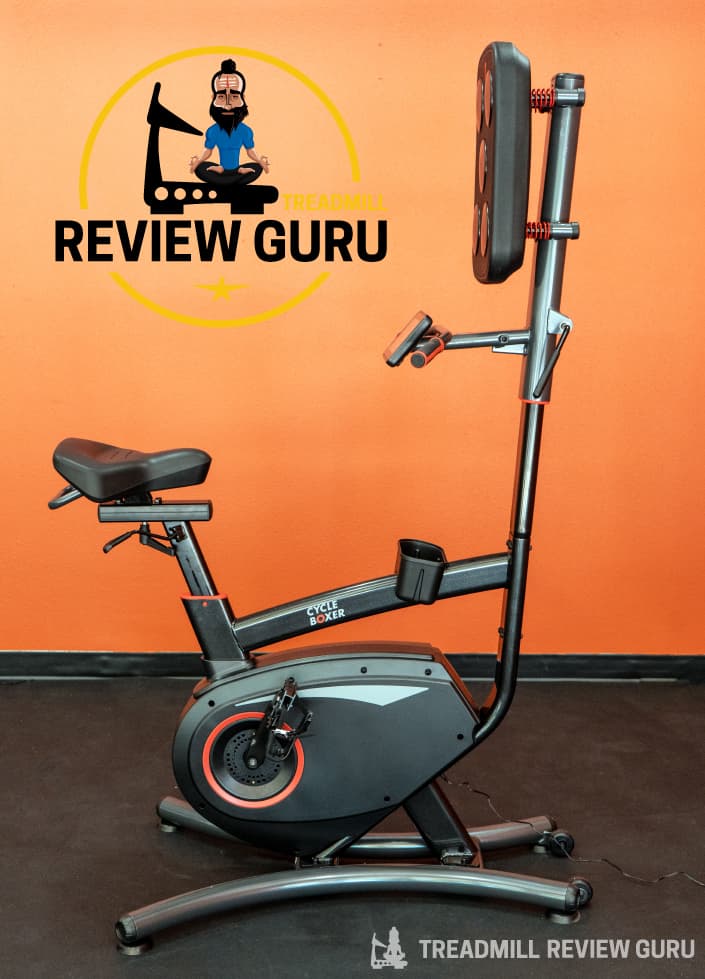 Who It's For: The Cycle Boxer is ideal for those who want full body conditioning on an indoor cycling bike
The Cycle Boxer is best suited for users who:
Can sit upright on a bike and maintain balance
Are comfortable with punching/boxing movements
Can keep cycling while focused on the boxing panel
Are looking for more upper body activation
Willing to wear boxing gloves while in use
Can withstand the impact force of your boxing glove hitting the panel
Appreciate new and different ways to exercise
Our Video Review
---
Pros
Cycle Boxer is unique way to get a full body workout at home while seated
Cycle Boxer allows users to develop more arm, shoulder and back strength from boxing motions
Keep your lower body activated by cycling during the boxing workout
16 Levels of cycling resistance provide enough friction to keep all riders engaged
Cycling resistance is silent and magnetically calibrated
12 boxing levels provide enough challenge for all users
Boxing panel is reinforced for stability and strength
Boxing sensors will tolerate heavy impact but are also sensitive to lighter strikes
Cons
Cycle Boxer is new and relatively untested. No stats yet on longevity and durability.
Limited cycling benefits. The cycling component is more of a background element to keep your legs engaged. This is more upper body focused equipment and we'd love to see Lifespan improve the cycling experience in future models.
Seat could be more comfortable, and it would be nice if it came up higher for taller individuals above 6'4″.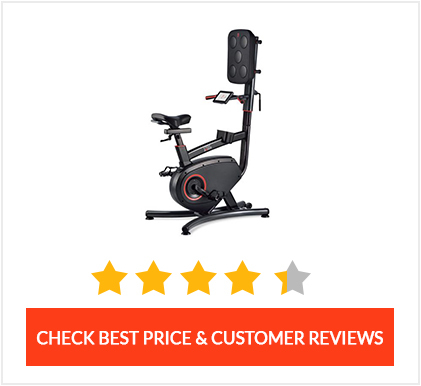 ---
Full Body workout machine

The cycling motion keeps legs and feet engaged while the boxing panel challenges your arms, shoulders and core. This is a unique boxing style workout for those who would prefer to sit on an upright bike.

Magnetic Eddy Current with 16 Resistance Levels

Magnetic resistance is silent. Regardless of which resistance level you are on, there is no noise from pedaling.

Bike weight: 121lbs and Max user weight: 300lbs

The Cycle Boxer only weighs 121 lbs and has front wheels so you can roll it when needed. But it will support up to 300lbs of user weight.

Footprint: 43.6" L x 27" W x 63 – 74.5" H (boxing panel is adjustable up/down)

This machine has a surprisingly compact footprint at just 27" wide and 43.6" long. The boxing panel does sit up high, but can be adjusted for a total height of 63" to 74.5" high.

Backlit color touchscreen is Bluetooth enabled

The color touchscreen sits snugly between the handlebars and within easy reach from the saddle. From the touchscreen you can select Manual or Custom programs with settings from Easy, Medium to Hard. The console is also Bluetooth enabled and will sync with the LifeSpan HR chest strap or the Cycle Boxer app on your phone.

Touchscreen metrics include: Boxing speed, accuracy, cycling cadence, cycling resistance, program selection

You can see your current metrics on the touchscreen or on the app on your phone

5 Boxing Sensors with colored lights behind each sensor

The boxing panel includes five raised sensors with colored lights behind each sensor. Depending on the program you use, boxers can target lights or shapes in the sensors.

Boxing gloves included

Adjustable boxing gloves should fit most hands with a velcro strap and elastic finger links.

Boxing panel tested to withstand both powerful and lighter strikes

For stronger boxers, the boxing panel will withstand heavy impact strikes. For new boxers, the sensors will also respond to lighter hits.

Padded seat allows for ergonomic core and lumbar support during workout

The wide saddle has contouring to support an upright, ergonomic position that engages the core during boxing.

Touchscreen console syncs with Cycle Boxer app

Keep a tally of your current workout with a history of all previous workouts on your phone in the Cycle Boxer app. The app will sync with the console via Bluetooth for end-of-workout metrics as well.
Construction:
Flywheel 13.2lbs
Molded, contoured seat
3 Adjustment points: Boxing screen, seat fore/aft and up down
Magnetic Eddy Current brake and resistance system
16 Resistance Levels
12 Punch levels from easy to hard
Bi-Directional flat pedals
Adjustable pedal strap
2 Front-mounted transport wheels
Bike weight: 121lbs
Max user weight: 300lbs
Footprint: 43.6" L x 27" W x 63 – 74.5" H (boxing panel is adjustable up/down)
Console:
Backlit color touchscreen
Bluetooth enabled
Quick Start or Custom Programs
Syncs with Cycle Boxer app
Syncs with included HR chest strap
Console requires electrical power from wall outlet
Internet not required to operate
Resistance level, boxing speed, program selection on touchscreen
Real time workout metrics
Metrics include: Boxing speed, accuracy, cycling cadence, cycling resistance, program selection
Boxing Panel:
5 Sensors
Colored lights behind each sensor
Boxing gloves included
Boxing panel is adjustable up or down
Boxing panel is sturdy and reinforced
Boxing panel tested to withstand powerful strikes
Boxing panel tested to respond to lighter strikes
Functionality:
Full body engagement
Cognitive and coordination challenges via boxing panel
Boxing panel can withstand significant impact
Light touches also trigger panel response
Cycling pedals and flywheel keep legs moving
Padded seat allows for ergonomic core and lumbar support during workout
Resistance is silent
Touchscreen console sync with Cycle Boxer app
Warranty:
Frame: Lifetime
Parts: 1 Year
Labor: 1 Year
In-depth Review of Cycle Boxer
---
Construction
Bike Frame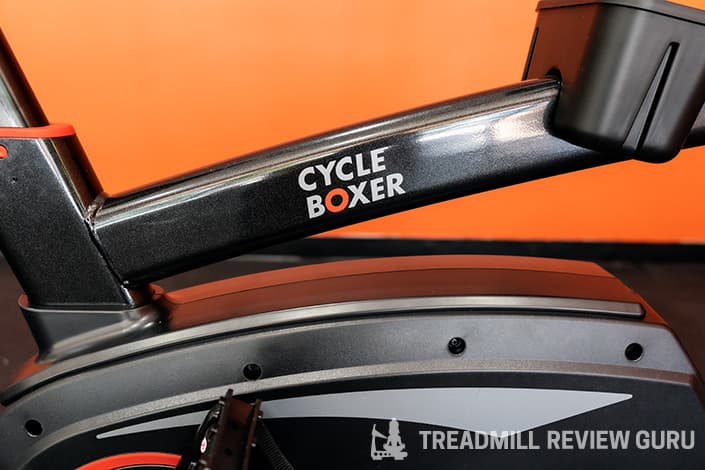 The Cycle Boxer is constructed of a black steel frame with a 13.2 pound flywheel and magnetic eddy current resistance. There are three adjustment points on the bike: the seat moves forward and aft as well as up and down. Below the seat is a lever that you can pull to adjust the seat while you are on it, to find just the right height. The boxing panel also adjusts up and down per the user's reach. The boxing panel is supported by a steel beam with sturdy coils behind to absorb the shock from each punch. The panel feels secure and is within reach when boxing. The Cycle Boxer itself only weighs 121 pounds, which is certainly on the lighter end for fitness equipment. However, it will support up to 300 pounds, which opens it up as a potential training tool for most athletes. There are two front mounted transport wheels and a steel handle behind the saddle. You can lift the handle and tilt the bike forward to engage the wheels and roll as needed. The frame is more of an upright cycle, so riders sit with torso and spine elongated rather than hunched forward. This allows for maximum force and necessary core control during the boxing session. The total dimensions for the Cycle Boxer are: 43.6" Long x 27" Wide x 63" – 74.5" High. The height is adjustable since the boxing panel can be adjusted up or down.
Pedals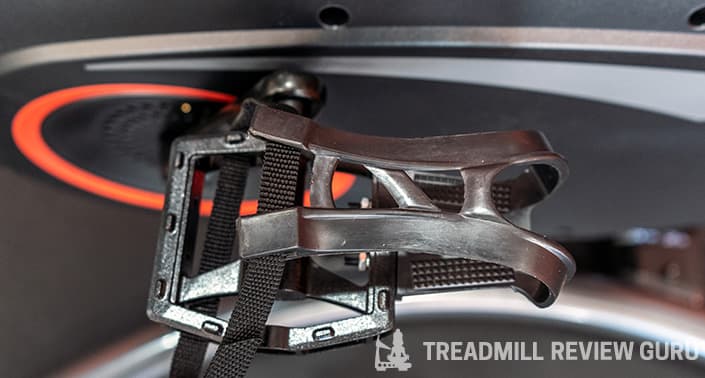 The pedals are flat metal with toothed edges and an adjustable strap to hold your shoe in securely. There is no clip for an SPD or other cycling shoe. The Cycle Boxer is designed to be used by any athlete and so the pedal will work with any athletic shoe.
Flywheel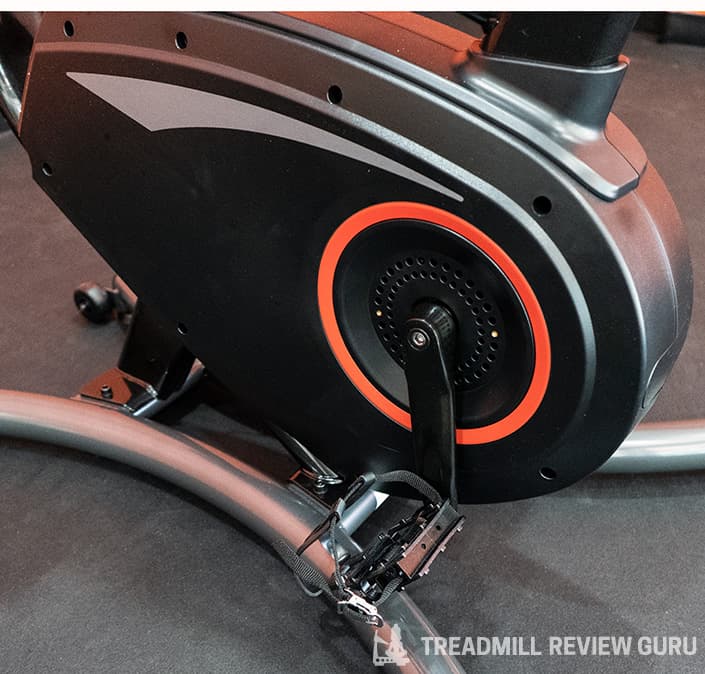 The Cycle Boxer has a 13.2 pound flywheel. This isn't the heaviest, but it is a typical weight for an upright cycle. Since most of the focus is on the boxing mechanism here, the cycling motion tends to be gentle and rather controlled during the workout. Cycling keeps your legs engaged and your feet spinning so you don't have limited circulation issues while boxing. Since most of the focus is on the boxing panel, it's nice that your feet have something to do. Even a gentle spin makes the experience more engaging than just standing in front of a punching panel. The flywheel is quiet and you don't hear any noise from pedaling.
Seat



The seat is wide and contoured, but this is not an overly padded saddle. Unfortunately, we found the seat to be consistently uncomfortable for different sized riders. While the saddle is wide, the thick ledge at the back and the way the nose tips up a bit makes it difficult to sit on for more than 20 minutes or so. Our 6'5" reviewer did not have enough saddle height. However, the design of the saddle does support the user's weight and encourages an upright riding position for proper balance and core stability while boxing. Just a bit more padding would help significantly. The saddle cannot be swapped out. One element we do like is a handy lever under the seat so you can adjust the height of the saddle while sitting on it! This is very useful since finding the right height can be challenging when standing to the side. There is also an adjustable pop pin lever to move the saddle forward and aft.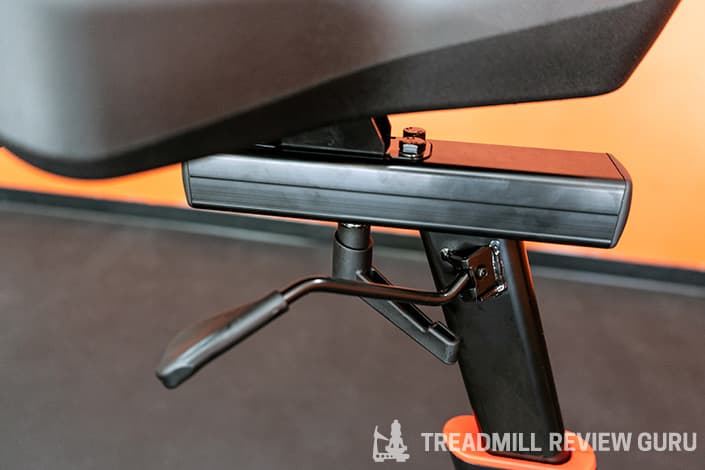 Boxing Panel
Sensors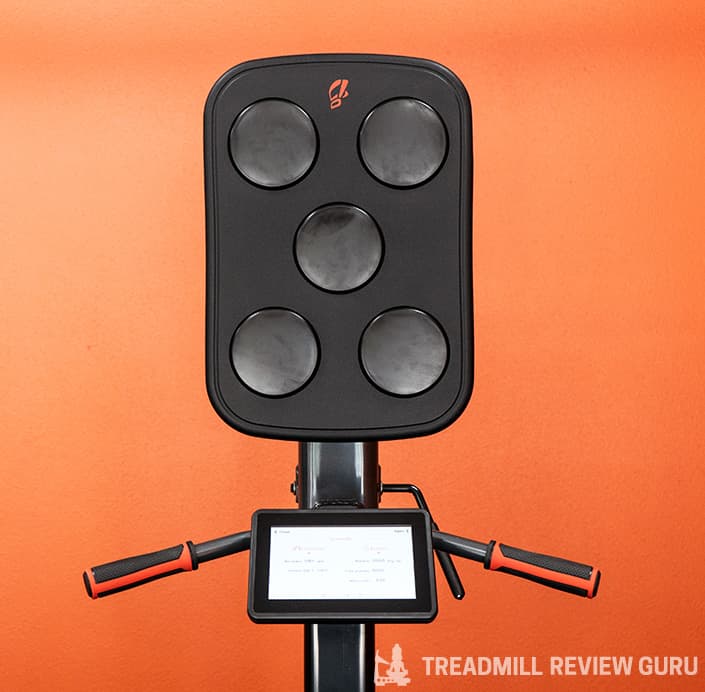 As mentioned above, the boxing panel consists of five impact sensors with lights underneath. The lights change depending on the program you select. Programs incorporate varying colored lights and varying shapes for increased difficulty. We tested the panel for strength and found that it easily absorbed heavy impact from our stronger reviewers and also responded to lighter taps as well. The included gloves also help when punching the sensors as they are just the right size to hit the sensor completely. There is enough span between the spaces to avoid accidentally hitting more than one. Behind the panel are four thick red springs that absorb the impact from boxing strikes. The steel beam holding the panel is also sturdy and reinforced. As you can see, there is a lever behind the handlebars that allows the panel to be raised or lowered depending on the height of the user.
Colored Lights
When using a boxing program, the lights behind the sensors are colored to indicate which hand to punch with and/or which sensor you should strike. The lights are easy to see and shine clearly through the sensor. Even when we had the timing between strikes at its fastest pace, you have time to see and (hopefully) respond to the lights.
Shapes
The sensors also display colored shapes that are more challenging to see and respond to. We found the use of both lights and shapes to be intriguing and certainly there is plenty of challenge for even those with very fast hand-eye coordination.
Adjustment Points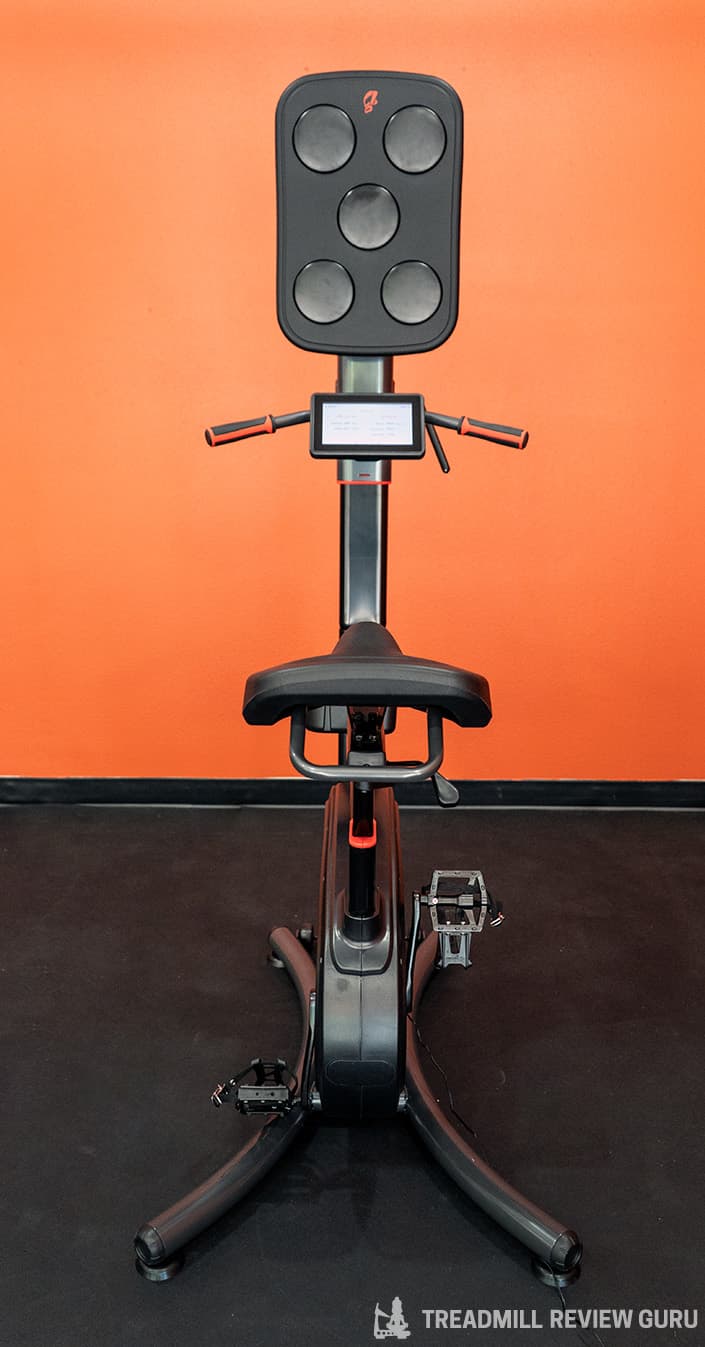 The boxing panel adjusts up and down via the lever behind the handlebars. It will rise to 74" and drop to 63" in height. This was one area where our different sized reviewers had plenty of range. The panel raises and lowers enough that pretty much anyone should be able to see and reach it.
Console
The console on the Cycle Boxer is a single touchscreen. The screen is full color and easy to see with a bright background and black font. The touchscreen incorporates all functionality into one element which keeps the cockpit tidy. Aside from a cup holder on the top tube, there is nothing cluttering up the front of the bike. This makes it not only easy to use, but easy to get on and off since you don't have to worry about navigating around buttons or other tech to get seated on the bike.
Touchscreen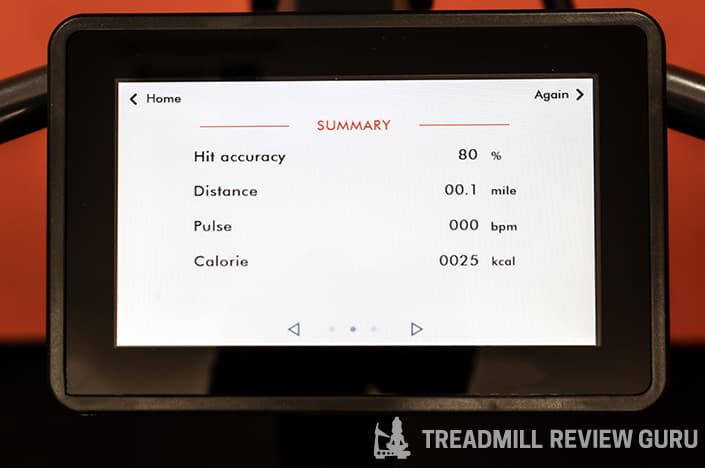 The home screen automatically loads when you turn on the Cycle Boxer. You can choose to do a Quick Start – which is just the manual mode where you set the tempo and pattern boxing and cycling. Or, do a User Challenge, which is a preloaded program that varies in difficulty from Easy, Medium and Hard. There is also a Bluetooth button on the main screen to connect a phone or other device and a chest strap heart rate monitor. Whenever you select a User Challenge program, the touchscreen provides instruction and directions regarding the boxing program. Programs are divided into rounds. At the end of each round the screen displays your hit accuracy, distance cycled, pulse (if using a HR chest strap) and total calories. We liked how you get a break in between each round. The boxing programs are quite challenging. This is not a "Netflix and run mindlessly" machine. You have to pay attention throughout the program. The Easy programs are a good intro and the Medium programs provided plenty of challenges. The Hard setting is Hard! Try to keep up with varying shapes and patterns while cycling at the same time! This really is a full body challenge. The color touchscreen adds a valuable element to the training with plenty of metrics. If you download the Cycle Boxer app and sync with the machine, you can control and/or see your workout metrics at the end of each round just like on the screen.
Bluetooth
The console is Bluetooth enabled and syncs easily with the included HR chest strap and/or your personal phone or tablet. There is no tablet holder, but a phone fits in the cup holder on the top tube. There are no speakers and no music with any of the programs, so the Bluetooth is just for syncing a phone or chest strap.
Fan
There is not a fan on the Cycle Boxer. It would be hard to find room for it and we like the clean cockpit. Although having a fan is always a nice addition.
Cycle Boxer App
The Cycle Boxer app can be downloaded in the Apple or GooglePlay store. It syncs easily with the console and provides not only your workout metrics for each round, but provides an ongoing tally of all your workouts. The app is free and should work with most Apple or Android operating systems.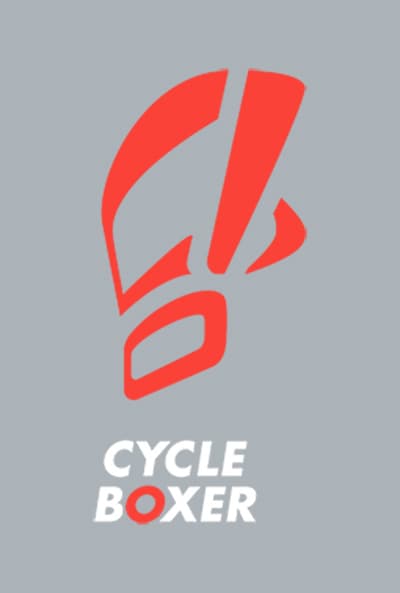 Storage
There is limited storage on the Cycle Boxer. A black storage pocket that is large enough for a small water bottle sits on the top tube. This is also a convenient place to set a phone. A slightly smaller pocket on the other side of the top tube will also hold keys or other small items. Other than this, there isn't any storage around or behind the seat or on the handlebars. Larger water bottles or other items (such as a towel) would need to be draped over the handlebars or set on the floor. In all honesty, because you have the gloves on while using the Cycle Boxer, it's hard to get a drink or answer a phone anyway. Texting would require you to pause a program and remove the gloves. All things considered, the storage is adequate for how often you would be able to grab things.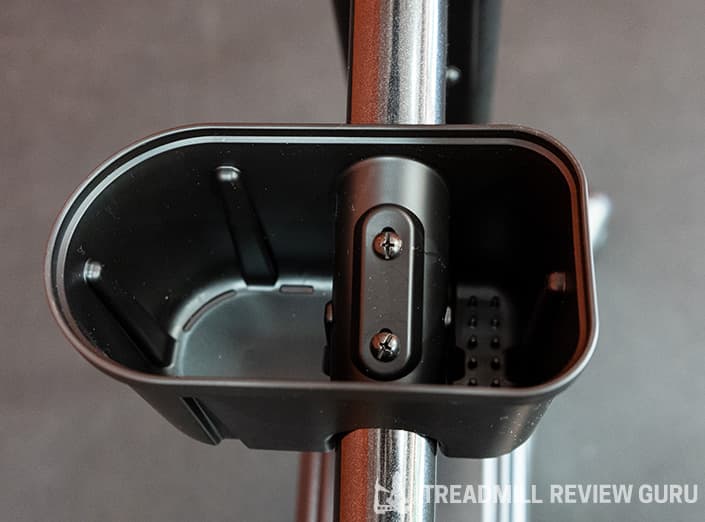 Accessories
Boxing Gloves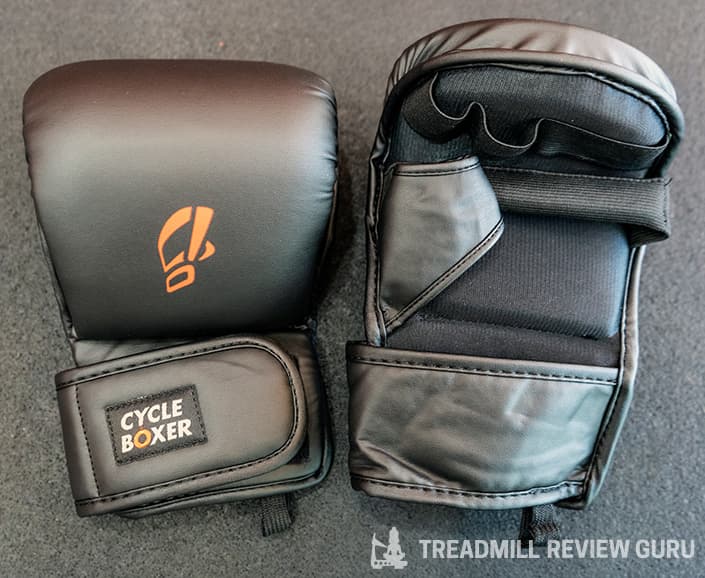 The Cycle Boxer includes boxing gloves that are adjustable and should work for most sized hands. Elastic loops provide a secure hold for fingers while the thumb hole is large and lightly padded. There is also a cushioned palm strap to curl your hand around. A velcro strap secures the gloves firmly to your wrist. The gloves are generously padded so even if you hit the panel with significant force, it shouldn't hurt your hand or fingers. The gloves also have sensors in them so the panel knows if you are using your right or left hand.
Chest Strap
An included chest strap syncs automatically to the console and should be adjustable enough for most users.
Functionality
Performance
Let's get to the important question: is the Cycle Boxer an effective workout? Is it fun to use? Do we recommend it? Yes — with a few caveats. The Cycle Boxer is an effective workout. Just using it for a short two rounds sent me into a quick sweat. You really have to pay attention and stay focused. This machine — unlike many others we test — does not provide a passive workout. You cannot just plug in and go. At each stage and in any program (even the Easy ones) you have to pay attention the entire time. This develops not only greater muscular strength, it also increases coordination, and stimulates mental acuity as well. The Cycle Boxer is as much for your brain as your body. While this makes it a fun and engaging workout, it also is a bit more taxing than comparable workouts because you can't "zone out." There's no downtime during a program. You get a 2 minute rest in between rounds, but then you're off again, boxing out a prescribed pattern. I did a series of workouts ranging from 2 rounds to 4 and then progressing to a full half hour of boxing. This is a great upper body workout that provides more challenge to the deltoids, lats, triceps and biceps than traditional fitness equipment. It's also fun to punch the boxing sensors with varying degrees of force. Want to try and knock the thing out? Give it a go! The panel feels sturdy enough to withstand the boxing abilities of most users. For those who are new or have hand sensitivity, you can also just "tap" the sensors and they still respond. However, our biggest issue was that because the Cycle Boxer requires so much focus — and because the seat is relatively uncomfortable — we couldn't commit more than 20-30 minutes to this machine. You'd really have to work to progress (both mentally and physically) beyond a 30-minute challenge on the Cycle Boxer. We don't foresee this being a machine that the average user would enjoy for hours on end every day.
Cycling Magnetic Resistance
The magnetic resistance is absolutely silent. The Cycle Boxer has 16 levels of resistance. You choose one level per round on the touchscreen. It cannot be adjusted mid-round. The resistance appears to be separate from the boxing program. Whether you choose an Easy, Medium, or Hard program, you can set the cycling resistance wherever you want it. Level 16 is quite challenging, so even for strong cyclists, this should provide enough of a leg challenge during your boxing round. We have to say, the cycling feature on the Cycle Boxer is more of a background component to the overall workout. The focus really is on the boxing program. The moving pedals keep your legs engaged and prevent blood from pooling in your feet while boxing. But there is no preloaded cycling program like there are boxing programs.
Boxing Panel Strength
As mentioned, we had several different reviewers test the Cycle Boxer and even our strongest, 6'5" reviewer felt he could hit the panel with full force and the Cycle Boxer absorbed the shock easily. The boxing panel is supported by a steel beam and has large springs to help mitigate impact. This design adds both stability and impact control for both strong and weaker hits.
Pre-programmed workouts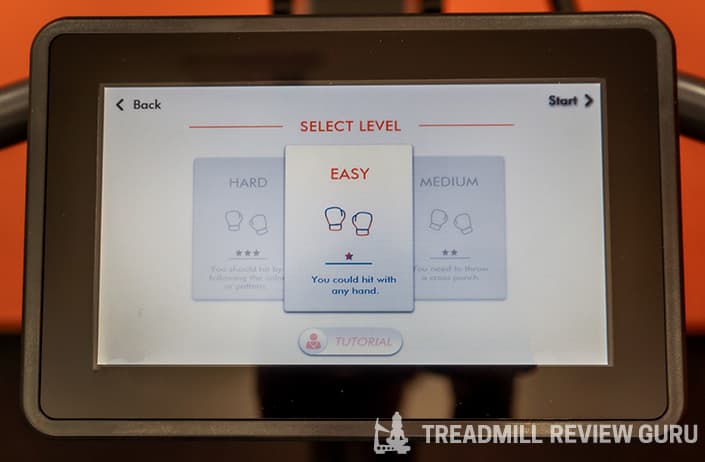 The Easy programs do not dictate which glove you use to strike the sensors. The Medium programs incorporate cross-body punches into the format so you must hit lights on the right sensors with your left hand and vice versa. Hard programs are much more challenging with increased speed and varying types of boxing punches. For Easy, Medium or Hard programs you can choose to follow a pattern based on Colored Lights or Colored Shapes. This adds a level of interest, since we found the shapes to be more difficult than the colors (although the colors were still plenty challenging!). A Tutorial button at the bottom briefly explains the upcoming program. There is also a short count down before each round so you have time to adjust or put on your gloves. At the beginning of any program you can adjust the speed the sensors light up, change your resistance, and choose how many rounds you would like to do. Much of this functionality overlaps in the Cycle Boxer app as well.
Subscription Options
There is no subscription content for the Cycle Boxer. The app adds more settings and records your stats and progress over time, but it doesn't add any more programs to choose from.
Boxing Noise Level
There is no noise from pedaling. There is a bit of noise from striking the boxing panel. This depends on how hard you hit it. We wouldn't classify this as a "quiet" machine, but it isn't as noisy as a loud treadmill running in the background either. Any and all noise is from striking the panel, which is a relatively rhythmic sound based on the timing of the sensor pattern. We wouldn't recommend this for a bedroom or other space where people are working, but it would be fine in an adjacent room, garage, or upstairs floor.
Wheels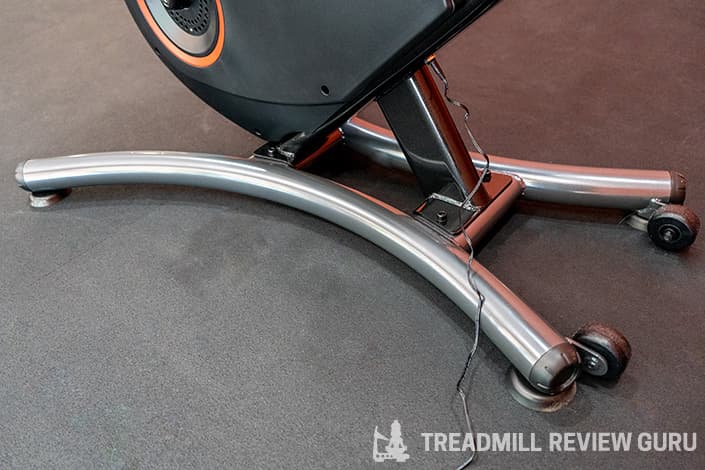 The Cycle Boxer has two wheels on the front of the stabilizers that will engage when you tilt the machine forward. Since it doesn't weigh much (121lbs), you can tip and roll the Cycle Boxer as needed. The only challenge is managing the height since the Cycle Boxer has more of a vertical rather than horizontal frame.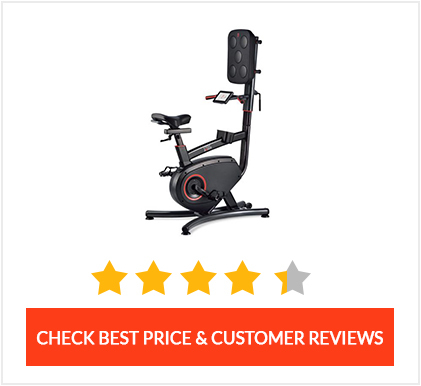 Bottom Line:
The Cycle Boxer is a challenging way to stay engaged and active. This machine is unique in its ability to improve focus, concentration, and hand-eye coordination as you attempt to strike randomized light sensors on the boxing panel. The Cycle Boxer provides both cardio and strength training since the cycling and exertion from boxing strengthen your lungs and heart. While the muscle challenge of boxing also strengthens the arms, back and core. The Cycle Boxer uses flashing colored lights on the boxing panel and you score points each time you correctly hit a target. The console touchscreen is easy to use and understand. Riders can select from any number of preprogrammed workouts or customize their own. Metric readouts for speed, distance, accuracy, and calories are displayed during each round. There is also a tutorial button for a quick overview before you get started. The included chest strap syncs easily with the console to provide real time HR metrics. The Cycle Boxer has three adjustment points, includes padded boxing gloves, and has flat pedals with adjustable straps for any sized athletic shoe. Built with an all-steel frame, the Cycle Boxer feels sturdy and stable. Two stabilizers on either side keep you balanced so there's no rocking and wheels on the front of the stabilizers enable the Cycle Boxer to be rolled when needed. The cycling motion is smooth and silent with 16 magnetic resistance levels.
In all, we find the Cycle Boxer to be a challenging full body (and mind) workout. Users looking for more upper body strength and conditioning will especially appreciate the Cycle Boxer's design since it engages the arms, back, chest and core more than comparable fitness equipment. Light to heavy pedal motion also keeps the legs engaged during your workout. We are a bit concerned about seat comfort, since that limits the amount of time you can spend on the Cycle Boxer. Also, the nature of the workout is quite challenging and this is not a machine we anticipate most users being able to enjoy for more than 20 minutes or so. The cycling component is more of a background element, so this does not rival other studio bikes for specified cycling training. However, over time, as users develop increased acuity and endurance, and for those who are already used to boxing, the Cycle Boxer has potential. If you are in the market for something different, that challenges your full body, is fully contained, and doesn't require a subscription, the Cycle Boxer is a good place to start.