NordicTrack C 990 Treadmill is one among the most selling model in the C series. This treadmill fulfills the need of every person who are pursuing their strict fitness goals. It's loaded with several advanced features that aren't normally found in economy-priced treadmills. It comes with a 3.0 CPH powerful motor that provides consumer with a top speed of 12 mph. It has a 20″ x 60″ wide running track, an automated 12% incline and 32 built-in workout programs. The C 990 dimensions are 78.3″ L x 35.75″ W x 56.4″ H and weighs about 260 lbs.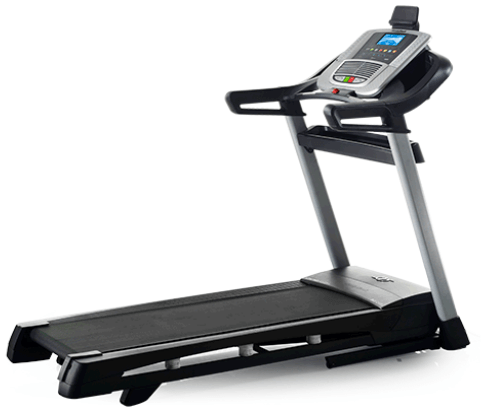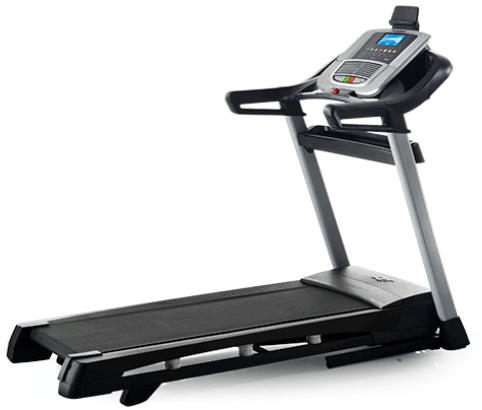 It has a compact designed console which consists of 7″ web-enabled touchscreen, tablet holder and InterMix Acoustics sound system with an iPod or MP3 compatible music port, so you can enjoy your workout while listening to your favorite music. With its patented SpaceSaver design equipped with EasyLift Assist telescopic shock technology, you can fold or lift it easily with an easy push for proper cleaning around or below the treadmill area.
Pros
Folding treadmill with EasyLift Assist feature, you don't need to put extra strength in lifting and bending as it will fold/ unfold on its own with just an easy push.
It has a powerful 3.0 CHP continuous duty motor which operates quietly.
It offers 12 levels of incline for high intensity workout.
It has 32-builtin programs to choose from according to your preference for your cardio workout.
Heart rate monitoring option through CardioGrip touch sensors or Bluetooth chest strap.
FlexSelect Cushioning with an on/off feature.
It comes with iPod/ MP3 compatible Intermix Acoustics 3.0 Sound System so that you can stay motivated with your favorite workout playlist.
It is equipped with autobreeze workout fan which automatically adjusts its speed to match your workout intensity to keep you cozy and fresh during your workout.
It has a spacious running belt of area 20″ x 60″ to provide you with a comfortable and natural running experience.
It has a high weight capacity of 325 lbs.
It offers lifetime warranty on motor and frame, 3 years on parts and 1 year on labor.
Cons
Bluetooth wireless chest strap for monitoring heart rate is not included, you need to purchase it separately.
The tablet computer holder isn't at the right eye level.
NordicTrack C 990 Treadmill comes with EasyLift Assist feature that lets you to easily fold up and lift up treadmill for ultimate floor space maximization or for moving it around with great ease.
NordicTrack C 990 Treadmill comes with a 3.0 CPH continuous duty motor contributing to its durability, longevity and higher speed. It operates on a quiet mode and comes with a lifetime warranty period.
The console of NordicTrack C 990 Treadmill comprises of 7″ backlit LED, full-color touchscreen where you can keep track of time elapsed, distance covered, speed, incline, calories burned, heart rate and pace (Minutes/miles).
This ultimate running machine has a speed range of 0-12 mph which is perfectly suitable for walkers, joggers as well as runners.
NordicTrack C 990 Treadmill provides you with an automated inclination from 0%-12% ideal for high intensity workouts to burn more calories.
You can easily monitor your heart rate through CardioGrip touch sensors provided on the handles of this treadmill or through Bluetooth chest strap, which you need to buy separately.
With iFit feature (you'd have to get subscription first), you can keep track of your progress, replicate real life running with Google maps, compete with your friends and customize your training program to pursue your fitness goals.
The best thing about NordicTrack C 990 Treadmill is that it comes with 32 Built-in Programs to enhance your workout productivity. You can select any program according to your preference of cardio workout.
NordicTrack C 990 Treadmill is equipped with FlexSelect Cushioning which is adjustable. You can turn on the cushioning to reduce stress on joints for a soft workout and you can turn it off to simulate outdoor conditions for a experience as you're running on the road.
It has a 20" W x 60" L running belt which is quite wide and perfect for every height group and its aims to provide one with the natural experience of walking, jogging or running.
InterMix Acoustics Sound System
This treadmill comes with iPod/ MP3 compatible InterMix Acoustics sound system with 3″ speakers to keep you entertained during workout.
You can easily attach your tablet using the tablet holder provided in this machine to enjoy your favorite shows, music and movies to help exercise time fly fast and keep yourself entertained.
The treadmill's weight capacity is 325 lbs which is quite a wide range making it an ideal choice for most of the people within this range.
This solid highly durable treadmill comes with a lifetime warranty on motor and frame, 3-year warranty for parts and one year for labor.
Motor: 3.0 CHP.

Incline: 

0-to-12

%.
Speed: 0.5-12 mph.

Dimensions: 78.3″ L x 35.75″ W x 56.4″ H.

Folding: Yes.
Running Area: 22″ W x 60″ L.

Max. User Weight: 325 lbs.

Treadmill Weight: 260 lbs.
Benefits
NordicTrack C 990 Treadmill is a great machine for cardio training and muscle toning which comes at an reasonable price and is equipped with variety of breathtaking programs and features which do justice to price. Plus the features like FlexSelect Cushioning, EasyLift Assist, iFit,  7″ backlit LED full-color touchscreen aren't normally found on economy-priced treadmills.
The built-in 32 programs will keep you motivated and entertained and if you are not happy with the programs provided, you can download numerous other programs by being a member of iFit club. The speed range (0-12 MPH) is quite suitable for person including joggers, walkers as well as serious runners and 0%-12% inclination provides a luxury for intense cardio workout.
Moreover, if you are a person to whom music is really important, you should know that this treadmill comes with an InterMix Acoustics Sound System sound system to keep you concentrated towards your fitness goals.
Final Verdict: NordicTrack C 990 Treadmill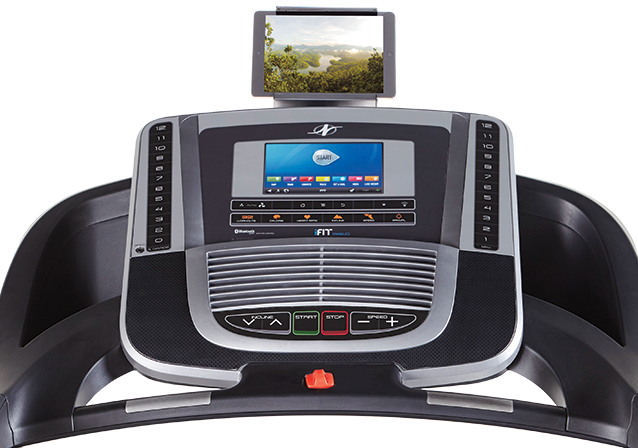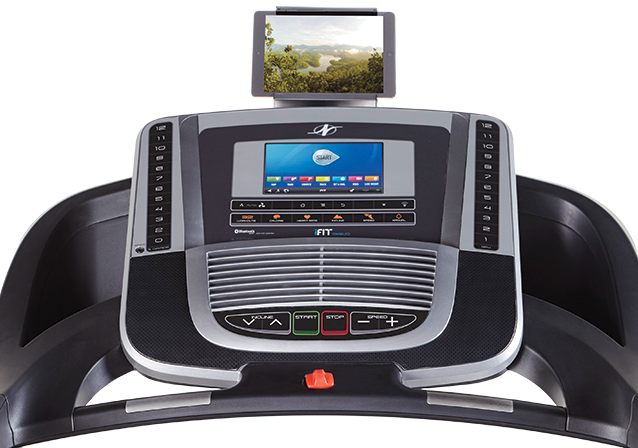 NordicTrack C 990 Treadmill comes with to high-end features to improve your workout performance, as well as the entertainment options that make indoor walking, jogging, and running more enjoyable. Whether you are are one of the starters looking for a casual workout or serious runner looking for the harsh workout, this treadmill is the one for you as it satisfies the need for casual as well as harsh workout perfectly. Also, the motor is really powerful compared to many other treadmills and the high speed and incline ranges justify the price.
According to mine opinion the drawbacks are not really important compared to what this treadmill offers to you that too at such a reasonable price, so its a good option for a fit and healthy lifestyle.
What We Like?
SpaceSaver design with EasyLift Assist technology.
Powerful and quiet motor.
High speed limit.
High incline power.
Variety of built-in programs.
iFit Technology.
Heart rate monitoring.

FlexSelect Cushioning.

Spacious running area.
iPod/ MP3 compatible sound system.
Autobreeze workout fan.
Accessory tray.
High weight capacity.
Good warranty.
What We Don't Like?
You need to spend extra money for Bluetooth wireless chest strap.
Tablet holder not at the right eye level.
Conclusion
Although there are many other treadmills available on this market, we still recommend NordicTrack C 990 Treadmill for starters as well as serious runners who are willing to pursue their fitness goals. The treadmill does lack Bluetooth wireless chest strap which you need to buy separately but other than that, it comprises of all the breathtaking features to keep you motivated and entertained during workout. The 32-builtin programs and 12% incline perfectly satisfies the intense workout need. Lastly, the weight capacity (325 lbs) is huge and covers majority of people so, all of your family members can use this treadmill.
Related Treadmills Review:
Summary
Reviewer
Review Date
Reviewed Item
NordicTrack C 990 Treadmill
Author Rating