*TreadmillReviewGuru helps consumers find the best home fitness products. When you buy a product we recommend, we may earn a commission.
Last Updated: May 4, 2023
LifeSpan TR1200i treadmill is a budget-friendly machine by LifeSpan, which is equipped with an array of quality features that are a hallmark of this fitness equipment manufacturer. These features work together to provide users with solid treadmill workouts without needing to buy an expensive treadmill.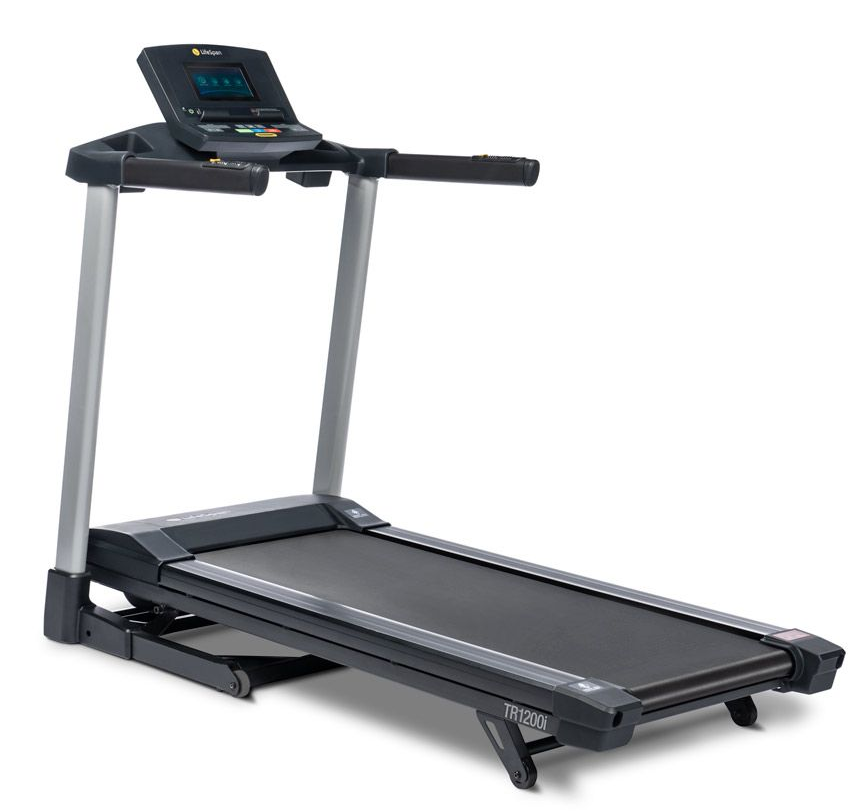 Balancing the price tag with the features, LifeSpan has equipped the TR1200i with things like the 2.5 CHP motor. This motor is a bit on the smaller side and is best suited to walkers and joggers who won't have overly taxing exercise demands. Also, the TR1200i offers a speed range of 0.5-11 MPH, which is a little short of what is normally available on a treadmill in this price range. However, it can be a good thing that the TR1200i treadmill can't reach 12 MPH, as this treadmill isn't really meant for those speeds.
As for the dimensions of the TR1200i treadmill, this machine is fairly compact and should fit well into most homes. It measures 70.25" long, 33" wide, and 55" high when unfolded and in use. If you would like to fold up your TR1200i treadmill once you are done with your workouts, you can do it easily. This treadmill comes with a hydraulic shock system and allows you to fold up the treadmill with ease and unfold it and allow the deck to go down on its own. When in the folded position, the TR1200i treadmill measures 39" long, 33" wide, and 63" high.
Speaking of measurements, the treadmill belt area where you workout on the TR1200i has a 20" wide by 56" long running surface area. The belt of this treadmill is also durable, as it is a 2-ply belt. Also, this belt runs on 2.5" rollers and is supported by eight shock absorbers, which provide safe cushioning for your back, joints, and the rest of your body.
If you still are not sure if the LifeSpan TR1200i treadmill is for you, please keep on reading the rest of our Treadmill Guru in-depth review of this machine. In the end, we want you to know what you are purchasing and to be sure that this treadmill is the right one for you or not.
Pros
It is easily foldable thanks to the LifeSpan EZfold technology which assists in folding and unfolding as well as frees up space in your home.
The TR1200i treadmill is compact, whether it is folded up or unfolded.
It has a good 2.5 CHP motor, which works quietly without creating much noise.
This treadmill offers fifteen incline levels for high-intensity workouts.
Eight compression shock absorbers are built into the treadmill deck, and they provide safe, responsive cushioning for knees, back, and joints.
The TR1200i treadmill provides the user with a wide variety of programs with different functions.
Bluetooth sync is available so that you can save your workout data.
The TR1200i treadmill comes with 21 pre-programmed workouts for you to try out.
Four wheels are built-in to this treadmill to make transportation and moving easier.
This machine is equipped with an advanced sound system which allows you to listen to music by connecting your iPod, MP3, or any other smart device during a workout.
A high-quality two-ply belt which is 20" wide and 56" long, large enough for most people's walking and jogging strides.
The TR1200i treadmill has a high weight capacity of 300 lbs.
It offers a lifetime warranty on frame, 5-years on the motor, 2 years on parts, and 1 year on labor.
Cons
LifeSpan TR1200i treadmill is not equipped with a cooling fan.
No chest strap for heart rate monitoring included.
Not as tech-heavy as other treadmills in this price range.
The treadmill is equipped with good, 2.5 CHP motor, which provides the user with a top speed of 11 MPH. It operates quietly, putting out a regularly paced sound that won't be disruptive to the other members of your household or the neighbors. It's not the strongest motor you can find at this treadmill price range, but it is enough for walkers and joggers to easily work out.
This machine comes with EZfold technology, which utilizes a hydraulic shock system to assist in folding and unfolding the treadmill. After being folded, this treadmill requires the measurements of 39″ long, 33″ wide, and 63″ tall of floor space to be stored.
On the LifeSpan TR1200i treadmill, you have a treadmill belt that is 20" wide and 56" long to provide the user with a natural experience of walking, jogging or running. It's a two-ply quality belt, which moves along 2.5" rollers and it has eight shock absorbers. These shock absorbers work to provide a cushioned deck to reduce the strain of exercising on this treadmill.
With the LifeSpan TR1200i treadmill, there is an incline range of 0% to 15% that can be adjusted with the touch of a button for a more challenging, high-intensity workout. You can adjust the incline by whole numbers or by 0.5 increments with the arrow keys.
This machine has a speed range from 0.5 – 11 MPH, which provides users with fast walking, jogging, or running to help achieve their fitness goals.
On the TR1200i treadmill, you have a 7" full-color LCD screen that you can use to track your exercise. The multicolor LCD provides you a closer look at your workout data such as distance covered, calories burned, the number of steps taken, speed, incline, time, and heart rate.
8 Compression Shock Absorbers
This treadmill is supported by eight compression shock absorbers which provide safe cushioning for your knees, back, and joints. So, if you have been struggling with exercising on harder surfaces, this treadmill can help reduce the strain.
Variety Exercise Programs
There are in total 21 built-in programs, 17 of which are preset programs that focus on sports training, healthy living, and weight loss. As for the other programs, you can try out on this treadmill, there are 2 are heart rate programs, and the last 2 are programs that can be customized by the user.
As in many other LifeSpan's treadmills, the TR1200i model has the Intelli Guard feature, which stops the belt in case you stop walking, running, jogging or if you aren't on it for 20 seconds. On the other hand, under the LCD monitor, you can find the STOP button, which will turn off the device.
Another feature that will make you feel safe is the buttons provided on the handlebar, which are used to adjust the workout intensity or to activate a heart rate monitor. This way, you won't need to move your hands from the arm rails if you are feeling a little unsafe.
When it comes to tracking heart rate in LifeSpan TR1200i, the treadmill makes it possible in two ways: through pulse grip sensors or wireless chest strap. However, while the TR1200i treadmill is compatible with chest straps, the chest strap monitor is sold separately.
LifeSpan TR1200i treadmill can save all of your workout data such as your calorie burn, heart rate, etc., to a USB drive or you can sync a Bluetooth-enabled device for direct download. This way you can view your data using a computer or smartphone for viewing your daily progress.
LifeSpan TR1200i treadmill comes with a lifetime warranty on the frame, 5 years on the motor, 2 years on parts, and 1 year on labor.
Motor: 2.5 CHP

Incline: 0-15%
Speed: 0.5-11 MPH

Dimensions: 75″ L x 35″ W x 52″ H

Folding: Yes.
Running Area: 20″ W x 56″ L

Max. User Weight: 300 lbs

Treadmill Weight: 197 lbs
Benefits
This treadmill comes to your home at an affordable price while still providing quality features, which can be a tough balance for some treadmill manufacturers to strike. So, if you do choose to buy a LifeSpan TR1200i treadmill, it can bring many benefits to your life.
Firstly, this treadmill can help you toward your healthy living goals by providing easy access to cardio workouts. The TR1200i model does this by offering a variety of exercise programs that aim to fit every costumer's need. And you can customize one yourself if the pre-made programs are not quite what you are looking for as you train.
Final Verdict: LifeSpan TR1200i Treadmill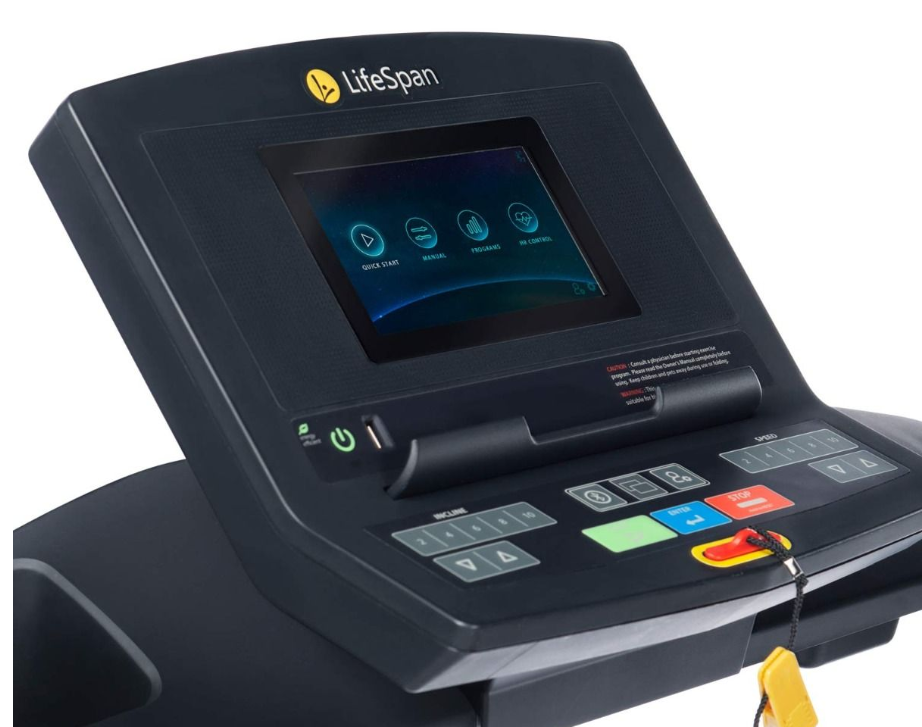 When it comes to the good characteristics of the LifeSpan TR1200i treadmill, there are many things to talk about. We can mention the multiple programs that come in handy to help you break through an exercise slump or plateau, the built-in safety features, the heart rate monitoring options, and the very comfortable belt which reduces the pain you can get from your hard training. There are plenty of treadmills in this price range, and below that don't come close to offering these features.
On the other hand, there are some disadvantages to LifeSpan TR1200i treadmill. First of all, this treadmill does not have a fan, you may end up overheating without a fan. Also, the motor is a bit on the smaller side if you are looking for a running treadmill. Instead, the TR1200i is best suited for walkers and joggers. However, the drawbacks may not be really important compared to what this treadmill offers. It is best that you carefully assess your fitness goals then determine if the LifeSpan TR1200i treadmill is the right machine for you.
What We Like?
Folding treadmill with EZ technology
Quiet and good motor
Available at an affordable price
Wide variety of built-in programs
High incline range
Heart rate monitoring options
Advanced security features
Good quality belt
Shock absorption system
Data storage option
High weight capacity
Good warranty
What We Don't Like?
Not much tech as other similarly-priced treadmills
No cooling fan
Doesn't include a chest strap
Conclusion
All in all, the LifeSpan TR1200i treadmill has more advantages than disadvantages. In fact, this machine provides many of the high-quality features you would expect to find on machines twice the price. To those who wish for a durable, quality treadmill with strong exercise features at an affordable price, LifeSpan TR1200i treadmill is a great choice.
Related Treadmills Review: