*TreadmillReviewGuru helps consumers find the best home fitness products. When you buy a product we recommend, we may earn a commission.
Last Updated: May 11, 2023
Our treadmill review of the Nordictrack x32i provides details and info on this exceptional incline trainer. The NordicTrack x32i is a high-tech treadmill that features a steeper incline and a more powerful motor than other treadmills to help you get the most out of your fitness goals. Nordictrack has added several upgrades including improved HD graphics on the 32" touchscreen, faster WiFi connectivity so you won't lose time in a buffering delay, and enhanced automated trainer control. Also, you can now sync your Bluetooth headphones with the x32i to listen to iFit programs. The NordicTrack x32i is good for weight loss, cardiovascular conditioning, HIIT training, and even strength training with the varied iFit classes. With so many training options, this treadmill can be used to replace your gym membership.
Treadmill Awards: Best Treadmill Overall, 2023
For the second year in a row, the NordicTrack x32i is our Best Treadmill Overall for 2023. The x32i provides a smooth feel underfoot as you run. It has a sturdy steel frame with enhanced Reflex cushioning to absorb impact shock. The "reflex" motion of the deck responds to each user's weight and impact so smaller users will stimulate a shallow deck reflex while heavier, stronger runners will generate a deeper reflexive motion in the deck. This way, the cushioning is not too stiff for small runners nor too absorbent for larger runners.
The 32" touchscreen is placed directly in the user's line of sight which really pulls you into the experience. The combination of a cushioned running surface and engaging iFit content makes it so you can work out longer and harder on the x32i without getting bored or uncomfortable. The extreme 40% incline also allows users to walk at a steep grade which recruits more posterior muscles for more balanced leg musculature. Walking on an incline burns more calories than walking on a flat grade so you can incorporate the steep incline to increase your heart rate for a challenging workout while you stay low impact.
The updated Quiet Drive makes the motor just a bit quieter and the expanded family plan provides up to 5 profiles free for the first month with the iFit family plan. iFit is constantly updated with Live classes, indoor and outdoor routes, a Leaderboard, strength training classes, and even yoga and stretching. You can even watch a TED talk! If you have the space and budget, the x32i is the best treadmill you can get.
Why You Should Trust Our Review Of The NordicTrack X32i
Here at Treadmill Review Guru, we have been testing and reviewing treadmills for several years. We know what to look out for and what makes a good treadmill. Our team consists of fitness experts and enthusiasts who enjoy creating these reviews for consumers. We know that purchasing a treadmill is a huge investment. We want you to take home one that is perfect for you, so we go over everything you need to know about the treadmill in every review we create.
When reviewing the NordicTrack X32i, we compared it to similar models like the NordicTrack X22i, NordicTrack Elite, and Peloton Tread. This way we can see how this treadmill compares to other popular models on the market.
---
Our NordicTrack X32i Video Review
---
Pros
Upgraded 32" Smart HD Touchscreen is faster and more responsive
Enhanced WiFi connectivity reduces buffering time
Reflex cushioning reduces impact shock by up to 40%
40% incline for uphill work, hiking routes, and varied muscle recruitment
0 – 12 MPH Speed Range with QuickControls
iFit Family subscription, free for one month
Powerful 4.25 CHP motor
22 x 65" Extra-long belt with balanced rollers
Quiet when in use
Dual 3" fans in console
Heart Rate chest strap included for Adaptive HR Control
Bluetooth enabled console now syncs with wireless headphones
Cons
Doesn't fold up. Make sure you have enough space.
It is heavy and requires two people to move
The deck can get bouncy over 9mph (6:40min mile), especially for large users. For short intervals, it isn't an issue, but those who plan to sprint or regularly run faster than this may prefer the 2950.
---
Treadmill Features
Treadmill Specs
+40% Incline to -6% Decline

This is the steepest incline range available on a home-use treadmill. You can climb hills, hike through the mountains of New Zealand with an iFit trainer, or just enjoy some hill work in the comfort of your own home.

Upgraded 32" Smart HD Touchscreen

The upgraded screen on the latest model has a faster processor so it is more responsive and won't lag with extended use. The graphics really pop on this screen. The 32" touchscreen definitely brings a real-world feel to your training.
The 32" screen is easy to see from anywhere in the room. Many iFit classes are combo-sessions, so there is training on the treadmill combined with plyometric or strength training off the treadmill. With the large screen, you can stand to the side or behind the x32i and still easily see and follow the trainer.

Reflex Cushioning

NordicTrack's Reflex Cushioning reduces foot impact by more than 40% when compared to outdoor running. The built-in "Reflex" feature subtly responds to each footstep to enhance comfort and reduce foot fatigue. A composite construction in the deck combined with carefully situated springs provide added flexibility to absorb heel impact while maintaining stability as you push off from the toe.

1-Month iFit Family Membership

iFit includes studio based classes and outdoor routes all over the world. iFit now includes LIVE classes as well so you can join in with the trainer and other members for your workout. The library features sessions for running, walking, hiking, bootcamp classes, strength training, yoga and even TED talks.

22 x 65" Running Platform

The 22" wide by 65" long running platform is 5" longer than comparable models which usually max out at 60" in length. This provides plenty of space for running, walking, hiking and users of any size.

0 – 12mph Speed

The QuickTouch control buttons adjust speed one full metric (from 1mph to 2mph). However, you can also adjust speed by .10ths using the manual buttons. Find the perfect speed at 5.6mph or 7.2mph or even 11.8mph!

Sled-Push Feature with Push Bar, Sled Grips

Drop that speed to 1 mph to engage the sled push option using the horizontal push bar at the base of the console.

4.25 CHP Motor

The continuous horsepower motor is self-cooling and regulated to handle numerous users and a heavy training schedule. The motor is quiet and situated conveniently at the rear base of the machine to facilitate that steep incline.

Reinforced Steel Frame

The x32i is a heavy treadmill weighing in at over 440 pounds. It sits firmly on your floor for a solid, balanced feel.
2021 Updates:
Upgraded 32″ Smart HD Touchscreen
Expanded 1-Month iFit Family Membership
Enhanced Automatic Trainer Control
Improved HD Graphics Performance with added Processor Cooling
Faster Dual 2.4 GHz & 5 GHz Wi-Fi Connectivity
New Quiet Drive Incline Tech
New Android 9 OS
New Bluetooth Headphone Connectivity
Two 3" Digitally Amplified Speakers
Construction:
4.25 CHP DurX™ Commercial Plus Motor
Reinforced Steel Construction
2.5" Precision and Balanced Non-Flex Rollers
22" x 65" Commercial Tread Belt
76" L x 40" W x 73" H Footprint
Console:
32" Smart HD Touchscreen
Bluetooth® Headphone Capabilities
Two 3" Digitally Amplified Speakers
Dual AutoBreeze™ Workout Fans
Two water bottle pockets behind the touchscreen
Functionality:
0 to -6% Decline
0 to +40% Incline
0 to 12 MPH Speed
OneTouch® Controls
Reflex™ Cushioning
On-Board Workout Programs
1-Month iFit® membership
300 Lb. User Capacity
Warranty:
10-Year Frame Warranty
2-Year Parts Warranty
1-Year Labor Warranty
---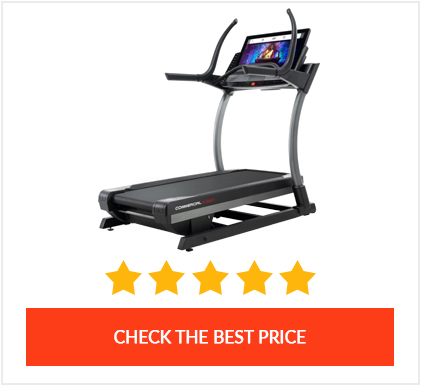 ---
In-depth Review NordicTrack X32i Incline Treadmill
Functionality
Walking or running on the NordicTrack x32i feels very comfortable. This isn't one of those treadmills that feels like a chore to use. The smooth track, Reflex cushioning and large touchscreen combine to create an immersive, enjoyable experience. Using this treadmill doesn't feel like you are by yourself, training alone in the dark. iFit brings the world to your door with abundant outdoor routes, impressive videography, bright screen resolution, and a very comfortable deck surface. In this review of the NordicTrack X32i, we'll take a look at some of the amazing training options.
The NordicTrack x32i is excellent for distance running
If you are a distance runner or marathoner looking for a quality machine to use at home, the x32i is a good option. The impressive 4.25HP motor is powerful enough to support long distances and the generous deck cushioning helps absorb impact shock so you can run longer without pain or injury. Also, the generous 22" wide and 65" long deck provides plenty of space for those who need extra stride length. The lack of a motor hood on the front end also adds space. Supportive deck construction allows for a mid-foot strike running gait that is cushioned but still provides a solid toe-off.
Bounces a bit at high speeds
For those who like to do sprints, we have found that the x32i does bounce a bit at higher speeds due to the extensive cushioning system in the deck. If you are a runner who routinely goes over 9mph (6:40min/mile), the bounciness could be an issue. We recommend the NordicTrack 2950 for those who want to regularly sprint since it does not bounce.
The NordicTrack x32i is comfortable for walking
Walkers will also find the NordicTrack x32i to be a good option since the deck is cushioned and has an impressive 40% incline and -6% decline. You don't have to run to get the most out of the x32i. Simply by inclining the deck, you can increase the difficulty of your workout to burn more calories while you stay low impact. That 40% grade is really steep and working an incline helps strengthen your posterior leg muscles as well as the anterior quads that can often be overdeveloped in runners and walkers. We also like the added width and length of the track which provides plenty of space whether you are going for a gentle stroll or power walking your way through the hills of San Francisco.
X32i Incline Treadmill's amazing hiking features
iFit is included free for the first 30 days so you can enjoy the full library of content before you have to pay for the subscription. One of my favorite features of iFit is the outdoor hiking routes. You can hike the mountains of New Zealand, or enjoy a quick trail walk through Zion National Park. The automated incline and decline make the hikes feel very natural since the deck will adjust beneath you as you hike along. Hiking also recruits more posterior leg muscles and is more challenging, so it kicks up your calorie burn as well. This is one of our favorite features of the x32i.
You can cross-train at home
Feel free to cancel your gym membership! The x32i screen is so large you can see it from anywhere in the room. This makes the cross-training workouts in iFit easy to watch and follow. iFit includes boot camp classes, combo cardio/strength classes, yoga, stretching, and plyometrics or strength training options. You can get a balanced, full-body workout on the NordicTrack x32i. The sled push option also adds a fun challenge where you can detach the motor from the belt and push the belt with your feet as you hold onto the horizontal or upright sled bars. The combination of varied classes and training options makes the x32i a great all-around training tool.
Regular usage strengthens your cardiovascular system
Whether you choose to walk, hike, jog or run, the NordicTrack x32i will help you develop and strengthen your cardiovascular system. Working muscles require more oxygen — and the harder they work the greater the oxygen demand. As you challenge yourself on the x32i, you will find your breathing and heart rate increase to match this increased oxygen demand. Since the heart is a muscle, it will become stronger and more efficient with regular training. If you regularly use the x32i, you'll find it easier to walk up and down stairs or push a heavy shopping cart through a store parking lot. Activities of daily living become noticeably easier as you develop your cardiovascular system. Cardio training also helps improve circulation and enhances your lung capacity as well.
Using the x32i also helps tone and develop your leg muscles
Anytime you step up on the x32i you recruit the powerhouse muscles in your legs to lift, move and propel your body forward. Regular use of the NordicTrack x32i will help strengthen your legs and tone your largest muscles. Using the incline and decline feature also adds variability to which muscles are working so you can develop well-rounded leg musculature and strengthen the glutes as well.
The X32i is a great treadmill for weight loss
Using the varied features of the x32i can help you lose weight. The combination of cardiovascular conditioning, muscle growth, and increased daily calorie burn will all result in weight loss. We recommend incorporating walking/running as well as the iFit strength training options and even the sled push feature to achieve your goal weight. Turn on a HIIT routine and then end with a stretching segment or do a steady one-mile run for some aerobic conditioning followed by a 1 min sled push to really crank up your heart rate. The varied training options and extensive iFit library are sufficient to help you achieve your New Year's weight loss goal. All you have to do is stick with it!
NordicTrack X32i Features Review
Let's take a look at some of the features of the x32i and how they function when you're on the treadmill.
Incline / Decline range
The NordicTrack x32i inclines to 40% and declines to a -6% grade. The 40% incline is extremely steep and the top of the deck pivots up to 34" inches off the floor. When at a flat grade, the deck is 15" off the floor. Make sure you have enough overhead clearance for the steep incline on this machine.
Benefits of Incline Training:
Walking or running uphill enhances calorie burn significantly.A study by NordicTrack found that a 200-lb person walking at 2mph for 20 minutes burned 63 calories at a -6% incline, 157 calories at a 10% incline, 321 calories at a 30% incline, and 381 calories at a 40% incline. This means even if you hold the same pace, just increasing the incline can produce five times as much calorie burn in the same amount of time.
Incline training engages glutes and hamstrings to offset quad dominance. Runners, cyclists, and triathletes all struggle with quad dominance due to so much forward motion by the legs. Antagonist muscles in the glutes and hamstrings need to be equally strengthened to counteract this chronic quad engagement. By working an incline, you activate and strengthen the glutes and hamstrings which helps balance the anterior to posterior tension ratio.
A variable incline and decline range also provides lots of training combinations. You can work pyramid drills, do inverted speed sets, combine a superset of speed + incline, or just run some rolling hills. Following the iFit workouts helps easily incorporate incline variables as the trainers' routines naturally adjust the incline for you so you don't have to overthink it.
Deck Cushioning
Reflex Cushioning: This is created by four 3" springs that are positioned under the composite deck. The springs help reduce impact by absorbing foot shock, thus encouraging a mid-foot strike while the composite deck material stabilizes the gait by supporting a solid toe push-off with each step. The Reflex system provides needed cushioning with no energy lost in between steps.
Larger Running Surface
The deck is 22" wide and 65" long. This is roughly the largest deck you'll find on a home-use treadmill. Some are longer but narrower while others may be wider but shorter — the 65" length and 22" width are perfect for athletic usage.
Sled Push Feature
Nordictrack includes Sled Push bars to mimic pushing a sled along an indoor track. This activity is often used by high-level athletes who want to maximize their heart rate in a short amount of time. To activate the sled push option, turn the speed to 1mph and make sure you're at a 0% incline. Grab either the horizontal bar or vertical grips and lean into the treadmill to push the belt along with your feet. This sled push option is good if you want to add an element of difficulty to any workout. It also builds strength in the upper body as you have to lean in (core) and really push with your arms. (Do not try to engage in manual mode when the treadmill is off — this can damage the motor and walking platform.)
One thing to be aware of: Nordictrack has disabled the heart rate sensors on the upright handlebars. The sensors are still present, but they've been painted with a black coating so the sensors will no longer transmit your heart rate information to the touchscreen. Chest strap heart rate sensors are much more accurate than the hand-grip ones, so in order to get targeted heart rate training, iFit is moving away from sensors on the handles and emphasizing heart rate data from your chest strap.
iFit Subscription: One Month Free
iFit is Nordictrack's proprietary workout program. This database of classes is constantly updated with workouts all over the world, each led by a personal trainer. Be advised, you need WiFi to run iFit programs. When you first set up your treadmill, the screen will prompt you to log in and connect to your personal network. It will then automatically reconnect whenever you turn on the machine. Without WiFi you will not be able to run iFit.
Varied training options: Workouts are categorized by type, trainer or location. Classes include walking routes, hiking trails, HIIT running sessions, long distance training and off-tread options.
Studio-based classes: Personal trainer-led classes filmed in a studio are one of the more popular options. Both male and female trainers are featured with a wide variety of teaching styles and motivational techniques.
Outdoor Routes: The outdoor classes allow you to wander through the French countryside; navigate the red mountains of Sedona, Arizona; traverse the Tetons, and even scale a rather precipitous single-track trail in Alaska. Run, hike, walk or backpack along with your iFit personal trainer on each session.
Lots of walking options. The classes are not just for runners! There are walking routes all over the world. A recent one I did took me through the craggy mountains of Switzerland as we followed an iFit trainer who pointed out historical facts, architecture, and other information throughout the session.
Cross-Training, Strength Training, Yoga: Some of the more challenging workouts incorporate exercises both on and off the treadmill. You can choose a class that combines a little bit of interval running with weight training off the treadmill — or select a stretching option that has you work and then stretch certain muscles.
iFit Can Easily Replace your current Gym Membership: The wide database of classes and content is updated nearly every day. There's always some new place to go with classes, challenges, series, LIVE classes, and Adaptive HR control built in.
Construction Of The NordicTrack X32i Incline Trainer
Frame
The x32i frame is constructed of powder-coated steel beams, and a sturdy, composite deck that feels structurally sound.
The frame is composed of two steel side beams and three cross beams (one at the top, two in the center). A joist at the bottom secures the walking platform to the cross beams which allows the top end to pivot upward when inclined while the base stays stable. Four 3" steel springs, two at the base and two at the midline of the deck, are situated directly under the side rails. These spans a gap between the bottom of the platform and the top of the side beams to stabilize the deck while still allowing for necessary travel.
Deck Construction
Treadmill Platform: Since the motor is positioned at the base of the platform, there is no need for a large hood or motor cover at the top of the belt. This opens up the available track by several inches.
Belt: The belt is durable and gently textured so it won't get slippery if you drip some sweat down during your workout. Rollers inside the walking platform grab the belt and move it along. Designed to be sleek and durable, the belt on the x32i rolls evenly underfoot as you run.
Large 2.5" Rollers: Two rollers flank the underside of the running platform and move the belt along. The larger the roller size, the greater surface area there is to grab and move the belt. The 2.5" rollers are large and balanced rollers which creates a smooth feel regardless of incline.
Motor
At 4.25 CHP, the motor in the x32i is powerful yet quiet. Tucked securely under the base of the deck, the motor is responsible for speed and incline adjustments. It needs enough power to pivot the deck upwards while also maintaining speed. Since the motor is at the base of the deck rather than the top, you have substantially more deck space than on comparable treadmills.
I've run extensively on the x32i and it is consistent and cushioned regardless of training routine or workout. It can get a bit bouncy over 9mph (6:40min/mile) but I rarely run at this speed. However, for runners who consistently run at or faster than 9mph, we recommend looking at the Nordictrack 2950. It has the same motor but doesn't feature the same cushioning system so it is more stable at high speeds. Aside from this, the x32i is the most comfortable treadmill we have tested in our studio. For walking, jogging, running, and pretty much any use, you'll find it's perfectly suited for most users.
Upgraded 32" HD Console
The console was slightly tweaked in 2021. No major changes aside from the removal of the handlebar sensors.
Screen
The screen also pivots gently up and down so you can adjust it to your visual range. The graphics and processor speed have both been upgraded and you can tell. The screen is as clear as any HD TV or computer screen. You'll get lost in the large, bright graphics and impressive iFit videography.
Be advised, you cannot watch other apps like Netflix or Hulu, or access the internet via this screen. It is designed to display the iFit app only and will automatically load iFit each time the x32i is turned on.
Console Layout
Visually the console is clean and uncluttered. Quick speed controls on the right and incline controls on the left are easy to reach. I appreciate that there is a button for every speed.
The only thing I don't love about this console is the Start/Stop, manual controls, and fan/volume buttons sit below the screen under the horizontal bar. Because the screen is so large, these buttons feel rather low. They are hard to see since the horizontal runs in front of the console. When you incline the deck, the console stays in the same position which lifts you up above the control panel even further. It's a minor gripe, but one thing I did notice.
Fans/Other Accessories
Upgraded dual 3" fans are nestled just below the screen. With four power options, you can find the right amount of airflow. The fans are very useful when working hard indoors. They make it so you don't need to adjust the thermostat or buy an extra standing fan. The built-in dual fans provided plenty of breeze during my run. Noise output from the fans wasn't noticeably intrusive. Even at full speed, I didn't have to adjust the speaker volume to hear the trainer.
Console Storage
Two deep pockets sit just behind the screen at the back of the console. You do have to reach behind the screen to grab your water bottle, but it's not overly irritating. It is actually nice to focus on the program and not be distracted by a vibrating water bottle while running. The console pockets are large and deep so they will hold any bottle, keys, wallet, phone, etc.
The screen pivots up and down, leaving a lip just below the screen that is wide enough to hold a phone or tablet. Although there isn't a separate tablet holder, you don't need one. It is easy to set a device on the ledge in front of the screen.
Moving/Storing the x32i
The x32i doesn't fold up. However, it does have wheels at the front so you can move it gently when needed. Increase the incline just a bit and then you can lift it by the back end to engage the wheels on the front of the deck. We recommend one or two strong people move this machine. It is not lightweight and does not roll easily. The weight of the machine may cause your carpet to buckle as you roll it, so we recommend placing the x32i where you plan to use it and then don't move it if possible.
Overall Performance of the NordicTrack x32i
The x32i is the best treadmill on the market when compared with other consumer models. The tech is engaging, the running platform is supple and cushioned, and all the extras work together to make your workout experience seamless and smooth.
Noise Level
When running a fast pace: I began running at 3mph, and then increased to 6mph and finally 8mph, all for a minute each. I shut off all other noise from the treadmill (no speakers, no fan) and listened for the noise difference between running speeds. The typical "thudding" sound from foot impact is noticeably lighter on the Incline Treadmills than on the Commercial Line, probably because the additional cushioning in the deck reduces impact volume. While there is increased rhythm at a high speed because foot cadence is increased, I didn't notice a significant difference in overall noise even when running fast.
Running with the fan on high: Turning on the fan does create more noise, but because the fan is tucked in the console, people sitting to the side of me couldn't differentiate between when the fan was on low or high. They only noticed the slight motor sound as the fan ran.
Running with speakers at full volume: The speakers make noise commiserate with the volume selected. These are nice speakers and they create a clear sound. However, if you are running hard, with the fan on, listening to the speakers at a good volume, it's going to be noticeable to those around you. This isn't a negative feature — poor speaker quality would inhibit your overall experience. These speakers are similar to any TV speaker in a room, so just plan accordingly.
Difference in impact noise at incline/decline: There is a greater impact noise created at a low incline than when the platform is raised, probably due to the distance of foot travel. As a safety feature, when you increase the incline above 15.5% the treadmill limits your speed so you can't hurt yourself or the motor.
Extensive Training Options
We are impressed with the extensive training options available on the NordicTrack x32i. You can increase your cardio fitness with the abundant running, walking, and hiking options in iFit. There are also hundreds of strength training classes and even stretching and yoga options. The sled push feature adds a level of difficulty to any workout and the incline/decline options incorporate needed variability. You can walk, hike, jog, run, strength train, or even do a plyometric workout using iFit.
Smooth automation between app and treadmill
The synchronicity between the iFit app and the treadmill is seamless. I didn't experience any lag time between when I tapped a button and when the treadmill adjusted. Whether you are manipulating speed settings, inclining or declining the deck, turning the fans or speakers on and off, or even selecting an iFit program, the integration on the x32i is impressive.
Good for people of all fitness levels
You don't need to be a conditioned athlete to use or appreciate the NordicTrack x32i. This machine works well for users of all ages and ability levels. It is easy to get on and off, the app interface is intuitive, the programs are engaging and the treadmill itself feels comfortable. The x32i is a good option for everyone from professional marathoners to walkers who are looking to enhance joint mobility after a hip replacement.
---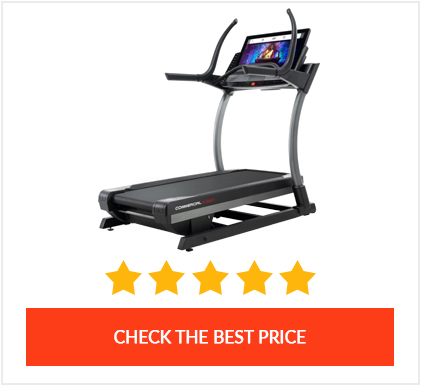 Bottom Line Review: NordicTrack X32i Treadmill
The NordicTrack x32i is the Best Overall Treadmill on the market. With a 40% incline and -6% decline, updated HD touchscreen, faster processing speed, enhanced WiFi connectivity, and LIVE Trainer control, the x32i offers top-of-the-line training in the comfort of your own home. You're getting the best possible tech and construction on this treadmill. iFit now offers both studio-based classes as well as Live classes, and outdoor routes for walking, hiking, and running. There's even a Leaderboard if you're one of those competitive types who love to climb the rankings! This is also a good option for those who want to walk rather than run. Since you can incline the deck to a full 40%, you can walk, and stay low-impact but still really kick up your heart rate and calorie burn. If you are in the market for a high-end treadmill and have the budget and space, the x32i is a good option to consider.