If you are looking for an outstanding, heavy-duty treadmill to help you get fit, then the NordicTrack x32i Incline Trainer treadmill may be what you are looking for your home gym. This high-end machine can provide an incredible incline range, a massive HD touchscreen, excellent shock absorbance on the deck, and so much more.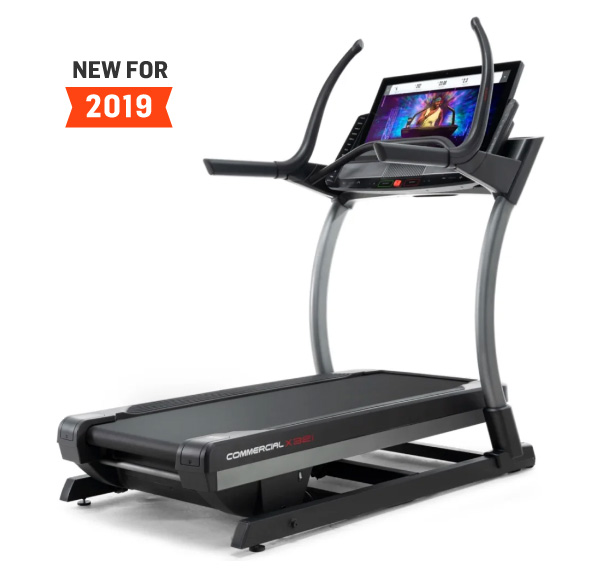 The 4.25 continuous horsepower (CHP) motor on the x32i treadmill is located at the end of the treadmill deck. With the powerful motor located so far down, you don't have to worry about kicking the hood, which is a common issue on other treadmills. Also, with the motor positioning, it allows you to access an incredible incline range. The x32i can decline to -6% and incline up to 40% incline! With the greater incline range, you can increase your calorie burn and successfully simulate hill running.
Along with the incline range, one of the standout features of this treadmill is the massive touchscreen that acts as a console. This machine's touchscreen is 32 inches and is high-definition, which makes a huge difference when you are doing a video workout on this treadmill. Also, the touchscreen comes with Bluetooth-enabled speakers so that you can really rock out as you run.
Another benefit of the NordicTrack x32i is the treadmill deck itself. Even among the best treadmills, most of them end at 60" long. But with the x32i, the treadmill deck measures 22" wide and 65" long, give you extra room to stride out and be comfortable. Also, you can feel more secure as you use the higher incline levels and avoid feeling like the edge is too close.
The larger size of the treadmill deck doesn't diminish the comfort either. If you have found using other treadmills uncomfortable, then the x32i treadmill is perfect for you. It comes with Reflex cushioning built into the deck, which works to absorb much of the shock that normally would be absorbed by your joints and muscles. With these features, this treadmill is great for those recovering from injuries, people with old and easily aggravate injuries, and everyone else.
Overall, here at Treadmill Review Guru, we would recommend the NordicTrack Commercial x32i Incline Trainer treadmill to just about everybody. This treadmill can accommodate a wide range of needs, and it can provide years of excellent exercise. For a more in-depth look at the various features, pros and cons, and other consideration, feel free to read through the rest of our review of this top-tier treadmill.
Pros
Comes with a 32" smart, HD touchscreen to act a treadmill console.
The NordicTrack x32i comes with a free year of iFit Coach membership.
Enjoy excellent sound quality with the built-in Bluetooth speakers.
This treadmill has an extended deck that measures 65" long and 22" wide.
Huge incline range available on the x32i treadmill, ranging from -6% to 40%.
Comes with 50 built-in workout programs for you to choose from to break up a monotonous day.
Warranty coverage available when you register the x32i warranty with NordicTrack.
Powerful 4.25 CHP motor comes with the x32i treadmill.
Heart rate monitoring available with an included iFit Bluetooth chest strap.
Can use the NordicTrack Commercial x32i as a manual treadmill, thanks to the grips and design.
Heavy-duty construction with a reinforced steel frame.
Cons
The x32i is a large and heavy treadmill and may not fit in all homes easily.
You can't fold up the x32i treadmill, so it will always require a good amount of floor space.
Currently, the most expensive treadmill that NordicTrack offers.
To help you through tons of workouts, the Commercial x32i treadmill comes with a powerful 4.25 CHP motor. With a strong motor under the hood, you can quickly move through the different incline levels and change speeds with ease. Also, you don't have to worry about burning out the motor if there are more than two users. Since the x32i is a light commercial treadmill, it is great for everyone from a hardcore runner to a family of runners and walkers.
Also, for all that this treadmill has a powerful motor, it doesn't mean that it is noisy. In fact, the x32i motor is fairly unobtrusive, and the hum of the motor easily fades into the background as you workout.
32" High-Definition Touchscreen
Built with an impressive touchscreen, the x32i treadmill is eye-catching. The touchscreen measures 32 inches and is high-definition. As you enjoy the many video workouts, you can really appreciate the excellent clarity and quality of this touchscreen.
Also, with the touchscreen, it is far easier to navigate the x32i when compared to your average treadmill. Rather than fumble with buttons that may not be very responsive, you can swipe through workout data, exercise programs, and more easily via the touchscreen. And, you don't have to worry that a little sweat will hurt the touchscreen. It is water- and sweat-resistant and remains responsive even if your hands a bit sweaty.
Well-Cushioned Treadmill Deck
Overuse injuries are common among runners, as many people run on concrete and asphalt. These hard surfaces take a toll on your body and wear down the cushioning and cartilage while jarring your bones.
Instead of running the risk of injury, the x32i treadmill has an excellently cushioned deck. With built-in Reflex cushioning, you can engage in workouts ranging from walking to sprinting intervals with a significantly reduced impact on your body overall.
Free Year of iFit Coach Membership
When you purchase the x32i treadmill, you will receive a year of free access to iFit Coach. Unlike other exercise programs you may have tried, from day 1, you gain access to a massive video workout library. You can stream different workouts directly to your treadmill and follow along with an iFit Coach trainer. Many of these videos are shot in locations around the world, so you can enjoy the view even while exercising at home.
Also, for an extra challenge, iFit Coach trainers can change your incline and speed. That way, you can push your workouts to the next level with their help. There are also challenges you can join, a robust iFit community to engage with, Google Maps workouts, and so much more to keep you on your treadmill.
To help improve your workouts—whether you are looking to go faster, build stamina, or burn calories faster—incline can help. On the x32i treadmill, your incline range is excellent, as it goes from -6% all the way up to 40%. With this much range to work with, you can push your body farther than you ever expected.
By increasing the incline level on your machine, you can push your body further no matter whether you are running or walking. As exercising at an incline engages more of your muscles, you can enjoy greater muscle development as you build greater strength.
Part of a manual treadmill's popularity is due to the fact that it takes extra effort—therefore builds more muscles and burns more calories—to do the same exercise on a regular treadmill. However, regular treadmills should not be used like a manual treadmill, as it can cause issues with the belt and motor. But with the x32i, it has been designed for users to be able to use it like a manual treadmill.
As long as the speed is set to 1 MPH, you can use the x32i treadmill like a manual treadmill. This machine comes with a convenient push bar and a set of sled grips, making it easier for you to remain stable as you workout.
Chest Strap Heart Rate Monitoring
Accurately monitoring your heart rate is possible with the chest strap that comes with the Commercial x32i treadmill. When you buy the x32i, an iFit Bluetooth chest strap is included. This chest strap is comfortable and adjustable as well as being on a stretch band. That way, no matter your size, you will be able to comfortably use this chest strap to track your heart rate.
The speed range on the x32i treadmill goes from 0.5 to 12 MPH. However, you can't use the top speed (12 MPH) on all the incline levels. As you go above 20% incline, your max speed is locked at 8 MPH, and most of the higher incline levels will not allow you to go above 6 MPH.
This speed locking is for your protection. Not everyone realizes how steep even 20% incline is, and you don't want to trip because you are going too fast uphill. Frankly, as most of us found out while testing, it was hard enough to walk at 2.5 MPH when at 40% incline, so it is unlikely that the speed lock on the incline levels will be an issue.
When it comes to the x32i treadmill footprint, this machine is far from compact. With the power and incline range available, the trade-off is that the Commercial x32i treadmill is a pretty big machine that doesn't fold.
Its measurements are 40" wide, 76.5" long, and 73" tall, which are considerable and may make this treadmill a poor choice for small apartments and modest homes. Also, with the incline, you will be raised up considerably, so you won't want to put this treadmill in a space with low ceilings.
Commercial-Quality Construction
If you are looking for a commercial-grade machine, then x32i treadmill should be high on your list. A large part of why this treadmill is so heavy is due to the heavy-duty construction, as the x32i was built with reinforced steel. That way, you never have to worry about pounding too hard on this machine. As long as you don't exceed the 300 pounds weight limit, you are good to go.
With your purchase of the Commercial x32i treadmill, you will receive a NordicTrack warranty that will need to be registered on their site to be valid. This warranty offers a range of protections such as 10-year frame coverage, 2 years of parts coverage, and 1 year of warrantied labor.
Motor: 4.25 CHP
Incline: -6% to 40%
Speed: 0.5-12 MPH
Dimensions: 40" W x 76.5" L x 73" H
Folding: No
Running Area: 22" W x 65" L
Max User Weight: 300 lbs
Treadmill Weight: 415 lbs
Benefits
One of the significant benefits of bringing the NordicTrack Commercial x32i treadmill home is the massive incline range you can use. For instance, say that you are a walker, but you would like to burn more calories. Rather than push yourself to run if you don't want to, you can turn up the incline level, and the increased challenge will help your body to burn more calories just by walking.
Also, if you are a runner looking to increase speed and endurance, nothing is better than hill training. But not everyone lives close enough to hills to adequately train. So, with the x32i treadmill in your home, the hills are brought to you. You can either choose to manually set the incline level, or you can use the built-in programs to give yourself a great incline workout. Also, with iFit Coach, you can utilize even more hill training programs.
Another major benefit of using the x32i treadmill is the excellent cushioning. Walking and running can be tiring, and if you struggle with joint problems or are rehabbing an injury, exercising on hard surfaces can set back your progress. With the high-end cushioning built into the large x32i deck, you can better protect your body while packing in a great workout.
Final Verdict: NordicTrack Commercial x32i Incline Trainer Treadmill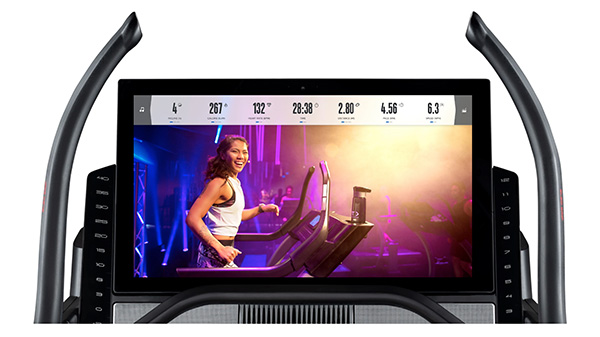 Working out on the NordicTrack Commercial x32i Incline Trainer treadmill is unlike any other regular treadmill you have ever used. With an extra-long treadmill deck and massive touchscreen console, you already have a unique experience that most treadmills can't offer you. Add in the incline range that goes from -6% to 40%, and you can see why the x32i treadmill is so special.
The only two things that may make it difficult to bring this treadmill home is the size and price. Be sure to carefully measure the area you would like to place this treadmill to be certain that you have enough available space. Also, NordicTrack offers financing options, making it easier to bring the x32i treadmill home.
What We Like?
Great treadmill deck cushioning
Massive touchscreen
Free iFit Coach year
Huge incline range
Manual treadmill mode
Built-in workout programs
Extra-long treadmill deck
Powerful motor
Warranty coverage
Strong workout fans
Built-in Bluetooth speakers
Reinforced steel construction
What We Don't Like:
Very heavy treadmill
Does not fold up
Conclusion
The NordicTrack Commercial x32i Incline Trainer treadmill is a high-end, somewhat pricey machine that comes with a great array of features. If the size or price point is a bit too high, we do encourage to check out the Treadmill Review Guru list of the Best Treadmills of 2019 so that you can get a clear idea of all of the best treadmill options available to you.