*TreadmillReviewGuru helps consumers find the best home fitness products. When you buy a product we recommend, we may earn a commission.
Last Updated: January 1, 2023
The NordicTrack RW200 is a simple, easy to use rower that folds up when not in use so it will fit comfortably into any workout program or space. Rowing is a great full body exercise that strengthens muscles in the legs as well as arms, back, and chest! It also strengthens the cardiovascular system by increasing the body's demand for oxygen during exercise. Regular conditioning on a rower is a fantastic way to build strength and enhance your cardio efficiency.

Who It's For: Users who want a foldable and affordable rower that doesn't take up much space
The RW200 is designed for users who want a sleek rowing machine that is:
Compact and easy to use
Doesn't require internet or wifi connection
Very affordable
Simple Watts Backlit Display
Comfortable design with padded seat and smooth oversized track
24 Digital Resistance Levels
Silent Magnetic Resistance
250lb User Capacity
Pros
Folds up when not in use
Has a smooth drive and gentle recovery design
Seat and pedals are comfortable
Rower sits low to the ground so it is easy to get on and off
Cons
Does not display iFit classes or content
It does require a bit of space when fully open
Watts Backlit Display and Adjustable Console

The display is clear and easy to see. Console adjusts up and down for precise visibility.
Adjustable SMR™ (Silent Magnetic Resistance) with 24 Digital Resistance Levels

Magnetic resistance is created without any friction on the flywheel, so it is silent and doesn't cause wear on the drive system. 24 preset resistance levels gives you exact resistance each workout.
Oversized Steel Seat Rail and Ergonomic, Molded Seat

The seat slides cleanly forward and aft along the seat rail. Powering through the rowing drive is smooth and feels natural.
Oversized, Pivoting Pedals and Adjustable Nylon Foot Straps

The pedals are a molded plastic overlay that covers a solid surface underneath. This provides underfoot support while allowing for some flex side to side to reduce tension in the ankles and feet.
SpaceSaver® Design folds when not in use

Like most rowers, the footprint is long and narrow when open, so you do need to have a dedicated space to get the full functionality out of the rower. However, it folds up when not in use. Wheels underneath allow you to move and roll it as needed when you are finished.
20 Preset Workout Apps

In addition to the 30 days of free iFit that will stream to your tablet, the rower includes 20 preset rowing programs built into the console itself. This way you can use the rower without the need for WiFi or a tablet if desired.
Technology:
Bluetooth® Smart Enabled
Watts Backlit Display
Adjustable Console
Includes 30 Day NordicTrack iFit® membership**
Auxiliary Music Port
Two 2" Digitally Amplified Speakers
Engineering:
Inertia-Enhanced Flywheel
Adjustable SMR™ (Silent Magneic Resistance)
24 Digital Resistance Levels</li
250 Lb. User Capacity</li
Comfort:
Oversized Steel Seat Rail
Ergonomic, Molded Seat
Oversized, Pivoting Pedals
Adjustable Nylon Foot Straps
SoftTouch™ Ergonomic Handle
Convenience:
Front-mounted Transport Wheels
SpaceSaver® Design
86.5″ L x 22.0″ W x 42.8″ H Footprint
20 Preset Workout Apps
Warranty
10-Year Frame Warranty
2-Year Parts Warranty
1-Year Labor Warranty
Quick Summary
The NordicTrack RW200 is an affordable rower that doesn't take up too much space and folds up when not in use. This is a great option for users who want an in-home rower that doesn't break the bank or require the whole living room to operate!
In-depth Review of RW200
---
Construction
Frame
The RW200 frame is a steel track with soft molded seat and ergonomic pedals with nylon straps. The track is secure and the seat glides smoothly up and down. The console on the front sits at a good height and is easy to reach and navigate. Folding it up is not difficult, just grab the handle on the center of the track and lift.
Geometry
Total Footprint: 86.5″ Long x 22.0″ Wide x 42.8″ High
Folded Footprint:43.8" High x 37.2" Deep x 22" Wide
Pedals
The pedals are reinforced with a solid foot surface underneath and a molded overlay that holds your shoe securely. The double layer provides stability underfoot while still allowing for a gentle flex and give as you row. A wide nylon strap with velcro secures feet into position.
Handle
The RW200 handle is gently cushioned for a very comfortable hold. It is plenty wide and just thick enough for a good hand-hold.
Seat.
The seat is contoured and slightly cushioned. It slides gently from front to back. Rowing feels smooth and the track doesn't bow at any point.
FlyWheel
The flywheel provides a smooth stroke throughout your rowing drive. Recovery is also gentle as the flywheel evenly pulls the handle back to starting position.
The damper on the RW200 is on the top of the flywheel. The more air you allow to flow in and out of the flywheel, the more power is required to move the flywheel. So greater air flow: greater resistance. As a result of the added air resistance, noise is greater at higher resistance levels since more air is flowing through the flywheel. The damper is well positioned so you can adjust it (often without removing your feet) while you are on the rower.
Resistance
24 Digital Levels

Magnetic resistance is silent and calibrated using magnets that oppose the motion of the flywheel. There are no contact points and therefore no friction or wear on the flywheel.
24 preset resistance levels give you plenty of options to select and allow users to find just the right resistance for any workout or class. You can adjust resistance via the OneTouch buttons on the console.
Air resistance occurs as the air flows through the flywheel with each drive. The air resistance can be modified by adjusting how much air flows out of the fan vents and how much stays inside. This creates an additional method of adding and adjusting resistance.
---
Console/Controls
Console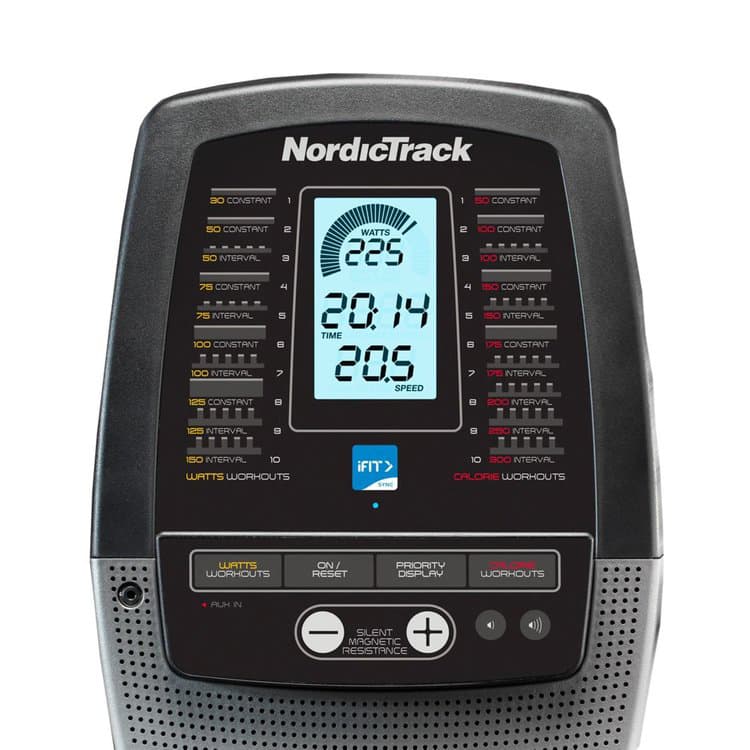 Watts Backlit Display

The Console is large and easy to navigate. The display shows the following metrics:

Current 500m Split/Average 500m split
Calories burned/Calories per hour
Strokes/Strokes per minute
Time
Distance
Screen Movement The screen pivots gently up and down so you can find the right point of visibility.
Accessories
Minimal Accessories: The RW200 doesn't have many accessories. There isn't a fan, tablet holder or cup holders, but since the rower sits so close to the floor, it is easy to set a water bottle or other items close by.
Noise Level
The RW200 makes about as much noise as comparable rowers. There is a bit of noise as the air moves through the flywheel, but this is to be expected on a rower. While it is noticeable, it's not terribly loud, just more of a whirring sound.
Storage / Folding
Most rowers take up a bit of space when fully opened since you need room to slide forward and back on the track. However, the RW200 is about as compact as you can get and it folds up when not in use which saves a ton of space. The rower isn't super wide at just 22" in total width, but it does extend 86.5" when fully open. You will need a significant amount of floor space to open and then use the rower appropriately.
The rower folds up via a handlebar on the track. It is a little tricky to fold since the screen on the front end is heavy. Wheels under the front mount engage when the rower is lifted so you can roll it gently as needed.
---
Onboard Workouts
There are 20 pre programmed workouts on the machine that will guide you through various intensities and resistance. The onboard workouts are sufficient to keep you active and provide plenty of training variables
Bottom Line
The NordicTrack RW200 rower is an affordable and compact rowing machine. The seat slides easily and the pedals will work with any athletic shoe. The handlebar is also gently padded for extra comfort. While there is a bit of noise from the air fan as you row, we didn't find it to inhibit our ability to hear the workouts.The simple console doesn't weigh too much which is nice, especially when folding it up. The wheels under the flywheel make it easy to roll and move when necessary. This is a good rower for first time buyers or those who have limited space.