NordicTrack has always been one of the most respected names in treadmill manufacturing. But that kind of brand recognition often comes at a price. Luckily, the T 6.5 S is aimed more at the entry-level end of the market with budget pricing.
And don't let the relatively low price fool you. This model comes with plenty of features that you might expect to see on its more expensive relatives. Its 2.6 horsepower continuous duty motor provides speed up to 10 mph, and the T 6.5 S can be easily inclined to a grueling 10% for a calorie-burning workout. With the self-cooling capability, this motor provides smooth experience during your exercise and should last for years to come.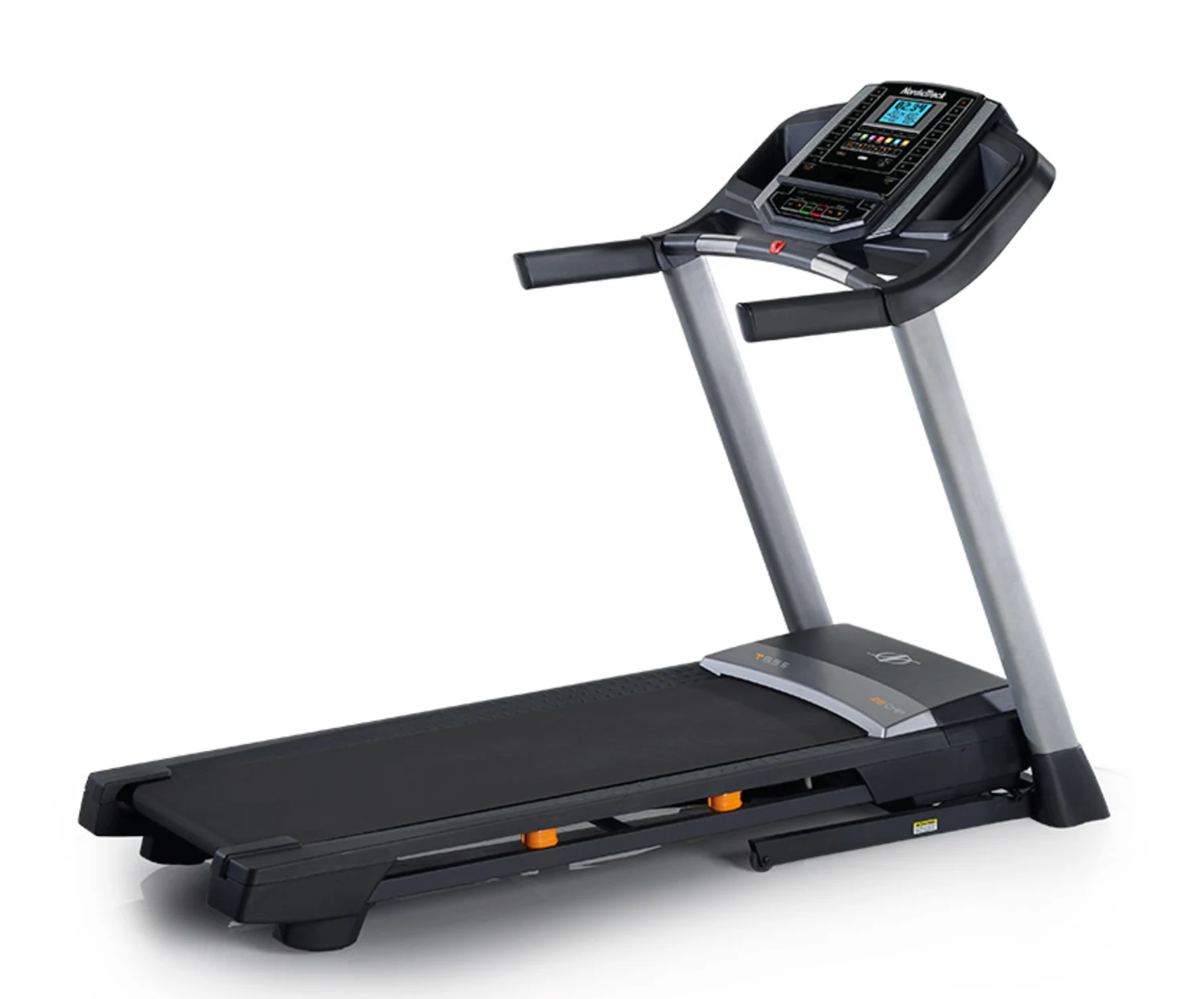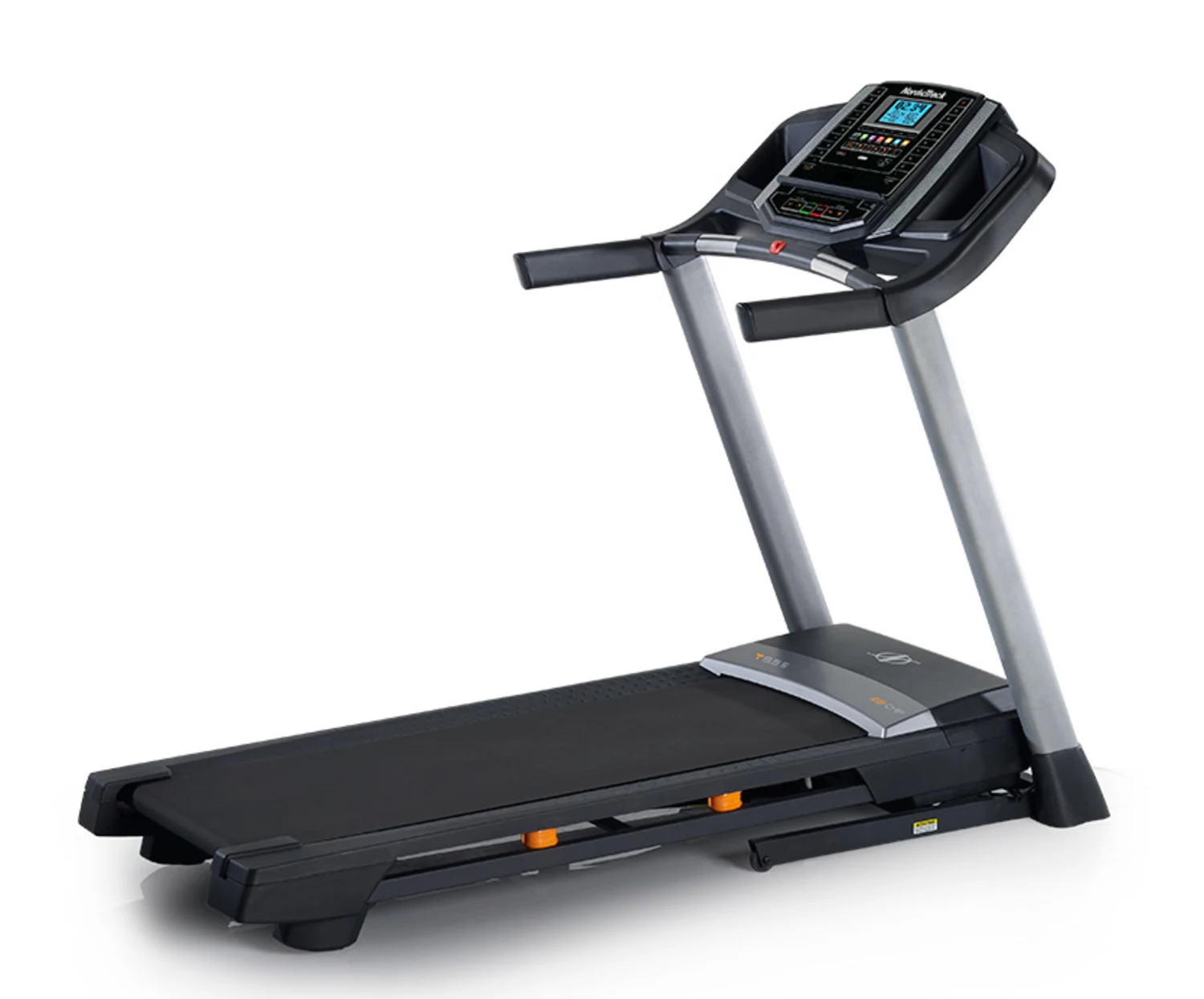 NordicTrack's T series treadmills, including this one, make use of a proprietary FlexSelect cushioning system that can be adjusted by simply turning the orange shock absorbers located along the sides of the deck. This means the treadmill is easy on your joints, but can also be set to provide a firm surface for running when that's what you need. The SpaceSaver design with EasyLift™ Assist allows you to easily fold the treadmill to save space when not in use, making it an excellent choice for apartment dwellers and smaller homes.
Often, what sets one treadmill apart from another is its console. After all, that's how you mostly interact with your machine. The T 6.5 S comes with a backlit LED display that allows you to track your workout statistics and monitor your hopefully improving performance over time.
From the console, you can access a variety of pre-programmed workouts that will help you get into shape quicker and also syncs with iFit Coach, which subscription fitness program you can use for a month free when you buy through Amazon. This cool feature replicates real-life runs from around the world thanks to integration with Google Maps as well as other exciting workout features. iFit Coach is great if you're in training for a specific run, or if you just want a little variety in your exercise regimen. Also, to keep you entertained, the machine also has its own iPod/MP3 compatible sound system.
The NordicTrack T 6.5 S arrives in a cardboard box packaging containing manual providing step-by-step assembly instructions along with the required tools for assembly and maintenance over time.
If you want most of the features you're familiar with from the gym treadmill at home to undertake moderate cardio training, this treadmill could be exactly what you're looking for.
Pros
Folding design with EasyLift™ Assist makes it great for home use.
2.6 CHP motor to support your prolonged workouts without losing performance or overheating.
20 pre-set workout programs to stop you from getting bored and giving up.
iFit technology to take your exercise regime to a whole new different level.
Heart rate monitoring via the dual CardioGrip™ sensors integrated on handlebars.
FlexSelect™ cushioning system provides you full control over the level of impact absorption.
OneTouch controls allow you to easily adjust speed and incline with the touch of a button.
iPod/ MP3 compatible sound system consisting of dual 2" speakers.
Additional features include two water bottle holders and a tablet shelf.
Excellent warranty coverage – lifetime on frame, 25 years on the motor, and 1 year on parts and labor.
Cons
The console doesn't have a cooling fan, so you may want to set one up separately.
No heart-rate monitoring option via a wireless chest strap.
Lacks a touchscreen, which isn't an issue if you don't care about having lots of tech.
Probably the worst thing about having a treadmill at home is the space it takes up. The T 6.5 S goes a way toward fixing this problem by being able to fold up when not in use, and the EasyLift™ Assist technology makes it a lot easier.
There's no heavy lifting required—the hydraulic shocks help to raise the deck easily and lower it smoothly when it's time to put it away or unfold it when it's time to exercise. Even if you're not built like a powerlifter—and few of us are—you won't have any trouble folding and unfolding this treadmill.
Some people—those who write online treadmill reviews, for example—are effortlessly cool. But for others, it takes a little work. The 2.6 CHP motor of the NordicTrack T 6.5 S has a self-cooling feature that prevents it from overheating. This means it can support long workouts without sacrificing reliability or power. It's a motor that should last for many years, backed by a 25-year warranty.
Thanks to this treadmill's compatibility with iFit, this technology allows you to choose a different workout every day, automatically track your workouts over time to see what progress you are making, compete with your friends, download different routes from around the world so that you can run all over the globe without leaving your spare room, and much more!
These features provided by iFit Coach will keep you coming back to your treadmill again and again. And that's the key to maintaining your health.
One of the best ways to stay motivated during your workouts is to see the progress that you're making. This treadmill's 5" backlit display screen allows you to monitor your speed, distance covered, time elapsed, incline settings, calories burned, and heart-rate. It's a lot easier to keep working out when you can see for yourself that your performance is improving over time.
Another great way to avoid getting bored with your exercise regimen is to vary your workouts. A lot of treadmills offer different programs to help you stay motivated, but the number of these programs may be limited.
At the entry-level end of the market, you can expect to find maybe 6 to 10 different workouts. However, the NordicTrack T 6.5 S has 20 different workouts—far more than most of its competitors.
The grip bars on the NordicTrack T 6.5 S come with CardioGrip heart rate sensors. This allows you to track your heart rate during your workout.
For those with heart problems, this information can be crucial. But even if you don't have heart problems, your heart rate is a great indicator of your overall health and real exertion level. By displaying your heart rate, the treadmill helps you monitor your overall fitness and see any improvements you are making.
Being injured is no fun, especially if you don't even have a cool story to tell afterward. The cushioning of the running deck on this treadmill helps prevent injuries to joints during use.
Even better, the level of cushioning can be adjusted simply by turning a knob. If you have ongoing joint problems, the cushioning can help. But if you're training for an outdoor run, you can set it to maximum firmness to better replicate the experience of running outside.
When you're working hard and building up a sweat, the last thing you want to do is fiddle with delicate buttons with your sweaty hands. The large buttons on the NordicTrack's console allow you to adjust the speed and incline with a single touch. This makes it way easier to alter your workout while you're doing it. You can also change speeds in increments of 0.1—i.e., 4.1,4.2,etc., or by whole numbers—i.e., 4.0, 5.0, etc.
Treadmills are a great way to get more exercise at home, but running in one spot isn't always the most exciting thing in the world. Listening to your favorite music can help enormously with keeping you motivated.
So it's a good thing that this treadmill comes with its own sound system that allows you to connect your smartphone or other music devices.
Motor: 2.6 CHP.
Incline: 0 – 10%.
Speed: 0.5 – 10 mph.
Dimensions: 73″ L x 35.75″ W x 67.5″ H.
Folding: Yes.
Running Area: 20″ W x 55″ L.
Max. User Weight: 300 lbs.
Treadmill Weight: 203 lbs.
Benefits
Having a treadmill in your own home makes it so much easier to stay in shape. You no longer have to make a special trip to the gym, and instead, you can get some exercise in whenever you have time. The fewer excuses you have not to work out, the more likely you are to do it.
And it's not just the physical benefits you need to consider. Dozens of studies have shown the link between physical and mental health. Taking the time to exercise improves sleep, sharpens focus, and boosts your mood. Buying a treadmill like the NordicTrack T 6.5 S could be some of the best money you ever spend on your overall health.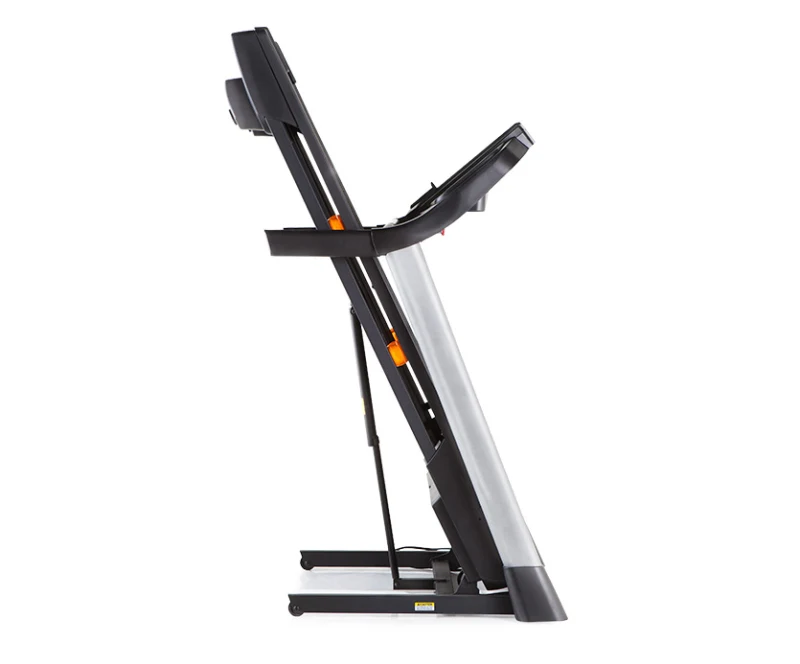 The NordicTrack is an entry-level, budget treadmill, but it doesn't always feel like one. For one thing, having 20 different workout programs is extremely rare for a treadmill at this price point. Usually, you'd have to spend a lot more to get that kind of variety.
Also, the iFit compatibility also goes a long way to keeping you motivated. Admittedly, this feature requires an extra subscription to iFit Coach after your free trial month is up. But if you're serious about your workouts, it's a great option to have. And again, is very rare in treadmills at this end of the market.
The FlexSelect™ cushioning is another unexpected feature in a treadmill of this price. Plenty of treadmills offer some kind of cushioning, but to our knowledge, no other treadmill offers the ability to adjust that cushioning for such a low price. It's an excellent feature to help prevent overuse injuries while still allowing you to train hard for outdoor running whenever required.
Also, you may be glad to hear that this solidly built machine requires very little maintenance from you. All you need to do is to lubricate the belt from time to time. It takes less than five minutes and will go a long way to keeping your treadmill running smoothly and efficiently for years to come.
NordicTrack has been a respected brand in the personal fitness market for many years. As a result, you can feel confident in your purchase and expect to get many years of service out of this treadmill. And with such respected brand behind it, if your treadmill does develop problems later in his life, getting support and replacement parts for it shouldn't be a problem.
Final Verdict: NordicTrack T 6.5 S Treadmill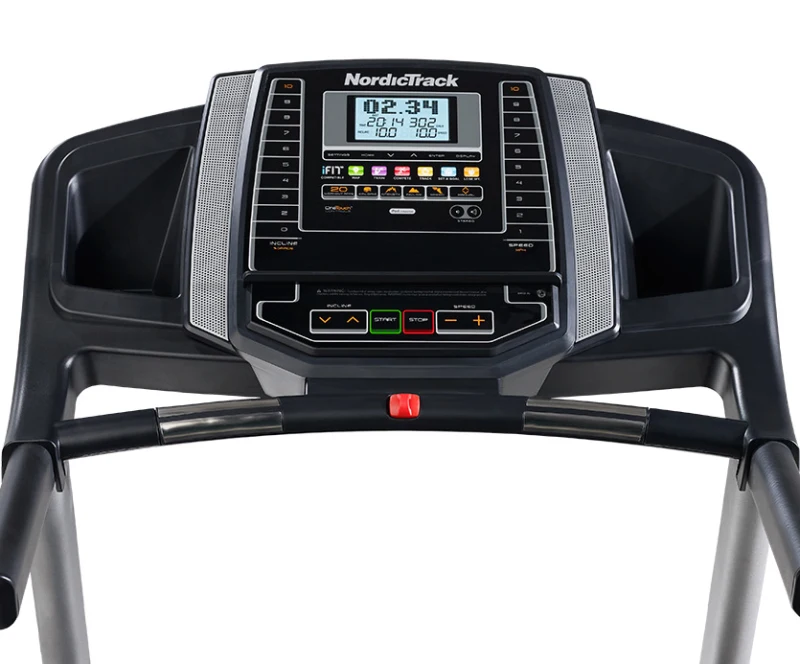 Okay, that's a lot of information to take in. If you're still confused as to whether or not this is the treadmill for you, here's our final verdict.
The T 6.5 S isn't going to match the treadmills they have at the gym. It's not designed for that. But this machine only costs a fraction of what other, more professional models cost. And for what it offers, you may find it's well worth the price.
Having a wide variety of different workout programs, iFit compatibility and FlexSelect cushioning, this treadmill feels more like a professional grade machine than it does an entry-level consumer model. And with a reputable brand like NordicTrack behind it, you can feel confident in your purchase. This entry-level treadmill doesn't feel entry-level at all.
Also, you can start the treadmill without subscribing to the iFit Coach trial. All you need to do to get started is hold down the iFit button for 30 to 40 seconds. This will let you skip the trial.
Of course, it's not perfect. For instance, this machine lacks a fan to keep you cool during your workout. Some of the treadmills in this price range do have fans, although they are often not the highest quality. Of course, this is a problem that can be easily overcome by setting up a fan near the treadmill. Chances are, anything you have a home will have more cooling ability than most of the built-in fans in entry-level treadmills anyway.
The NordicTrack T 6.5 S also doesn't offer a chest strap heart rate monitor. In order to track your heart rate, you need to grip the sensors on the machine's bars, which isn't overly accurate. In fairness, a chest strap heart monitor is an extremely rare feature to find on an entry-level treadmill. And you can easily get around this problem by using a Fitbit or any other similar equipment to monitor your heart rate.
When choosing a treadmill, you want to find one that has all the features you need. You want something that's going to last a long time. And you want something that won't take up too much space in your home. The T 6.5 S fits all those requirements admirably.
All in all, the many pluses of this machine greatly outweigh the negatives. It's not a commercial grade machine, and it's not supposed to be. But unless you're a very professional runner, chances are you'll find that this treadmill has all the features you need and more.
Frequently Asked Question:
Q (Consumer)- Why can't I start the treadmill without subscribing to the iFit trial?
A (Treadmill Guru Expert) – You don't need an iFit subscription to use the treadmill. All you need to do to get started is hold down the iFit button for 30 to 40 seconds. This will let you skip the trial.
Conclusion
The NordicTrack T 6.5 S offers a range of features you would expect to find on a model twice the price of this machine. And while you won't confuse it with a true commercial-grade treadmill, this machine is more than adequate for all but the most committed users.
This is a great treadmill for moderate workouts. Its maximum speed of 10 mph equates to a six-minute mile. If that's not fast enough for you, you probably should consider some other commercial-grade treadmill. But, if you are not a professional athlete and just looking for a machine that can give you a good cardiovascular workout at home without spending thousands of dollars, this treadmill could be perfect for you.
Is it the best treadmill in the world? No. It's not trying to be. But those looking for a home treadmill that will perform a wide variety of uses should be happy with this excellent machine by NordicTrack.
Related Treadmills Review:
Summary
Reviewer
Review Date
Reviewed Item
NordicTrack T 6.5 S Treadmill
Author Rating