*TreadmillReviewGuru helps consumers find the best home fitness products. When you buy a product we recommend, we may earn a commission.
Last Updated: January 2, 2023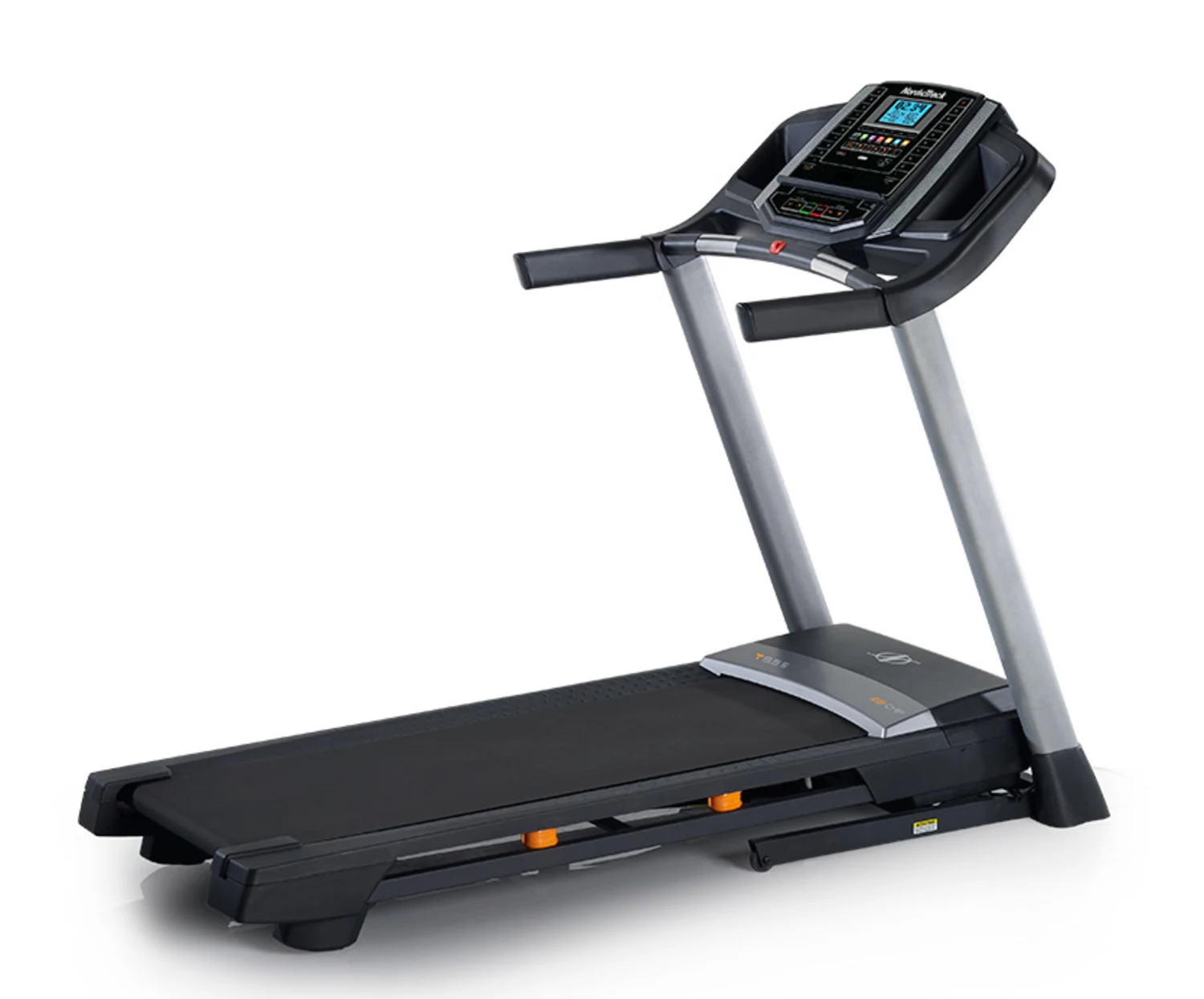 The NordicTrack 6.5 S is the entry-level model in the T-Series treadmill line. It captures NordicTrack's quality engineering and innovative design while keeping the tech features simple. The 6.5 S is an excellent buy for a compact folding treadmill.
Who It's For: Walkers and casual runners who want a quality folding treadmill without all the tech
The 6.5 S is ideal for casual users looking for a simple, streamlined machine that is well-built and economical. It includes:
A simple console with a 5" LCD screen
20 onboard workouts
2.6 CHP motor
Good sized running platform for such a compact machine
Foldable with hydraulic assist release
Pros
Sturdy, compact treadmill for great price
Streamlined, easy-to-use console
Textured, 4" non-slip side rails
Cushioning in the deck can be turned on or off
Foldable with wheels in the base for easy moving
Great for walkers or light running
Bright LCD screen is easy to read
Does not require WiFi to run the 20 onboard programs, just plug in and go!
300lb user capacity
Lifetime Frame Warranty
Cons
No touchscreen
No fans on console
Not meant for intense training
It is iFit compatible, but you have to have a compatible device
10% Incline

The 6.5 S will incline to a 10% grade, which is plenty steep for the average user. Working at an incline engages glutes and hamstrings for balanced leg conditioning. It also provides an added challenge walkers looking for a hearty calorie burn.
300lb Weight capacity

The 300lb weight capacity is surprising for such a compact treadmill. The 6.5 is designed to be durable and sturdy. NordicTrack backs up this machine with a full lifetime warranty on the frame.
FlexSelect™ Cushioning

Spongy orange dampeners under the deck allow users to turn the cushioning feature on or off. To turn on, just twist the cushion knob until it reads: "Cushion." To mimic outdoor surfaces, turn the dampener until it reads: "Off." Cushioning helps protect joints from overuse and impact injuries and is one of the main benefits of indoor training.
SpaceSaver® Design with EasyLift™ Assist

The 6.5 S folds up to save space when not in use. Since the footprint is compact, the 6.5 Si is only 73" tall when folded in a vertical position. EasyLift assist makes folding it easy and a hydraulic release system under the deck will gently lower the running platform back to the floor. It is a good option for those with limited space.
One Touch® Controls

Flanking the screen on either side you find OneTouch controls for Speed (right) and Incline (left). Buttons are numbered 1-10 to match each speed or incline, and they provide a quick way to navigate directly from the console.
Lifetime Frame Warranty

Lifetime frame warranty is an unusual feature in the treadmill industry. In fact, this is one of the few NordicTrack machines that offers a lifetime frame warranty. This is a reflection of the fact that NordicTrack knows the 6.5 S is a durable, sturdy machine.
2.6 CHP DurX™ Commercial Plus Motor

2.6 CHP is "continuous horsepower" which means the motor can maintain and hold any preset speed. The motor is self-cooling so it won't overheat and should accommodate the needs of average runners and walkers.
20 On-Board Workout Programs

There are 20 onboard workouts on the treadmill. These include basic routines that are easy to follow. Buttons for programs are brightly colored and easy to see.
Construction
2.6 CHP DurX™ Commercial Plus Motor
1.9" Precision and Balanced Non-Flex Rollers
20" x 55" Commercial Tread Belt
SpaceSaver® Design
67.5" L x 36" W x 73" H Footprint
Console
5″ Backlit Display
iFit® Compatible
iPod™ Compatible Sound System
OneTouch™ Controls
20 Workout Apps
Functionality
0 – 10 MPH Speed
0 to +10% Incline
FlexSelect™ Cushioning
Dual CardioGrip™ Heart Rate Monitor
300 Lb. User Weight Capacity
Warranty
Lifetime Frame Warranty
25-Year Motor Warranty
1-Year Parts Warranty
1-Year Labor Warranty
In-depth Review of NordicTrack T 6.5 S Treadmill
Construction
Frame
Built on the same frame as the 6.5 Si, the 6.5 S is sturdy but still light enough to fold up. The base is constructed of steel side and cross beams for stability. Powder coated chrome rails support the handrails and console. The deck is composed of a composite material to keep the running platform durable and solid.
Handrails
Depth: Handrails extend from the back of the console forward, alongside the deck. The rear part of the handrails are covered in black plastic molding, the same as the console. The front part of the handrail is coated with a soft, spongy grip material for a convenient hand-hold.
Width: A horizontal handrail extends in front of the console. This grip has heart rate sensors for each hand.
Comfort: The handrails are comfortable and easy to reach. They are conveniently placed alongside the side (foot) rails so you can grab them as needed.
Deck
Cushioning: Once again, NordicTrack doesn't skimp on the 6.5 S. Similar to engineering found on more expensive treadmills, the 6.5 S features FlexSelect cushioning in the deck to increase comfort and reduce joint impact. Four orange dampeners under the deck support and moderate cushioning so users can turn it on or off as desired. This feature also helps reduce fatigue so you can workout longer without discomfort.
Length/Width: This is a good-sized running deck. Any longer and the machine would be top heavy when folded. The 20" x 55" belt allows for full stride length with just a little extra wiggle room along the sides.
Belt: The commercial grade belt on the 6.5 S is durable with a slightly textured surface. Compared to other treadmills in this price range, the 6.5 S belt is comfortable with just enough texture to keep your foot from slipping.
Motor
The 2.6 CHP motor adjusts incline and speed so it controls much of your running experience. While the 6.5 S motor is not as powerful as some, it provides consistent speed and smooth incline adjustments. I tested the motor in several different settings, toggling through multiple inclines and adjusting speed as I ran. The motor responded well with no delay between adjustments. The 2.6 motor should support single users, light runners and walkers without a problem. I would recommend looking at a slightly more powerful motor if you have multiple users in your family or plan to do heavy training.
Console/Controls
Screen
The 6.5 S screen is LCD backlit so it is clear and easy to read. The screen displays distance, duration, calories, incline and speed. It is not a touchscreen, so all controls are underneath the screen. Large, bright buttons allow you to select your workout program. While the screen is not large, I found the digital numbers to be easier to read than some of the more elaborate displays on other treadmills. The treadmill is iFit compatible, but iFit will not display on this screen. If you buy an iFit subscription, you will need a compatible tablet or phone to watch iFit programs.
Layout
The layout of the console is relatively simple. Unlike the touchscreen consoles, which are very streamlined, the 6.5 S layout has a few more buttons. QuickControl buttons for speed and incline flank the screen. There is an MP3 input jack so you can plug your phone into the treadmill speakers. There is also a volume control button. Manual controls for incline and speed, along with Start/Stop and the Safety Key, are centered at the base of the console. A ledge just below the controls is plenty wide to hold a phone or tablet. (Note: if you do place a tablet on the ledge, the top may slightly block the screen.) A front grip bar extends horizontally at the base of the console with heart rate sensors on either side.
Speakers/Other Accessories
Two Speakers sit on the sides of the console and provide plenty of volume. You can plug your phone into the MP3 jack to listen to music through the speakers.
Storage Pockets on either side of the console are wide and deep enough to accommodate large water bottles.
Functionality
Performance
The 6.5 S is a solid treadmill. It doesn't have many of the upgrades on other machines, but it has a quality frame and feels smooth during use.
Incline range
A 10% incline max on the 6.5 S offers plenty of training variables. Incline training not only conditions the legs for outdoor hills, it also strengthens the hamstrings to offset quad dominance. It is especially useful for walkers because when you walk at a steep grade, you naturally lengthen your stride and swing your arms for a greater full-body workout. Also, a steeper grade requires more effort, so you can crank up that metabolic output, while still enjoying the low-impact benefits of walking.
20 Pre-programmed workouts
The onboard programs provide lots of preset options for: intervals, hills, calorie burn, fat burn, etc. A simple manual lap screen is also available. There's no audio in these programs, so they are great to keep track of your stats while you listen to music, a podcast or even read a book.
Subscription Options: iFit
iFit is sold as an additional option with the 6.5 S. It is not included and iFit will not display on the LCD screen, but you can login to iFit on a compatible tablet or phone and set it on the console. iFit offers over 16,000 different workouts that include not only running, but strength-training, combo classes, and even stretching. iFit formats include the following:
Studio-based classes include: bootcamp, interval training, and combo routines that alternate strength training with running segments. The trainer provides direction as he/she works alongside you and other participants in the studio.
iFit also offers outdoor runs in any number of exotic places. There are abundant and constantly updated running/walking routes on iFit featuring cool places such as the Dragon Crest trail in Krabi, Thailand. You follow along on the treadmill as the trainer navigates the real terrain just ahead of you.
Off-the-treadmill classes are also available. Log into iFit from any tablet or computer and from the Main Menu bar, select the "Daily Workout" tab. It will bring up class options like: kickboxing, yoga, HIIT, or a simple dumbbell workout.
Noise
The 6.5 S is relatively quiet. Regardless of incline, there is very little foot noise while walking and not much more while running. I was impressed by the quiet deck on this machine.
Storage / Folding
The 6.5 S folds easily. Folding it only requires one person (and maybe just one hand). Just grab the bar at the base of the deck and lift. There is no "release" lever to raise the deck. It latches securely in place when folded up and will stay locked until you press the foot release bar underneath. As the deck descends, the hydraulic system will engage to gently rest it on the floor, you don't have to pull or push it down.
You can also roll your treadmill out of the way as needed. There are two wheels under the front so you can tip the treadmill towards yourself, rocking it back onto the wheels. It is then easy to roll or slide out of the room or into a closet.
---
Items of Note
The 6.5 S offers a great option as a beginning treadmill for new users, light users or walkers. While it is iFit compatible, iFit will not run on the LCD screen — you will need a compatible device. Also, the size and motor will not support all types of users, so if you plan to run hard or have multiple users, a more powerful machine may work better.
---
Bottom Line:
The NordicTrack 6.5 S is a simple, quality machine. Together with it's sister machine, the NordicTrack 6.5 Si, these treadmills are listed as some of our Best Buy Treadmills of 2020. It folds up easily, will fit in a corner or closet, has a nice cushioned deck, and a solid little motor. It does not require WiFi to run the onboard programs, so it is a good option if you plan to put it in a basement or garage without internet — or for those who don't want to be bothered by extra tech. The 6.5 S is a great entry-level option and one of our Best Budget Treadmills.