Mixing affordability with higher-end fitness features, the NordicTrack T 6.5 Si treadmill has captured many people's attention. While budget-priced treadmills that we've seen while reviewing treadmills on Treadmill Guru often didn't come with higher-end features like touchscreens and commercial motors, the T 6.5 Si does offer these things, giving you more bang for your buck.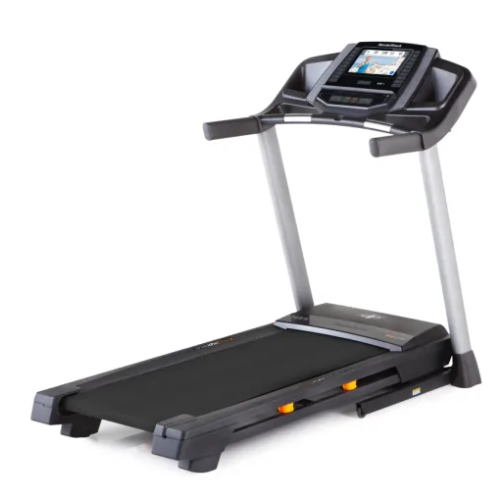 Now, you may be confused, thinking that there is already a review on this treadmill on Treadmill Guru. But the review of the NordicTrack T 6.5 S reviews the earlier version of the NordicTrack T 6.5 Si. The other T 6.5 S is a slightly lower-priced version of the treadmill being reviewed here, so if you are interested in the T 6.5 Si but want it a little cheaper, the T 6.5 S is a good alternative.
Now that it's been clarified that the T 6.5 Si is a different treadmill let's focus on what this treadmill has to offer. One of the attention-grabbing features is the 10" high-definition touchscreen. This smart touchscreen allows you more engaging workouts and an easy way to navigate your usage of this machine. Also, with the wifi-connected touchscreen, you can access NordicTrack iFit Coach.
With the NordicTrack iFit Coach workout library on the T 6.5 Si, you can make the most of your treadmill, trying out thousands of different workout programs. You can rely on the 2.6 continuous horsepower (CHP) motor to carry you through these workouts, though this treadmill is best for walking and jogging workouts, rather than heavy running.
The T 6.5 Si treadmill is also a compact treadmill, allowing you to fit it into your home more easily than other treadmills. It is easy to fold and unfold, allowing you to find room even in smaller homes and apartments.
For more in-depth information on the NordicTrack T 6.5 Si treadmill, read through the rest of this review and see if this treadmill is the right one for your fitness needs.
Pros
The NordicTrack T 6.5 Si is a compact home treadmill.
You can choose the level of cushioning you want on the T 6.5 Si.
Receive a free year of iFit Coach, which comes with workouts, data tracking, and more.
Comes with incline ability to make treadmill workouts more challenging.
The T 6.5 Si treadmill has built-in speakers and an aux port for you to plug into.
Can reach speeds of 10 MPH on this treadmill.
There is good protective warranty coverage on the T 6.5 Si.
Responsive 10" touchscreen makes the T 6.5 Si treadmill easier to use.
Easy folding treadmill to save on space.
Cons
Not meant for intense running training.
No fans available
Lacks a chest strap for heart rate monitoring
Not commonly a feature you see on treadmills under $1,000, the NordicTrack T 6.5 Si treadmill comes with a 10" touchscreen. This touchscreen allows you to more easily use the T 6.5 Si, as it is highly responsive and makes it easier to sort through workout programs you are interested in, rather than how other treadmills have buttons you have to use to scroll and guess what the workout's like.
With the touchscreen, you can have the workout information displayed so that it is easy for you to see if this workout suits your level of fitness. That way, you don't get 5 minutes in and find out that it may be a little too tough or too easy for your needs. Also, as the touchscreen is high-definition, you can enjoy crisp and immersive quality.
NordicTrack iFit Coach Free Year
A significant perk of choosing to bring the T 6.5 Si treadmill home is the free year of NordicTrack iFit Coach membership you get with your purchase. If you haven't heard about iFit Coach, you are missing out.
iFit Coach is a training program that brought in many world-class personal trainers to make a huge variety of exercise programs for you to follow. There are tons of treadmill workouts, but you can also make use of the many other types of exercises, such as kickboxing, yoga, and HIIT workouts.
Along with the training programs, when you use iFit Coach on your T 6.5 Si treadmill, you can enjoy workout videos that take you along to exotic locations around the world, either with a personal trainer encouraging you along the way or by using the Google Maps that is paired with iFit Coach.
Surprisingly, for a slim and compact treadmill, the NordicTrack T 6.5 Si has a weight capacity max of 300 pounds. With this weight capacity max, fitness via a treadmill is more accessible since the T 6.5 Si has an affordable price tag.
Under the hood of the T 6.5 Si treadmill is a 2.6 CHP commercial plus motor. While not an overly large motor, it is strong enough to keep up with daily usage. With a motor of this size, usually, you will want to stick to walking or jogging. If you have marathon training in mind, you may need a treadmill with a bigger motor, but for other purposes, the T 6.5 Si treadmill should be just fine.
To help protect your investment in your health and fitness, you get a good warranty when you buy the T 6.5 Si treadmill. There is a lifetime warranty on the motor and frame, with a 1-year warranty covering the parts and labor if your treadmill needs repairs.
There is a slight catch. You will need to register your T 6.5 Si on NordicTrack to activate the warranty coverage. Aside from doing that, you should be protected by the warranty coverage.
Built-In Exercise Programs
There are 20 pre-programmed exercise programs available when you buy the T 6.5 Si. These programs can help target specific training needs, from calorie burning to speed workouts. Also, if you decide not to continue your iFit Coach membership after the free trial ends, you have these workout programs to supplement your own training.
Unexpected on a budget treadmill, the NordicTrack T 6.5 Si treadmill comes with a commercial tread belt. This belt will hold up under the pressure of miles and miles of workouts, so you don't have to worry about baldling your treadmill belt with your workout routine.
The treadmill belt itself is 20" wide, which helps it from feeling cramped as you swing your arms during your workouts. Lengthwise, the belt measure 55" long, which is plenty of space for most types of exercise routines.
SpaceSaver Design With EasyLift Assist
As you might guess, this treadmill is compact and a great space-saver. Many budget treadmills are good when you are looking for a treadmill that won't take up much space, but many of them aren't of the same great quality of the T 6.5 Si.
The space-saving design that comes with the T 6.5 Si makes it a good treadmill for a range of homes, from apartments to home gym rooms. It can also fold up thanks to the EasyLift Assist tech built into the treadmill deck.
On this treadmill, you have a speed range of 0.5-10 MPH. If you are concerned that the T 6.5 Si does not go up to 12 MPH, it is better that it does not as this treadmill isn't meant for that level of running intensity. Also, many people who run on a treadmill rarely go above 7.5 MPH while running, which still leaves wiggle room when it comes to the T 6.5 Si.
You can add extra difficulty to your workout sessions with the incline range that comes with the T 6.5 Si treadmill. Go from 0% incline up to 10% incline and push your overall fitness as you use the various incline levels.
As with other NordicTrack treadmills, you can change the cushioning level on the T 6.5 Si thanks to the FlexSelect cushioning built into this machine. With this ability, you can determine what level of cushioning you prefer as you workout. To alter the cushioning, all you need to do is turn the orange Flex cushioning shock absorbers that are located directly below the treadmill belt.
Motor: 2.6 CHP
Incline: -0% to 10%
Speed: 0.5-10 MPH
Dimensions: 67.5" L x 36" W x 73" H
Folding: Yes
Running Area: 20" W x 55" L
Max User Weight: 300 lbs
Treadmill Weight: 209 lbs
Benefits
When you considering what treadmill to bring home, there are plenty of things that recommend the NordicTrack T 6.5 Si treadmill. For one thing, this treadmill is highly affordable. While the earlier iteration of this treadmill (the T 6.5 S) is cheaper, the T 6.5 Si has more high-end features like the 10" touchscreen and free year trial of iFit Coach for just a few hundred dollars more.
Along with the fair and affordable pricing, the T 6.5 Si is a compact treadmill without sacrificing quality functionality. That way, if you are tight on space and funds, you can bring home a quality treadmill in the form of the T 6.5 Si.
Final Verdict: NordicTrack T 6.5 Si Treadmill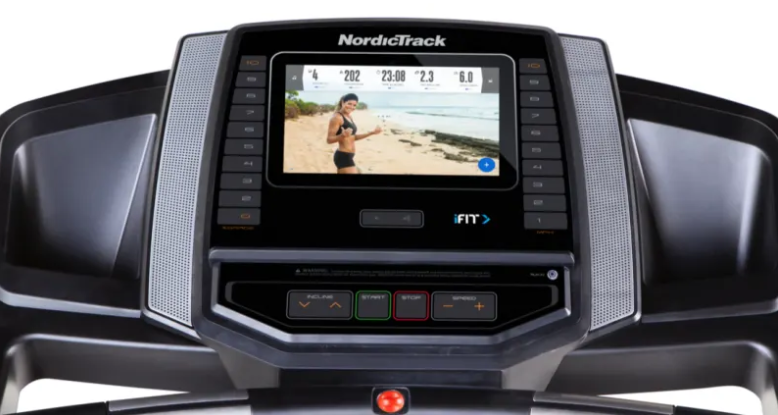 Overall, Treadmill Guru highly recommends the NordicTrack T 6.5 Si treadmill as you next home treadmill. This machine comes with many engaging features that you normally wouldn't have access to unless you spend over $1,000. But with the T 6.5 Si treadmill, you can stay under that price tag and still enjoy the latest fitness features like advanced cushioning, compact folding design, an HD touchscreen, and so many other quality features.
So, if you are a walker or jogger and need a treadmill for your home workouts, you should be strongly considering bringing the NordicTrack T 6.5 Si treadmill home.
What We Like
Affordable pricing
Commercial quality motor
Strong treadmill belt
Adjustable cushioning
Good warranty coverage
HD touchscreen
Crisp speakers
Free iFit Coach year
Built-in workout programs
Decent speed and incline
Good weight capacity
What We Don't Like
No fans come with this treadmill
Does not include a heart rate chest strap
Not meant for intense running
Conclusion
The NordicTrack T 6.5 Si treadmill is on our Best Compact Treadmills list, and its earlier edition is on the Best Treadmills of 2019 list. Between these high recommendations, the T 6.5 Si is one of the most highly recommended treadmills on Treadmill Guru.
Related Treadmill Reviews: