*TreadmillReviewGuru helps consumers find the best home fitness products. When you buy a product we recommend, we may earn a commission.
The ProForm SMART Performance 600i treadmill has been upgraded for 2020, with new features added to this affordable treadmill without adding much to the price tag. Some of the new features you can enjoy when it comes to this treadmill are a new touchscreen installed, a greater variety of built-in workout programs, and a free month of iFit membership to access more programs.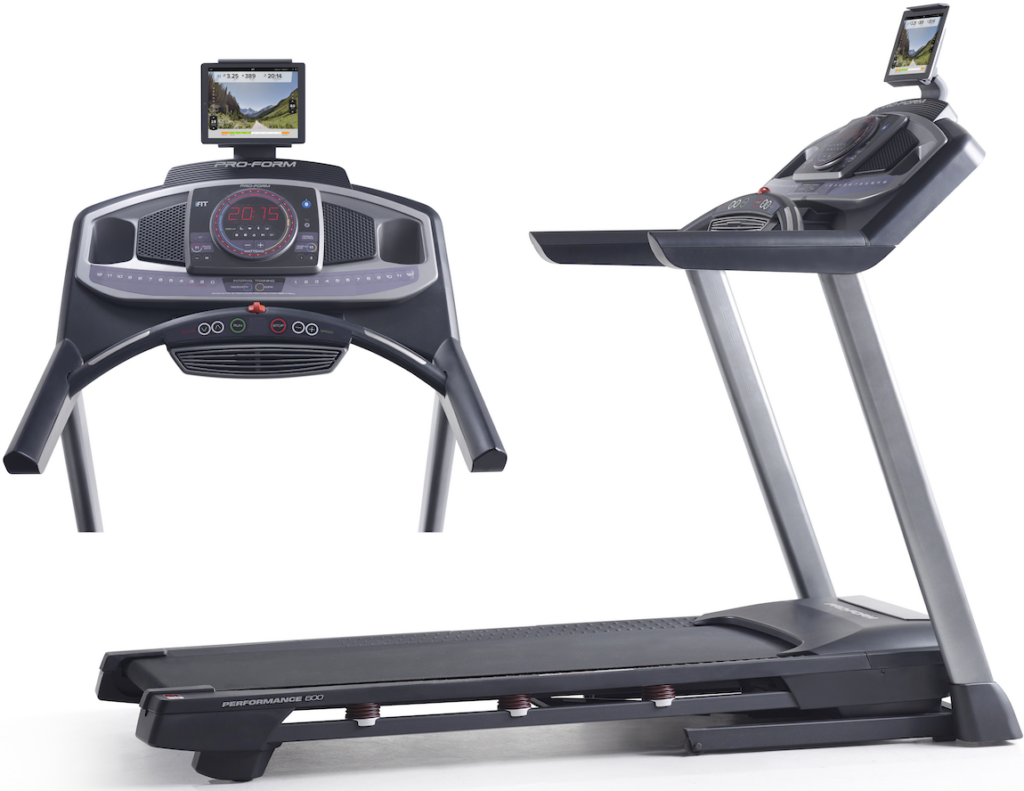 With the ProForm SMART Performance 600i treadmill, it gives you the ability to walk, jog, or run in an indoor place and feel like you are actually somewhere outdoor. This outdoor immersion while indoors is thanks to the iFit technology. When you use the built-in touchscreen and access iFit, your screen will display different routes using Google Maps and pre-recorded videos with world-class personal trainers. The SMART Performance 600i provides users with a wide range of programs that can help build up all types of fitness, from greater running endurance to full body workouts.
The speed of this treadmill ranges from 0.5 to 10 MPH, and the incline goes up to 10%. The motor that powers the SMART Performance 600i is a 2.5 CHP motor, which will run quietly and smoothly as you exercise. In addition, the weight capacity is 300 Ib, so a variety of users can enjoy this treadmill.
Pros
The SMART Performance 600i is a folding treadmill with EasyLift Assist option so that it can be folded and unfolded with ease.
iFit is included for 30 days for free.
It operates fast and quietly. The 2.5 CHP motor does not create any disturbing sound while powering your workout. You can calmly watch your favorite TV show or continue chatting on the phone while walking on the treadmill without interference.
The speed of this machine ranges from 0.5 to 10 mph, incline up to 10% for better endurance and increased cardio exertion.
The shock absorption system consists of four shock absorbers which play the role of protecting a user's joints, providing comfort to the user while running, walking, or jogging.
Treadmill's belt is 18 inches wide and 55 inches long, which provides the user with a natural experience of running, jogging or walking and plenty of room to move.
Besides having a wider walking area, it comes with CoolAire workout fan, EKG grip pulse and has a weight capacity of 300 lb.
ProForm SMART Performance 600i treadmill offers a good warranty. ProForm currently offers a 10 year frame, 2 year parts and 1 year labor warranty.
Cons
The side rails of this version of the treadmill by ProForm are not as long as some runners would like.
It can be hard to assemble. Many customers have expressed this concern as it has taken them two or more hours to put the parts together.
The 2.5 CHP motor, besides being of good quality, is also soundless. It can power you through your workouts, easily changing speeds and inclines without hitching, and won't bother the rest of your household with noise as it does it.
With the iFit technology, you can to connect with a huge variety of exercise programs as well as other fitness benefits. One of the things iFit is particularly known for is its ability to use Google Maps to provide you with the feeling of training in the real world.
It also has built-in personal fitness training programs led by personal trainer either in a fitness studio or out in a beautiful location. Also, you can also compete with other iFit users as well as track your workout data, nutrition, and sleep habits for a complete picture of your health.
Furthermore, the SMART Performance 600i is also equipped with a 10-inch touchscreen display that provides high-definition clarity when working out. With the touchscreen, you also have access to far more workout information regarding the number of steps, distance elapsed, speed, incline, calories burnt, and heart rate.
This information is more completely broken down so that if you are training for anything in particular, whether it's weight loss or a half marathon, you will know where you are fitness-wise.
ProForm SMART Performance 600i treadmill offers a wide range of built-in workout programs. This ultimate machine has 50 workout programs, allowing for a wide variety of targeted exercises to help you reach your ideal level of fitness.
4
Unlike other treadmills where you have to wrestle the treadmill deck into the folded position, you can easily fold up the SMART Performance 600i treadmill thanks to the EasyLift Assist technology built into it.
With this tech, the weight of the deck has been reduced, making it easy for most people to lift one-handed. Also, when you want to unfold the deck, pressing the release latch is all you need to do, as the treadmill deck will glide down gently to the floor.
Quick Control Speed And Incline
You have plenty of control over the speed of the SMART Performance 600i. This treadmill has a speed range of 0.5 to 10 MPH, which most people will never need the upper end of the speed range, though it is nice that it's there.
Speed settings can be done either by using the numbered keys or by the plus/minus keys on the console. If you use the number keys, the speed will change by whole numbers, i.e., 2.0, 3.0, 4.0, etc. If you use the plus/minus keys, you can alter the speed by 0.1 increments, i.e., 2.1, 2.2, 2.3, etc.
The incline range of 0% to 10% works along the same lines, with whole number changes listed with the numbered keys and increments of 0.5 available with up/down arrows.
Built into all ProForm treadmills is the excellent ProShox cushioning. This cushioning can help protect you during workouts whether you are walking or jogging. With four shock absorbers positioned underneath the deck, you can reduce the impact of your feet on the treadmill.
While the SMART Performance 600i treadmill isn't a commercial-grade treadmill, it still has a very sturdy build that won't shake when you want to move faster than walking speed. With this tough, compact treadmill under your feet, you won't have to worry as you exercise.
The ProForm SMART Performance 600i treadmill comes with a strong warranty package to protect your investment in this machine. When it comes to the frame, you have a lifetime warranty. As for the motor, it comes with a 2-year warranty. The parts and labor come with a 1-year warranty.
Motor: 2.5 HP.
Incline: 0-10%.
Speed: 0.5-10 mph.
Dimensions: 69.8″ L x 33.5″ W x 56.42″ H.
Folding: Yes.
Running Area: 18″ W x 55″ L.
Max. User Weight: 300 lb.
Treadmill Weight: 210 lb.
Benefits
As the problem of obesity is becoming a worldwide epidemic, it is a must for all of us to focus on our health and fitness. By having the SMART Performance 600i treadmill in your home to support your overall health, from your physical fitness to your mental health, you can more easily maintain a healthy lifestyle.
Along with the general health benefits, the SMART Performance 600i is an easy treadmill to add to any home. It has a compact frame, and this treadmill comes with folding technology that makes it easy to both fold up and unfold when you want to use it.
There are also plenty of workout options on the SMART Performance 600i treadmill, which can help keep it from becoming a large coat rack. With the ability to enjoy iFit workout programs free for a month as well as the 50 built-in workouts, you can get a ton of use out of this machine.
Moreover, this treadmill is made up of high-quality, durable materials that can last up for years and comes with a lifetime warranty on the frame as well as good coverage on the other parts. With these things to support the purchase of the SMART Performance 600i, it just makes sense to add this treadmill to your home.
Final Verdict: ProForm Performance 600i Treadmill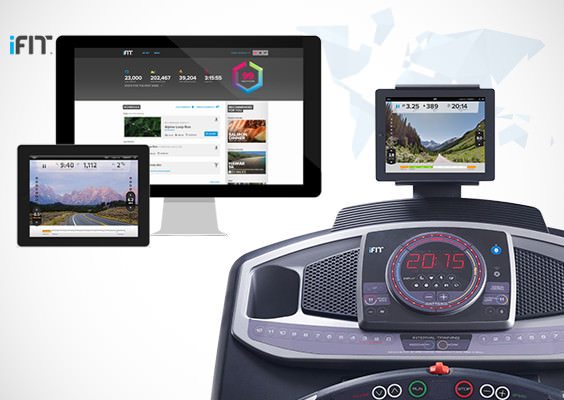 The ProForm SMART Performance 600i is surely the best economical solution for those looking for a quality treadmill without spending over $1,000 on a treadmill. Considering all of the advantages mentioned above that this treadmill provides, the more than reasonable price range is really amazing.
Also, this treadmill is very suitable for apartments as it does not takes too much space as it is easily foldable. Moreover, iFit is one among one of the best technologies used in training equipment that you will find in residential workout machines.
With the SMART Performance 600i relatively small size and an array of exercise program features built into it, this treadmill can be the ideal tool for you to reach your health and fitness goals.
WHAT WE LIKE?
Reasonable Price.
iFit
Various built-in programs.
Easily foldable and can be moved.
Supportive incline range.
Good speed range.
High weight capacity.
Advanced Shock Absorption System.
Good warranty.
WHAT WE DON'T LIKE?
Short arm rails.
Hard to assemble.
Conclusion
To sum up, the ProForm SMART Performance 600i may not be the best treadmill produced, but it is an excellent treadmill for those who want to walk, jog, or do some light running. The SMART Performance 600i did make our Best Treadmills of 2020 list, as it combines great pricing with excellent features. In all, this treadmill is quite a versatile and affordable machine that can come in handy to many people looking to develop a healthy, fit, and active lifestyle.
Related Treadmills Review: