*TreadmillReviewGuru helps consumers find the best home fitness products. When you buy a product we recommend, we may earn a commission.
Last Updated: May 8, 2023
Woodway is the OG of curved, manual treadmills. Having manufactured the first non-motorized treadmill, the Woodway Curve, in 1974, the brand has since then designed several slat belt treadmills for residential and commercial use. Rogue Fitness, on the other hand, specializes in strength and conditioning equipment. Equipment from both brands is of high quality, so we're really excited about this team-up to bring you the Rogue x Woodway Curve LTG Treadmill. This is essentially the Woodway Curve LTG with Rogue's branding exclusively sold at Rogue Fitness. This curved, best non-motorized treadmill is made for home and small commercial gym settings. It features Woodway's patented slat belt and a tech-enhanced console for good metrics tracking for up to 4 people. We're really excited about this collaboration and to bring you this review of the Rogue x Woodway Curve LTG Treadmill.

Why You Should Trust Our Review Of The Rogue x Woodway Curve LTG Treadmill
We test and review all kinds of fitness equipment, including a huge variety of treadmills. We work to get in all of the latest models so we can try them out firsthand to determine how they perform and who we recommend them for. Even before we get a model into our studio, we have a good idea of what to expect based on the specs and our experience testing several non-motorized treadmills. So, although we don't have the Rogue x Woodway Curve LTG in our studio for testing yet, we've compiled this spec review based on our knowledge, research, and prior reviewing of models like the TrueForm Trainer, AssaultRunner Elite, and Bells Of Steel Blitz Manual Treadmill.
---
Pros
This is the more affordable, home-version of the popular Woodway Curve.
This model doesn't have a motor, meaning you can run as fast as you want on it.
The belt is Woodway's patented design proven to help provide comfort and shock absorption.
It is perfect for home use yet durable to handle being used in small gyms.
The construction and design are made to handle and track metrics for multiple users.
The console is higher-tech than other manual treadmills.
Cons
It is a bit of a splurge compared to other treadmills.
It's large, heavy, and non-folding so it can't be stored and it might be hard to move for some.
---
LCD Display with Group/Circuit Mode
Self-Contained Generator for power
Features Woodway's patented slat belt
Metrics tracked: speed (current/peak/average), time (total/pace), calories (total/active/mets/watts), and heart rate
Goal and interval settings are built into the console
Pairs with Bluetooth or ANT+ heart rate monitor
Group/Circuit mode for tracking stats of up to 4 runners
Transportation wheels
Rear transport bar
Footprint: 67" L x 34" W x 70" H
Construction: Grade steel and aluminum frame
No Max Speed
Belt: 19" W x 62" L
Treadmill weight: 297 lbs
Weight Capacity: 350 lbs
60 Thermoplastic Elastomer (TPE) Slats
Curvature: 3%
Warranty: 5-year frame, 3-year belt, and moving parts, and 1-year wear items and labor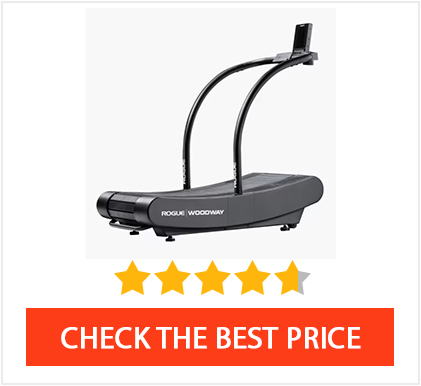 ---
In-depth Review of the Rogue | Woodway Curve LTG Treadmill
Console
Manual treadmills are known to have simple consoles and do not require electricity to use. The Rogue x Woodway doesn't require being plugged in, but the console is a little bit more high-tech than what we normally see.
The console features an LCD screen to track your workout metrics. The metrics tracked are speed, time, calories, and heart rate. You can also see specific breakdowns of the speed displayed as your current speed, peak, and average speed. You can also see your pace, active calories, and watt output. To track your heart rate the Curve LTG connects through Bluetooth to a compatible monitor.
By the looks of it, you can set specific training goals on the console, as well as do interval training. At the bottom of the screen is the option to choose from 30-second intervals, Tabatas, and set custom interval times for working and resting periods.
If you have multiple people who plan on using the Curve LTG, the console also tracks up to 4 runners' metrics. There's also group training found under the "group/circuit" button below the console. There also seem to be buttons on the side of the console, but it's hard to tell how navigating this display is without having used it.
I like that the console appears to be pretty tall. The height of the treadmill is said to be 70" high which is the top of the console. Other models like the TrueForm Trainer and Bells Of Steel are about 62"-63" high. I think the Rogue x Woodway will be easier to see for taller users because they won't have to look down quite as much as other manual treadmills.
I also like that the console includes some storage. There's a rack for your device, a small tray to put your phone or keys, and a cupholder on either side of the screen for water. Many manual treadmills like the TrueForm Treadmills don't include any storage for even water, so it's nice to see a place for pretty much everything you could need while running available on the Curve LTG.
Construction Quality / Durability
The overall construction of the Rogue x Woodway Curve LTG looks to be impressive and appropriate for home use as well as use in small commercial settings. Its price is a little steeper than other treadmills like the AssaultRunner Pro and Tru Grit Runner. Considering this is a Woodway treadmill that's more affordable than the Woodway Curve while featuring the same belt, it's most likely worth every penny.
With a weight capacity of 350 lbs, this isn't the highest limit we've seen on manual treadmills, but it still is a good amount of weight. The Curve LTG should handle users up to that limit.
Frame
Although this is a lighter version of the Woodway Curve, the Curve LTG is still a substantial treadmill. It weighs 297 lbs. Its frame reminds me of AssaultRunners. It looks to be made of steel with plastic covering the frame and sides of the belt.
Because of its weight and size, I assume it will be a little hard to move for some. It does have a rear bar under the deck to lift up the back end to engage the front transportation wheels. So, it's designed to be moved like most manual treadmills. I like that the rear handle is a large continuous bar rather than two separate handles like the TrueForm Runner. The TrueForm Runner is also 50 lbs more and incredibly difficult to move. So, the Curve LTG is probably a little easier than the Runner to move, but I would still recommend a designated space for the Rogue x Woodway. It also doesn't fold up, so it can't be stored like other motorized treadmills.
The handles are simple and remind me of the Woodway Curve Trainer. It's hard to tell how easy they are to grab when you need help with balance, but they look like they're within reach while running.
Motorless
The Rogue x Woodway Curve LTG is a non-motorized treadmill. It doesn't have a motor to move the belt for you to keep up with. Instead, you drive the belt yourself when you walk and run. Your feet push the belt in the opposite direction you move in. Because the Curve LTG doesn't have a motor, it doesn't have a maximum speed. Most motorized treadmills for home use go up to 12 mph, but you can run as fast as you want (and can) on the LTG.
We love manual treadmills because of this and the fact that they require less maintenance than motorized treadmills. The Curve LTG should also be good to handle a lot of running and sprinting.
Deck
The running surface is 62" long and 17" wide. It's really comparable to the AssaultRunners and the TrueForms. This width might seem narrow if you're used to running on motorized treadmills, however, it's a common size for many manual treadmills. This belt width is designed to help keep your body aligned and keep you in a linear pattern when running. The belt length is also optimal for most running strides.
I'm excited that the Curve LTG has the same patented belt that the high-end Woodway Curve has. It has 60 TPE (Thermoplastic Elastomer) slats. This design has been proven to absorb shock from the joints when running. The TPE is a rubber-like material that should feel similar to running on other manual treadmills underfoot.
The curve of the deck is what helps to influence how easier or hard the belt is to move. Manual treadmills typically help you burn more calories than motorized treadmills because it's harder to continually move a belt than it is to keep up with a moving one. So, we know the Rogue x Woodway will be challenging and provide excellent condition training, but I'm not sure how difficult it will be to get the belt moving compared to other manual treadmills.
The curve of the deck is said to be 3 degrees. Looking at it, it looks similar to the curve of the AssaultRunners, but a little shallower. Since TrueForm claims to have the shallowest curved decks, it probably isn't shallower than those models. The TrueForms are the hardest belts to get moving because of their shallow curves. The Curve LTG will probably be a little easier like the AssaultRunners, although I have a feeling it will feel a little different underfoot than the Bells Of Steel which has a high 17-degree curve at the front of the deck.
Warranty
The Rogue x Woodway Curve LTG comes with a 5-year frame warranty, a 3-year belt, and moving parts warranty, and a 1-year warranty for worn items and labor. At least two people for setting up should help make the process smoother.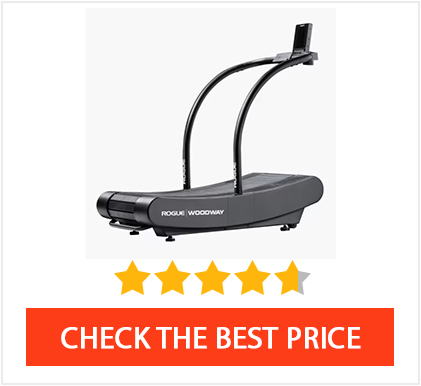 ---
Bottom Line Review: Rogue x Woodway Curve LTG Treadmill
We are excited to see Rogue Fitness and Woodway team up to make the Curve LTG Treadmill available at Rogue. The Rogue-branded Woodway Curve LTG is the home version of the high-end Woodway Curve Treadmill. We assume the Curve LTG will be a solid non-motorized treadmill. It has the same patented TPE-covered slat belt as the Curve, handles users up to 350 lbs, and accommodates up to 4 users on the console. It's rated for use in homes and small commercial gym settings, too. The Rogue x Woodway Curve LTG Treadmill is a little bit of a splurge, but considering this is backed by not one but two reputable manufacturers who know conditioning equipment, this should be a great addition to your home!