*TreadmillReviewGuru helps consumers find the best home fitness products. When you buy a product we recommend, we may earn a commission.
Last Updated: August 4, 2023
Not only can you find quality treadmills under $1000, but there are several different models to choose from. One of the best treadmills under $1000 in our opinion is the Schwinn 810 Treadmill. Not only is its price point affordable, but this treadmill has some nice features that make it good for mostly walking and light jogging. Its 10 mph max speed and 10% incline offer good training variety and the 20" wide by 55" long deck should support most walking and jogging strides. This isn't necessarily a treadmill you'd use for long-distance running but has pretty much everything that we look for in a budget-friendly treadmill. In our review of the Schwinn 810 Treadmill, I'll go over what we like and what you should keep in mind from this well-priced treadmill.

Why You Should Trust Our Review Of The Schwinn 810 Treadmill
We test all kinds of fitness equipment and have reviewed treadmills of all different sizes and price points. When we see a list of specs and features, we typically know what to expect from a machine. Sometimes we are surprised when we get a model in for testing that differs from your expectations, but most often we are able to accurately access a machine and determine who it is good for. We are here to help you find the right treadmill for you, so we hope this spec review of the Schwinn 810 will help your search. Once we have it in our studio we'll update this review to reflect how it performed for us.
---
Pros
This treadmill is affordable and available to buy on Amazon.
It is compact, foldable, and best for walking and light jogging.
The motor goes up to 10 mph and offers a 10% deck incline.
The console is simple with included workouts and the ability to stream from your device while using it.
It connects to the optional Explore The World App on your device.
Cons
This isn't best for distance training.
The 275 lb weight limit makes it not best for larger users.
---
Features:Specs:
Blue Backlit LCD Display
16 Workout Programs
Connects To Explore The World App
Quick-adjusting Buttons
Device Rack
Bluetooth Connectivity
Speakers
USB Charging Port
Pulse Grips
Fan
2 Cupholders
Transportation Wheels
SoftDrop Folding Technology
Footprint: 69.1" L x 35.6" W x 56.7" H
Motor: 1.9 HP
Belt Size: 55" L x 20" W
Construction: Alloy Steel
Treadmill Weight: 155 lbs
Weight Capacity: 275 lbs
Max Speed: 0.5 – 10 mph
Max Incline: 10%
Warranty: 10-years drive motor, and 1-year mechanical, electrical, and labor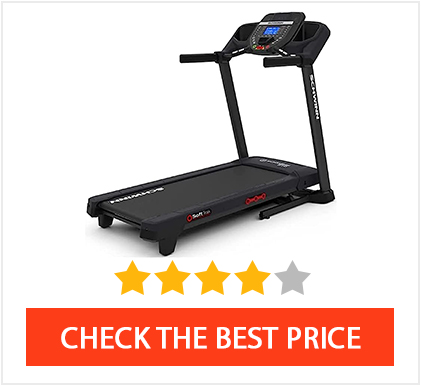 ---
In-depth Review of the Schwinn 810 Treadmill
---
Preprogrammed Workouts
Most treadmills under $1000, have pretty basic consoles with limited tech. The Schwinn 810 doesn't have a touchscreen, but it does include 16 workout programs to follow along with while using it. Along with these program modes is the ability to create 2 user profiles, in case someone else in your house wants to use the 810.
These workouts are most likely pretty standard. Some of them include manual mode to do your own thing and adjust the treadmill as you go, goal settings, weight loss, intervals, heart rate, and custom mode. I assume with 16 of these programs to choose from that most of these settings have multiple workouts with preset incline and speed settings to choose from.
The Schwinn 810 Treadmill also connects through Bluetooth to the Explore The World App. This app features outdoor routes of real locations where a camera takes you down a trail, road, or sidewalk in various areas around the world. We've used Explore The World on Bowflex equipment with the JRNY subscription so this appears to be the same, if not similar. You just need your phone or tablet to use this app. The camera speeds up and slows down depending on your pace. It also looks like there are 3 Explore The World courses available without a subscription. You'll need to subscribe to the app to have access to the full library of content. These aren't led by an instructor and just serve as a way to make you feel like you're training outside.
Console
As I mentioned, the console is pretty simple with a blue backlit LCD screen. This is pretty standard for treadmills in this price range. The screen displays your workout metrics and shows the options you have for workout programs.
This console does seem to have a nice amount of functionality that we like to see. There are numbered buttons on either side of the screen for quick adjusting. They only include some increments for speed and incline, but it is better than nothing. I hate having to press arrowed buttons a zillion times to get to a specific speed and incline level. It does look like when using the quick-adjusting buttons you have to press one of the enter buttons in order for the treadmill to adjust. I could be wrong, but I hope this isn't the case.
There are of course numbered buttons to get to specific speed and incline levels, too. There are also stop and start buttons to start, stop, and pause your workout. I'm a little confused by the two enter buttons.
The fan looks to be tiny, but in our experience looks can be deceiving. I'm certainly not expecting a powerful fan, but nonetheless, it's nice to have. The speakers are also front-facing and hopefully clear and loud. It's impossible for us to know until we have the 810 in for testing.
As far as storage, there are 2 cupholders that look to be large for a standard water bottle. There is also a device rack above the screen that seems to have a front lip to hold your device and a textured back to help keep it in place. The console overall doesn't appear to be very tall, but it looks to be comparable in size and functionality to other affordable treadmills like the Horizon T101.
Construction Quality/ Durability
Alright, now let's get into the bulk of this review, which is the construction. It is not only in the console where I'm drawing comparisons to the Horizon T101, but I similarities in the construction, too. The Horizon T101 is one of our favorite budget treadmills that we love to recommend for walking.
We like that the Schwinn 810 comes with a 10-year motor warranty. When brands include extensive warranties, it helps to indicate a well-built machine. One thing to keep in mind is that the 810 might not be best for larger users. It has only a 275 lb weight limit, so if you need a little heavier-duty affordable treadmill the Sole F63 is a good one to check out. It is a little higher in price than the 810 but you're paying for a bit more space for walking and running as well as a sturdier design.
Frame
As far as the frame, the Schwinn 810 has a pretty standard design made of alloy steel. It has a steel frame that extends under the front of the deck and connects to the two steel uprights that hold the console. There isn't a steel crossbar mounted under the console for added support, however. We typically like to see crossbars on budget treadmills.
The Schwinn 810 does fold up. There are also 2 transportation wheels for when you need to move it. This treadmill weighs 155 lbs so it isn't the most heavy folding treadmill so I think most people should be able to move it. It is important to consider your own personal physical capabilities before attempting to move large fitness equipment. I'm using the word "most" as a pretty general term here.
There are two side handles that look to be a pretty typical length. The front handles are two pieces with pulse grips built in for heart rate reading when you hold them. These should provide a good amount of support for balance when you need it.
Motor
Amazon lists the motor size for the Schwinn 810 being just 1.9 HP. This is a little small, therefore, the 810 will probably be best for lighter use and primarily walking. I would think somewhere around 1-3 miles per day at the most is around what it could handle.
The 810 does go up to 10 mph which is a pretty significant pace. Most people will be in a running pace at this speed. I would avoid using the 810 at its higher speeds for long periods of time, though. The 810 also has a 10% incline which is a nice amount of grade to get the backs of your legs and glutes working.
Deck
Another reason why we recommend the Schwinn 810 Treadmill for mostly walking and light jogging is its size. It has a deck of 20" wide and 55" long. This size we've found to be best for most walking and jogging strides. Runners with long running strides should look into a 60" long deck like the Horizon 7.0 AT or Sole F63. We've found 60" to be best for most people to run comfortably on. I'm about 5'1" and I have a fairly short stride so I can run at higher speeds on 55" long decks, so I'll probably be able to jog and run just fine on the Schwinn 810.
It's hard to assume what the deck cushioning will be like on the 810, but I assume there isn't much shock absorption because this is an entry-level model. As I said, we've been surprised before, but if you have joint issues you might want to consider this before buying.
Warranty
Schwinn Fitness includes a nice warranty for the 810. The warranty includes a 10-year motor warranty and 1-year for mechanical and electrical components, and labor.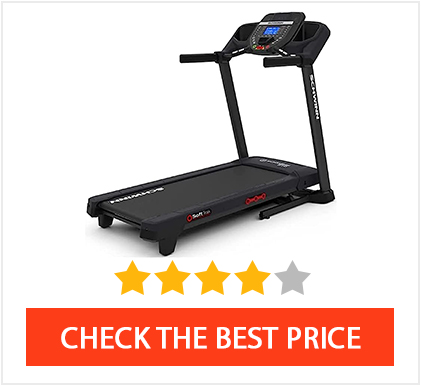 Bottom Line Review: Schwinn 810 Treadmill
If you're searching for a budget-friendly treadmill, you're in luck! There are many different options to choose from that aren't only inexpensive but quality treadmills. Although we don't have the Schwinn 810 Treadmill in our studio for testing just yet, this model has a really enticing price and is available on Amazon. We like the look of the construction and foldable deck and the simple console that comes with included workout modes. We recommend the 810 for mostly walking and some jogging. Users with shorter running strides should be able to run as well. The 810 is probably best for lighter use due to the 1.9 HP motor and entry-level price, but the motor goes up to 10 mph and offers a 10% incline for varied training. Check out the Schwinn 810 if you're looking for a great treadmill under $1000.
Related Treadmill Reviews: