*TreadmillReviewGuru helps consumers find the best home fitness products. When you buy a product we recommend, we may earn a commission.
Last Updated: August 29, 2023
The Sole F63 and Horizon 7.0 AT Treadmills are very similar machines, so if you're deciding between the two, you're in the right place! Each model has features and specs that you should keep in mind. The Horizon 7.0 AT and Sole F63 are two of the best treadmills we recommend to people, but which one is ultimately superior? In this comparison review of the Sole F63 and Horizon 7.0 AT Treadmills, I'm going to go over what they have in common, how they differ, and which one is best for your home. So, let's dive into treadmill showdown.
Why You Should Trust Our Comparison Review
We like to do full comparison reviews here at Treadmill Review Guru, that way we can take two specific models and really unpack how they compare and differ so you can make an informed decision on the right treadmill for you. We do comparison reviews with models that we have on hand, and over the years we've collected a hefty amount of fitness equipment, including treadmills. You can trust in this comparison that we not only have the Sole F63 and Horizon 7.0 AT Treadmills in our studio, but we've heavily used each of these models so we know exactly how they work and perform. We've also been testing treadmills from Sole and Horizon for years, so we know not only what to expect from these models but from each brand as a whole.
---
Horizon 7.0 AT vs Sole F63 Treadmill Comparison Video
---
Pros & Cons of the Sole F63:
Pros Sole F63
This is a high-quality, affordable treadmill that is great for all running strides.
The motor is quiet and able to handle light to moderate amounts of running.
Once folded, there are 4 wheels on the frame to push this treadmill around fairly easily.
The console includes onboard workouts and Bluetooth speakers without a subscription fee.
Cons Sole F63
The console has less tech and connectivity than others.
The fan isn't very powerful.

Pros & Cons of Horizon 7.0 AT
Pros Horizon 7.0 AT
This is an affordable treadmill with nice features and a long deck for all stride lengths.
The motor is quiet and quick to adjust for interval training and light to moderate use.
The folding deck saves a lot of space.
The console doesn't require a subscription and offers onboard workouts and connectivity to apps like Zwift.
Cons Horizon 7.0 AT
The speakers and fan aren't very powerful so you're better off using your own.
The console is a little less intuitive to use than others.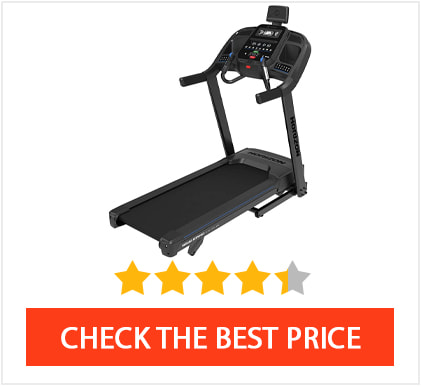 Sole F63 Treadmill Specs:Horizon 7.0 AT Treadmill Specs:
6.5" White Backlit LCD Display
Footprint: 77" L x 35" W x 67" H
Motor: 3.0 HP
Running Surface: 20″ X 60″
Max Speed: 12 mph
Max Incline: 15 levels
Weight Capacity: 325 lbs
Treadmill Weight: 267 lbs
Folding Deck with Kick Release
4 Transportation Wheels
Onboard Workouts
Bluetooth Speakers
Device Rack
Pulse Grips
Compatible With Garmin Watch
2 Cupholders
Warranty: Lifetime frame & motor, 2-years deck & electronics/parts, 1-year labor, and 90 days cosmetic items
7.25" LCD Hi-Contrast Screen
4 High-Contrast LED Windows
Footprint: 76" L x 35" W x 66" H
Motor: 3.0 HP
Running Surface: 20″ X 60″
Max Speed: 12 mph
Max Incline: 15 %
Weight Capacity: 325 lbs
Treadmill Weight: 277 lbs
FeatherLight Folding
2 Transportation Wheels
Onboard Workouts
Bluetooth Speakers
Bluetooth Connectivity to apps like Peloton and Zwift
Device Rack
Pulse Grips
Included Heart Rate Chest Strap
2 Cupholders
Warranty: Lifetime frame & motor, 3-years parts, and 1-year labor
---
Recommendation: Horizon 7.0 AT vs Sole F63
As I mentioned, both the Sole F63 Treadmill and Horizon 7.0 AT Treadmill are on our list of the best treadmills that we recommend to most people for home use. They are very similar in quality, capabilities, and price. The F63 and 7.0 AT have the same 3.0 HP motor, 20" x 60" deck, and they fold up. Each model has a simple console with an LCD screen included with onboard workouts that don't require a subscription.
Both of these treadmills are very similar in size and weight, too. The Horizon 7.0 AT has softer deck cushioning than the Sole F63, however, the F63 has a very solid design that we love from Sole and it is easier to move around when you need to because of the 4 transportation wheels.
---
In-Depth Comparison of the Sole F63 vs Horizon 7.0 AT Treadmills
---
Sole F63 vs Horizon 7.0 AT Console & Content
Most treadmills in this price range have pretty straightforward consoles without subscription content available to stream. So, if you're looking for a treadmill with a touch screen to watch and stream content from, there are plenty of other options to choose from. If you're looking for a simple design with onboard workout programs and the ability to watch and read from your phone or tablet, you're in luck with both of these treadmills.
Sole F63 Console & Content
The Sole F63 has an easy-to-use design with a 6.5" white backlit LCD screen. There are 6 workout modes, 2 custom modes, and 2 heart rate training modes to choose from on the F63. The workout modes include hill, fat burn, cardio, HIIT, and strength. There is of course a manual mode so you can just hop on and go, too. The custom modes allow you to set your own settings.
The program buttons are straightforward, and we like the numbered quick-adjusting buttons below the screen. This layout isn't the most seamless to use for adjusting the treadmill but it works just fine.
The fan is really my only complaint with this console. It's large, but the airflow is weak. I can only feel the air with my hand in front of the vents. You'll need to plug in a fan of your own to cool off. The speakers, however, are effective and go pretty loud. You can connect your device to them through Bluetooth to play your own, content, too.
As far as storage, the F63 has a good amount. There are large cupholders for your water, as well as a storage tray below the console for whatever else you might need within reach while running. When you want to see your phone or tablet, you can place it in the adjustable rack above the screen or on the ledge just below it.
Horizon 7.0 AT Console & Content
The Horizon 7.0 AT has similar features on its console. The LCD screen is 7.25" so it's a little narrower and wider than the F63's. There are 4 LED windows below the screen, too. All of these screens have good visibility to clearly see and reach everything. The 7.0 AT comes with 8 preprogrammed workouts that are similar to what the F63 has. The programs include distance, fat burn, hill climb, 5k, and calories. There is a custom mode and target heart rate mode, as well as a manual mode to do your own thing, too. These modes come with preset speeds and incline settings and the ability to customize them.
The 7.0 AT also lets you connect to apps like Zwift and the Peloton App for more training options.
These make adjusting the treadmill to specific increments really easy. There are also numbered quick-adjusting buttons on either side of the console. I prefer this layout of adjustment buttons over the F63. Using the workout programs is a little confusing at first. I had to take a look at the manual to figure out how to change the program settings when I first used the 7.0 AT.
Unfortunately, the fan and speakers are a bit underpowered. The fan provides a similar airflow as the F63. The speakers don't go very loud. The speaker on my iPhone is louder. You can connect your device to the speakers through Bluetooth, but you're better off using your own speaker and plugging in your own fan.
The Horizon 7.0 AT doesn't have as much storage as the F63, but it has enough for everything you need. There are two pockets for your water on either side of the console, and 2 places to set your device to stream from.
Construction Quality & Durability
Both the Sole F63 and Horizon 7.0 AT have great construction and 325 lb weight limits. We recommend both models for users up to this limit. These treadmills also are very similar in size and weight. The F63 weighs 267 lbs and the 7.0 AT weighs 277 lbs.
Sole F63 vs Horizon 7.0 AT Frame
Both of these models have a pretty standard design. They feature a steel frame under the front of the deck and 2 steel uprights that connect to the console. We have noticed that the console can shake slightly on the Horizon.
We like seeing entry-level models with this design, the 7.0 AT could potentially benefit from that.
The side handles on each model are very similar. They aren't very long on either but they're well within reach when you need them. Even though I really like the roller adjustment buttons on the front handle of the 7.0 AT. I like the flat, horizontal handles on the F63 a little better for balance. Both front handles come with pulse grips to read your heart rate when you hold them. You can also use the included heart rate monitor chest strap with the 7.0 AT. You can connect a compatible monitor like a Garmin watch with the F63 for more accurate heart rate tracking.
Sole F63 vs Horizon 7.0 AT Motor
Both treadmills have a 3.0 HP motor. This is the smallest motor size that we recommend for running. As far as use, we recommend both treadmills for use around 3-7 miles per day, so light to moderate use. For heavy training of 10 miles or more a day, I would recommend a motor of 3.5-4 HP. For this price though the Sole and Horizon perform well and handle a good amount of use.
They're both quiet and go up to 12 mph with 15 levels of incline. We see this speed and incline range more commonly on higher-end models, so we're pleased that both offer such great training options. The incline on each is very quiet and makes minimal noise when adjusting the grade of the deck. They both can work well in most homes because of their low noise output.
Horizon has some of the fastest adjusting motors on treadmills that we've tested. This makes it great for interval training. While I'd skip interval training on the F63 because it's slower to adjust, this can make it a safer option for those with balance issues.
Sole F63 vs Horizon 7.0 AT Deck
When it comes to treadmills for running for most people, we suggest 60" long decks. The 7.0 AT and F63 have 20" wide and 60" long deck lengths, so they can support pretty much all user stride lengths. The decks are the widest that we see on folding treadmills, but they provide enough space for most. Some higher-end models have 22" wide decks. I like that these decks are accommodating for most people, yet fairly compact to fit better in more homes.
The cushioning is where these two treadmills differ a little bit. The Horizon 7.0 AT has more forgiving cushioning underfoot, while the F63 feels firmer to run on. If you are a road runner looking for a treadmill to use inside sometimes, I would go for the Sole F63. If you have joint sensitivity while running, the 7.0 AT is a good option.
Performance & Functionality
As far as performance, both the Sole F63 and Horizon 7.0 AT treadmills are well-performing machines that remind us of higher-end models. As far as quality for the price, they're both great options. Our team ranges in height from 5'1" up to 6'5", and we're all able to see and reach the consoles, handles, and adjustment buttons easily, as well as have enough room to walk, jog, and run on each treadmill.
Both treadmills have decks that fold up with assistance in each deck so you don't have to lift the entire weight. Once unlocked, they both lower to the floor themselves, too. They both require you to push your foot against the bar at the bottom of the deck when folded to unlock. And you can lift them up at the back end of the deck to raise up and lock them into place.
We really appreciate Sole for this design. All you have to do is push the F63 where you need it to go, like in a corner out of the way.
Warranty
Both of these affordable treadmills are back with a lifetime frame and motor warranty from each brand. This definitely helps instill confidence in the construction and build quality. In addition to this, the F63 comes with a 2-year deck, electronics/parts warranty, and a 1-year labor warranty, as well as 90 days for cosmetic items. The 7.0 AT includes 3-year parts and a 1-year labor warranty.
The setup for each model is pretty straightforward. We recommend having at least 2 people to make the process a little easier.
---
Recommendation: Horizon 7.0 AT vs Sole F63 Treadmills
The bottom line is that you can't go wrong with either the Sole F63 or the Horizon 7.0 AT. These treadmills are very similar with the same training capabilities, deck size, weight limit, and folding frames. The Horizon 7.0 AT is better for cushioned running and interval training, while the Sole F63 is better for the masses. The build quality of the Sole F63 makes it very stable and therefore our top recommendation of the two. It really comes down to personal preference and what you plan on using your treadmill for though. These models are a great bang for your buck and they're two of the treadmills that we consider to be some of the best on the market.