*TreadmillReviewGuru helps consumers find the best home fitness products. When you buy a product we recommend, we may earn a commission.
Last Updated: May 12, 2023
The Sole F80 Treadmill and NordicTrack 1750 Treadmill have a lot of similarities, yet the experience you get on each is vastly different. These two treadmills are excellent for walking and running, they fold up and can be moved when not in use, and are very quiet. That's why they're both on our best treadmills list. In this comparison of the Sole F80 and NordicTrack 1750, I'll break down how these midrange models compare, contrast, and help you figure out which one is right for you.
Why You Should Trust Our Comparison Review
All of our reviewers here at Treadmill Review Guru have spent a lot of time on these two treadmills. We've reviewed them separately and assessed how they perform, so we're eager to compare them. We understand that buying a treadmill is a huge investment. We want to help you pick the best one for you.
Throughout this comparison, we will share our experiences using the Sole F80 and the NordicTrack 1750 so you can get an idea of how they each perform and function.
---
Our Video Comparison Review
---
Pros & Cons of the Sole F80:
Pros Sole F80
It is incredibly stable and quiet to use, making it perfect for a lot of use.
The 375 lb weight capacity accommodates larger users.
The console is simple yet provides a lot of training options like onboard workouts as well as streaming content from your own device.
The deck folds and unfolds for easier storage. There are also 4 wheels to conveniently move the treadmill with less effort than others.
Sole backs the construction with a lifetime warranty on the frame, motor, and deck.
Cons Sole F80
The cushioning is pretty firm underfoot compared to other treadmills.
The air output on the fan is pretty weak.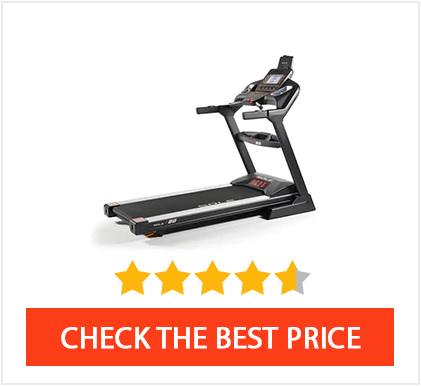 Pros & Cons of NordicTrack 1750:
Pros NordicTrack 1750
The 14" tilting and pivoting touch screen uses iFit to provide total body training that's really interactive.
It has a quiet, yet powerful motor which is capable of handling lots of use.
It declines to -3% and inclines up to 15% to offer more variety within your training.
The cushioning feels soft and comfortable to be more forgiving on the joints.
The deck folds up easily and it can be moved if needed.
Cons NordicTrack 1750
The 300 lb weight capacity isn't best for larger users.
A monthly subscription is required to use get the full functionality of the touch screen.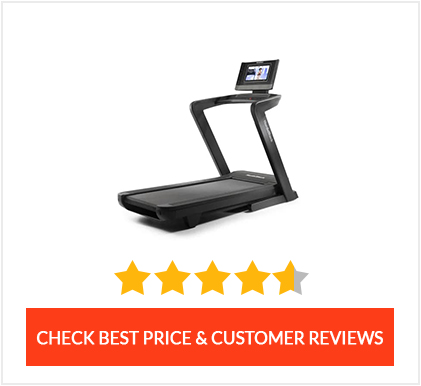 Sole F80 Treadmill Specs:NordicTrack 1750 Treadmill Specs:
Display: 9.0″ LCD touchscreen vibrant white back-lit display; tracks distance, calories burned, heart rate plus. It does not need wifi to function.
Frame: Welded steel construction with a lifetime warranty.
Motor: 3.5 HP DC
Belt: 22″ X 60″
Heart Rate Monitoring: Pulse Grips and Chest Strap compatible
Speed: .5 – 12 mph.
Incline: 0-15% levels (no decline feature).
Rollers: 2.5″ patented roller technology keeps it quiet and moving smoothly
Folding: Easy assist makes folding easy.
Fan: In console cooling fan
Audio: Equipped with Bluetooth audio speakers so you can pump the entertainment from your smart device through the speakers on the console.
Max user weight: 375 lbs
Footprint: 37" Wide x 82" Long x 66" High
Weight: 278 pounds
Onboard Programs: 10 onboard programs- six standard, two custom, two heart-rate driven.
Integrated tablet holder: Flexibility to use your own smart devices while you workout
USB Port: Plug in your smart device while you train to keep it charged
Handrail controls: Makes adjusting speed and incline easy
Warranty: Frame, Motor, and Deck- Lifetime, Electronics- 5-years, Parts- 5-years, Labor- 2-years
iFIT® Enabled: 30-Day iFIT Family Membership Included
Display: 14" Tilt & Pivot HD touch screen
Motor: 3.5 CHP
Belt: 22" wide by 60" long
Heart Rate Monitoring: no (armband sold separately)
Speed: 12 mph max speed.
Incline: Incline and decline range of -3% to 15%
Rollers: 2.5-inch precision and balanced non-flex rollers
Folding: Yes. SpaceSaver® Design with EasyLift™ Assist.
Fan: AutoBreeze Workout Fan
Audio: Premium audio speakers
Max user weight: 300 lbs
Footprint: 80" Long x 38" Wide x 65" High
Boxed weight: 340 lbs (in box)
Programs: iFit workouts with the subscription or pre-programmed workouts without a subscription
Warranty: Frame 10-Year, Parts 2-Year, Labor 1-Year
---
Recommendation: Sole F80 vs NordicTrack 1750
The Sole F80 and the NordicTrack 1750 are among some of our favorite treadmills. They perform similarly and will accommodate everything from walking to running as well as a lot of use. They're also both impressively quiet, have equally powerful motors, and have decks that fold up. The 1750 does offer a bit softer cushioning than the F80. Both offer enough shock absorption to help reduce the impact on the joints, however, the NordicTrack might be better for joint pain and issues. The Sole F80 has a larger weight capacity, making it more suitable for larger users.
Besides having different looks, the key difference between them is the content that they offer. If you love taking trainer-led classes on a touch screen then the NordicTrack 1750 Treadmill is the one you'll want. If you prefer to do your own training or like to stream content from your own tablet, then check out the Sole F80.
---
In-Depth Comparison of the Sole F80 and NordicTrack 1750 Treadmills
Sole F80 Vs. NordicTrack 1750 Content
The main difference between these two treadmills is their content. The Sole F80 has onboard workouts, and the choice to stream content from your personal device, including trainer-led workouts. The NordicTrack 1750 is enabled with iFit which requires a subscription and is an interactive training program filled with a variety of trainer-led classes.
Now, that you've got the quick gist, let's dive into each a bit more.
Sole F80 Content
The F80 is pretty straightforward with its programming. The onboard workouts come pre-programmed so you don't need to pay for a subscription or connect to wifi to access them.
You can also use the manual mode to do your own training. There are 6 standard programs, 2 custom programs, and 2 heart rate programs. The console is compatible with a chest strap for heart rate tracking and there are pulse grips built into the handles.
A nice feature is the Bluetooth-enabled speakers that allow you to play your own music and content through the F80's speakers. The integrated tablet holder holds your personal device so you can watch whatever you want.
The Sole F80 also uses the STUDIO app as an optional workout subscription. STUDIO has over 3000 on-demand classes led by professional instructors. They're filmed indoors and are available for the treadmill, exercise bike, elliptical, and rower. There are also mat classes like yoga, boxing, and strength training. You just need your own phone/tablet to follow along on the app.
STUDIO's classes aren't as interactive and the library isn't as lush as other training apps we've tested, however, we appreciate that the Sole F80 offers a wide variety of entertainment choices.
NordicTrack 1750 Content
As mentioned above, the NordicTrack 1750 has a 14" touch screen that displays iFit. A subscription to iFit comes free for the first month so you can test it out before subscription. iFit also comes on other enabled equipment like ellipticals, rowers, exercise bikes, and other treadmills.
Each class is led by an instructor and features a leaderboard to compete against other members. iFit's outdoor classes are our favorites and their library is among the most extensive that we've seen. On the 1750's touch screen, iFit is engaging and interactive. iFit also has features like AutoAdjust where the treadmill adjusts automatically based on the instructor's cues and the format of the class. The ActivePulse Heart Training is another nice feature that tracks your heart rate with the SmartBeat forearm monitor that's sold separately at NordicTrack.
You can also use manual mode anytime with or without a subscription to iFit. If you don't want to subscribe to iFit there is a free version that has some preprogrammed workouts as well as a couple of iFit classes. These and iFit require a wifi connection, but the manual mode does not.
We highly recommend subscribing to iFit on the NordicTrack 1750 to get the most out of the treadmill.
Sole F80 Vs. NordicTrack 1750 Console
The consoles on both of these treadmills also look completely different. The latest model of the NordicTrack 1750 has been updated and streamlined for a sleek and minimal, yet functional look. The Sole F80 doesn't look as sleek, but it has a lot of storage options and similar functionality.
Sole F80 Console
The Sole F80 has a 9" LCD white backlit display. It's not a touch screen, but there are plenty of buttons that let you navigate the screen, easily. The screen is clear and displays your workout metrics.
These buttons aren't as streamlined as the ones on the 1750, because they are simply rows on top of one another, but they definitely make adjusting the treadmill more convenient.
Additional buttons are on either side handle, which I love since they're even closer to reach when running. There are large pockets on either side of the console for items like a water bottle, and a storage tray underneath in case you need to keep some items nearby. There's also a fan above the display screen but it is pretty low-powered. In order to cool off, I'd recommend plugging in a fan next to the F80.
NordicTrack 1750 Console
​​The NordicTrack 1750 has a 14" touch screen that is centered and easy to see. The screen is extremely adjustable so it can be tilted and pivoted from side to side. This makes it convenient for using iFit on and off the treadmill. So, you can take a hiking class and then turn the screen to take a yoga class next to the treadmill. This way you get more out of the touch screen.
These quick-touch buttons are a bit more intuitive. Compared to the F80 though, the 1750 has significantly fewer storage options. In fact, the only options available are 2 removable cupholders for your phone and/or water bottle. They are shallow but hold my 22oz water bottle and iPhone just fine. There also isn't a device rack, so you're locked into using the touch screen. The fan below the screen provides a nice breeze and has multiple settings, so you shouldn't need to use a separate fan.
The speakers are clear but they don't connect to your device to play your own content through them. Instead, they only play the content on the screen. iFit does have a set of radio-like stations to choose from when you subscribe to iFit.
Construction Quality & Durability
We are impressed with how stable both of these treadmills are to use. The Sole F80 does have a higher weight capacity of 375 lbs, however. The NordicTrack 1750 has a 300 lb weight capacity, so we don't recommend it for users over this limit. In this case, the F80 is the better option for larger users.
Sole F80 Vs. NordicTrack 1750 Frame
Both treadmills have steel frames and steel uprights.
I really like the coating on the side handles on the 1750. It has a nice texture to keep your hands from slipping even when you get sweaty. I also prefer the singular front horizontal handle. It's nice to have for added balance. The handles on the F80 are highly functional. As mentioned there are pulse grips on the two front handles, and adjustment buttons on the side handles.
Sole F80 Vs. NordicTrack 1750 Motor
The F80 and 1750 each have a 3.5 HP motor. This is an ideal size for all kinds of training and heavier use. They're also both extremely quiet.
The difference between these treadmills here is the functionality of the motors. They both have 12 mph max speeds and 15% inclines, but the NordicTrack 1750 also declines to -3%. The F80 however doesn't decline. Having the option to decline the treadmill deck, allows you to work your anterior muscles more.
Sole F80 Vs. NordicTrack 1750 Deck
No matter which treadmill you choose, you'll have plenty of room to walk and run. They both have 22" x 60" running surfaces. So, any sized users should be able to get a lot of use and have plenty of room on either deck. When measured at a 0% grade, the step-up heights are similar, but the F80 is slightly lower at around 8" versus the 9" height of the 1750.
Both decks offer cushioning that helps to lessen the impact on your joints, as opposed to running on concrete which offers none. The NordicTrack feels softer underfoot than the Sole. In our testing we've found that treadmills from NordicTrack have some of the softest cushioning, while treadmills from Sole have some of the firmest. Both do their jobs to offer shock absorption, so it just comes down to what kind of surface you prefer to run on. If you have joint pain or issues you might want a softer cushioning, though.
Performance & Functionality
The Sole F80 Treadmill and the NordicTrack 1750 Treadmill are excellent for all-around use. Users of any level should find either treadmill suitable for their needs and goals. Our reviewers range in height from 6'5" to 5' and we're all able to use these treadmills as much as we like. They perform really similar to one other, aside from their different features and programming.
They also both have folding decks which are great to save space.
The F80 is a little bit easier to move because it has 4 transportation wheels. The 1750 has 2, so it requires being tilted back in order to engage the wheels. You can simply push the F80.
Warranty
We are constantly blown away with Sole's warranties. They offer lifetime warranties for the frame, motor, and deck, 5-year warranties for electronics and parts, and a 2-year warranty for labor.
By comparison, NordicTrack offers a fair warranty for the 1750 with 10-years for the frame, 2 years for parts, and 1 year for labor.
Assembling both of these treadmills really requires at least two people for a smoother process.
---
BottomLine/ Recommendation
The Sole F80 Treadmill and the NordicTrack 1750 Treadmill are functional, stable, and very quiet to use. They're both ideal for all-around training, and you'll be able to get a lot of use out of either machine. They have a lot of similarities and we recommend both of them, but for different reasons. As far as construction, the F80 offers a larger weight capacity and firmer cushioning. It's the better option for larger users, but the 1750 might be more forgiving on your joints because it has softer cushioning.
The content is where these treadmills really differ. The NordicTrack 1750 is enabled with iFit on a 14" touch screen. iFit requires a monthly subscription and features classes led by instructors that guide you through workouts on and off the treadmill. It's more interactive than the preprogrammed workouts found on the Sole F80's 9" LCD white backlit screen. However, not everyone loves taking workout classes and paying a monthly fee. If you prefer to be more "unplugged" from technology or just want to do your own thing, then the F80 is perfect for that. The Sole F80 also has a tablet holder for you to use your own device and stream whatever you want. Sole also has the STUDIO app so if you want the option of taking trainer-led classes, you have it on the F80.
Either of these impressive, capable treadmills are excellent choices, it just depends on what kind of content and experience you prefer.