*TreadmillReviewGuru helps consumers find the best home fitness products. When you buy a product we recommend, we may earn a commission.
Last Updated: September 7, 2023
In this comparison review of the Sole F80 and ProForm Pro 2000 Treadmills, I'll take you through how these midrange models compare and differ, so you know what to expect. As far as treadmills go, these two are some of the most recommended we suggest to people. You can find them both on our best treadmills list. The Sole F80 is a large, folding treadmill that offers streaming from apps like Netflix. The ProForm Pro 2000 is a compact, folding treadmill for running that gives you the option to subscribe to iFit for guided training. Both treadmills are well-performing and offer good training variables of a 12 mph max speed and incline. The Pro 2000 also declines. Keep reading to see which one is the better fit for you and your home.
---
Why You Should Trust Our Comparison Review
Our team has been testing and reviewing treadmills for several years now and we've gained a large collection of treadmills in the process. This gives us the opportunity to compare models and compile comparison reviews. Whenever we review a treadmill, we typically refer to comparable models a little bit, but in a comparison review, we can really dive into the specifics of how two treadmills compare. This is helpful for narrowing down which treadmill is best for you since there are many to choose from on the market.
---
Pros & Cons of the Sole F80:
Pros Sole F80
The 10" touch screen features onboard workouts, fitness tests, and 12 preloaded apps like Netflix to stream from without an additional subscription fee.
The 3.5 HP motor is great for heavier training and running.
A lifetime warranty backs the construction and supports up to 350 lbs.
The deck is large for all strides and folds up.
The 4 transportation wheels make this heavy treadmill easier to move.
Cons Sole F80
The screen can be a little hard to reach and navigate while running.
The cushioning is firm underfoot.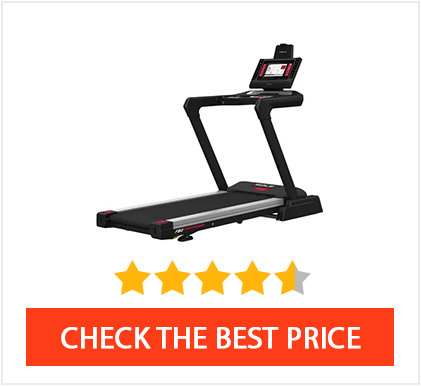 Pros & Cons of ProForm Pro 2000:
Pros ProForm Pro 2000
The 10" touch screen offers guided training with iFit with a subscription fee.
The 3.25 HP motor is best for moderate walking and running.
The incline and decline in the deck provide good training variability.
The deck supports all strides while being more compact.
The deck folds up, and the wheels make it easy to move.
Cons ProForm Pro 2000
This isn't best for heavy training.
The screen requires a subscription to get full access to iFit.

Sole F80 Treadmill Specs:ProForm Pro 2000 Treadmill Specs:
Display: 10.1″ Touchscreen
Workout Programs: Onboard Workout Programs and Fitness Tests
Frame: Steel
Motor: 3.5 HP DC
Running Surface: 22″ X 60″
Heart Rate Monitoring: Pulse Grips and Garmin Watch Compatible
Phone Charging: Wireless Charging Pad
Device Rack: Yes
Speed: 12 mph
Incline: 0-15 levels (no decline feature)
Rollers: 2.36″
Folding: Yes
Transport Wheels: 4
Fan: Yes
Speakers: Bluetooth Compatible
Weight Capacity: 350 lbs
Footprint: 82.5" L x 38" W x 66" H
Treadmill Weight: 274 lbs
Adjustment Buttons: Numbered Quick-Adjusting Buttons
Warranty: Lifetime frame & motor, 3-years parts, and 1-year labor
Display: 10" Touchscreen
Optional Subscription: iFit
Workout Programs: Onboard Workout Programs (without iFit)
Frame: Steel
Motor: 3.25 CHP DC
Running Surface: 20" wide by 60" long.
Heart Rate Monitoring: Armband Sold Separately
Phone Charging: No
Device Rack: Yes
Speed: 12 mph
Incline/Decline: -3% to 12%
Rollers: 1.9"
Folding: Yes
Transport Wheels: 2
Fan: Yes
Speakers: Bluetooth Compatible
Weight Capacity: 300 lbs
Footprint: 77.3" L x 35.3" W x 59.6" H
Treadmill Weight: 262 lbs (in box)
Adjustment Buttons: Numbered Quick-Adjusting Buttons
Warranty: 10-year frame, 2-year parts, and 1-year labor
---
Recommendation:
While both of these treadmills are on our best treadmills list, we recommend them for different reasons. Although they're similar in price and both midrange models from their respective brands, the Sole F80 is higher-powered for heavier use and it's a larger, heavier treadmill, in general. The ProForm Pro 2000 is better for lighter to moderate running and can fit in more homes due to its compact size. As far as tech, they both come with 10" touchscreens but include different content and workout options. If you love following along with an instructor, the Pro 2000 offers streaming from iFit for access to thousands of guided workouts. If you like to do your own thing, the F80 includes onboard workouts and 12 preloaded streaming apps like Netflix and YouTube ready for you to log into on the screen.
---
In-Depth Comparison of the Sole F80 and ProForm Pro 2000 Treadmills
---
Sole F80 Vs. ProForm Pro 2000 Content
Alright, let's get into the content available on each treadmill. As I mentioned above, they provide different experiences and differ greatly in their training content.
Sole F80 Content
The Sole F80 comes with included workout programs. These are straightforward and available without a subscription fee. There are 10 onboard workout programs with preset speed and incline settings so the treadmill will adjust as you go. You can also just press start to use manual mode and adjust the treadmill on your own. Along with the preset programs, you can create custom workouts as well as fitness tests on the screen.
Another aspect that is included without an additional subscription is 12 preloaded streaming apps. These include Netflix, Hulu, YouTube, Spotify, Max, Amazon Prime Video, Disney+, Peacock, ESPN, CNN, Audible, and Kinomap. Once you select one of the apps, you just need to log into your account for each and start streaming.
You can also screen mirror content from your phone if these apps aren't enough. This feature doesn't seem available for Android devices, yet, but I'm able to mirror my iPhone just fine. This is a good option if you want guided training content to follow along with since there isn't an option to do so built into the screen. The F80 also connects to the Sole+ App which makes it easier to pair your phone and set up a profile on the screen. I suggest downloading this app on your phone and creating a profile. You can save multiple profiles on the F80 and saving a profile is great for saving your workout stats and history, as well as your login information for the streaming apps so you don't have to log into them each time you use the F80.
ProForm Pro 2000 Content
The ProForm Pro 2000 content is a bit different. Being from ProForm, this treadmill offers a subscription to iFit. A free membership to the training platform is included for the first month with the purchase of the 2000. After that, you can choose to subscribe or use the included onboard workouts with access to a couple of iFit workouts as well as manual mode. Here's a little overview of what you get with a subscription.
They're on-demand to take whenever and feature different instructors in studios and outdoor locations. The outdoor classes are our favorite because they're filmed in unique locations all around the world. Classes include guided walks, jogs, runs, hikes, and even real-life events like the Boston Marathon. A camera follows an instructor as they guide you through each location and provide cues during your workout.
When the instructor gives a cue to increase or decrease your speed, the Pro 2000 will automatically adjust to match the cue and it will change the incline and decline of the deck to match the grade of the location the class takes place in. This way you don't have to worry about adjusting the treadmill yourself, although you can do that at any time, too. We suggest looking into iFit if you purchase the Pro 2000. The content is some of the best out there.
Sole F80 Vs. ProForm Pro 2000 Console
The F80 and Pro 2000's consoles are functional with touch screens, speakers, fans, and quick-adjusting buttons. They do differ a little bit with their layouts, though.
Sole F80 Console
It is a fine size to see everything clearly. The screen doesn't adjust, so it can be a little harder to reach while running, but it's in a good view for most heights.
The quick-adjusting buttons are numbered on either side of the screen. The right side is for adjusting the speed and the left is for incline. We like the layout of these buttons, but keep in mind that they skip a few increments so they aren't as seamless to use as other treadmills with this design. For adjusting to specific increments, there are switch buttons on the front handle to get to 4.7 mph for example.
The speakers are clear and front-facing. There isn't a button to adjust the volume on the console so you have to adjust them on the screen which can be hard to do while running. You can pair your phone to them to play your own content through them though. There is a button for the fan on the console, but the air output isn't very effective at cooling off. For storage, the F80 has 4 front pockets – 2 for water bottles and 2 for smaller items. There is also a wireless charging pad for your compatible phone and an adjustable device rack above the screen for your larger tablet.
ProForm Pro 2000 Console
The screen is where you access iFit and the onboard workouts without an iFit subscription. The console isn't adjustable, but the screen slightly tilts up and down. It's clear and at a good view for most people.
There are numbered quick-adjusting buttons below the screen. These aren't as easy to use here. I find myself accidentally clicking an incline level instead of a speed level. The adjustment buttons below these allow you to get to specific increments, too.
The speakers are clear with good adjustability. With iFit, you can balance the trainer's voice and music or mute one or the other. You can adjust the volume on the screen and on the console. You can also pair your device and play your own content through them. The fan is a little loud but has decent airflow. There are two cupholders on either side of the console for your water or whatever else you need nearby. There is also a small ledge to place your phone or tablet to stream your own content.
Construction Quality & Durability
The Sole F80 and ProForm Pro 2000 have a lot of differences in their construction features. Being that the F80 is the larger, heavier-duty treadmill out of the two, it has a higher weight limit of 350 lbs versus 300 lbs that the Pro 2000 can handle up to. If you need a treadmill with a heavier capacity, you might want to consider the F80. If you need a compact treadmill though, that's where the Pro 2000's build comes in nicely.
Sole F80 Vs. ProForm Pro 2000 Frame
Both of these treadmills have steel frames that are positioned under the front of the deck. Two steel uprights connect to this and extend up to hold the console on each. They're both stable to use with these standard designs.
The F80 offers a bit more surface to grab on the front handle when you need it. The handle is one continuous handle versus the front two on the Pro 2000. The F80 has pulse grips built into this handle while the Pro 2000 doesn't. You can pair either treadmill with a compatible monitor for more accurate tracking though. The side handles on both treadmills extend on either side of the decks and are within reach when you need them. They also have a textured plastic coating to keep them from feeling slippery.
Sole F80 Vs. ProForm Pro 2000 Motor
The motor sizes are where these treadmills differ a little bit.
Both treadmills go up to 12 mph for a great amount of speed. For the Pro 2000, we recommend not using the treadmill for long periods of time at higher speeds to help preserve the life of the motor. The F80 is better for higher-speed use in comparison. The F80 offers 15 levels of incline but doesn't decline. The ProForm Pro 2000 inclines and declines from 12% to -3% for a little more variability in your training.
Sole F80 Vs. ProForm Pro 2000 Deck
We recommend both of these treadmills for running. They both have 60" long decks to support pretty much all stride lengths. This length is what we look for when it comes to treadmills for pretty much all people to use for running. Where the Pro 2000 is more compact than the F80, is reflected in the width of the deck.
This is the largest deck size we see on folding treadmills. The F80 does have a lower step-up height than the Pro 2000, so it's a little easier to step on and off and might work better in lower-ceiling homes.
These treadmills offer deck cushioning to help lessen the impact on your joints. The Pro 2000 has good shock absorption that feels softer and more forgiving underfoot than the F80. In comparison, the F80 feels firmer and closer to running outside on concrete. If you have joint issuers and/or discomfort you might want to consider the Pro 2000.
Performance & Functionality
The Sole F80 Treadmill and ProForm Pro 2000 Treadmill are good for walking, jogging, and running. The F80 handles heavier use better with its motor size and solid construction, but the Pro 2000 has a smaller footprint while still handling lighter amounts of running.
As far as noise output, they're both fairly quiet and appropriate for most home spaces. The motors remain even and gradually get a little louder when the speed increases, which is typical for most treadmills. The F80's incline is much quieter than the Pro 2000's but this feature can only be heard when the deck is inclining and declining.
Both of these treadmills are good for home use and have folding decks. When you lift the back end of the deck on each model, they fold up and lock into place. To unfold the F80, there is a yellow handle at the bottom of the deck that you pull to release the deck so it lowers to the floor, itself.
The F80's deck is heavier to fold up than the Pro 2000's, so keep this in mind. It should be doable for most though.
Once folded, you can push it around. The Pro 2000 has 2 wheels so it requires being tipped back when folded to engage the wheels and move.
Warranty
Sole offers really nice warranties with their equipment. The Sole F80 comes with a lifetime frame and motor warranty and 3-years for parts, and 1 year for labor warranty. The ProForm Pro 2000 comes with the brand's standard warranty of 10 years for the frame, 2 years for parts, and 1 year for labor warranty. We suggest at least 2 people for assembly of either treadmill to make for an easier process.
---
BottomLine/Recommendation
Both of these treadmills are on our best treadmills list. We recommend them both to most people, however, we like them both for different reasons. The Sole F80 is a larger, higher-powered treadmill for heavier running. It has a spacious deck that folds up and a 10" touch screen with onboard workouts and streaming apps like Netflix. It doesn't require an additional subscription to use, which we appreciate. The ProForm Pro 2000 on the other hand, offers subscription training content from one of the top platforms on the market. iFit has thousands of trainer-led workouts that are filmed indoors and outdoors all around the world. The Pro 2000 is a more compact treadmill so it might work better in your home because it takes up less floor space. It also handles light to moderate running and folds up when you're done. You can't go wrong with either treadmill, but one is likely to fit better for you, your goals, and your home than the other.