*TreadmillReviewGuru helps consumers find the best home fitness products. When you buy a product we recommend, we may earn a commission.
Last Updated: January 3, 2023
The Sole F80 and the ProForm Pro 2000 are both durable, similarly priced, mid-grade treadmills. Both are excellent treadmills for anyone looking for reasonably priced home cardio equipment with good features.
However, they are not identical, and they offer significantly distinct features and workout experiences.
The Sole F80 is one of our Best Treadmills. Sole builds sturdy, quiet machines that offer an above-average weight capacity and deck cushioning for joint health. The F80 features plenty of track space — but still folds up for convenience. This treadmill is a little heavy but has four wheels and moves around easily.
Sole is also the only company to offer a Lifetime Warranty on the frame, motor, and deck, which means they stand behind their machines.
ProForm's Pro 2000 is a newer ProForm Pro Series lineup model, with some significant updates in 2021. The newest model now has a 10" touchscreen, which makes for an immersive and interactive workout experience. The -3 to +12 incline and decline function is excellent for those seeking variety. These are just a few reasons it made our list of best treadmills.
We like and recommend both treadmills for beginning to intermediate athletes. However, there are important differences you need to know about before deciding on which machine is for you.
Who we recommend these treadmills for:
Sole F80
Best for users who want:
Super high-quality construction who don't need the extra tech and online subscription options.
A folding treadmill that is easy to move with more wheels than on comparable models (4 rather than the standard 2).
A clean, 9" LCD backlit screen with ten onboard workout options
A piece of equipment that can hold weight up to 375 pounds.
A nearly silent treadmill for those in shared spaces.
Want a worry-free extended warranty for no extra cost.
ProForm Pro 2000
Best for users who:
Want a decline feature
Are looking for a treadmill that works on an upper floor since it is slightly lighter weight and also quiet
Want an upgraded 10" touchscreen with high-tech features.
Will use and enjoy all the iFit classes and outdoor routes
Appreciates the ReBoundPro cushioning
Need an immersive and entertaining experience to stay motivated.
Our Video Comparison
---
Sole F80 Pros and Cons
Pros
One of the most extensive warranties in the industry
Generous 375lb weight capacity
Strong steel frame but lighter than other treadmills in its class
12mph max speed suits most runners
Incline range of 0% to +15%
EasyAssist Folding gets the treadmill out of the way when necessary
Chest Strap Heart Rate Sensor included
Simple, crisp LCD Screen
Tablet Holder above the display so you can still monitor your stats while using your own entertainment.
Cons
Raised buttons are harder to clean and can become sticky
Hood could become an issue because of its size at the front of the deck
Cushioning isn't as soft when compared with other machines in this price point
The console is easy to use, but the preset buttons skip two-by-two
There is no online subscription database of programs you can run via Wi-Fi on the treadmill, even though Sole has an app to track your stats on your smart device.
Pros Of The ProForm Pro 2000
This updated model has new technology and a bright 10" touchscreen.
Strong but not overly heavy, weighing 260 lbs, so not too tough to move if necessary.
10-year warranty on the frame, 2-year on parts, and 1-year on labor.
iFit comes complimentary for the first month with over 16,000 workouts for walking, hiking, jogging, and even some cross-training off-treadmill classes.
It easily folds up and locks into place when not being used to reduce footprint and increase safety.
ReBoundPro cushioning in the deck reduces the impact on your joints and spine.
The 3.25HP motor isn't massive but is powerful enough for walking and moderate running.
Has a decline feature for more realistic training.
Cons of the ProForm Pro 2000
We don't recommend this treadmill for advanced runners
iFit requires a monthly subscription after the complimentary month
Slightly louder than the Sole F80
No tablet holder
Treadmill Features
Both treadmills offer an excellent selection of features that satisfy most users looking for a treadmill at the mid-range price point. However, the Sole F80 and the Proform Pro 2000 differ significantly in their features offered and thus the workout experience.
Sole F80
Display: 9.0″ LCD touchscreen vibrant white back-lit display; tracks distance, calories burned, heart rate plus. It does not need Wi-Fii to function.
Frame: Bullet-proof frame is a welded steel construction with a lifetime warranty.
Motor: 3.5 HP
Belt: 22″ X 60″ double woven 2-ply belts with four layers. 2" wider than the Proform Pro 2000.
Heart Rate Monitoring: Pulse Grips and Chest Strap included
Speed: 5 – 12 mph. Using the sidebar controls, you can quickly increase/decrease speed or toggle through the options. No "quick speed" feature.
Incline: 0-15% levels (no decline feature).
Cushioning: The Cushion Flex Whisper Deck cuts down on joint impact by 40%, but we're skeptical of the actual level of cushioning.
Rollers: 2.5″ patented roller technology keeps it quiet and moving smoothly
Folding: Easy assist makes folding easy.
Fan: In console cooling fan
Audio: Equipped with Bluetooth audio speakers so you can pump the entertainment from your smart device through the speakers on the console.
Max user weight: 375 lbs.
Warranty: Motor and Deck- Lifetime, Electronics- 5-years, Parts- 5-years, Labor- 2-years
Footprint: 37" Wide x 82" Deep x 66" Tall
Weight: 278 pounds
Onboard Programs: 10 onboard programs- six standard, two custom, two heart-rate driven.
Integrated tablet holder: Flexibility to use your own smart devices while you workout
USB Port: Plug in your smart device while you train to keep it charged
Armrest controls: Makes adjusting speed and incline easy
ProForm Pro 2000
iFIT® Enabled: 30-Day iFIT Family Membership Included
Display: 10" Smart HD Touchscreen-must have Wi-Fi access to work.
Motor: 3.25 CHP2 Mach Z™
Belt: 20" x 60"
Heart Rate Monitoring: No
Speed: 0–12 MPH QuickSpeed® Button Control
Incline: -3% Decline to 12% Incline QuickSpeed® Button Control
Cushioning: ReBound Pro™ Cushioning
Rollers: 1.9" Precision-Balanced
Folding: SpaceSaver® Design with EasyLift™ Assist
Fan: CoolAire™ Fan with three speeds. At chest level and cools nicely.
Audio: Bluetooth®3 Audio Capabilities with Dual 2" Speakers
Max user weight: 300 Lb.
Warranty: 10-Year Frame, 2-Year Parts, & 1-Year Labor
Footprint: 35.3" Wide x 77.3" Deep x 59.6" Tall
Boxed weight: 262 lbs.
USB Port: No
Programs: Evolving library of fun and challenging workouts with iFit. No onboard programs.
Sole F80 vs ProForm Pro 2000 Functionality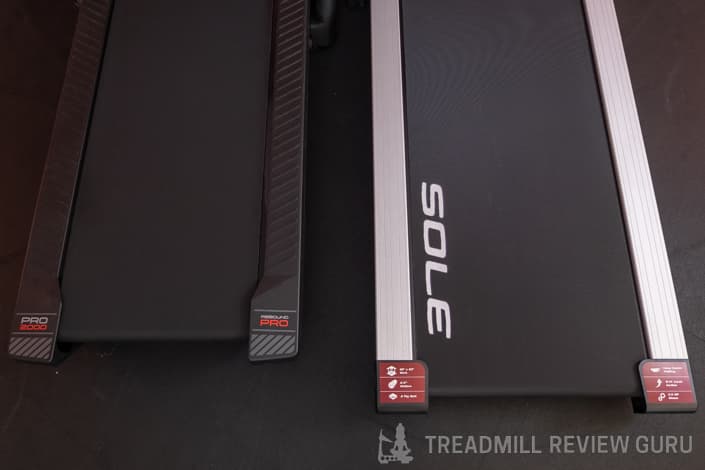 Sole F80
With one of the most comprehensive warranties in the industry, the Sole F80 boasts its ability to reduce the impact on your joints but 40% with its Cushion Flex Whisper Deck (compared to running on the blacktop). During our review, we felt skeptical about that claim. But, the F80 is definitely more cushioned than running on asphalt.
The deck behaves similarly to the other commercial brands in its class but costs less. The lifetime warranty on the deck is reassuring, as is the tough 3.5 HP motor, which is challenging enough for most beginner to moderate runners, offering speeds up to 12 mph.
Onboard, you will find ten preset programs to get you started right out of the gate. Six of the preset programs are standard variations, while two are customizable, and the last two are heart rate programs.
The F80 has safety in mind with its large "stop" switch if you should need to bail at any point, plus a 0.5 mph start speed to prevent a jarring belt movement from idle. Another nice safety feature is the ability to lock the deck securely when not in use to avoid unnecessary accidents. And if space is needed, the F80 folds up and can be easily moved.
The console is simple to use and has a crisp display. You'll never be without crucial trackable stats like speed, incline, time, distance, calories, pulse, and pace. All are available on the display. Another great console feature is the built-in Bluetooth-capable speakers making it fun to bring your own entertainment to the workout. The cooling fans and adjustable speed, and incline controls on the armrests are super convenient.
Our reviewer found the Sole F80 to be ultra-quiet and easy to use. This is an excellent treadmill for those who don't want to pay for an online fitness subscription like iFit. You do not need a Wi-Fi connection to use the F80. The buttons to control your speed and incline are large and tactile (not push buttons on a screen), making this suitable for anyone not comfortable with touchscreens.
This is always one of the best choices for larger people as the weight capacity is 375 pounds–a full 75 pounds more than the ProForm Pro 2000. While unfolded, it has a longer footprint at 80" long. So be aware of your space when contemplating this treadmill. It's longer than most.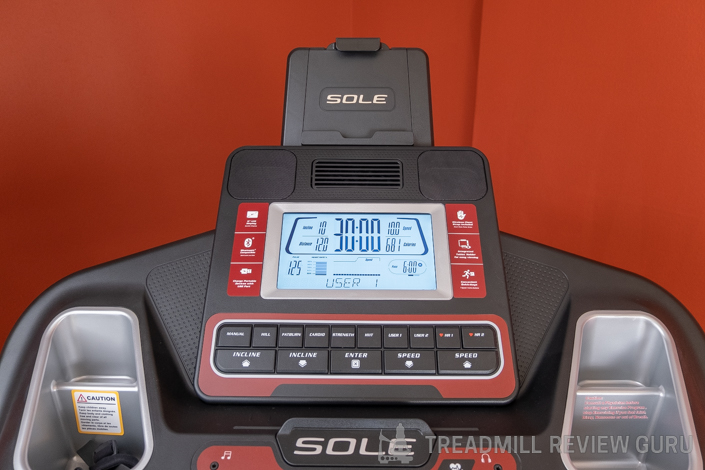 ProForm Pro 2000
ProForm had comfort in mind when they designed the Pro 2000. They realize that a comfortable workout will lead to more prolonged activity. Sporting a 20-by-60 inch deck, the Pro 2000 has plenty of landing space while running and a wealth of impact absorption with the ReBound Pro™ cushioning. This design will have users breaking through barriers and reaching their goals in comfort.
An attractive feature with ProForm is iFit enabled consoles, and the Pro 2000 comes ready to go with a one-month free iFit Family membership. With the ability to not only let certified personal trainers lead your workouts around the globe but to do so while they automatically adjust the speed, incline, and decline of your treadmill right there at home. You can take part in-studio classes or workouts abroad while remaining hands-free.
The one-touch QuickSpeed® controls offer those who incorporate HIIT into their workouts the ability to press and go. Below the display, you'll find a row of QuickSpeed® adjust buttons and a row of one-touch incline adjust controls. These are a game-changer, and you won't want a treadmill without them once you feel how convenient they are.
Stay cool while you burn those calories with the built-in CoolAire™ workout fan. The fan is adjustable, so your comfort once again is a priority. And because some workout spaces need to be flexible, the Pro 2000 had that in mind with the SpaceSaver® Design. The EasyLift™ Assist allows you to fold the deck up to get it out of the way effortlessly.
Our reviewer found the Pro 2000 to be essentially quiet, except while inclining and declining. But the reviewer found the treadmill to be streamlined and easy to use. The cushioning is better on this treadmill than the Sole F80.
The Proform Pro 2000 needs a Wi-Fi connection to be used.
This is an excellent treadmill for those wanting a high-tech and immersive training experience in a mid-level price range. It provides an entertaining, comfortable, and easy way to get your runs or walks in.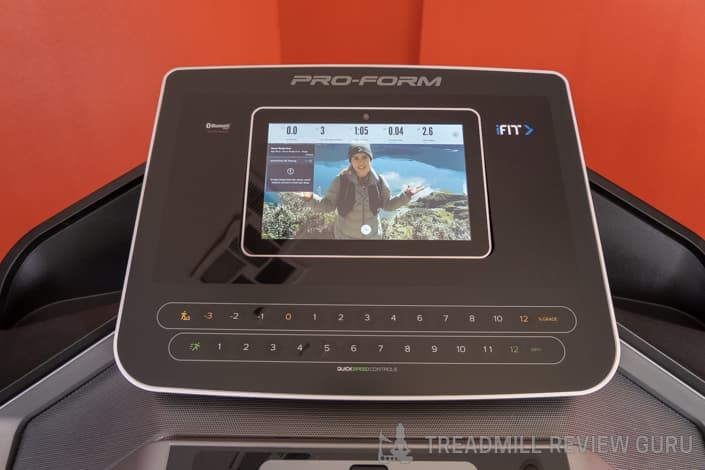 ---
Bottom Line: ProForm Pro 2000 vs Sole F80
If you're in the market for a mid-level treadmill for your home gym, you really can't beat the Sole F80 and the ProForm Pro 2000 as solid options. Weigh the features and your needs, and see which treadmill suits you best!
The Sole F80 is a solid low-tech treadmill that suits those who don't need all the bells and whistles but just want to get moving. The larger max weight capacity makes it great for accommodating most users, and overall, it's quieter and easier to move. This makes the Sole F80 a great option for shared spaces and people who have to move their cardio equipment a lot.
While the Proform can also fold up, it is more clunky to move. The higher-tech features are great with the 1-month iFit subscription and 10" touchscreen. The ability to take the deck into a decline brings a lot of versatility to the machine. It comes in handy when using select iFit workouts, where mimicking real-world environments can be fun. But the lower max weight capacity of 300 lbs. can be limiting. This is an excellent treadmill for users who like trainer-led workouts and want a lot of variety when they train.
Our bottom line is that we like and recommend both the Sole F80 and The Proform Pro 2000. If you still have questions, please reach out.
Related Treadmill Comparisons: