Weslo Cadence G 5.9 treadmill is a small-sized home treadmill, which is equipped with helpful features. Even better, the Cadence G 5.9 is priced at an excellent budget price that makes it an accessible treadmill for those who may not have much money they can allocate for workout equipment. Combining the Cadence G 5.9's low cost and solid features are a large part of what makes this treadmill unique and worth your consideration.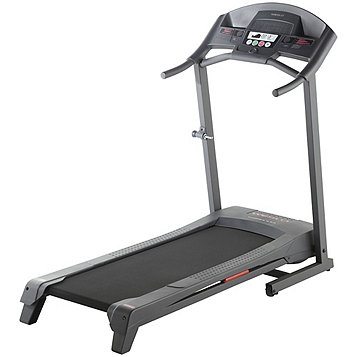 On the Cadence G 5.9, you will find it is equipped with 2.5 CHP motor which pretty quiet thanks to its smaller size, and you can easily hear your doorbell or television while you're working out. With this motor size, the Cadence G 5.9 has the strength to easily change speeds for you and handle walking or light jogging workouts.
Not only that, this treadmill comes with 6 pre-made workout programs which you can use to mix up your usual workout sessions. The belt area where you will be working out on measures 50" long and 16" wide. If you are a larger individual, that belt width may be a little uncomfortable paired with the fact that the Cadence G 5.9 has a weight limit of 275 lbs.
The treadmill is also equipped with a thumb heart rate monitor, where you can place your thumb on the heart icon on the treadmill console to monitor your pulse rate. It also has a blue-tinted LCD screen to help you monitor your workout progress in the context of time, speed, distance, and calories burned. With this workout feedback, you can more easily understand where you need to push yourself to improve your overall fitness.
The machine weighs only 117 lb, which is considerably less than other treadmills, and this treadmill can fold up. To use the folding mechanism, you will need to lift the deck then use the spring-loaded pin to make the deck stay in the upright position. As the Cadence G 5.9 is so light, it easier for users to move it around in case they need a treadmill that can be compactly folded up and put away after being used.
So, if you are a walker who is looking for a good, budget-priced treadmill to help you exercise regularly, then the Weslo Cadence G 5.9 may be the right treadmill for you.
Pros
This entry-level treadmill is available at a cheap price with helpful features, making it an excellent choice for people on a tight budget.
Being a folding treadmill, it can easily fit in your small home or apartment without occupying much space.
Cadence G 5.9 is equipped with a 2.5 CHP motor which runs almost silently.
Six pre-created workout programs to give you the luxury of personal trainer-made exercise programs, helping to keep you fit and healthy.
Heart rate thumb sensor built into the console. .
Comes with ultimate Comfortable Cell cushioning feature, making it easier for you to walk or jog without worrying about the adverse impact on your joints.
Cons
The treadmill has a small running area of dimensions 16" width and 50" length which may create a problem for taller people over 6' and anyone seeking a more spacious running area.
The treadmill has small running area of dimensions 18" width and 54" length which may create problem for tall people and anyone seeking more spacious running area.
Not designed for intense workouts, and best not used for long-term running training.
Short warranty, with a 1-year warranty for the motor and 90-days warranty for parts and labor.
The Weslo Cadence G 5.9 is equipped with a 2.5 HP Impulse™ motor, which is quite a strong motor at such a cheap price. It also runs quietly, and there are many household appliances which will be louder than your Cadence G 5.9 treadmill.
This treadmill has a blue-tinted LCD. From this display, you can keep track of your workout progress, such as the time elapsed, distance covered, speed, heart rate, and calories burned. The LCD window isn't backlit, so you will want to have good lighting over your treadmill console to ensure you can see the exercise data.
On the Cadence G 5.9 treadmill, you will receive six workout programs that have been created for users by a certified personal trainer. These pre-made workout programs should help shake up your regular workout routine so that you can keep engaged in your exercise.
Treadmills have a reputation for being excessively heavy and tough to move, but that's not the case with the Cadence G 5.9. This lightweight treadmill only weighs 117 lbs and can be easily moved by one person, thanks to the wheels mounted onto the base of the treadmill.
Being a low-weight treadmill, you can easily move the Cadence G 5.9 in and out of position if you don't have space to keep it in the open at all times.
Weslo Cadence G 5.9 treadmill has a 2-point adjustable incline. To use this incline feature, you will need to go to the end of the treadmill deck and fold up the two feet of the treadmill, leaving the deck at an incline. You can swap between the flat, 0% incline and the folded incline to help engage your leg muscles more and burn calories faster.
Thumb Pulse Heart Rate Monitor
This treadmill also has a heart rate monitor built into the console. In order to check your heart rate, all you need to do is to put your thumb on the little heart icon, which is a sensor. It'll show your heart rate on the display, though quite a few customers have said that the thumb sensor is not very accurate.
Being equipped with a good motor, this treadmill has a speed range of 0.5 – 10 MPH. You can choose your speed based on what number you press on the console, or use the plus/minus buttons to change speeds incrementally, which feature is quite impressive for such a low-priced treadmill.
This treadmill is designed with Comfort Cell cushioning to reduce shocks and prevent impact on your joints. That way, your body experiences less impact than if you were exercising outside on concrete or asphalt.
Motor: 2.25 HP.
Incline: 2-position manual incline.
Speed: 0.5-10 mph.
Dimensions: 64″ L x 24″ W x 55″ H.
Folding: Yes.
Running Area: 16″ W x 54″ L.
Max. User Weight: 275 lbs.
Treadmill Weight: 117 lbs.
Benefits
There is a number of benefits of owning Weslo Cadence G 5.9 treadmill. First, this treadmill is equipped with useful features like speed increments, 2-point manual incline, thumb sensor heart rate monitor, and Comfort Cell cushioning to protect you during your workouts. What's more, the treadmill comes with six personal trainer-developed programs, which can help you fulfill your fitness goals, all at a very reasonable price.
However, one of the biggest benefits of having the Cadence G 5.9 treadmill is that you can move it around with ease, and its compact size makes it an ideal choice for people with small homes and apartments. Also, if you have a restricted budget and don't want to compromise on your fitness, this may be the right treadmill for you.
Final Verdict: Weslo Cadence G 5.9 Treadmill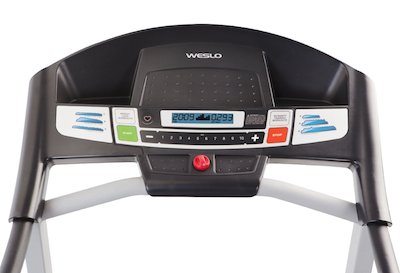 The Weslo Cadence G 5.9 treadmill is best for people who are new to walking, jogging, or light running and are looking to fulfill their fitness goals without breaking the bank. This treadmill isn't for established runners looking to run frequently, but it can be very helpful for those with more modest exercise requirements. It has all the required features that make this treadmill one among the best of the low-priced entry-level treadmills.
It is compact in size and reaches up to 10 MPH if you feel the need to push yourself. It is easily movable as it is light and a folding treadmill, making the Cadence G 5.9 an ideal choice for small home gyms or for people living in small homes and apartments that lack the space for larger equipment.
You can also manually incline the treadmill at two positions for additional calorie-burning workout effort. Plus, this treadmill is provided with the heart rate thumb sensor to provide you with more workout data along with the LCD window. From this window display, you can easily monitor your progress, i.e., distance, time, speed, pulse, and calories burned.
What We Like?
Folding Treadmill.
A low price treadmill with all necessary features.
Comes with six pre-defined workout programs.
Comfortable Cell Cushioning.
Heart Rate Monitor.
Easily movable.
What We Don't Like?
Basic features.
Small running area.
Short warranty period.
Conclusion
The Weslo Cadence G 5.9 treadmill is a dream come true for people who are seeking a budget treadmill that will be perfect for walking and jogging workouts. This treadmill comes with all the necessary features that are crucial for those who are new to working out and can support those who just need access to a good walking treadmill for their daily exercise needs. With its compact size and easy mobility, the Weslo Cadence G 5.9 is an ideal choice for home gyms, small homes, and apartments.
While considering the drawbacks such as the small workout area, the limited warranty coverage, and other restrictions, it is easy to excuse the Cadence G 5.9 as it has such an acceptable and reasonable price.
Related Treadmills Review: 
Summary
Reviewer
Review Date
Reviewed Item
Weslo Cadence G 5.9 Treadmill Review
Author Rating