Weslo Cadence G 5.9 Treadmill is a small sized home gym based treadmill, which is equipped with exciting features and is available at an affordable price. Its low cost and amazing feature set is what makes this product unique. It is equipped with 2.25 HP high power motor which is a bit noisy but you can easily hear your doorbell or television while you're working out. Not only that, this treadmill comes with pre-defined 6 workout programs which you can use to have an intense workout session. The machine dimensions are 64.5" L x 29" W x 55.5" H while its running Area is 50" L x 16" W.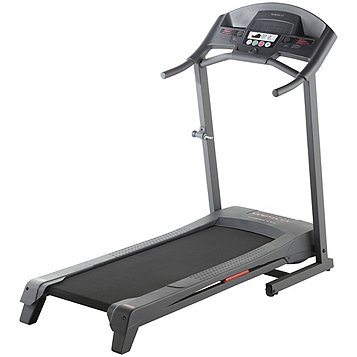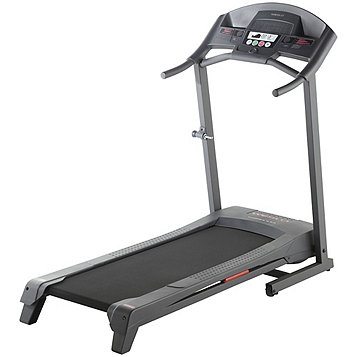 The treadmill is also equipped with an Easy PulseTM Heart Rate Monitor where you can place your thumb to monitor your pulse rate. It also has blue-tinted LCD with Priority Display where you can easily monitor your progress in context of time, speed, distance and calories burned. The machine weighs only 117 lb which is lesser than other treadmills and makes it easier for users to move it around. The console area is foldable making this treadmill a blessing for small homes and apartments. Although, the Weight Limit of this treadmill is only 275 lb, it is ideal for medium to short height people.
Pros
This entry level treadmill is available at a cheap price with amazing features, making it an excellent choice for people on low budget.
Being a folding treadmill it can easily fit in your small home or apartment without occupying much space.
Six pre-defined workout programs to give you the luxury of intense cardio workout and exercise, keeping you fit and healthy.
Equipped Heart rate monitor at such a nominal charge.
Comes with ultimate Comfortable Cell Cushioning feature, making it easier for you to walk, run or jog intensely without worrying about the adverse impact on your joints.
Cons
Cadence G 5.9 is equipped with a high power 2.25 HP motor which is a little bit noisy.
The treadmill has small running area of dimensions 18" width and 54" length which may create problem for tall people and anyone seeking more spacious running area.
Not Designed for Excessive Intense Workout.
Short Warranty, 1-year warranty for the motor and 90-days warranty for parts and labor.
Weslo Cadence G 5.9 is equipped with a 2.25 HP Impulse™ Motor which is quite a powerful motor at such a cheap price.
This treadmill has a blue-tinted LCD with Priority Display where you can keep track of your workout progress such as time elapsed, distance covered, speed, heart rate and calories burned.
Cadence G 5.9 treadmill comes with a pre-defined profile of six-programs, which are excellent for cardio workout and intense exercise.
Cadence G 5.9 weighs only 117 lb and its shipping weight is 119 – 120 lb. Being a low-weight treadmill, you can easily move or shift it around with ease.
Weslo Cadence G 5.9 treadmill has 2-point inclination i.e. 1.5% and 6% which can give you a more challenging workout experience. The inclinations are to be set manually.
Easy PulseTM Heart Rate Monitor
This treadmill also has heart rate monitor. In order to check your heart rate all you need to do is to put your thumb on the sensor and it'll show your heart rate on the display.
Being equipped with a powerful motor, this treadmill has a speed range of 0.5 – 10 mph (at 0.5 increments) which is quite impressive for such a low priced treadmill.
This treadmill is designed with comfort cell cushioning to reduce shocks and prevent impact on your joints.
Motor: 2.25 HP.

Incline: 2-position manual incline.
Speed: 0.5-10 mph.

Dimensions: 64″ L x 24″ W x 55″ H.

Folding: Yes.
Running Area: 18″ W x 54″ L.

Max. User Weight: 275 lbs.

Treadmill Weight: 119 lbs.
Benefits
There are number of benefits of owning Weslo Cadence G 5.9 treadmill. Firstly, this treadmill is equipped with great features like speed increments, 2-point inclination, thumb sensor heart rate monitor and comfort cell cushioning. What's more, the treadmill comes with six personal training programs which will just fulfill your fitness goals that too being available at a much reasonable price.
It is a great value of money. The biggest benefit of having this treadmill is that you can move it around with ease and its compact size makes it an ideal choice for people with small home and apartment. If you are low on your budget and don't want to compromise on your fitness, this is the right treadmill for you.
Final Verdict: Weslo Cadence G 5.9 Treadmill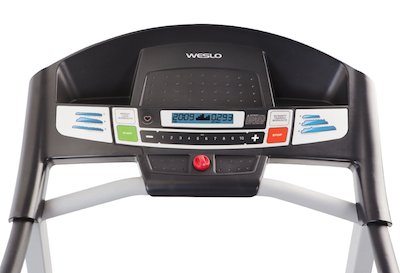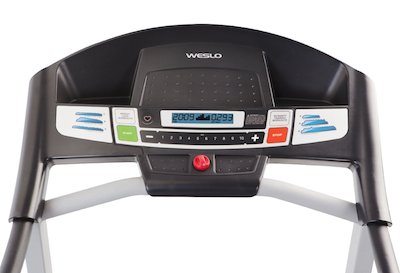 We personally suggest this treadmill for people who are new to walking, jogging or running and looking to fulfill their fitness goals. It has all the required features which make this treadmill one among the top of low price entry level treadmills.
It is compact in size and reaches up to 10 mph speed at 0.5 increments. It is easily movable and folding treadmill making it an ideal choice for home based gyms or for people living in small homes and apartments. You can also manually incline the treadmill at two positions for extreme workout experience. Plus, it is provided with the heart rate thumb sensor to monitor pulse along with the LCD Display where you can easily monitor your progress i.e. distance, time, speed, pulse and calories burned.
What We Like?
Folding Treadmill.
A low price treadmill with all necessary features.
Comes with six pre-defined workout programs.
Comfortable Cell Cushioning.
Heart Rate Monitor.
Easily movable.
What We Don't Like?
A little bit noisy machine.
Small running area.
Short Warranty.
Conclusion
This treadmill is a dream come true for people who are seeking for low budget highly featured treadmills. This treadmill comes with all the necessary features that are crucial for start-up workout, as well as intense workout to fulfill fitness goals. With its compact size and easy movability, Weslo Cadence G 5.9 is an ideal choice for home based gyms, small homes and apartments.
While considering the drawbacks, the small workout area doesn't going to matter unless you are very tall. The little bit of noise is acceptable at such a reasonable price.
Related Treadmills Review: 
Summary
Reviewer
Review Date
Reviewed Item
Weslo Cadence G 5.9 Treadmill Review
Author Rating