*TreadmillReviewGuru helps consumers find the best home fitness products. When you buy a product we recommend, we may earn a commission.
Last Updated: May 6, 2023
The Assault Fitness AirBike is a popular air bike used by garage gym and CrossFit athletes throughout the world. This air bike is used in the CrossFit games and is known for being both challenging and consistent — making it a great machine for training and competition. The Assault AirBike features a chain drive system, vented flywheel with 6 steel blades, a steel frame and pedal cranks, and a cushioned seat that moves both fore/aft as well as up/down. The handlebars connect directly to the fan hub and pegs on either side of the flywheel offer a resting place for your feet when you want to focus on building upper body strength. Air resistance is unlimited; the harder you work, the more air is produced by the spinning blades. This makes the AirBike the ideal training tool for athletes at all conditioning levels. Whether you are a new rider looking to shed a few pounds, or a conditioned CrossFit athlete who is ready to compete, the AirBike provides customizable — and unlimited — training potential.

Who It's For: Athletes who want an AirBike with no max resistance, a steel frame, and solid reputation
Assault has manufactured the Airbike with several key features that make it a good buy for users who:
Are looking for something reputable and well built
Desire both upper and lower body conditioning
Want equipment that will provide intense HIIT training
Appreciate the tried-and-true resistance of a chain drive
Can mount and sit on the bike with proper spine alignment
May want to compete against other AirBike athletes
Use HIIT sessions to supplement their strength training routine
Have space for this hearty machine
Pros
Steel frame with black leather stitched saddle
Seat is adjustable up/down and fore/aft
25" flywheel with 6 air blades generates unlimited air resistance
Good for both upper and lower body training
Seven workout programs
Polar chest strap compatible
Supports up to 300 pounds of user weight
Has foot pegs on either side of the flywheel
Cons
Reports of the saddle coming loose with regular use (just needs to be tightened)
Not foldable or compact
Noisier than the Echo AirBike due to chain drive system
---
Sturdy Steel frame

The AirBike has a sturdy steel frame with powder coated handlebars and a black stitched sport seat. It provides a challenging workout and feels comfortable to ride.

25" flywheel with 6 blades

Air resistance is generated as you move the air blades in the flywheel — either by pedaling or by moving the handlebars. The 25" flywheel has 6 large air blades that rotate to create air resistance.

Great for HIIT training

Since there is no maximum resistance and no preset resistance levels, you can climb right on the AirBike and instantly generate massive resistance. This makes it an ideal tool for HIIT training since there is no lag time in between work and rest intervals.

Upper and lower body conditioning

Use the pedals or handles to work lower or upper body — or both! The AirBike also has foot pegs on either side of the flywheel to rest your feet while working your arms, chest and back with the handles

Max User weight: 300lbs

The AirBike has a max weight of 300 pounds which should work for most users but may be limiting for larger athletes

Footprint: 51" L x 23" W x 50" H

The AirBike does not fold and has a bit of a square footprint at 51" long and 50" high. There are wheels on the front stabilizer so you can tilt the bike and roll it as needed.

Bike weight: 96lbs

Despite its hearty build and 300lb weight capacity, the AirBike itself only weighs 96 pounds.

LCD Display with hi-contrast screen

The LCD Display screen is hi-contrast but not backlit, so it may be hard to see in low-light conditions.

Display has metrics for:

Intervals, Targets, Heart Rate, Watts, RPM, Calories

Console is battery powered.

The Airbike does not require electricity and does not need to be placed by a wall outlet. The console is battery powered — and everything else is just you.
Construction:
Black leather, stitched sport seat
All-metal pedals
Single hand position handlebars
Chain cover shrouding
Steel tube seat post
Commercial steel frame
Max User weight: 300lbs
Square-tapered pedal crank, bottom bracket and bell crank
Footprint: 51" L x 23" W x 50" H
Bike weight: 96lbs
Console:
LCD Display with hi-contrast screen
Not Bluetooth compatible
Metrics for: Intervals, Targets, Heart Rate, Watts, RPM, Calories
Tabata Intervals
Custom workout option
Target Time
Target Distance
Target Calories
Target HR
Functionality:
Steel frame
25" flywheel with 6 blades
Great for HIIT training
Upper and lower body conditioning
Pedals or foot peg options
Pull/push handles for arm, back, chest strengthening
Console hovers over flywheel for easy reach
Warranty:
5-year warranty on bike frame
2-year parts warranty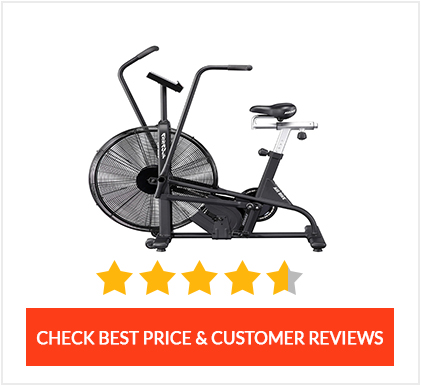 In-depth Review of Assault Airbike
---
Construction

Frame
Steel Frame
The Assault AirBike has a reinforced steel frame that is sturdy and anchors the bike to the floor. Regardless of your intensity, the Airbike doesn't feel like it's going to topple. Stabilizers on both the front and rear provide balance and both stabilizers have leveling feet underneath to adjust for more stability. The drivetrain cover protects the belt drive from dust or other debris. The handlebars attach on either side of the flywheel for upper body work and the console hovers just above the flywheel at chest height. The bike itself weighs just under 100 pounds and while it feels heavy to move, it does support an impressive weight capacity. The flywheel does not come with a windshield, but Assault does offer one as an optional add-on at check out.
Seat Adjustment
The AirBike seat moves up and down as well as forward and aft. The handlebars are one solid piece and do not adjust up or down. It is important to find the right bike fit when using the AirBike. For indoor exercise bikes, a gentle 25-35 degree bend in the knee is recommended. If your seat is too low, it will hurt your knees. If it's too high, you'll feel it in the perineum. Each rider should find the right fit and then adjust the bike as needed with each use. Having both an up/down adjustment as well as fore/aft makes it so the AirBike should work for most sized athletes.
Flat Metal Pedals
The AirBike features flat metal pedals with a rubberized, textured surface for foot grip. There is no strap to hold your shoe in — so make sure you have a solid foot placement with the ball of the foot connecting with the pedal for maximum power.
Plug
The Airbike console is battery powered and therefore does not require electricity. You can place your Airbike anywhere without needing close proximity to a wall outlet.
25" FlyWheel
Steel FlyWheel with 6 Airblades
The 25" flywheel on the Assault AirBike houses six air blades that rotate as you ride the bike. This produces wind resistance that is practically unlimited. The faster you pedal and pull the handlebars, the faster the air blades move. This flywheel design is what makes Assault AirBikes so popular for CrossFit athletes and HIIT intervals. Since the blades respond to user power, the Airbike will respond to the strength of whoever is riding it. The flywheel is connected to both the pedals and handlebars — so you can isolate either upper or lower body as desired. But we recommend using it as a full body training machine since it will challenge every part of you. Don't worry if you are dizzy and out of breath after just a few minutes of use — that means the AirBike is doing its job.
Drivetrain


The AirBike uses a standard chain drive that connects the pedals to the flywheel hub. A chain drive is noisier, but also has a consistent resistance throughout the stroke. Belt drives are quieter and require less maintenance, but they also change the way the bike feels both underfoot and while you are pulling. The chain is protected by a drive shield that reduces dust and debris from entangling with the chain or sprocket.
Saddle
Comfort and Design

The AirBike saddle is black stitched leather and is slightly wider than a racing saddle for a bit more posterior comfort.

Two Seat Adjustments

You can raise and lower the seat as well as move it forward and back. A knob with notched grooves in the saddle and seat tubes holds the seat securely where you set it.
Console/Controls
Console
LCD Display

The bike console displays:

Total Time
Time
Distance
Calories
Watts
Speed
RPM
Heart Rate (for compatible Polar chest strap)

There are 7 preloaded programs with buttons along the side of the console for interval and target training.

20/10 interval button for 20 seconds of work, 10 seconds of rest
10/20 interval button for 10 seconds of work, 20 seconds of rest
A custom button also allows riders to set their own intervals as desired
Target Time
Target Distance
Target Calories
Target Heart Rate

You can set your own targets for any or all of these metrics and work towards them throughout your training.
Along the bottom of the console are buttons for Start, Stop, Up/Down and Enter
The console is battery operated and does not require a wall outlet.
One complaint is the console is not backlit, so if you are in a garage or dark room, the digital numbers can be hard to see.
Optional Accessories

Windscreen

The windscreen is an optional accessory that attaches to the top of the flywheel to limit the amount of air that blows upward into your face.

Water Bottle Holder

A water bottle holder attaches to the console support arm as an optional add on from Assault.
Chest Strap
Assault also offers a Polar chest strap as an optional add on that will sync with the console.
Functionality
Performance
The Assault Airbike has a reinforced steel frame, comfortable seat, and six thick air blades. The flywheel is an impressive 25" in circumference which allows for maximum air flow. The stabilizers are wide and have adjustable leveling feet underneath. The AirBike works well for total body training but you can isolate upper or lower body if desired.
Foot pegs on the side of the flywheel allow riders to rest or place their feet here while focusing on an upper body challenge. Of course, you can also just focus on the lower body by removing your hands from the handles. To mix up interval training, athletes could do one interval fully upper body and then next focus on lower body. You work just as hard and burn a lot of calories but the alternating upper/lower training enables you to workout longer before that dreaded maximum fatigue threshold.
The console has great features for HIIT training, but it isn't as feature-rich as others we've seen. It also isn't backlit and may be hard to see in low light.
Resistance
Since it uses air resistance, the Airbike has unlimited max power — the harder you pull and pedal, the more air resistance is generated by the air blades. This is not an easy machine to use. The chain drive is a point of discussion since some athletes love the consistency of the chain drive. It is smooth and feels consistent throughout your stroke. However, it is noisier than a belt drive and requires more ongoing maintenance. Whether or not you prefer a chain drive or belt drive will be a personal preference as both have positives and negatives. The chain drive on the Assault AirBike does make it noisier to ride, but its ubiquitous usage all over the world — and its consistent calorie counting makes it a great air bike for competitive athletes.
Pre-programmed workouts
There are Seven pre programmed workouts on the AirBike:

20/10 Intervals: 20 seconds of work with 10 seconds of rest. This is a traditional Tabata style workout with a rest segment that is half the time of the work segment. This is extremely challenging since you have very limited recovery in between intervals. Eight 20/10 intervals takes 4 minutes and by the end we promise you will be completely out of breath! Use these for full body conditioning, or isolate upper/lower as desired.
10/20 Intervals: 10 seconds of work and 20 seconds of rest. This inverted Tabata interval program provides more rest which allows you to go all out during that 10 seconds. Don't think this is easy! If you give it your all those 10 seconds are killer.
Custom Intervals: if you want to do 40/20's or 45/15's, you can set the interval work/rest intervals as desired.
Targeted Training: This allows you to customize your workout to achieve certain goals. You can set the Target to be distance, time, calories or HR. If you want to ride 2 miles, set your Target for Distance and then work hard to achieve that Target. The same is true for Time, Calories or HR. The Targeted training programs work well for users of various conditioning levels since you can set targets that are challenging for you.
Heart Rate Training: the console is Bluetooth enabled so it will sync with any compatible chest strap for targeted heart rate training. Heart rate training is a more accurate way to measure your exertion since your heart rate will respond to how hard your body is working. Heart rate training is very valuable on the Assault Airbike. The console provides a digital readout of your heart rate in real time.
Noise Level
The Assault AirBike is a noisy bike. Between the chain drive and air resistance, this bike generates significant noise while in use. This isn't your grandma's exercise bike though — no one expects you to set it behind a couch to ride during Jeopardy. This high-intensity training tool is designed to be used in a gym by athletes who are fully focused on their conditioning. The noise is noticeable but not really an issue in a gym environment.
Storage / Folding


The Airbike bike does not fold, however, there are wheels under the front stabilizer so you can tip the bike and gently roll it out of the way. Due to its lighter weight and elevated wheels, this is a relatively easy bike to roll.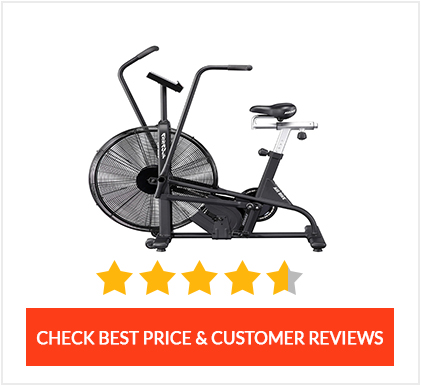 Bottom Line:
The Assault Airbike is a hearty indoor bike built for commercial use — but it works great in any home gym as well. The steel frame, industrial strength pedal cranks, comfortable seat, infinite resistance, seven workout programs, and transport wheels make this an excellent training machine for all conditioning levels. This bike is a great choice for anyone as the saddle can be adjusted up or down as well as forward and aft. The moving handlebars also engage upper body for full body training. Typically priced under $1000, the AirBike falls in the midrange for exercise bikes. Certainly there are more expensive ones on the market, and you can find cheaper options as well — but this machine gives you a lot of bang for your buck, especially when it comes to calories per minute. Assault Fitness is a California based company that provides AirBikes to the US Government for military training. The seven onboard programs provide multiple interval training options with both traditional and inverted Tabatas. There is also a custom interval feature and targeted training for time, distance, calories and heart rate. Assault Fitness sells a Polar chest strap as an accessory should you need one. This will pair with the console to provide real-time HR readout on the screen. The 25" flywheel has no max power so it will generate as much resistance as you can muster. The AirBike does create a bit of noise when in use, but this is to be expected with most air bikes. It is also the bike of choice for the CrossFit games and is used regularly in competitions. We find the Assault Fitness Air Bike to be a solid training tool that will satisfy the conditioning needs for athletes at all fitness levels.
Related Treadmill Reviews: