*TreadmillReviewGuru helps consumers find the best home fitness products. When you buy a product we recommend, we may earn a commission.
Last Updated: May 20, 2023
AssaultRunners and TrueForm Treadmills are both popular manual treadmills that are some of the best on the market. Assault Fitness and TrueForm have different models to choose from depending on your budget, but all of these treadmills can be found in homes and commercial settings. In this comparison review, I'll be comparing the AssaultRunner Elite to the TrueForm Trainer, however, I'll give insight into Assault's and TrueForm's other treadmills too so you know exactly which model you should buy. Each of these manual treadmills is motorless, well-constructed, and can handle a lot of user weight. Now, let's take a look at them more closely.
Why You Should Trust Our Comparison Review
At Treadmill Review Guru, we work to get all kinds of fitness equipment into our studio for testing. When it comes to manual treadmills, we've tested ones from different brands. In order to compile comparison reviews, we spend time on each model and often hop back and forth between the two so we can get a good idea of how models compare and who we should recommend them to. In addition to testing both the TrueForm Trainer and TrueForm Runner, I've tested the AssaultRunner Elite and AssaultRunner Pro. So, I'll take you through my experience using all of these manual treadmills.
Our Assault Runner Elite vs TrueForm Trainer Video Review
---
Pros & Cons of the AssaultRunner Elite:
AsssaultRunner Elite Pros
The Elite is easy to use so almost anyone can hop on it and run.
This is a popular treadmill found in homes, garage gyms, and commercial settings.
The slat belt is durable and backed with a lifetime warranty.
The console has nice tracking, workout options, and Bluetooth connectivity to use with the Assault Fitness App.
AsssaultRunner Elite Cons
This is the premium model from Assault and a little higher in price than other manual treadmills.

Pros & Cons of TrueForm Trainer:
TrueForm Trainer Pros
The Trainer is proven to improve your running form with the shallow deck design.
It can handle a lot of use and is commonly found in homes and public gyms.
The belt engages more of your hamstrings and is easier to control your pace.
This is the more affordable alternative to the Runner which has been used in competitions.
TrueForm Trainer Cons
The console has limited functionality and tracking.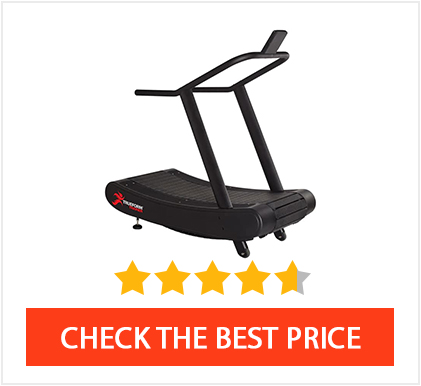 AssaultRunner Elite Treadmill Specs:TrueForm Trainer Treadmill Specs:
Footprint: 69.9" L x 31.7" W x 64.4" H
Non-motorized
No Max Speed
Treadmill Weight: 289.2 lbs
Hi-Contrast, UV Resistant w/Improved Readability LCD Display
Bluetooth Enabled
Weight Capacity: 400 lbs
Running Surface: 17" W x 65" L
Surface Type: Black TPU
Number of Slats: 62
Customizable Belt with Artificial Turf or Rubberized Red or Blue Running Track Available
Available In Different Colors
100 Precision Ball Bearings w/ 12 Roller Guides
Shielded Bearing To Eliminate Dirt & Debris
Steel Frame
Heavy-Duty Oval Tubing w/ Sweat Resistant Over-Molded Handgrips
Step-Up Height: 12.5"
Warranty: Lifetime for the belt, 10-years for the frame, 3 years for moving parts, and 1 year for labor
Footprint: 64" L x 31" W x 63" H
LCD Display
Non-motorized
No Max Speed
Treadmill Weight: 300 lbs
Weight Capacity: 400 lbs
Running Surface: 17" W x 64" L
Tread Surface: Molded Thermoplastic Elastomer
Responsive Belt Technology
112 Sealed Steel Ball Bearings
Inner Frame: Formed and Welded 7 Gauge/4.5 mm Steel
Outer Frame: 2"/5 cm Steel Tubing
Step-Up Height: 14"
Warranty: 10 years for the frame, 2 years for the tread mechanism, surface, and display, and 90 days for labor
---
Recommendation:
The AssaultRunner Elite and the TrueForm Trainer have a lot of similarities and are both really well-constructed treadmills. On paper, it's tough to really distinguish which one is best. It really isn't until you run on both of them that you notice the difference.
Both the AssaultRunner Elite and the AssaultRunner Pro have higher-angled curved decks that are easier to get moving and sprint on. Almost anyone can hop on these treadmills and walk and run. The TrueForm Trainer and TrueForm Runner on the other hand have shallower curved decks which are harder to get moving and to run on. TrueForm Treadmills have been proven to help promote good running mechanics so if you have imbalances in your stride, a TrueForm will actually help but this can make them more challenging to run on.
Most runners in general heel strike, TrueForm Treadmills encourage landing on the mid part of your feet instead of your heel. So, if you heel strike like me, you might find you fatigue faster on these treadmills. A TrueForm Treadmill is great if you want to improve your form, however, an AssaultRunner Treadmill might be the better option if you're just looking to hop on and run. With either brand though, you're getting a well-made manual treadmill, it just boils down to what your goals and preferences are
In-Depth Comparison of the AssaultRunner Elite and TrueForm Trainer Treadmills
AssaultRunner Elite vs TrueForm Trainer Console
A beneficial aspect of nonmotorized treadmills is that they don't require electricity to use. This way, you don't have to worry about using them near an outlet. The AssaultRunner Elite and the TrueForm Trainer have battery-powered LCD consoles that display your workout metrics.
While both consoles are definitely more simple than touch screens that often come attached to electric treadmills, they're both easy to use. Our team does prefer the Elite's console though. As far as tracking and workout settings, Assault has more to offer. Your time, calories, distance, speed, watts, pace, and heart rate are displayed. Plus, there are built-in interval programs like Tabata, reverse Tabata, and customizable interval workouts. There are also target programs and heart rate programs to choose from, as well as Bluetooth connectivity to the Assault Fitness App for guided workouts, programs, and challenges.
It tracks your pace, speed, distance, time, and heart rate. It allows you to set time and distance goals to follow, too. As far as functionality, this is the extent of what the Trainer's console provides. The TrueForm Runner has a different, LED rechargeable console, but it has even less functionality and tracking than the Trainer. So, if you're concerned about metrics and workout options beyond what the Trainer has to offer, you might want to look into an Assault.
Construction Quality & Durability
As far as construction, AssaultRunners and TrueForms are durable, proven machines. They're made for home and commercial use and can withstand a lot of running. They are similar in size, with the AssaultRunner Elite being a few inches longer. They're both similar in weight ranging from around 290 to 300 lbs, too. The Pro is around 280 lbs, and the TrueForm Runner is a beast at 350 lbs.
Manual treadmills in general can usually handle a lot of weight. We're pleased the Trainer and Elite handle up to 400 lbs of user weight.
AssaultRunner Elite vs TrueForm Trainer Frame
The AssaultRunner Treadmills and the TrueForm Trainer have similar construction. They have steel frames and steel ball bearings under the belts to move the belts in a smooth, singular direction. All of these treadmills have plastic surrounding the belts under the side rails.
The plastic doesn't make them any less durable, but it does make them a little lighter than the TrueForm Runner which is made entirely of steel. This treadmill has a steel inner and outer frame so it's practically indestructible, but it might be a bit of an overkill especially if you just plan on using this treadmill in your home.
AssaultRunner Elite vs TrueForm Trainer MotorLess
Because these treadmills are manual treadmills, which means they don't have motors to power the belts. You don't have to worry about keeping up with a set pace, instead, you set the pace. The belt moves when you start walking and running on it. You control the speed of the belt with your feet and it's because of this that manual treadmills don't have maximum speeds. So, if you want to sprint at higher speeds than what motorized treadmills offer (usually 12 mph max), a manual treadmill is the way to go.
Another advantage to manual treadmills like TrueForms and Assaults is that they require significantly less maintenance than motorized treadmills. There isn't a motor to upkeep and the belt doesn't require lubricating.
For noise, both the AssaultRunner Elite and TrueForm Trainer sound very similar. Instead of hearing the noise of the motor, all you hear is the sounds of the belt moving and your feet hitting the deck. These noises aren't excessive, but manual treadmills sound different than motorized treadmills, they are by no means silent, so keep that in mind if noise is an issue in your home.
AssaultRunner Elite vs TrueForm Trainer Deck
Manual treadmills typically have narrower decks than motorized treadmills. Both AssaultRunners and TrueForms have 17" wide belts to run on. This design helps to keep you in a linear position while running which is better for your posture and alignment. All of these treadmills have long decks which give you plenty of room to run and sprint on, too.
The slat belts feel different than running on flat, motorized treadmills. The slats are coated in rubber to provide some shock absorption while running while still feeling firm underfoot. These belts are designed to withstand a lot of running.
The Assault Treadmills and TrueForm Trainer come with standard rubber slat belts, but the TrueForm Runner is customizable. You can purchase the Runner with artificial turf or rubberized track if you want to run in your cleats or track spikes. This makes the Runner very beneficial for sports athletes and use in training facilities. It is the only treadmill that we know of with this kind of customization.
Performance & Functionality
So, the big aspect where you'll notice a difference between using AssaultRunners and TrueForm Treadmills is when running on their decks. The TrueForm Trainer and Runner have the shallowest curved decks. It is with this design that these two treadmills have been proven to help promote proper running form. If you have any imbalances in your stride, running on a TrueForm will help.
With our experience running on AssaultRunners, they're easier to get the belt going than TrueForm Treadmills. You have a little leverage at the front of the belt to get some momentum. Most people, including our team, who hop on Assaults find that their belts are easy to run on. Some even find them a little harder to slow down because of how easy the belts get going.
There is a learning curve when using any manual treadmill. Since you control the speed of the belt yourself, it is a different experience than when you're working to keep up with the belt. They usually don't take too long to get the hang of though.
A notable aspect of TrueForms is that they encourage a mid and forefoot strike. A large majority of runners heel strike, including me, so if you do, you might find that you fatigue faster on TrueForms than other manual treadmills like AssaultRunners. It is because of this that we recommend the TrueForm Trainer and Runner to athletes and runners who want to improve their stride. The AssaultRunner Elite and Pro are better for most people because pretty much anyone can hop on and walk and run on them. They are also typically preferred by most people for sprinting. So, if you're looking for a treadmill that you can just hop on and run on, an AssaultRunner might be the better choice for you.
Their price differences are also a big factor in determining the best pick for you. Being the premium model from Assault, the Elite is a little more expensive than the Trainer, at least at the time of writing this. For a good value, the AssaultRunner Pro is one of the most affordable manual treadmills that's still really well-made. It comes with a lot of the same features as the Elite. The TrueForm Trainer is a lot cheaper than the TrueForm Runner which is almost double the cost. The Runner is also thousands more than the AssaultRunners, but it's worth it for the customization it has to offer.
As far as moving, both the AssaultRunner Pro and Elite and the Trainer are relatively easy to move.
The TrueForm Runner is the hardest to move due to its heavier weight. It can be moved the same way as the others when you need to. With all of these models though we recommend a designated space in your home for whichever one you decide to buy. We also don't recommend using them on an upper-level floor because of their size and weight.
Warranty
Both brands offer pretty nice warranties with these treadmills. The AssaultRunners are backed with 5-year frame warranties. The Pro comes with a generous 150,000 mile belt warranty and the Elite comes with an impressive lifetime belt warranty. The TrueForm Trainer comes with a 10-year frame warranty, while the Runner comes with a 20-year frame warranty. So, with whichever treadmill you decide to go with, know that the brands back up the build which helps instill confidence in the durable designs.
---
BottomLine/ Recommendation
We really love both AssaultRunner Treadmills and TrueForm Treadmills because they're durable, motorless, and great for running and interval training. While they have a lot of similarities, we think AssaultRunners are the better pick for most people because they're easier to run on. These treadmills have easy-to-move belts and proven construction. They're found in home and commercial settings. The AssaultRunner Elite is the premium model, but the AssaultRunner Pro is more affordable and might be the better pick, especially if you're looking to save. We recommend TrueForms because they are proven to help promote proper running form. They're also harder to run on because they have a shallower curve to their decks. If you heel strike, you might fatigue faster, but these treadmills can help you run in a healthier way for your body. Athletes and runners who are looking to correct any imbalances in their stride should check out a TrueForm. The TrueForm Trainer is much less expensive and just as durable, but the TrueForm Runner is worth the splurge if you want a customizable belt to buy with turf. Whichever of these models you choose to go with though, you can't go wrong.