*TreadmillReviewGuru helps consumers find the best home fitness products. When you buy a product we recommend, we may earn a commission.
Last Updated: April 26, 2023
Treadmills are expensive, especially curved, manual treadmills. The Tru Grit Runner is a little more friendly on your wallet than others. Even though this is a best manual treadmill budget pick, the Grit Runner has a lot to offer. Being that this is a non-motorized treadmill, it doesn't have a motor. This means that you can control the pace of the belt yourself. You can also run as fast as you want on the Tru Grit Runner, like other manual treadmills. What makes the Tru Grit a little different from your standard manual treadmill is the added resistance in the belt. There are 6 different levels that let you go from running to sled-pushing with a push of a lever. In our review of the Tru Grit Runner Treadmill, I'll go over what to expect from this versatile and affordable machine.

Why You Should Trust Our Review Of The Tru Grit Runner Treadmill
Our goal here at Treadmill Review Guru is to bring you reviews of all kinds of fitness equipment so you know what to expect. We've been testing treadmills for many years, so we know what to look for in models. We are working to get the Tru Grit Runner into our studio for testing, but in the meantime, this review reflects our thoughts on this treadmill based on the specs, our research, and our extensive experience testing other manual treadmills. For this review specifically, I've relied heavily on our team's experience using the AssaultRunner Elite, TrueForm Trainer, and Bells Of Steel Blitz Manual Treadmill in order to compile this spec review. You'll see my thoughts about the Grit Runner in relation to these models throughout.
---
Pros
This is an affordable manual treadmill that's comparable to more expensive models.
This is a non-motorized treadmill that allows you to power and control the speed of the belt.
The belt incorporates 6 levels of resistance to do anything from walking and running, to sled-pushing.
The rubber-slat belt absorbs shock and lets you run as fast as possible.
It handles up to 400 lbs of user weight.
It doesn't require electricity to use.
Cons
The plastic components around the frame and the weight of the treadmill can make it hard to move.
The footprint is larger than other manual treadmills.
---
6 levels of resistance to move the belt against
Said to promote good form and balance
LCD Display that's battery-powered
Metrics tracked: time, distance, pace, speed, calories, and watts
Interval training modes built-in
Resistance dial
Device rack
No storage/cupholder
Mult-position handles
Front transportation wheels
Rear bar for moving
Footprint: 79" L x 35" W x 60" H
Construction: Grade steel and aluminum frame
Unlimited Max Speed
Belt: 19" wide
Treadmill weight: 415 lbs
Weight Capacity: 400 lbs
Warranty: Lifetime for the belt and 1-year overall warranty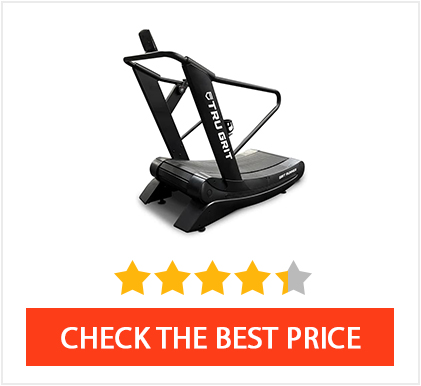 ---
In-depth Review of the Tru Grit Runner Treadmill
Console
Considering the Tru Grit Runner is a manual treadmill, this means that it doesn't require electricity to use. So, you won't have to worry about placing the Tru Grit near an outlet in order to use it. And what can be considered a pro and a con is that manual treadmills, like the Grit Runner, have simple consoles. This is a plus because they're easy to use and don't require a subscription, unlike a lot of motorized treadmills with attached touch screens nowadays. The downside is that the amount of tech and functionality is more limited than other treadmills.
By the looks of it, the Grit Runner's LCD display appears to be pretty basic. The screen displays your time, distance, pace, speed, calories, and watts.
While this is more than what the high-end TrueForm Runner tracks, the display overall looks to be a little small. So, it might be a little difficult to read. It also isn't backlit so it might be harder to see in lower light.
Under the display are three buttons "Reset", "Mode", and "Set". Since the console comes with the capability for interval training, these buttons most likely allow you to set custom intervals. They should also keep the console pretty easy to use and navigate.
As far as size and functionality though, I wish it was more similar to the AssaultRunners' console. This console is larger, easy to see, and has Bluetooth connectivity. Like the Assaults though, the Tru Grit Runner has a small attached ledge to place your phone, which is nice.
Construction Quality / Durability
Alright, now let's get into the meat of this review, which is the construction. Considering they're higher in price and usually pretty heavy, most manual treadmills are meant to be durable and long-lasting. Although the Tru Grit Runner is a little more affordable than other non-motorized treadmills, it's heavy and we assume it will be durable to use. It handles up to 400 lbs of user weight, so this is a good indication that it's a solid machine.
Frame
The frame is made out of steel and aluminum. The frame supports the deck and two uprights connect from the frame. The uprights are where the handles and console connect to. The Tru Grit doesn't fold up, like most curved, manual treadmills, so be sure to keep that in mind.
The Grit Runner is also heavy so we assume that it's a beast to move. It weighs a whopping 415 lbs. It manages to be even heavier than the indestructible TrueForm Runner, somehow. It also is 79" long which is longer than other manual treadmills like the AssaultRunners, TrueForms, and the Bells Of Steel.
The only part of the frame that has me a little unsure is the plastic pieces surrounding it. It's normal for the side coverings around the deck and under the side rails to be plastic, the TrueForm Trainer has this design, but the Tru Grit has additional plastic pieces.
Under the front of the deck, the plastic almost touches the floor. So, I can imagine that once you lift the backend to engage the front wheels, all that plastic might get in the way. The wheels also look pretty small for such a heavy treadmill. In general, with its weight, I recommend keeping the Grit Runner in a designated area, but I suspect that this treadmill might be difficult to move around due to the design, too.
The handles appear to be long and offer different areas to grip. This is important for the resistance, which I'll get into later in this review. Instead of offering two vertical handles on the front like the Bells Of Steel and the Technogym Skillmill, there is just a singular horizontal handle on the front to push from when sled-pushing. This probably suffices, but more handles might be nice for different-sized users as well as the ability to change up your position while sled-pushing.
Motorless
So, as I mentioned, the Tru Grit Runner doesn't have a motor. This means that it should require less maintenance than motorized treadmills that have motors to propel the belt. Instead, you'll be the motor on the Grit Runner because once you step on the belt, it will move under your feet. This means that you control the pace and the belt will keep up with you as you run. So, like other non-motorized treadmills, the Grit Runner doesn't have a max speed.
This means that if you love sprinting – okay maybe not love sprinting because who does – but if you prefer to do a lot of sprinting intervals, the Tru Grit Runner is a good choice for that. Motorized treadmills typically cap out at 10-12 mph, sometimes 15 mph, which isn't fast enough for some people to sprint.
Deck
The deck and belt of the Tru Grit Runner look to be comparable to other manual treadmills like the AssaultRunners. It has a curved deck which is standard for treadmills of this type. The angle of the curve is where manual treadmills are different. For example, TrueForm Treadmills have the shallowest curved deck which has been proven to help promote proper running form. These treadmills also feel more challenging to most people to get the belt moving because of the shallow curvature. AssaultRunners have a higher curve and feel easier to get up to a sprint on in comparison.
The Bells Of Steel Blitz has some of the highest curved deck we've seen on a manual treadmill and it also feels easier to get up to speed than the TrueForm's. I think on this treadmill especially, the curve acts as a way to get leverage to propel the belt while you're running.
Although it's challenging to determine the angle of the curve on the Tru Grit Runner, it looks to be most similar to the AssaultRunners. I assume the belt will be easier to get moving than the TrueForm Treadmills.
The belt is 19" wide, which is 2" wider than the other models I've mentioned. This isn't good or bad, but if you prefer more room to run you have it on the Grit Runner. The belt is a rubber-coated slat belt. The rubber should act as shock absorption for your joints when you run, unlike what you get while road running outside.
Adjustable Resistance
After testing the Bells Of Steel Blitz Manual Treadmill, I have to say that having adjustable resistance on a non-motorized treadmill really kicks up the intensity of your workouts. It also makes for a really versatile machine. We assume the Tru Grit Runner works similarly to the Blitz. It has a hand lever on the right side of the handles like the Blitz, for adjusting the resistance.
The Grit Runner comes with 6 levels of resistance. Tru Grit states that levels 1 and 2 are for running, 3 and 4 for walking, and 5 and 6 are for sled pushing. I hope the amount of resistance offered in levels 5 and 6 is as significant as the tension the Bells Of Steel has. Sled-pushing on a manual treadmill engages the entire body, is tough, and needs a lot of tension to push against to simulate pushing a sled.
I can imagine the resistance in the belt makes the Grit Runner sound a little bit different than other manual treadmills without resistance, but it's impossible to know until we have it in our studio. Overall, it's nice having resistance on a budget-friendly manual treadmill.
Warranty
Tru Grit includes a lifetime warranty for the belt with the purchase of the Grit Runner. With this, they include a 1-year warranty overall, as well. We suggest having at least 2-3 people for set up considering how large and heavy this manual treadmill is.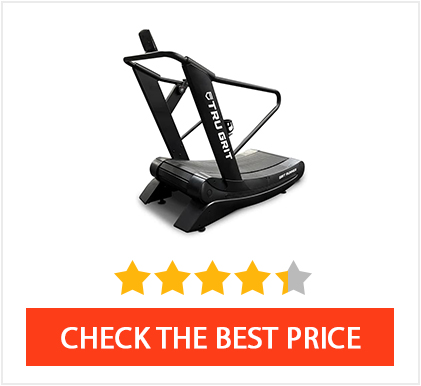 ---
Bottom Line Review: Tru Grit Runner Treadmill
The Tru Grit Runner is a non-motorized treadmill that you can run as fast as you want while using. What makes this manual treadmill appealing is the heavy build, nice weight limit, adjustable resistance, lifetime belt warranty, and affordable price. This is a large treadmill that weighs a lot so we recommend keeping it in a designated space because we assume it is difficult to move. Although we don't have this treadmill in our studio for testing yet, the Grit Runner comes with a lot of features that should make it a solid treadmill for walking, running, and sled-pushing. If you're looking for a versatile manual treadmill that is a little more friendly on your wallet, check out the Tru Grit Runner.