As many as 610,000 people lose their lives due to heart diseases in the US every year. The lack of physical activity and an unhealthy lifestyle with poor diet choices considerably contribute to these figures.
As per the recommendations of the Department of Health and Human Services, one should participate in 150 minutes/week of moderate aerobic activities in order to stay on a safer and healthier side. The need arises even more for the people who are in a sitting job and fail to dedicate some time to their own health.
A compact treadmill at your home can effectively keep you on your excellent health track and rules out the possibilities of falling sick and feeling low. It is a rational decision to buy a compact treadmill if your workplace doesn't provide you one. Even though if your workplace has the treadmill for workout, having a personal compact fitness machine is not going to harm you either.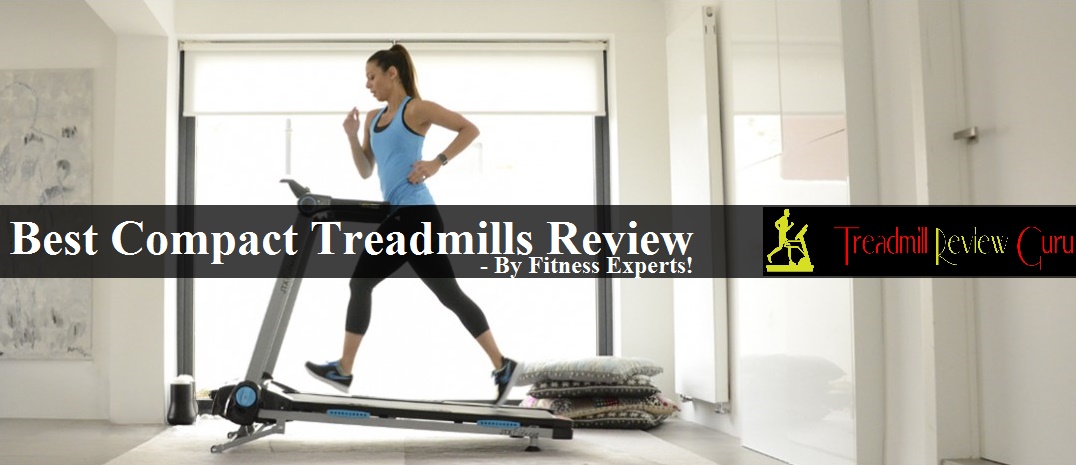 What is a Compact Treadmill?
A compact treadmill gives you the freedom to workout in your space on the time you prefer without messing up with your other daily life activities. Compact treadmills are mostly lightweight and come with a portability factor that makes it easier for you to move and store them due to their smaller size.
Compact treadmill is a fantastic option when space is an issue, especially if you're planning to run regularly in an apartment, small condo, or small bonus room in your house. Also, the compact treadmills are mostly inexpensive that makes them the top choice for the fitness lovers (starter and dedicated runners both). With an added incline function, you can raise the intensity of a regular workout session to burn a sizable amount of calories.
On the contrary, the cheaper models of compact treadmills are installed with weak motors having a low horsepower. Their lightweight and folding property may cause them to shake while you work out. Moreover, the compact models somewhat lack the features that the permanently-erected treadmills have. Although the low-priced models of compact treadmills fulfill the cardio and weight loss needs of a regular user quite easily, their in-sufficiently wide and the shorter running area may be a point of concern for the tall runners.
If you need a compact treadmill just as sturdy as the traditional non-folding treadmills designed for a convenient home-use to help you attain good health and well-being, then these are the best 5 compact treadmills to serve the purpose. These models have been reviewed by our fitness experts with the parameters of their maximum weight capacity, motor horsepower, dimensions, warranty, top speed, incline range and of course price.
Top Compact Treadmills Include:
Best Compact Treadmills – Our Top Picks 2017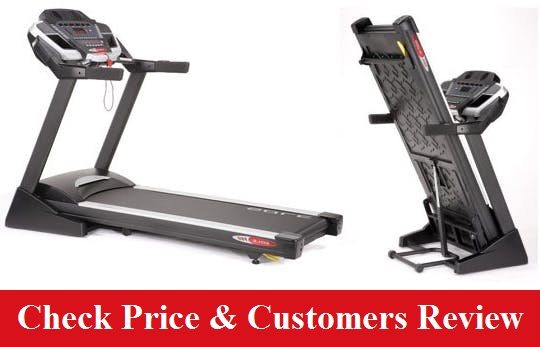 The best-buy awardee Sole F80 Treadmill is a high-quality folding treadmill that fulfills all the needs of home use, its a perfect choice if you lack a lot of space or need something that is easily portable. It comes with an array of setting and program options that work for an entire family.
Its large 9″ LCD screen displays your workout progress and assists you with the option to choose any of its ten present workout programs, including two user customized programs. The heavy duty 3.5 CHP motor ensures a smooth function no matter which workout program it is set on. With its inbuilt hydraulic technology, you can watch it folding and unfolding by itself with just the press of a button.
Sole fitness F80 manufacturers have given a thought to the multitasking ability of its user and therefore have provided a secure docking shelf for your tablet PC over the treadmill's screen. Moreover, the Bluetooth connectivity enables you to sync your work-out details with a smart device such as a computer or smartphone using the Sole Fitness App.
Sole Treadmill F80 has been ameliorated with a multi-layered reversible deck that kills two birds with one stone; increases the deck life and suppresses the noise produced by the steps. Additionally, the finely crafted CushionFlex Whisper Deck reduces the foot impact by 40% compared to the outdoor surfaces.
The 22″ x 60″ walking area allows F80 to be even more spacious. It is assembled with 2.75″ rollers whose superb quality permits it to operate noiselessly. In order to make your workout even more challenging by involving the gravity factor, its track can be inclined electronically up to 15% using the present dynamic inclination options.
Pros
Folding treadmill with EasyAssist technology.
Safety cord to automatically stop the treadmill the moment you lose your balance.
Handrails with pulse monitors to keep track of your vital stats in real time.
CushionFlex Whisper Deck which reduces the impact on the joints by 40%.
Cooling fans, two bottle receptacles, and an accessory tray.
Advance features like Automated inclination up to 15%, Bluetooth connectivity, MP3 compatible sound system and transportation wheels for moving the treadmill around with great ease.
High weight capacity of 375 pounds.
Lifetime warranty on frame, motor and deck, 5 years warranty on electronic components as well as 2 years warranty on labor.
Cons
Its siderails may be an issue for the tall users and may fall short to support them.
Assembling instructions are a bit hard to follow due to small diagrams included in the manual.
Motor: 3.5 CHP.

Incline: 

0-to-15

%.
Speed: 0.5-12 mph.

Dimensions: 80″ L x 35″ W x 58″ H.

Folding: Yes.
Running Area: 22″ W x 60″ L.

Max. User Weight: 375 lbs.

Treadmill Weight: 265 lbs.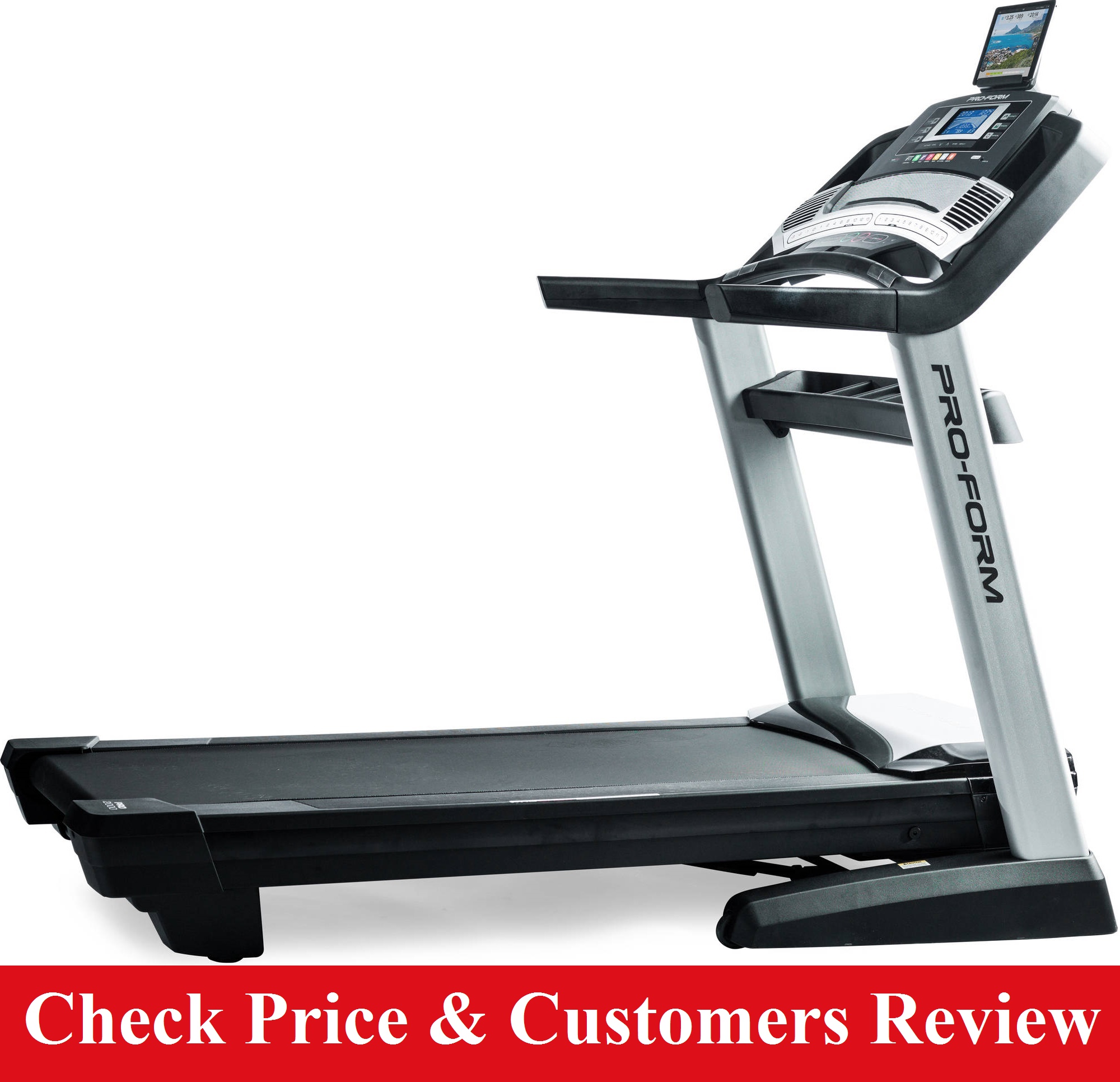 ProForm Pro 2000 is an entry-level model in PRO series meant for the serious runners. It is evident with its solid build, a dedicated fitness management software and corresponding workout features. It is an affordable option that combines an excellent efficiency with the high performance. Being a folding treadmill (space saver) with the EasyLift assist system makes it one among the best compact treadmills.
Pro 2000 has 7" backlit display screen for easy reading and displays your workout progress while you work out followed by the overall performance statistics after you finish your session. It is powered by a highly efficient 3.5 CHP commercial motor, its high torque build allows you to go for long-distance runs and it thoroughly complements you with your strenuous workouts without failing.
The incline/decline is a fascinating feature of ProForm Pro 2000 that adds variety to your fitness plans. You can electronically create an inclination or declination in a range of -3% to 15% that helps you to move on with intense training. This feature dynamically adds an uphill and downhill walkout track to your training without you having to leave your treadmill. The feature also complements extraordinarily with the iFit Coach (a subscription service) that lets you set a route on google maps which is then simulated on your treadmill, providing you with a feel like you are actually walking, jogging or running somewhere outdoor.
ProForm Pro 2000 gives you the facility to securely dock your tablet on the top of its console to interactively use iFit Coach Service which again has a whole lot of practical features that prove to be highly useful for your fitness goals.
You can –
Watch HD workout videos.
Use it for simulation with Google Maps.
Get your personalized nutrition advice.
Acquire your customized training.
The console of Pro 2000 comes installed with 32 training applications to assist you in achieving your fitness goals, cooling fan to keep your body temperature at a normal level and a tablet holder can be adjusted as per your requirements.
Moreover, Pro 2000 provides a running and walking area of 22″ x 60″ that has a two-ply construction and is well textured to avoid its users from slipping away. Music lovers have an additional reason to love ProForm Pro 2000 as it has inbuilt speakers that can play your workout music to keep you motivated.
Pros
Folding treadmill with EasyLift assist technology.
Programmed with 32 trainer workout modules to assist you effectively in achieving your training goals.
ProShox™ cushioning technology to reduce the post workout painful effect by cushioning your walk.
Heart rate monitoring through grip sensors.
iFit Technology.
High quality spacious running belt, 60 inches long and 22 inches wide.
Intermix Acoustics 3.0 iPod/ MP3 compatible sound system.
8″ Cooling fan with three speeds settings.
High Weight Capacity of 350 lbs.
Lifetime Frame and Motor Warranty, a 5-Year Parts Warranty and a 2-Year Labor Warranty.
Cons
ProForm's customer service is described to be slow by customers.
You need to spend extra 99$ from your pocket for iFit monitor (You can also use your tablet instead).
Motor: 3.5 CHP.

Incline: -3 – 15%.
Speed: 0.5 – 12 mph.

Dimensions: 80″ L x 39.5″ W x 63″ H.

Folding: Yes.
Running Area: 20″ W x 60″ L.

Max. User Weight: 350 lbs.

Treadmill Weight: 291 lbs.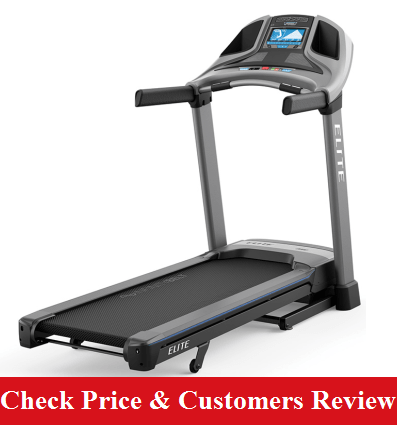 Horizon Fitness Elite T7 is an affordable treadmill primarily for home use and is built to impress with its commercial level construction, a wide variety of workout programs, maintenance-free belt, and interactive features like ViaFit Connect and Passport Video.
This folding treadmill comes with hydraulic system that ensures a safe and comfortable folding and unfolding process with minimal effort. It boasts a 99.99% accuracy in heart rate monitoring with its free polar wireless chest strap. Its extra-wide 8.5" extra-wide blue LCD displays the workout session data such as pulse rate, time spent, distance covered, incline, calories burned, and speed.
For a more personalized and efficient training session, T7 comes installed with 40 workout programs. These programs are coded with a focus on calorie burn, step goals, and distance. Additionally, you can create and save 2 more personalized programs.
The T7 can be effectively used for both running and walking sessions on its 20″ x 60″ running belt and is fitted with a maintenance-free 3-Zone Variable Response Cushioning so you can focus entirely on what actually matters with ease. The T7 running belt is propelled by a 2.75 CHP motor which functions smoothly under a weight of up to 350 lbs and can go to a maximum speed of 12 mph. The deck can be inclined up to 15% to add additional intensity to your workout programs.
In line with the functionalities of other treadmills, Horizon Fitness Elite T7 has been featured with Wi-Fi connectivity that can be used to sync and communicate with other mobile devices and internet. Being equipped with passport video feature, it makes your cardio sessions exciting and fun by playing HD videos of famous destinations from around the world such as California's Death Valley. The video even responds to your walking speed and intensity to provide you with a feel like you are actually running out in those places.
The last thing about this heavy duty machine is that it has an adequate entertainment system comprising of two large speakers and music port for iPod or any other MP3 Player. Other than that, it has two beverage holders and a fan to keep you cool while you are working out on the treadmill. It comes with a lifetime warranty on frame and motor, 5-Years warranty on parts and 1-year warranty on labor.
Pros
Folding treadmill with hydraulic system to ensure a safe folding and unfolding process with minimal effort.
Maintenance-free running belt which does not requires to be waxed.
Energy saving feature which makes it go into power saving mode 15 minutes after you stop using it.
Passport video ready treadmill that offers user with virtual running experience.
Its belt is featured with three-zone cushioning for your longer yet comfortable training sessions.
iPod/ MP3 compatible sound system.
With its ViaFit Connect feature, you can connect your smartphone to treadmill for tracking your workout data.
Additional features like two beverage holders and a fan to keep you cool while you are working out on the treadmill.
High Weight Capacity of 350 lbs.
Lifetime Frame and Motor Warranty, a 5-Year Parts Warranty and a 1-Year Labor Warranty.
Cons
Johnson Health Tech has told us that they have drastically improved their customer service from the recent issues that were reported by customers but we still would like to make note of it.
Motor: 2.75 HP.

Incline: 15%.
Speed: 0.5 – 12 mph.

Dimensions: 77″ L x 36″ W x 60″ H.

Folding: Yes.
Running Area: 20″ W x 60″ L.

Max. User Weight: 350 lbs.

Treadmill Weight: 227 lbs.
Still confused in making a choice read the full review of "Horizon Fitness Elite T7 Treadmill".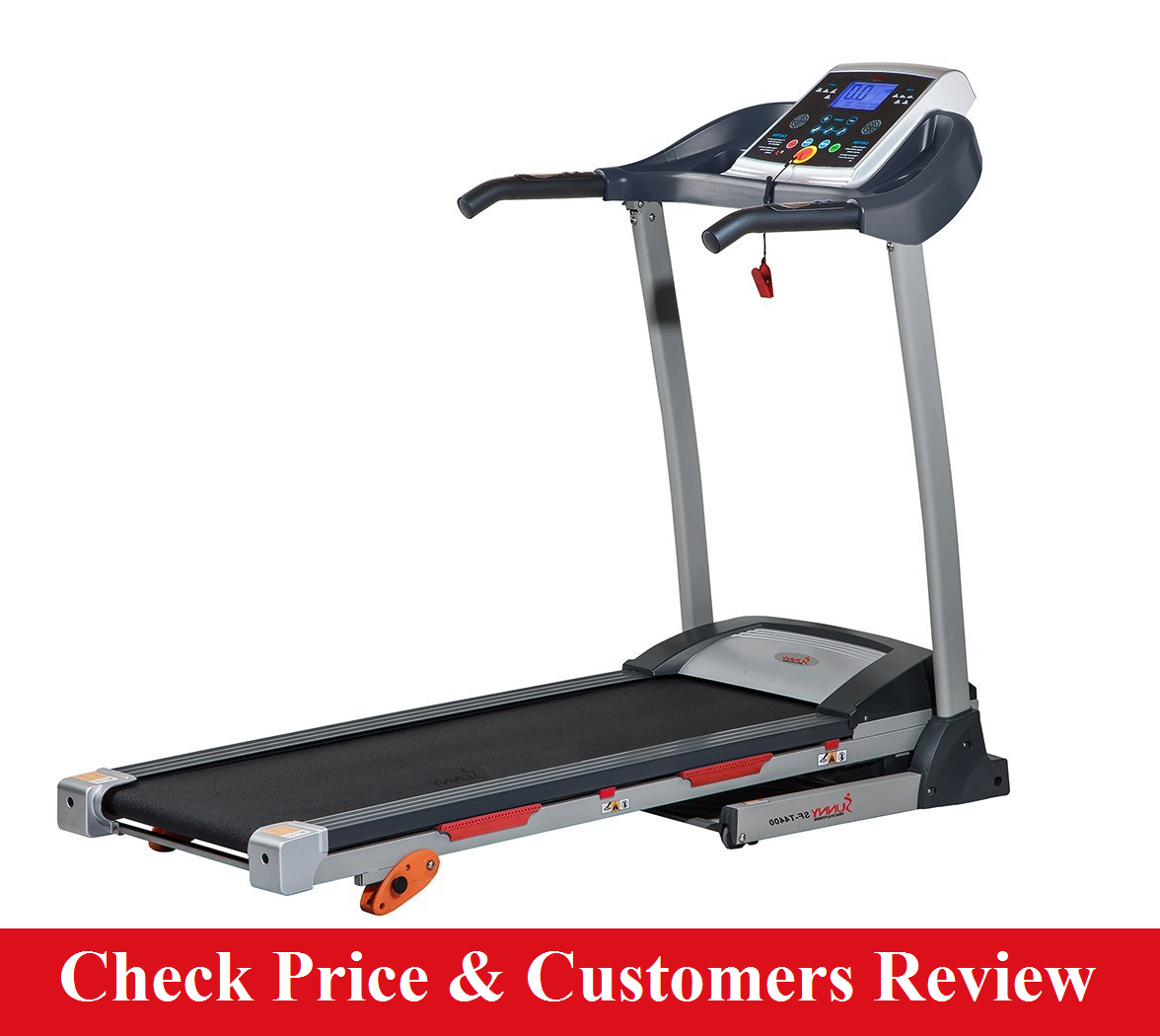 Sunny Health and Fitness SF-T4400 is an inexpensive treadmill enriched with useful features for a cardio workout and weight loss training. Despite being a low-priced fitness machine, it brings with itself all the essential elements that its competitors hardly match up with.
It sports a modern look with black plastic foot rails, grey tubular steel frame, and console guards. Its large LCD screen presents the workout data such as distance covered, calories burned, speed and time elapsed.
SF-T4400 comes with 9 pre-defined workout programs along with the manual mode that guides you through to reach your fitness goals. As an added feature, it also calculates your BMI (Body Mass Index) to analyze your body fat. The handrails of this running machine are embedded with hand grip pulse monitors to monitor your heart rate.
The SF-T4400 treadmill has the options to manual incline it by up to 5% that consequently adds an uphill training session to your regular workout. The treadmill is powered by a 2.2 peak HP motor that operates noiselessly and efficiently while carrying a maximum weight of 220 lbs and works at 0.5-9 mph speed, giving you the freedom to choose your suitable pace.
It is compact and conveniently portable, weighing 103 lbs, which allows it to be either transported to a different place or stored by folding, effortlessly. Moreover, there is a phone/tablet holder and a safety stop feature.
Pros
Folding treadmill with Soft Drop System for hassle-free folding and unfolding every time.
9 pre-defined programs along with manual mode to assist you in achieving your health goals.
3 easy quick speed buttons, using them you can easily switch from walking, to jogging, to running.
Shock absorption system to allow user to workout longer and feel less fatigue in legs, joints, knees and body.
Hand grip pulse monitor.
Speed control buttons are provided on handrails and console both.
With built-in controls on handrail you can easily Start/ Stop and adjust your speed.
Built-in transportation wheels for easy relocation.
Cons
Like most low-budget treadmills this Sunny model has a narrow and rather short track of dimension 15.75″ x 48.82″ which may create problem for tall user.
The product disappoints with its shorter warranty of 3 years on frame and 90 days for other parts and components.
Motor: 2.20 HP.

Incline: Manual Incline.
Speed: 0.5 – 9 mph.

Dimensions: 65″ L x 28″ W x 12″ H.

Folding: Yes.
Running Area: 15.75″ W x 48.82″ L.

Max. User Weight: 220 lbs.

Treadmill Weight: 103 lbs.
Still confused in making a choice read the full review of "Sunny Health & Fitness SF-T4400 Treadmill".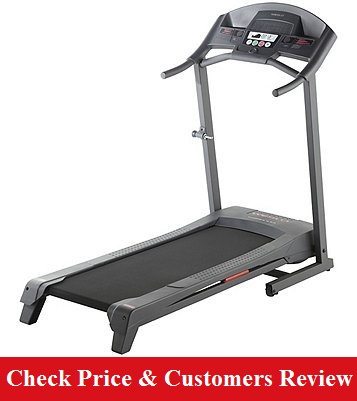 Weslo Cadence G 5.9 is a reliable entry-level home-use compact treadmill to suit the requirements of fitness enthusiasts, especially starters. It is a best seller product due to its insanely affordable price and its sleek size with folding feature makes it a real space-saver.
Cadence G 5.9 comes programmed with six personal trainer workout programs to help you achieve desired health goals. With blue-tinted LCD readouts, you can keep an idea of your daily progress. It displays calories burned, time elapsed, distance traveled and speed.
At such an affordable price, this treadmill also includes a heart rate monitoring feature to measure your heart rate in real time. Cadence G 5.9 can be inclined manually at two positions to increase your metabolism rate even more. It can only support your walking and jogging sessions, not the running due to its track size, top speed, and horsepower restrictions.
Its "comfort cell cushioning" keeps your body weight distributed normally and thus supports your joints and knees. With a decent 2.25 HP motor giving you a max speed of 10 mph, it adequately fulfills the needs of a regular workout session on its 16 x 50 inches of the running surface. G 5.9 weighs 117 lbs and can be moved around with ease.
Pros
Can be easily folded to free up even more space after you are done with your work out.
Provides all the amazing features of high end treadmills at such a nominal price.
Heart rate monitor to monitor your heart rate during workout.
Six workout programs to ensure you efficiently achieve your targeted fitness goals.
Ultimate comfortable cell cushioning feature makes it easier for one to walk, run or jog intensely without worrying about the adverse impact on joints.
Cons
Only meant for walking and jogging not running.
G 5.9 comes with a short warranty period of one year for motor. Service and parts warranty are only for 90 days.
Motor: 2.25 HP.

Incline: 2-position manual incline.
Speed: 0.5-10 mph.

Dimensions: 64″ L x 24″ W x 55″ H.

Folding: Yes.
Running Area: 18″ W x 54″ L.

Max. User Weight: 275 lbs.

Treadmill Weight: 119 lbs.
Compact Treadmill – Buyer's Guide
Compact treadmills are designed to save your home space with an added portability. So if you are planning to get one, do consider the treadmill with respect to its measurements. Check if it will fit easily with a sufficient clearance on its sides and back in your room.
Additionally, pay heed to these essential factors before swiping your card:
Folded and Un-folded Size: Check if the unfolded dimensions of the compact treadmill suit your room area and at the same time if treadmill folded dimensions suit your storage area.
Track length: For individuals with a short stride, a smaller treadmill easily works but for the taller ones with a long stride, the running surface length may be a thing to consider.
Varied functionality: Choose the one that won't go obsolete after you reach your optimum fitness level. It should have the functionalities to support your growth even then with its variable incline features, workout programs, and speed.
Durability: A compact treadmill with a high-quality construction, premium componentry, and safety features can keep fortifying you for a long time without any malfunction.
Conclusion
The person living sedentary lifestyle becomes highly vulnerable to the life-threatening diseases which demand a fairly large portion of their savings for their treatment. Not only this but one should also calculate the time that is spent on the treatments keeping one away from job and earnings. A cascade of unfortunate events kicks in as soon as one's lose good health.
Activities like running an hour on treadmill can save us from adverse effects of sedentary lifestyle. Moreover one can run on treadmill whenever they want, irrespective of extreme weather conditions outside. So its better to dedicate some of our's precious time towards our health and fitness as its said "Health is better than Wealth".
Summary
Reviewer
Review Date
Reviewed Item
Author Rating