*TreadmillReviewGuru helps consumers find the best home fitness products. When you buy a product we recommend, we may earn a commission.
Last Updated: June 17, 2021
We are excited to review the ProForm City L6, a new foldable treadmill in ProForm's compact lineup. Rather than simply fold up like other treadmills, the City L6 console collapses down onto the deck so it folds flat. This is the slimmest folded treadmill we've seen from ProForm. This compact treadmill is perfect for college students, those who share a room, or anyone in a small apartment or other compact space.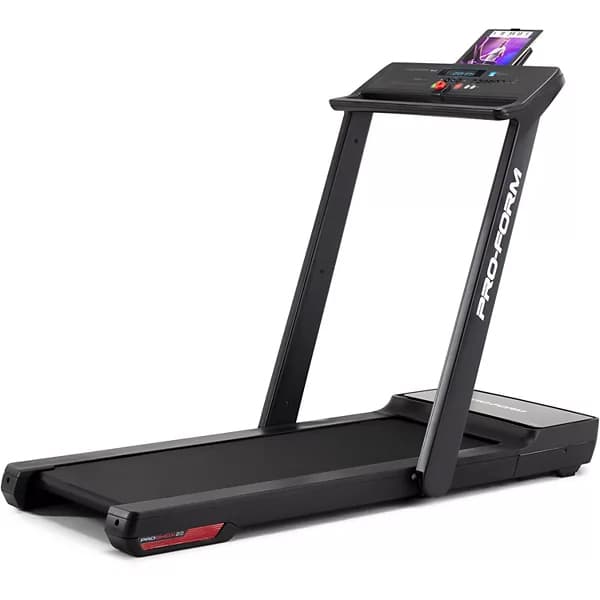 The City L6 is ideal for walking with a compact 45" by 17.5" deck, an 8mph max speed and no incline. The console shelf has touch buttons that light up to display your speed, setting, incline, etc. But it does not have a screen. Instead, users set their tablet on the console shelf and a USB port connects it to the ProForm iFit app. This way you can watch iFit classes on your tablet and get accurate metrics on the console. When finished, simply fold down the console shelf and the uprights, and the City L6 collapses flat. The City L6 only has a 1.6hp motor, so it may not work for all users. The 1-year warranty is a bit limited, but if you are in the market for something compact, chic, and unique, the City L6 may be just the right answer.
Who It's For: Walkers who want a fully collapsible compact treadmill that features iFit on a synched tablet or device
The ProFormCity L6 is best for users who:
Need something compact that folds flat when you are done walking
Are okay with a modified console that doesn't have a screen but lights up to display a few workout metrics and provides a shelf for your personal tablet
Users who may live in an apartment, condo or shared room
Plan to mostly walk or jog with a 8mph max speed
The 45" by 17.5" track size may not be sufficient for larger users
Pros
Console and uprights fold down directly against the frame
Quiet motor
Great for walking
Perfect for apartments, condos or shared rooms
Syncs with the ProForm iFit app on your tablet or phone
Cons
Does not have a screen
Limited 1.6HP motor may not support running – best for walking only
May not be large or powerful enough for larger users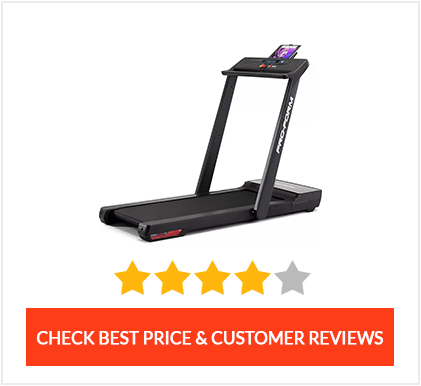 ---
Collapsible Uprights and Console

The ProForm City L6 has a fully collapsible console and uprights that will fold down directly against the frame. This allows you to lift the console and lock it into place when it is in use, but then fold it up when you're done.

250lb Weight Capacity

The ProForm City L6 only weighs 125 pounds, but it can support 250 pounds. This makes it work for larger users who need a folding treadmill.

45" Long by 17.5" Wide Running Surface

This is a folding treadmill and the 55" long by 20" wide deck provides enough room for a comfortable walking City L6. Petite users may have enough room to run, but the deck is a bit small for larger users.

Composite Frame

The City L6 has a composite frame for added cushioning underfoot. While this isn't the most cushioned treadmill, it does offer respectable support for something so compact.

Clean, Simple Backlit Screen

The simple console syncs with your tablet to display the ProForm United app. The convenient display shelf is easy to see and reach while you're on the City L6.
Construction:
Open Dimensions: 29" Wide x 70.25" Deep x 44.5" Tall
Frame-balanced elastomer deck for impact absorption
Running Surface: 45″ L × 17.5″ W
8mph Max Speed
1.6 Continuous power, Energy Efficient Motor
Treadmill weight: 125lbs
Maximum weight capacity: 250lbs
Console:
Syncs with ProForm Fit app on phone or tablet
Backlit screen displays running metrics
Folds flat when not in use
Console shelf holds your tablet or personal device
Functionality:
Speed: 8 mph
Easy Folding
No Incline
Great for walking
Warranty:
10 year frame warranty
1 year parts & labor warranty
In-depth Review of ProForm City L6 Treadmill
---
City L6 Functionality Review
Based on its size and simple console, the ProForm City L6 is best for walking, jogging or light running. It works especially well for petite users or those who live in small spaces. ProForm's iFit app adds value as well since you can view different workout classes on a tablet which keeps the console simple and lightweight.
ProForm iFit Membership
The ProForm iFit app streams across all ProForm devices so if you already have a piece of ProForm equipment, one subscription will cover all your ProForm machines.
Studio-based classes: bootcamp, interval training, and combo routines that alternate strength training with running segments. The trainer provides direction as he/she works alongside you and other participants in the studio. iFit automatically adjusts the speed and incline for you at the direction of the trainer. (You can override this at any point — just hit any QuickControl speed or incline button to adjust as needed.)
Walk, Run or Hike in any number of exotic outdoor locales. I joined the program: Hannah Eden takes Iceland which includes ten runs of varying lengths through the Icelandic Mountains. You follow along on the treadmill as she navigates the real terrain just ahead of you. The treadmill automatically inclines and declines to match the actual grade as you run. The scenery is breathtaking and Eden does a good job of keeping it interesting (while also managing to run and breathe).
Off-the-treadmill classes are also available. Log into iFit from any tablet or computer and from the Main Menu bar, select the "Daily Workout" tab. It will bring up class options like: kickboxing, yoga, HIIT, dumbbells or Fit in 15 (for when you only have 15minutes). You do not need to be by your treadmill to access these classes, which means you can use iFit even while traveling.
Classes are led by a personal trainer in real locations. Recently, I did a 30-minute interval class and the time flew by! The treadmill automatically adjusts incline and speed so you can run hands-free. I also enjoyed an outdoor Sedonia run through the red hills of Arizona. I followed virtually as a trainer navigated the route, guiding with helpful tips and pointers as we went along.
Increased Training Variables: One of the benefits of having so many training options is that you can integrate variability into your training without having to go to a gym. You can easily incorporate drills such as rolling hills, intervals, speed, steep grades, etc. Yoga and stretching help keep you flexible and strong to avoid that dreaded tight IT band. In my opinion, iFit is definitely worth the investment.
Noise Level
The ProForm City L6 belt moves smoothly across the deck and even when running fast it isn't overly noisy. Balanced with the added cushioning, the belt produces minimal track noise. I wouldn't categorize this as a noisy treadmill by any means, but since it is a little lightweight, there is a bit of impact noise if you run. This tends to be a bit more noticeable with heavier users.
Moving / Folding
The folding capacity of the ProForm City L6 is one of its most unique features. To fold the City L6, squeeze the two levers on the underside of the console to release and fold it down flush against the uprights.
With your foot, press down on the red lever on the left side of the deck and the uprights will release to fold down and rest upon the deck. In this position, the uprights and console should rest securely against the deck. The width and length do not change when it is folded.
ProForm City L6 Construction
Frame
Since the City L6 has a unique folding frame, the overall structure is different than you'll find on other treadmills. The deck is one solid piece and feels stable.
Underneath, a cross beam with wheels on the bottom raises the deck when it's inclined. This is not as secure as the incline on heavier treadmills, but it works okay. Occasionally, our larger treadmill reviewers felt like the deck would shift side to side when it was inclined. If you walk in the center of the deck this isn't an issue.
There is a bit of shock absorption which helps mitigate impact forces you find when running or walking outdoors.
Deck
Cushioning/Feel

You get a bit of cushioning here, which is nice considering the size and folding capacity. It is sufficient for walking but may not be enough for extended running.

Length/Width

The 45" long belt on the ProForm City L6 is long enough for walking and some jogging. It may not be long enough to taller users or for those who plan to run long, fast speeds. Side rails on the City L6 are sturdy black plastic and offer a nice width when stepping off the belt. The deck is 17.5" wide which is plenty for walking and jogging.
Motor
The ProForm City L6 has a 1.6 horsepower motor. This is not the most powerful motor, but for walking or jogging you don't really notice. I didn't feel it lagged or had trouble keeping up. Longevity could be an issue – especially if you have multiple users. However, the motor seems to keep up fine and is nice and quiet. You won't disturb those around you with extra motor noise while you use the City L6.
City L6 Console/Controls
Console
Innovative engineering went into the design of this console. While it doesn't have a screen, the digital numbers are large, bright and easy to see. I am frankly impressed with how ProForm has included necessary metrics and a few buttons while still keeping the screen clean and user friendly. If you do set a tablet or iPad in the center, your incline and speed metrics are still visible on the outside edges of the console. I found the console to be responsive to the touch.
Layout
Program Button

There are several preset programs on the City L6. These are clearly displayed in the center of the console.

Mode

This allows the user to set a countdown program. You can set a maximum time, distance or calorie goal and the City L6 will continue to run until you meet that goal.

Start/Stop (Pause)

If you want to pause a workout, hit the Stop button for up to a 10 minute pause. After that the screen will default to sleep mode.
If you hit the Stop button, the speed and incline will automatically reset to 0.

Distance

Distance is recorded as you run or walk. You can change this from kilometers to miles if desired.
Fans/Other Accessories
There is not a fan on the City L6 console. But there are two pockets on either side of the console. One will hold a small water bottle and the other will hold a phone.
Storage
There's very little storage on the City L6. You won't really need it since this is designed to be used at home so you can set any valuables close by on a side table or dresser. However, not having a tray that spans under the console makes the uprights a little wobbly. Often, a centered tray just below the console adds stability. While it's nice that the uprights collapse down on the deck, they don't feel quite as sturdy as other treadmills.
---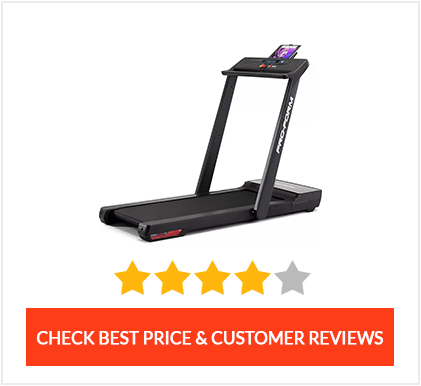 ProForm City L6 Bottom Line Review:
The ProForm City L6 has an innovative design that will make it work well for those who need a treadmill that folds up compactly when you're done with your workout. ProForm has engineered this treadmill so the uprights and console fold flat against the deck. This makes it so users who live in a small space can still get the benefit of a home-use treadmill. The City L6 only weighs 125lbs, which is very light for a treadmill. We also like the simple design of the console shelf with backlit numbers and room for your tablet. You can use the ProForm Fit app on your tablet and it will sync with the City L6. The limited power 1.6HP motor may not support running so this treadmill is best for walking. ProForm claims the City L6 will support up to 250lbs, however, larger users may find the limited motor and small track size to be limiting. We recommend this to smaller users who mostly plan to walk or lightly jog. We are excited to see innovative engineering and impressive functionality on such a compact treadmill!