*TreadmillReviewGuru helps consumers find the best home fitness products. When you buy a product we recommend, we may earn a commission.
Last Updated: January 5, 2023
What to look for when buying an Exercise Bike, from the experts at TreadmillReviewGuru.com
Exercise bikes for home use have become popular in recent years thanks to updated tech and integrated content. Once upon a time, exercise bikes were boring, utilitarian, and mostly enjoyed by cycling enthusiasts during the off-season. Currently, there is an exercise bike for every home and user with various tech options, subscription content, and improved geometry.
When looking for the best exercise bike, there are a few key points to consider. First of all, make sure to get a bike you like! We often see people buy fitness equipment because it's on sale and not because it has all the features they want — which invariably leads to it holding coats in the garage. Even inexpensive exercise bikes are a few hundred dollars, so this is a big investment. Do some research to determine the key features and components you want – price it out – and then select the option best suited for you. Fortunately, we have created a guide on how to buy an exercise bike and everything you need to consider before purchasing one for your home.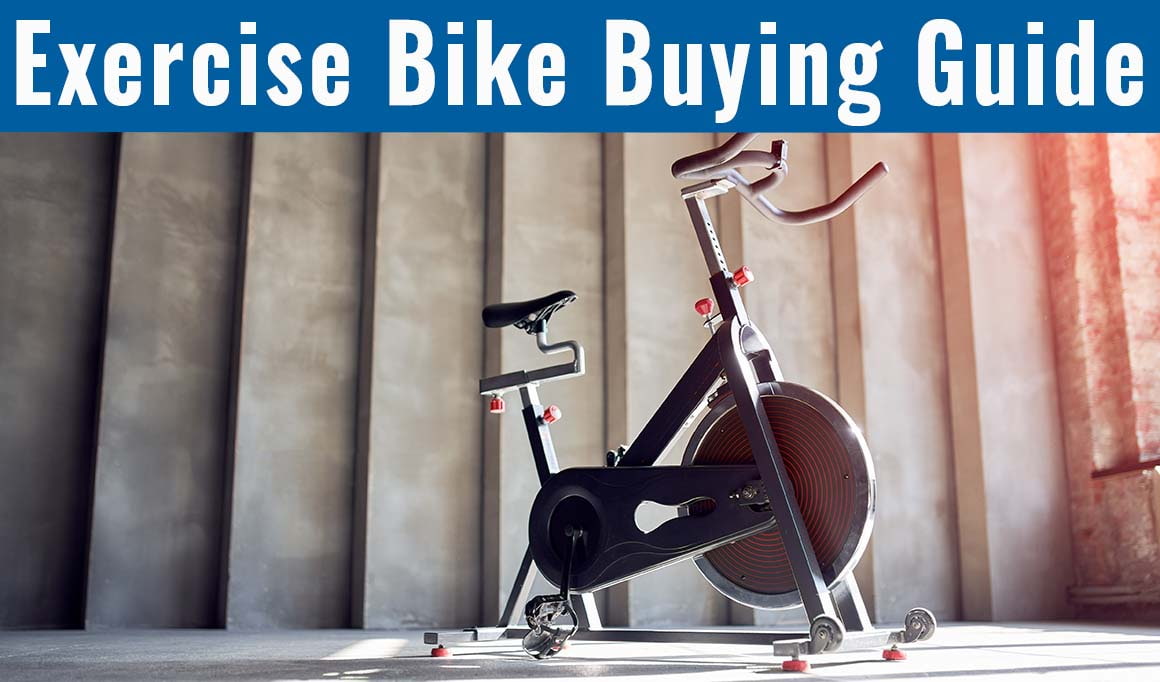 Table of Contents: What To Consider Before Purchasing An Exercise Bike
What To Look For When Buying An Exercise Bike
If you are planning to buy a bike to ride at home, take into consideration the following features.
Frame Size
Not all bikes offer the same feel while riding, nor are they all equally suited for various riders. Check out the geometry of the frame to verify you can adjust the seat height, handlebars, and other features that matter to you. Some riders are very particular about the Q-factor, while others don't even know what that is. (For reference: the Q-factor is the distance between the pedals.) Some riders prefer to ride more upright, so you'll want to make sure the handlebars lift high enough. Taller riders will want to verify the seat raises enough for an appropriate leg span. Shorter riders need to verify the step-over height and minimum seat height. Most exercise bike websites contain a "spec sheet" that will list all these specifications. We include information about frame size and adjustment points in our reviews.
Adjustment Points
Most exercise bikes allow for at least two, usually three, and sometimes four adjustment points. These are areas on the bike where it can be adjusted to fit different-sized riders. A bike with two adjustment points will allow you to raise and lower the seat, and raise and lower the handlebars. Three adjustment points typically include raising and lowering the seat, sliding it forward and back, and raising and lowering the handlebars. A bike with four adjustment points allows riders to raise/lower the seat, slide the seat forward/back, raise/lower the handlebars as well as slide the handlebars forward/back. Most bikes we review have three adjustment points: two for the seat and one for the handlebars. If you are between 5'4" and 6'2" most bikes will fit your size. Riders taller or shorter than that may need special adjustments to find the right fit.
Saddle Comfort
This is hard to determine if you are shopping online. We recommend reading reviews, blog posts, forums, and social media pages to get feedback from actual customers. Saddle comfort is a primary concern for us here at Guru, so each of our reviews will include an overview of saddle comfort.
Pedal Options
If you like to ride in cycling shoes, look for a hybrid pedal. Hybrid pedals include SPD clips on one side with a flat pedal surface on the other. Hybrid pedals will work with any athletic shoe or a cycling shoe. This is our recommended pedal since it provides different options. Lower-end bikes will often just have a standard flat pedal that doesn't accommodate cycling cleats. Peloton is the only bike we've reviewed that only works with a Delta LOOK cycling shoe and cleat.
Subscription Content
Exercise bikes with touchscreens are all the rage. Peloton re-invigorated the market with an attached touchscreen that features subscription cycling classes. Since then, many companies have added screens to their bikes. If you buy a bike with a screen, be aware that you cannot watch TV, Netflix, or browse the internet on the attached screen. Most bike screens are designed to display only that manufacturer's training app. Studies on engagement indicate that users are more likely to ride regularly when a bike includes a screen with frequently updated subscription content. However, there is an added cost usually between $20-$40 per month for subscription content. We review the value of each subscription in our bike reviews, so make sure to check this out when considering the right bike for you.
Different Kinds of Exercise Bikes
There are several different types of exercise bikes riders can choose from. Different bikes will appeal to different riders depending on your height, the type of riding you enjoy, and any mobility issues.
Spin Bike
This is a traditional exercise bike that will look familiar to most riders. A spin bike often resembles a regular bike, with a narrow seat, front-mounted flywheel, and multi-position handlebars. We recommend this style of bike if you enjoy regular spin classes at the gym. Spin bikes may require the rider to lift a leg up and over the bike. Riders sit upright with the hips directly over the pedals. For some riders, this can be a slightly hard bike to get up on, so be aware that some knee and hip flexion is required to get on this bike and ride correctly. Spin bikes are popular because they resemble a regular bike and feel very similar to riding outdoors. These bikes have also become popularized through spin classes taught at specialty and big box gyms. Spin bikes tend to have heavy, weighted flywheels, a narrow, racing-style saddle, and adjustable resistance. These bikes are excellent for weight loss due to the high-calorie burn that is possible in a single class. However, they can be difficult to get on and off and elevate the rider enough that those with balance or vertigo issues should probably not opt for a spin bike.
Upright Bike
An upright bike is similar to a spin bike except the pedals and seat are usually a bit lower with the handlebars elevated. This allows riders to sit upright, in a more vertical position with the torso elevated. This enables better breathing and a more comfortable position. Also, upright bikes may be easier to get on and off depending on how low the pedals are to the floor. Upright bikes are good for older riders who still enjoy riding but may have limited mobility or who don't enjoy being hunched over while riding. An upright bike allows for better air flow through the lungs. However, due to body position, it can be difficult to achieve the same amount of high-intensity exercise you'll find on a spin bike.
Recumbent Bike
Recumbent bikes are substantially different with a dropped seat that sits back behind rather than over the pedals. This reclined position is much better for anyone with limited mobility and often these bikes are designed as "rehab" bikes for those with injuries because they are easy to get on and off. We recommend recumbent bikes for seniors and those who prefer to sit lower on a wide saddle with a full backrest. You won't be able to attain the same calorie burn on a recumbent bike due to your body position; however, it is more comfortable and more stable than a traditional spin or upright bike.
Air Bikes
Air bikes have large fans attached to the front. When you use the bike, air is sucked into the fan which creates tension. Air bikes are known for being effective for conditioning because they give the rider unlimited resistance. You can't outwork an air bike. Many air bikes have long movable handlebars that move in conjunction with the pedals. This gives you a total body workout. You can also do targeted training to work just your lower or upper body, as well. Air bikes are commonly used in competitions like the Crossfit Games, and can be found in commercial and home gyms. They're intended more for shorter periods of time because of the high intensity workouts they provide.
How Much Room Do I Need for an Exercise Bike?
Most exercise bikes don't take up much room. Aside from a bit of headroom for when you stand, most bikes will fit in a rather small space. The Bowflex Velocore needs more lateral room and a bike such as the Nordictrack s22i that inclines may require more headroom. We recommend all buyers verify space requirements with each manufacturer. However, in general, exercise bikes are a great option if you have limited space.
In order to verify your space, we recommend measuring the following areas:
Measure your ceiling height
This will help you verify you'll have enough headroom when you stand on the pedals. Typically, when standing, your body is elevated to the height of the lower pedal.
Don't place your bike right next to a closet, door, window, or blinds.
Many times, people don't realize that when riding an indoor bike, you will move around a bit. Closet doors that swing or accordion open can impact your bike, denting the bike or damaging the door.
A window may create a reflection on the screen of a bike. If the window opens inward, glass panes may jut into the room, so verify you're not too close to a window.
Blinds are something most people don't think about, but the hanging cord from a blind can be very dangerous. Make sure you're not anywhere near a hanging cord, drape, or blinds while riding.
Check your internet connection
If you plan to buy a bike with a screen, be aware that all content is streamed, not downloaded. This means that each class or program will be streamed each time you watch it. The best way to determine if your internet signal is strong enough is to take an iPad or tablet into the room you plan to use your bike and stream a video via NetFlix or another service. If you are able to stream it easily without any buffering or other delays, then your signal is probably strong enough. If not, you can use an extender or other way to enhance the signal in that particular room. Using a bike in a garage or basement may limit your internet connection.
Exercise Bike Resistance Types & Noise Ouput
In general, exercise bikes are one of the quietest types of exercise equipment you can buy. However, sometimes they make more or less noise based on the following features.
Magnetic Resistance
Magnetic resistance is typically quieter than friction resistance. Magnetic resistance is created by magnets that oppose the rotation of the flywheel so there's no rubbing or friction. Sometimes there may be a slight motor noise while the magnets move closer to or away from the flywheel, but this only lasts a few seconds. Magnetic resistance is relatively silent.
Friction Resistance
Friction resistance will generate a bit more noise due to the way the friction pad rubs against the flywheel. Most often this is substantially quieter than a treadmill, rower or other machine, but it can be noisier than magnetic resistance, especially as the pad starts to wear out. You may get a squeaking noise as the pad wears thin.
Chain Drive
A chain drive connects the crankset to the pedals. As you rotate the pedals, a chain moves the crankset which turns the flywheel. A chain is inherently noisier due to the nature of the metal links. With time, a chain drive can rattle or get noisy.
Belt Drive
A belt drive functions identical to a chain drive, except the belt is made of hard rubber rather than steel and therefore it's much quieter than a chain. It also doesn't require lubrication or other maintenance.
General Price Range for Exercise Bikes
Exercise bikes can be found in all kinds of price ranges. Typically, bikes with attached touchscreens are a bit more expensive than those without. Another factor in price to consider is that if the exercise bike comes with a monthly subscription, this will be a cost on top of the price for the bike itself.
Under $1000
There are definitely some quality bikes in this price range. Although the ones that we recommend don't come with included screens, most have device trays where you can place your phone or tablet and stream whatever you want.
For under $1000, we really like the Bowflex C6, as well as the SB700 and SB900 from Sole. You won't sacrifice quality for price with any of these bikes.
$1000 – $1500
If you're looking for a bike with a little more tech but not the obligation of having a monthly subscription fee, then check out the Ride CX Bike from Life Fitness. It falls into this price range, and so does the ProForm Studio Bike Pro 22. This exercise bike from ProForm has a large touchscreen attached and is enabled to use iFit.
$1500 – $2000
Exercise bikes in this price range usually come with higher end features like the included touchscreen, but sometimes they come with even more features. The MYX II Plus is just over $1500 and includes the bike with the touchscreen and also extra equipment to make it more like a complete home gym. The new S22i Studio Cycle exercise bike from NordicTrack also fits in this price point and has a unique inclining feature.
Over $2000
The high end features and bikes continue to be found in this price range. The Velocore from Bowflex has an innovative tilting feature plus a large attached touchscreen. The Peloton Bike+ is also priced over $2000. Plus, if you're wanting a bike that really imitates your outdoor bike, then check out the Wahoo Kickr Bike that is priced well over $2000 as well.
What are the Benefits of a Touchscreen vs. Simple Computer Display on an Exercise Bike?
The content or lack of content on an exercise bike can really impact whether you use it or not. Both come with benefits, but it really comes down to your personal preference, which kind of display works best for you, and encourages you to ride often.
Simple bike computer, no touchscreen
If you like to zone out while you ride, and don't prefer taking a class led by an instructor, then bikes that have a simple console are a great pick. The display will often show your metrics like your speed, watts, and distance which are all great ways to measure progress. Plus, the added monthly subscription fee can be costly. If you do want some entertainment, you could point the bike in front of your television as well.
Hybrid console, computer display syncs with a tablet or other apps
There are also bikes that have a small and simple display, but they're bluetooth enabled to connect to your device. These give you a bit more flexibility with how you use it. You can connect to a third party fitness app, or stream whatever content you want from your phone or tablet.
Touchscreen with a monthly subscription
These exercise bikes are becoming increasingly popular. Virtual trainer-led classes are like taking a studio spin class from the comfort of your home. You'll get guidance from an instructor and even get to explore real outdoor locations all over the globe. The attached touchscreen is where the main functionality of the bike is, and to access the content you'll need to pay a monthly fee.
Subscription Options
Touchscreen exercise bikes often come with a specific app preloaded in the console. Apps provide integrated functionality like automated speed and incline controls and responsive heart rate training. A few of our favorites include:
iFit
Found on Nordictrack and ProForm machines. Offers indoor and outdoor biking routes, trail rides, gravel rides, etc. Routes are filmed all over the world, everywhere from Tanzania to Zion national park.
Zwift
A virtual reality app you can subscribe to and compete in bike races with other runners. This is not specific to any exercise bike, but a few exercise bikes will sync with Zwift including Sole and Horizon.
Peloton
Based in an indoor biking studio, the Peloton classes feature Peloton's famous instructors and personal trainers who guide you through various workouts. There are a few scenic rides as well as, although they're a bit limited.
Echelon
While not yet on par with iFit or Peloton, Echelon has improved its training content significantly in the past year. Like Peloton, all classes are currently based indoors but provide feedback and guidance as you ride.
Where To Buy An Exercise Bike
Exercise bikes are available at local sporting goods retailers and online. We typically recommend buying online, straight from the manufacturer. Exercise bike warranties are issued by the manufacturer – not the retailer – so even if you buy it at a store, any problems will have to be navigated through the manufacturer directly. In our experience, customers have a better experience when they order online from the manufacturer and register their product initially.
Many sporting goods stores, like Costco, and other retailers may also sell products they have on hand that are no longer available from the manufacturer. We recommend buying directly from the manufacturer so you get current products and updated models.
Frequently Asked Questions
Which Exercise Bike is Best for Weight Loss?
Typically, losing weight depends on if you are in a caloric deficit. If you are burning more calories than you consume, then you'll be in a calorie deficit. Riding an exercise bike can definitely help you burn calories to get to this, but it won't be the only factor that can help with losing weight. Spin bikes tend to burn the most calories over upright and recumbent bikes.
How to Lose Weight Using an Exercise Bike
While you may or may not see weight loss from using an exercise bike, because there are other factors that go into losing weight, riding one can certainly help improve your health. It will especially help strengthen your cardiovascular system. We recommend using an exercise bike regularly to see these benefits. The U.S. Department of Health and Human Services recommends getting at least 150 minutes of exercise per week. This goal is a great place to start, especially if you're just beginning your exercise journey. Although some users may prefer working out more.
Will an Exercise Bike Hurt My Knees?
Most indoor cycling bikes have an optimized Q-factor which is the distance between both of the pedals. When the distance is within an optimal range, this helps to lessen strain on the joints and works to help keep them in proper alignment. In our reviews, we go over the bike's Q-factor. We also recommend looking into the Q-factor yourself when purchasing a bike.
We are not medical professionals, so if you are experiencing knee pain when riding or if you have knee problems and want to start riding a cycling bike, consult your doctor. Riding an exercise bike is a lower impact activity, but it might not be best for some users.