*TreadmillReviewGuru helps consumers find the best home fitness products. When you buy a product we recommend, we may earn a commission.
Last Updated: July 8, 2023
Founded in 2007, Hyperwear is all about functional fitness for people who "take their training seriously". Hyperwear is based in Austin, Texas. The brand focuses on creating innovative, high-quality fitness equipment to strengthen your body during your workouts so you'll be stronger for your everyday activities.
What To Expect From Hyperwear
Hyperwear offers a wide range of equipment to use for functional strength training. Their equipment is versatile with an unconventional approach. Training indoors or outdoors is possible with equipment from Hyperwear. We love that this brand creates equipment that's tailored to you, and that you can use anywhere. From Hyperwear's wide range of weighted vests to SandBells and SandBags and SoftBell adjustable weights, the brand offers a unique array that's durable, safe, and capable of handling any type of workout you put it through.
---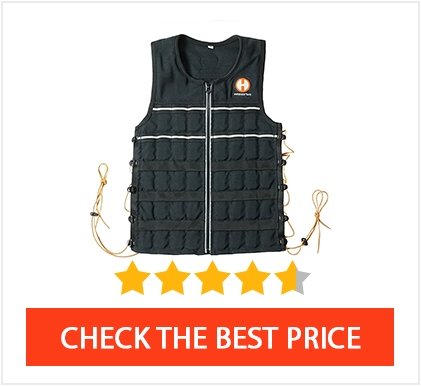 The Hyper Vest Elite is the type of weight vest that fits close to your body, so you don't have to wear weight that jostles around. It comes in four different sizes and 10, 15, and 20 lbs. This isn't the heaviest weight, but it's enough for most, especially if you would prefer not to modify your workout while wearing a weight vest. Throughout the entire vest, there are small pockets with individual 2.25-ounce weights for you to adjust. The small steel weights are evenly distributed on the front and back of the Hyper Vest Elite.
This adjustable-weight vest is designed to work for men and women. Our team's recommendation is to size up because they run a little small, but the lacing on each side lets you get a great fit. It also makes the vest more breathable, too. The zipper front makes this vest easy to get on and off.
If you're looking for a weighted vest that you can perform all kinds of workouts in, especially high-impact like running and jumping, the Hyper Vest Elite is what we recommend.
The Hyperwear Hyper Vest Pro is another weighted vest to consider. This adjustable weighted vest holds up to 10 lbs, comes in multiple sizes, and is unisex like the Elite. It's slim-fitting enough to wear with or without a shirt and appropriate for exercises like box jumps.
Hyper Vest Elite Specs:
Weight sizes: 10, 15, and 20 lbs
Unisex sizes
Sizes: small, medium, large, and extra large
Removable 2.25 oz weights
Material: Cordura fabric
Zipper front
Reflective flexible adjustable side-lacing
Warranty: 1-Year
Read the full Hyperwear Hyper Vest Elite Review Here.
---

Our pick for the best-weighted vest for women on our best-weighted vest list is the Hyperwear Hyper Vest Fit Weight Vest. This weight vest is specifically designed for female bodies. This weight vest is form-fitting and has the same material as the Elite, however, the weight is positioned differently. Instead of the weight being on the chest, it is evenly distributed across the abdomen and back. This way, you're not adding weight to an area where us ladies typically have more bulk.
The Hyper Vest Fit gives you a snug fit and holds 5, 8, and 10 lbs. The weights are removable and weigh ½ lb. They're made with recycled steel pellets. It comes in three sizes small, medium, and large. You can select how much of a load you want, too.
Although it does just come in 3 sizes, the adjustable lacing on the sides allows you to fit the Hyper Vest comfortably to you. Plus, the weights are placed on the inside of the vest in small individualized pockets, so you don't have to worry about the weights moving around when you do.
We love to see equipment specifically designed for certain users, and the Hyperwear Hyper Vest Fit is definitely our top recommended weight vest for women.
Hyper Vest FIT Specs:
Weight sizes: 5, 8, and 10 lbs
Designed for women
Sizes: small, medium, and large
Removable 0.5 lb weights
Material: Cordura fabric
Zipper front
Adjustable side-lacing
Warranty: 1-Year
---

If you're looking for a heavier-weight vest than the other options I've mentioned, then the Hyper Vest Tactical Weight Vest is for you. This Tactical vest is adjustable with ½ lb weights so you can adjust it for various workouts, including the Murph WOD challenge. This Hyper Vest can be purchased in either a 20 lb or 40 lb option. The vest alone weighs about 2 lbs, so in total, you could carry up to 22 or 42 lbs.
The individual ½ lb weights are made up of recycled steel shot and made in the United States. The vest even comes with a removable American Flag patch. The weights sit on the front and back of the Tactical Vest to be evenly disbursed. We really like the extra-padded shoulder straps that are adjustable for you to get a better fit. This weighted vest is one size, so having adjustable shoulder and belt straps around the waist, allows more users to use this vest.
The weights give a slight bend so you can fit this vest close to you for better balance and comfort. The 600D military-grade fabric is durable, breathable, and even washable. This way you can use the Hyper Vest Tactical Weight Vest for your indoor and outdoor workouts.
Hyper Vest Tactical Specs:
Weight sizes: 20 and 40 lbs
One size
Removable ½ lb weights
Material: 600D military spec outer fabric
Double-padded shoulder pads
Adjustable shoulder straps and belt strap
Included American Flag patch
Warranty: 1-Year
---

If you're looking for a safe, durable, and versatile sandbag and weight set, we recommend checking out the Hyperwear Workout Sandbags SandBell System. This sandbag can come with just the bag, or with various-sized SandBells to fill the sandbag with. At purchase, you can choose between 25, 40, 80, and 160 lb weight options.
The sandbag itself has multiple handles to use for various exercises. It's made from 1000D nylon that's water-resistant and durable. While Hyperwear doesn't recommend dragging the bag filled with weight across rough surfaces, we expect the sandbag to hold up when you're using it inside as well as outside.
Each SandBell can be used on its own outside of the bag or stuffed inside of the sandbag. The SandBells come in different weights and sizes. They're all made with soft neoprene material. By using these weights, you'll increase your grip strength too because it requires you to grip the outer edges of each weight when you're using them for certain exercises on their own without the sandbag.
The SandBells can also be purchased on their own. They are a great option if you're looking for safe weights that won't damage your floor. We recommend checking out the entire Sandbag SandBell System in order to get the most out of this equipment in your workouts.
Hyperwear Workout Sandbags SandBell System Specs:
Sandbag Can Be Purchased Separately
SandBell Weights Include: 25, 40, 80, and 160 lb Options
Bag Material: 1000D Water Repellant Nylon
SandBell Material: Soft Neoprene
8 Handle Zipper Sandbag
Color-Coded SandBells
Made With Clean USA Sourced Sand
Warranty: 1-Year
---

What we love about the Hyperwear Hyper Rope is that you can use it anywhere. It doesn't require being fastened to something, so you can use it in a corner of your gym, or outside. The anchor-free design is shorter than other battle ropes, so you don't need a lot of room to use the Hyper Rope. So, you can get a high-intensity workout in like you would with other battle ropes, without having to secure them to something or taking up a large amount of room in your gym.
The Hyper Rope comes in 20 and 25 feet lengths and only requires about 6-10 feet to use. It weighs about 15-19 lbs depending on which length you purchase. What I really like about it is the braided polyester fabric that doesn't feel rough on your hands. The material is soft and the battle rope is flexible so you can hang it on a hook, or coil it up to store it wherever.
This Hyper Rope comes with a year warranty and is durable to hold up with use. It's gentler on floors and won't make too much noise when using it. If you're looking for a battle rope to get in great cardio and strength training, check out the Hyper Rope at Hyperwear.
Another piece of equipment from Hyperwear that incorporates cardio and strength training is the Hyper Rope Weighted Jump Rope. This isn't your average jump rope from the playground, however. It is 7.5 lbs and the heaviest jump rope out there. It's made with a flexible metal core and braided polyester material so it feels soft and shouldn't damage your floors or hurt you, although it's tough to use and should give you a serious workout.
Hyper Rope Battle Ropes:
Available in 20 and 25 feet
Weight: 15 lbs (20 feet length) 19 lbs (25 feet length)
Made With Braided 100% Polyester and Weighted Flexible Metal Core
Only Requires 6-10 feet of Space
Non-Anchor Design
Warranty: 1-Year
---
Pros / Cons of Hyperwear Equipment
Pros
The equipment is unique, thoughtfully designed, and versatile.
You can use the equipment indoors or outdoors because it's durable and designed to handle both.
The equipment encourages functional fitness to strengthen your body for everyday activities.
The equipment is appropriate for strength training and cardio.
It is designed to work with you so you won't have a limited range of motion or feel constricted during your workouts.
Cons
A one-year warranty is only included with the equipment.
Some of the weight options are the heaviest.
Other Hyperwear Equipment
If you're looking for safe and versatile weights and weight sets for your home gym, then we recommend checking out Hyperwear's Free Weights. The weights themselves are soft and filled with sand so they're gentler on your floors. Plus, you can adjust for specific weights with the barbell weight set, dumbbells, and kettlebell.
Hyperwear also has different types of resistance bands at pretty affordable prices. For after your workouts, check out their Wellness Wearables which include a lineup of cooling vests and osteoporosis weight vests to enhance your overall health.
Overall Rating of Hyperwear Equipment:
Overall, we're impressed with the variety and versatility that Hyperwear's equipment offers. Anyone looking for functional fitness equipment will appreciate finding weighted vests, weighted ropes, sandbags, and sand weights that are specifically designed to work for every user. They're also designed to strengthen your body so you can perform better in your workouts and in your daily life. We love that the equipment can be used anywhere because it's made to last and doesn't require being used with other equipment or has to be fastened to something. It's customizable to work for most workouts so you don't have to worry about sacrificing your form or having a limited range of motion. If you're looking for fitness equipment that works for you, then check out Hyperwear.