*TreadmillReviewGuru helps consumers find the best home fitness products. When you buy a product we recommend, we may earn a commission.
Last Updated: August 23, 2023
Weighted vests are a great way to increase the intensity of your workouts, add progressive overload, and increase your cardiovascular endurance and strength. In this review, we tried out the Hyperwear Hyper Vest Elite. Not only is this weight vest unique, but it's very adjustable. Covering the front and back are small pouches containing small steel 2.25 oz weights that can be removed. The Hyper Vest Elite can be purchased in 10, 15, and 20 lb weights and it comes in 4 different unisex sizes. We love the front zipper design and elastic side lacing bands that give you a customized fit to your body. This is just scratching the surface of everything you should know about the Hyperwear Hyper Vest Elite, so let's get into the full review.
Why You Should Trust Our Review Of Hyperwear Hyper Vest Elite
Our team has tested all kinds of fitness equipment. Whenever we compile a full review, we make sure to not only use the product but to put it through vigorous testing so we can inform you of everything that you should know before you buy. So, when you read one of our in-depth reviews you can trust that we've used the equipment and that it displays our team's thoughts.
---
Pros
This is a very versatile weight vest that can be used for cardio and strength training workouts without limiting your range of motion in any way.
This weight vest is very adjustable to change the weight by 2.25 oz increments.
This weight vest fits really well for most people because of the adjustable side elastic lacing bands that also make it breathable.
It can be purchased in different sizes and weights.
The zipper front makes it easy to get on and off.
The small steel weights are evenly distributed on the front and back so you don't feel unbalanced or uncomfortable while working out.
Cons
The maximum weight might not be enough for some users.
It is pricy compared to other weight vests.
---
Specs
Available in 10, 15, and 20 lbs
Unisex Sizes: Small, Medium, Large, and X-Large
Adjustable With Removable 2.25 oz Micro Loading Steel Weights
Material: Cordura Fabric
Reflective Side Lacing
Zipper Front
Warranty: 1-Year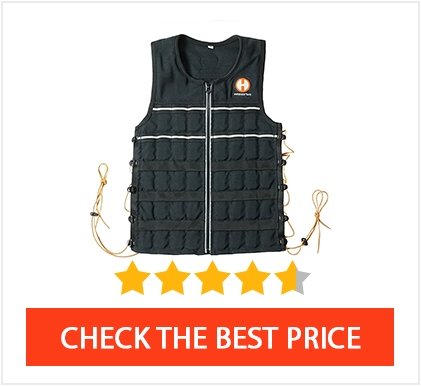 ---
In-depth Review of the Hyperwear Hyper Vest Elite
---
Construction
The overall construction of the Hyperwear Hyper Vest Elite is a little unique from most other weighted vests, especially plate carriers. First, this weight vest is very adjustable in both weight and fit. It also has a zipper front that makes it easy to put on and allows for a snug fit.
Adjustable Weight
The Hyper Vest Elite comes in 3 weight sizes – 10 lbs, 15 lbs, and 20 lbs. Something to make note of is that the size small only comes in 10 and 15 lbs. And you can buy an extra 5 lbs of weight separately to put in the x-large 20 lb weight vest to make it 25 lbs.
Something that I really like about this weight vest is that the weight is very adjustable. This way you can adjust and customize the weight to work for you.
By customizing the weight by 2.25 oz, you have a ton of range to work with within the 10, 15, or 20-lb weight sizes. This way you can incorporate micro-loading and progressive overloading into your workouts. While the maximum 20-25 lbs of weight might not be enough for some people, this weight range can work for many to help add intensity to runs, lifts, bodyweight exercises, and even walks. The Hyperwear Hyper Vest Elite has even been worn during Murph WODs which require a 20 lb weight vest for men and a 14 lb weight vest for women.
Material Quality
The Hyperwear Hyper Vest Elite is made out of Cordura fabric that feels pretty durable and light. Cordura is a blend of synthetic nylon that's waterproof and non-porous. This way your sweat isn't soaked into the vest when you wear it. You can also put the Hyper Vest Elite in the washing machine to clean it, just make sure to remove all of the weights first. And then lay it flat to dry.
The Hyper Vest Elite comes in small, medium, large, and x-large. There are elastic strings that lace up on either side of the vest so you can get a really snug fit.
The elastics adjust at the bottom. The ends of the elastics hang on either side of the vest, but you can tie or tuck them to keep them out of your way. I didn't find them to be in my way when running on a treadmill.
The elastics are very flexible, and so is the entire vest with its small pockets. Most plate carrier vests aren't flexible because they hold two steel plates that are large singular pieces. With this design, the Hyper Vest Elite allows for a closer fit that keeps the weight and the vest from bouncing around while you're working out.
I like the front zipper. It makes getting the vest on and off easy.
With this design, the zipper could break with use, but it held up well for us during testing, as did the elastics and the Cordura material.
A nice addition to the material is the reflective strips. There are strips along the zipper and across the chest of the vest, as well as across the top of the back. The elastics are also reflective and orange. The Hyper Vest Elite only comes in black with orange elastics.
Functionality & Performance
Compared to other weight vests we've used, the Hyperwear Hyper Vest Elite has a great fit. Hyperwear suggests sizing up because this vest runs small and we agree. I'm normally a size small and I found the size medium to fit well and snugly, especially once I tightened the elastic side laces.
Plus, the elastic sides let you get a close fit to your waist and overall body shape. The material feels strong and the vest actually feels like I'm wearing a sleeveless waterproof rain jacket that's you know – weighted.
With each side being cut out for the elastics, it actually makes the vest feel more breathable than if the Cordura material was on the sides as well. Having under my arms and along the sides of my waist exposed not only gives me a great range of motion for my arms, but it helps to add a little breeze while I'm working out.
Taking out and putting in the individual steel weights is a little challenging because they fit so snugly in each of the pockets. There is a top piece of fabric that folds over the tops of each pocket to keep the weights from falling out. Hyperwear includes a slim tool to help get the weights in and out of the pockets more easily. They even have a demo video on their website to show you how to use the tool. It's not impossible to get the weights out without the tool, but it is harder and more time-consuming to do.
Hyperwear also claims that each pocket can hold 1-2 weights. The pockets can hold 2 weights, but just like adjusting the weights, it can be hard to fit 2 in each pocket. With this option you not only can adjust the vest to a specific weight that works for you, but you can change the way the weights are distributed. I personally prefer keeping the evenly distributed which is easy to do because of the large number of weights and pockets.
We recommend the Hyperwear Hyper Vest Elite to most people who are looking to add a little more intensity to their workouts. With how snug the Hyper Vest Elite fits, it really is a great weighted vest for all kinds of workouts. This vest didn't jostle around while running and it didn't feel constricting or inhibit our range of motion during any kind of bodyweight exercises like pushups and situps. I also recommend the Hyper Vest Elite for outdoor workouts and even just to add some weight to your walks. It's comfortable, easy to clean, and extremely versatile.
It is a little higher in price than other weight vests on the market, but considering how well it fits most people with its various size options and adjustability, and with how adjustable the weights are, we think this vest is definitely worth the splurge.
Warranty
Hyperwear includes a 1-year warranty with the purchase of the Hyper Vest Elite.
Bottom Line Review: Hyperwear Hyper Vest Elite
Overall, we're really pleased with the Hyperwear Hyper Vest Elite. This is a very versatile weight vest that can be used for all kinds of workouts and exercises without inhibiting your range of motion. It comes in sizes ranging from small to x-large and in weight options from 10-20 lbs. The individual pockets on the front and back hold small steel 2.25 oz weight plates to evenly distribute the weight. They're removable so you can customize the weight to work for you, too. This weight vest is a little bit of a splurge and it doesn't offer as much weight as some plate carrier vests, but with how well it fits and stays in place while using it, we find it to be a great weight vest to check out.