*TreadmillReviewGuru helps consumers find the best home fitness products. When you buy a product we recommend, we may earn a commission.
Last Updated: August 2, 2023
With how many different types and brands of protein powder there are out there, it can be hard to determine which one is best. And if you're like me, reading nutrition label after nutrition label can leave me feeling frustrated and a little confused. One thing I try to look for in a protein powder is a quality protein that offers a high amount per serving and simple ingredients. Well, Naked Nutrition offers just that with their Naked Whey Protein Powder. Naked Nutrition includes real, simple ingredients with no artificial sweeteners, additives, or artificial colors. When you look at the nutrition facts on their protein powders you'll see short ingredient lists, quality protein types, and great protein, fat, and carbohydrate ratios. In this review, I'll share how Naked Nutrition Whey Protein Powder tasted, mixed, and worked for us so you can decide if it's the best protein powder for you. Not only is Naked Nutrition Protein Powder on our best protein powder list, but it is on our best keto protein powder list, too.
Why You Should Trust Our Review Of Naked Nutrition Whey Protein Powder
Whenever we review a piece of fitness equipment or product like protein powder, we use it. In order to compile thorough reviews, we have to have the product on hand to share our experience. In this review of Naked Whey Protein, you can trust that we've used this protein powder, as well as many others, to help us make an informed opinion about it. We have also used other products from Naked Nutrition like their vegan Naked Pea Protein Powder, so we know what to expect from the brand. Our team also consists of certified sports nutritionists who know what to look for in quality protein powders.
---
Pros
This protein powder includes 25 grams of quality grass-fed whey protein with each serving.
It is made with whey protein concentrate as the only ingredient.
There are no additives or artificial anything.
It has a low fat and carbohydrate amount to supplement your diet with mainly protein.
There are only 120 calories per serving.
It can be mixed with water, milk, a smoothie, or other beverages and food well.
It comes in flavors such as unflavored, chocolate, vanilla, and strawberry.
Cons
It might not be best for those who are sensitive to dairy or lactose.
It doesn't dissolve as well as other protein powders.
The "Grass Fed Whey Protein Powder" is unflavored and might not be some people's favorite tasting.
---
Nutrition Facts:
2 Scoops Per Serving
Calories: 120
Protein: 25g
Total Fat: 2g (0.5 Saturated Fat)
Carbohydrates: 3g
Total Sugars: 2g
Cholesterol: 50mg
Sodium: 45mg
Ingredients: Organic Grass-Fed Whey Protein Concentrate
Also Contains Milk
GMO and Soy Free
No Artificial Sweeteners, Flavors, or Colors
Certified Gluten-Free
Growth Hormone Free
Cold Processed
Acid and Bleach-Free Processing
Flavors: Grass-Fed Whey Protein Powder, Chocolate Whey Protein Powder, Vanilla Whey Protein Powder, Strawberry Whey Protein Powder
*Ingredients and nutritional information varies by flavor
*Comes in 1 lb and 5 lb tubs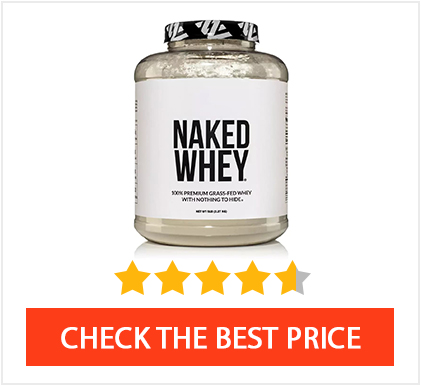 ---
In-depth Review of Naked Nutrition Whey Protein Powder
---
Ingredients
I really appreciate how committed Naked Nutrition is to including simple ingredients that are free of artificial crap. With how many additives and artificial ingredients are in other protein powders and just food nowadays, it is nice to have a brand dedicated to providing supplements and protein powders with quality ingredients.
The non-flavored Grass-Fed Whey Protein Powder has one ingredient which is – you guessed it – organic grass-fed whey protein concentrate. Whey protein is typically derived from cow's milk. Naked Nutrition sources their whey protein from grass-fed cattle at small dairy farms in northern California and Idaho.
The other flavors have a few more ingredients like organic coconut sugar, organic cacao powder, and organic dried strawberries to add flavoring to the protein powder. Naked Whey is soy, GMO, and gluten-free, as well as free from growth hormones and artificial colors, flavors, and sweeteners.
Nutritional Facts
One of the first things that I look at when purchasing and trying a new protein powder is the protein content. If I'm going to use protein powder to supplement my diet, I want it to have a high amount of protein per serving. Naked Whey has 25 grams of protein per 2 scoops (a serving), offering a good amount. I like to look for 25-30 grams of protein per serving, so this one hits that mark for me.
Another big factor is the amino acid profile. Amino acids are the molecules that form to create protein and a protein must have all 9 essential amino acids to be considered complete. Whey concentrate is a great source of protein because it contains all the essential amino acids that are needed in the body. Most likely if you're looking to take a protein powder, you want to maintain if not gain muscle, and whey protein is a great one to help you with that.
Naked Whey also includes 5.9 grams of BCAAs (branched-chain amino acids) per serving. BCAAs help improve your performance and can help aid in muscle recovery after working out.
Depending on if you're following a specific diet or tracking macros, you probably want to take a look at the fat, carbs, and sugar content, too. Naked Nutrition Whey Protein Powder has a low amount of fat and carbs, as well as sugars. All of the flavors include 25 grams of protein, but they vary a little bit in fat, carbs, sugars, and calories depending on the flavor you choose. The unflavored "Grass-Fed Whey Protein Powder" flavor contains the lowest amount of fats, carbs, sugars, and calories than the other flavors. The other flavors have a low amount of these too, though. So, if you're tracking macros or following the keto diet, this is a good protein powder to supplement without sacrificing your other macronutrients or pulling you out of ketosis.
Naked Whey also has a pretty low amount of calories per serving so I wouldn't recommend using it for a meal replacement, but rather just to supplement into your diet.
Flavors
When we ordered this protein, we didn't realize the "Grass-Fed Whey Protein Powder" flavor was unflavored, so I'm here to let you know. This is the flavor we tried of this protein powder, however, Naked Whey also comes in chocolate, strawberry, and vanilla.
As far as flavoring in general, Naked Nutritions proteins aren't very sweet at all and definitely aren't as sweet as some other protein powders we've used, so just keep this in mind. Their flavors aren't very strong.
Benefits of Whey Protein
So, along with being a complete high-quality protein with all 9 essential amino acids that the body needs to build muscle, whey protein, in general, has a lot of benefits.
Some of the benefits include muscle growth and it can help make you feel fuller longer. Protein is considered the most filling of all the three macronutrients. Because it is filling, it can be helpful in aiding in weight loss and fat loss.
It also has some really great health benefits, too. It has been shown to help boost antioxidants in the body, reduce inflammation, lower blood pressure, and help with type 2 diabetes. Check out this study to see how it helps with type 2 diabetes.
Functionality & Performance
Overall, we're really impressed with Naked Nutrition Whey Protein Powder and how it includes minimal, yet quality ingredients. As I mentioned, we tried the unflavored flavor, so when it is just mixed with water, it doesn't have much of a taste. It kind of tastes like watery milk. When mixed in a smoothie or in another beverage though, it is great! I mixed it in a fruit smoothie and I was pleasantly surprised at how well it worked out. If you want to add it to your beverages, smoothies, or food I think the unflavored is the best one for that. Naked Nutrition also includes many recipes on their website, so check those out if need some ideas.
When we tried just mixing it in a cup with a spoon, it didn't dissolve and mix well for us, so we recommend using a shaker bottle or blender to mix it.
One thing to keep in mind is that whey concentrate isn't for everyone, especially if you're lactose intolerant or sensitive to dairy. So, I would consider this if you have a problem with consuming dairy products. Naked Whey Protein Powder is a great option if you're looking for a well-sourced protein powder with simple ingredients. It's also great if you're looking for a high-quality protein to include more protein in your diet.
As far as price, Naked Whey is pretty fair in price. It isn't the cheapest option, but it isn't the most expensive we've seen either. It comes available in 1 lb tubs and 5 lb tubs depending on how much you need. The 1 lb tub includes 15 servings per container, while the 5 lb tub has 76 servings per container. You can also save 20% if you subscribe for regular shipments which is a nice discount and it helps so you don't have to worry about running out.
We have the 5 lb tub as you can see, and the scoop did get buried in the protein powder so we had to dig it out with a spoon. Considering how large the tub is, this wasn't surprising and I've spent my fair share of time unburying scoops out of other powders.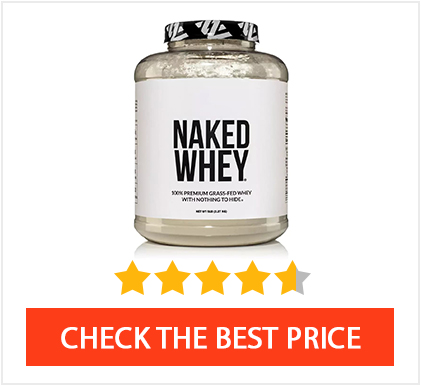 Bottom Line Review: Naked Nutrition Whey Protein Powder
Naked Nutrition Whey Protein Powder is a very high-quality protein powder with simple, well-sourced ingredients. This protein powder is a great option if you're looking for a protein supplement that will help with building and maintaining muscle, as well as help your overall health. It offers 25 grams of organic, grass-fed whey per serving. Naked Nutrition even sources this protein from small northern California and Idaho dairy farms, so you can trust the ingredients. One thing to keep in mind is that whey protein isn't for everyone, especially those who are lactose or sensitive to dairy. This is a complete protein though and a great way to supplement your diet. It comes in unflavored, chocolate, strawberry, and vanilla. We tried the unflavored and love adding it to smoothies and other beverages in a blender or shaker bottle. Check out Naked Whey if you're looking for a protein powder with minimal, trusted ingredients.