*TreadmillReviewGuru helps consumers find the best home fitness products. When you buy a product we recommend, we may earn a commission.
Last Updated: September 14, 2022
The ProForm Pro 2000 and NordicTrack 1750 have a lot of the same features and functionality. For one, they both use the workout programming, iFit, on their touch screens. This is because both of these brands are owned by the same parent company: iFit. Both the Pro 2000 and 1750 are on our best treadmills list because they're solid, sturdy, and interactive. You really can't go wrong with either. However, one will probably be a better fit for you than the other. In this comparison, I'll let you know exactly how the ProForm Pro 2000 and NordicTrack 1750 stack up to one another, so you can determine which one is best for you.
For instance, if you're wanting a more affordable treadmill that comes with some nice features and programming, then the ProForm Pro 2000 is a wonderful choice. It's also a bit more compact than the 1750. The NordicTrack 1750 is the better option for heavier and more versatile training because of its larger motor, wider deck, and pivoting touch screen.
Now that you've gotten the quick overview, let's dive in and check them both out.
Why You Should Trust Our Comparison Review
Here at Treadmill Review Guru, it is our job to know treadmills. We create reviews and comparisons for you so you know which treadmill you should buy. In comparisons like this one, we take two models that are similar and examine them so we can see how they stack up to one another and so you can figure out which one is a better fit. We might recommend both models, but for different reasons that fit different users and their needs.
We've spent a lot of time on each of these treadmills, so you can rest assured that we know what we're talking about in this comparison review.
---
Our Video Comparison Review
---
Pros & Cons of the ProForm Pro 2000:
Pros ProForm Pro 2000
You get the same iFit subscription content and features at a lower price point.
The 3.25 CHP motor is powerful enough for walking and moderate running.
It is compact and perfect for smaller spaces.
The deck's cushioning feels firmer underfoot but provides nice shock absorption.
It easily folds up and locks into place when not being used to reduce the overall footprint.
It's durable and solid but not overly heavy, weighing 260 lbs. It has transportation wheels for easy moving.
Cons ProForm Pro 2000
The motor is smaller and not recommended for advanced athletes and a lot of use.
The quick-touch buttons are handy but slightly confusing.
The fan is not as powerful or quiet and is in a lower position, so it isn't the best for cooling.

Pros & Cons of the NordicTrack 1750:
Pros NordicTrack 1750
The streamlined, easy-to-use console has a larger 14" touch screen that streams iFit and pivots side to side to accommodate more of iFit's variety of classes.
The 3.5 CHP motor handles heavier use and offers plenty of speed and grade variables all while remaining really quiet.
The softer cushioning in the deck helps prevent impact and discomfort in the joints.
It has solid construction and a more hearty than the Pro 2000. It's excellent for larger and taller users.
The belt is 2" wider than the Pro 2000 to offer a bit more room for training.
The deck folds up to save space, and it can be moved if needed.
Cons NordicTrack 1750
It is slightly more expensive than the ProForm.
It has a larger footprint, so it's not as compact.
It is heavier than the Pro 2000.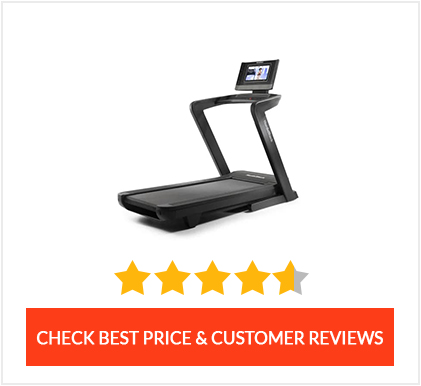 ProForm Pro 2000 Specs:NordicTrack 1750 Treadmill Specs:
iFIT® Enabled: 30-Day iFIT Family Membership Included
Display: 10" Smart HD Touchscreen
>Motor: 3.25 CHP2 Mach Z™
Belt: 20" wide x 60" long
Heart Rate Monitoring: No (Heart rate monitor sold separately)
Speed: 0–12 MPH QuickSpeed® Button Control
Incline: -3% Decline to 12% Incline QuickSpeed® Button Control
Cushioning: ReBound Pro™ Cushioning
Rollers: 1.9" Precision-Balanced
Folding: SpaceSaver® Design with EasyLift™ Assist.
Fan: CoolAire™ Fan with three speeds. Not direction adjustable.
Audio: Bluetooth®3 Audio Capabilities with Dual 2" Speakers
Max user weight: 300 Lb.
Warranty: Frame 10-Year, Parts 2-Year, Labor 1-Year
Footprint: 35.3" Wide x 77.3" Deep x 59.6" Tall
Boxed weight: 262 lbs.
Programs: Evolving library of fun and challenging workouts with iFit. As well as preprogrammed workouts without a subscription
Wheels: Wheels in the front to move when folded.
iFIT® Enabled: 30-Day iFIT Family Membership Included
Display: 14" Tilt & Pivot Touchscreen
Motor: 3.5 CHP Motor
Belt: 22" wide by 60" long.
Heart Rate Monitoring: No (Heart rate monitor sold separately)
Speed: 12 mph max speed.
Incline: Incline and decline range of -3 to 15+
Cushioning: Runners Flex™ Cushioning deck cushioning that can turn on and off.
Rollers: 2.5-inch precision and balanced non-flex rollers
Folding: Yes. SpaceSaver® Design with EasyLift™ Assist. The motor at the top of the deck makes folding easy.
Fan: Dual AutoBreeze™ Workout Fans
Audio: Two 3" Digitally-amplified speakers and Bluetooth headphone connectivity3
Max user weight: 300 Lb.
Footprint: 80" L x 38" W x 65" H
Boxed weight: 340 lbs.
Programs: Interactive trainer-led iFit workouts plus pre-programmed workouts
Warranty: Frame 10-Year, Parts 2-Year, Labor 1-Year
Quiet Drive technology
Wheels: Wheels in the front to move when necessary.
Rails: Nice wide side rail
---
Recommendation:
The ProForm Pro 2000 and the NordicTrack Commercial 1750 are both great treadmills that have a lot of nice features. The NordicTrack is better for heavier use because of the larger motor and might be better for larger users because of the wider deck. It also provides a bit more cushioning than the ProForm. Plus, if you're looking to subscribe to iFit, you might enjoy the larger 14" touch screen that tilts and pivots from side to side on the new 2022 model.
The Pro 2000 offers a lot of the same features that the 1750 has, but at a more affordable price. It also is enabled with iFit on the 10" touch screen. The Pro 2000 is lighter and more compact than the 1750, so it might be better for smaller spaces. Both of these treadmills do fold up to take up less space when you're not using them.
In-Depth Comparison of the ProForm Pro 2000 and NordicTrack 1750 Treadmills
iFit
The ProForm Pro 2000 and NordicTrack 1750 use iFit. iFit comes free for the first month on each treadmill. iFit offers over 16,000 classes that are all led by knowledgeable, motivating instructors. Classes are filmed in outdoor locations all around the world as well as indoors in a studio-class setting.
iFit offers features like AutoAdjust which adjusts the treadmill based on the instructors' cues and the terrain of the landscape, so you can just follow along without having to worry about changing your grade and speed. This can be bypassed at any time to do your own adjusting though. ActivePulse allows you to do heart rate training with the compatible armband, which is sold separately for both of these treadmills.
In addition to workouts on the treadmill, there are also classes for the elliptical, rower, exercise bike, and fitness mirror that are offered on iFit-enabled equipment. You can also take mat classes like yoga, strength training, and meditation with iFit, too.
The majority of the classes are led by trainers, but there's also a Google Map feature that lets you pick any location around the world to create your own route. This is great if you want to mix up your workouts and explore on your own.
You'll have access to all of this on both of these treadmills. Also, if you prefer not to subscribe to iFit, there are preprogrammed workouts and a couple of free iFit classes available without the subscription. These require a wifi connection, as does iFit. Manual mode doesn't however and it can be used with or without an iFit membership.
We highly suggest subscribing to iFit on both of these treadmills though, in order to get the full functionality of their touch screens.
ProForm Pro 2000 Vs. NordicTrack 1750 Console
With the new updates to the 1750 in 2022, these treadmills have different looks and different screen sizes. Let's see how they compare and differ.
ProForm Pro 2000 Console
For most users, the 10" size screen should be sufficient, but users with limited vision might prefer the larger screen on the 1750. We appreciate that the console has added functionality with the quick-touch buttons below the screen. They aren't quite as intuitive as the ones found on the 1750 because they are two rows under the screen rather than on either side of the screen. However, they function the same way and let you jump from high and low speeds/grades, quickly. This is ideal for interval training.
The Pro 2000 does have a bit more storage than the NordicTrack 1750. There are 2 large pockets on either side of the console for items like a water bottle and phone. Although there isn't exactly a designated tablet holder for your device, we've found that you can place your phone or tablet on the lip just above the start and stop buttons. This is nice if you want to view your own content.
The speakers are clear and Bluetooth-enabled, so you can play content from your device through them. The 1750 no longer has this feature on the new updated model. The fan has multiple settings, but it's a little noisier and positioned lower than other fans we've tested.
NordicTrack 1750 Console
The extra 4" from the Pro 2000's screen, does make a difference if you have limited visibility and prefer a larger screen. The screen has a lot of adjustabilities as well. It can be tilted up and down to find the best angle and pivoted to each side. This is really beneficial if you want to take treadmill boot camp classes, or mat classes while using the screen. You can simply turn the screen to the side and view iFit's classes from off the 1750. This is something to consider if you plan on using iFit's wide variety of content for total body training.
We do prefer the quick-touch adjustment buttons on the 1750 over the Pro 2000. I find I don't mix up which ones are for speed and incline because they're on opposite sides of the screen, versus in rows on top of each other.
There is very minimal storage on the 1750. The only storage offered is 2 removable cupholders. They're shallow but hold my phone or 22oz water bottle. This is the only place I can keep my phone, so viewing content on it while working out is out of the question. You're locked into using the touch screen on the 1750.
The speakers are clear and go plenty loud, as do the ones on the ProForm. The 1750's speakers only play content from iFit on the screen, however. The fan also has multiple settings, but it's in a nice position to work for most sized users. It's fairly quiet, too.
Construction Quality & Durability
Both of these treadmills have 300 lb weight capacities, making them suitable for users up to that limit. Although the 1750 has a sleek, all-black design, the Pro 2000 is a bit more compact making it a little better for small spaces. Both treadmills have foldable decks and transportation wheels.
ProForm Pro 2000 Vs. NordicTrack 1750 Frame
This design makes them both feel really stable and solid to use. While the handles on these treadmills are plastic, the frame makes them and the console feel sturdy. I prefer the handles on the 1750 because they have a nice texture over the plastic that helps provide more grip, as well as a singular horizontal front handle that's convenient when you need extra balance assistance.
Alternatively, the side handles on the Pro 2000 have a smooth plastic covering, but don't feel slick. The front handles are separated by the fan, so they only have 2 places to hang on to.
ProForm Pro 2000 Vs. NordicTrack 1750 Motor
The motor on the NordicTrack is slightly larger than the ProForm. It's a 3.5 CHP motor, while the Pro 2000 has a 3.25 HP motor. For training, you can get a bit more use out of the 1750, whereas the Pro 2000 is best for walking, jogging, and some running. If you're looking to log a lot of miles, I would suggest looking at the NordicTrack.
The 1750 also offers a bit more of an incline/decline range. It inclines up to 15% versus the Pro 2000's max 12% incline. Both treadmills decline to -3%, which is pretty cool and handy when looking to add more variety to your training. Both treadmills have 12 mph max speeds, which should be plenty of speed for most users to run and sprint with.
Both treadmills are pretty quiet. However, the 1750 seems to be a bit quieter.
ProForm Pro 2000 Vs. NordicTrack 1750 Deck
Another difference in these treadmills is the deck sizes. The ProForm Pro 2000 has a 60" x 20" running surface.
So, if you like a little bit more room width-wise, then the NordicTrack 1750 might be the better option. Both deck lengths are plenty long enough for users of most heights to run comfortably.
Both decks offer cushioning, although the 1750 has slightly softer cushioning underfoot. This is better for those who have joint issues. The Pro 2000 has nice cushioning that provides plenty of shock absorption, it just feels a little firmer to run on. The new 2022 design of the 1750 has a slimmer profile, so the step-up height is around 9" from the deck to the floor when it's at a flat grade. The Pro 2000 has a 10" step-up height. This isn't a big difference but could make a difference for users with balance and mobility problems.
Performance & Functionality
We really like both the ProForm Pro 2000 and the NordicTrack 1750 because they offer iFit's extensive workout programming with a subscription, and they are solid and stable to use. The ProForm Pro 2000 is more affordable, but you won't be able to use it quite as much as the 1750. All of our reviewers have been able to use these treadmills without any problems, and the motors stay consistent during our workouts.
Even though the Pro 2000 is more compact and lighter than the 1750, they both fold up easily. The folding mechanisms let me lift the decks with one hand and they lock into place. To unfold, you just need to press your foot on the bar at the bottom of the deck and the deck will unfold, easily.
To move both of these treadmills, you have to grab the top of the deck when folded and tip it back to engage the front wheels. It can require some effort, but it's doable for most users. This way both the Pro 2000 and 1750 can be moved if needed.
Warranty
ProForm and NordicTrack offer the same warranty for these treadmills: 10 years for the frame, 2 years for parts, and 1 year for labor. This is a pretty standard warranty. They both require assembly when delivered and we recommend having at least 2 people for set up.
---
BottomLine/ Recommendation
If you're in the market for an entry to a mid-level treadmill for your home gym, you really can't beat the ProForm Pro 2000 and NordicTrack 1750 as solid options. We recommend both of these models, however, one will likely fit your needs better than the other. For those looking get a lot of use out of their treadmill, we recommend the 1750. It has a larger motor, softer cushioning, and the 14" touch screen is a great size to display your iFit workouts. Plus, the screen pivots up to 360 degrees to either side, so you can take those iFit mat classes next to the 1750, too.
If affordability is a concern, then the ProForm Pro 2000 is an excellent choice. You get a lot of the same features of the 1750, like iFit and incline and decline functions, but at a cheaper price. While both of these treadmills fold up, the Pro 2000 has a smaller footprint so it's the better option if you're short on space. No matter what your needs and goals are, you're sure to find that either of these capable treadmills will meet them.