When you are looking for an affordable treadmill from a reputable treadmill company, you may be looking for the ProForm SMART Power 1295i treadmill. This affordable treadmill provides users with a range of fitness features such as strong 3.5 CHP motor while keeping other aspects of the treadmill modest so that the price can stay affordable.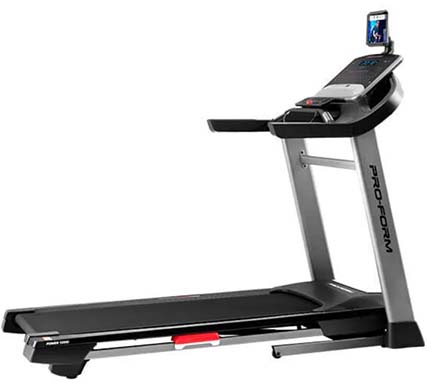 While this treadmill looks unassuming, people are often surprised that the SMART Power 1295i is a fairly powerful and affordable treadmill. As treadmills for jogging and running should have motors over 3.0 CHP, the SMART Power 1295i exceeds this by providing a 3.5 CHP motor. The overall structure may not be up for intense runners who are marathon training, but this treadmill can easily handle a family of users who want to walk, jog, and do some running workouts.
The workout options is also another area where this treadmill shines. There are 34 exercise programs built into the SMART Power 1295i, allowing you to do workouts based on speed, how many calories you want to burn, based on incline level, and more. With these built-in exercise programs, you can also branch out and use iFit Coach.
The ProForm SMART Power 1295i includes an iFit Coach membership that you can use for a full year after your purchase. This membership unlocks thousands of workout videos you can use when you sync a smart device with the SMART Power 1295i. Or you can just use them off-treadmill, as these exercise videos also include workouts that don't require your treadmill.
When you are on the treadmill, you can enjoy the ProShox cushioning that can be found on all ProForm treadmills. The deck is relatively flexible but not so much that it would be jarring to go running outdoors. You can also enjoy the space on the tread belt, with 20" of width to traverse and 60" of length, so you don't have to feel like you need to crowd up near the console.
I have so much more to say about the ProForm SMART Power 1295i. So, I hope you will continue to read this review to see exactly what the pros and cons are, as well as see more about what features you will find on this treadmill.
Pros
The SMART Power 1295i treadmill fans are well-positioned to allow for maximum cooling of the trunk of your body.
Excellent weight capacity that allows heavier users to use this treadmill.
Well-stabilized with a steel frame and crossbar to keep this treadmill from moving during workouts.
A strong motor that can run quietly while powering workouts ranging from walks to runs.
The ProForm SMART Power 1295i treadmill has ProShox cushioning.
There are 34 different exercise programs that come pre-installed.
You receive a year free membership to iFit Coach.
Good incline range is included with this treadmill.
Can use the adjustable tablet/device holder and comes with two water bottle cup holders.
Cons
The ProForm SMART Power 1295i only comes with handlebar heart rate monitoring.
No touchscreen on the SMART Power 1295i, which may not bother some people who don't care for tech.
Equipped with a 3.5 CHP Mach Z Commercial Pro motor, the ProForm SMART Power 1295i is a strong enough treadmill for most levels of fitness. Though it's not a treadmill I'd recommend for someone marathon training, this treadmill is still an excellent choice for walkers, joggers, and for those who run under 20-30 miles a week.
EasyLift Assist With SpaceSaver Design
To make folding up the SMART Power 1295i easier, this treadmill comes with a hydraulic lift system. With this air-powered system, you can easily lift the deck of the treadmill and lock it up and out of the way with no trouble. To release the deck, just press the release bar, and the deck will float down gently. The SMART Power 1295i also has a space-saving design that allows it to be fit into most homes.
Rather than having a touchscreen, the 1295i treadmill comes with a 7" high-contrast display screen in its console. With this bright screen, you can easily see your workout information shown in bright blue numbers.
When you buy this treadmill, you will receive a free year of access to the excellent training program iFit Coach. As iFit Coach gives you access to workout data tracking, over 12,000 top-notch workout videos, an exercise community, and more, this is a significant benefit. However, since there is no touchscreen on the SMART Power 1295i, you will have to sync your Bluetooth-enabled smart device with this treadmill to use iFit Coach on the 1295i.
34 Onboard Exercise Programs
If you don't want to worry about the iFit Coach programs, you can always use the 34 onboard exercise programs. These exercise programs offer a range of workouts to engage in from various intensities to speed-centered workouts.
On this treadmill, there is, unfortunately, only EKG pulse grip sensors for heart rate monitoring. With only these sensors, you will only be able to get a rough estimate of what your actual exertion level is as you exercise.
To enjoy a run without any earbuds or headphones, you can sync your Bluetooth-enabled device with the SMART Power 1295i. The speakers provide crisp and clear sound, so you should be able to enjoy your audio easily as you exercise.
Ramp up your calorie burning factor as you use the incline range on the SMART Power 1295i. The range extends from 0% to 12%, which is a decent range to help add an extra challenge to your workouts.
If you have ever run on a treadmill, you likely have felt overheated and like the room was overly stuffy. Those feelings can be alleviated by using the fan on the SMART Power 1295i. This fan has different speeds and is positioned near your trunk, allowing you to reap the cooling benefits.
Built into the deck of the ProForm SMART Power 1295i is the patented ProShox cushioning. With the specialized shock absorbers to help reduce the impact of your footfalls, you can better utilize this treadmill, instead of feeling the aches and pains that other people feel when they workout on hard surfaces.
ProForm equips their treadmills with well-tested treadmills that will hold up under regular use by users of all kinds. There is a good amount of space to run on this belt, as it measures 20" wide by 60" long, which length will suit users even with fairly long strides.
One of the most impressive and unexpected features on the SMART Power 1295i is the fact that it can accommodate an individual who weighs up to 350 lbs. Many residential treadmills are not rated for weights above 300 lbs, so this feature is particularly welcome for those who want to address their health but are over the standard weight ratings.
When you choose the SMART Power 1295i, you will receive a great warranty to protect your treadmill. You will have a 2-year labor warranty as well as a 5-year parts warranty. Coverage over your motor and frame extend for the lifetime of your treadmill, as long as it is in your possession.
Motor: 3.5 CHP
Incline: -0% to 12%
Speed: 0.5-12 MPH
Dimensions: 35.5" W x 81.4" L x 66.9" H
Folding: Yes
Running Area: 20" W x 60" L
Max User Weight: 350 lbs
Treadmill Weight: 225
Benefits
One of the benefits of the ProForm SMART Power 1295i that is not always considered is the compact sizing of this treadmill. As it is 35.5" wide by 81.4" long treadmill is relatively condensed for a treadmill frame, you will likely find it easy to place this treadmill somewhere convenient in your home. Also, with the wheels on the base of the treadmill, you can roll this treadmill in and out of position as needed.
Also, if you are looking for a treadmill with a good price tag that still has many of the high-tech features that expensive treadmills come with, the 1295i is a good option. With the free year of iFit Coach to the Bluetooth connectivity available, you can enjoy a wide range of fitness technology without paying a small fortune.
Final Verdict: ProForm SMART Power 1295i Treadmill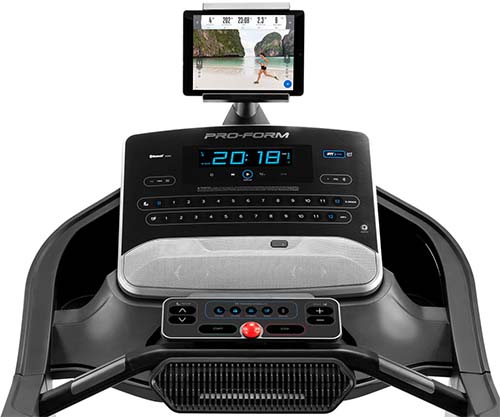 The ProForm SMART Power 1295i is a good treadmill from a treadmill company with an excellent reputation for producing durable and runner-friendly treadmills. The motor of this treadmill is particularly good for this price range, as the 3.5 CHP motor means it is strong enough to power a range of activities from casual walking exercise to training runs.
With the available incline range of 0% to 12%, you can increase your average workout to make it better at burning calories and building your endurance. Packaged with these things is ProShox cushioning, which helps make this treadmill easier to use every day.
What We Like?
Affordable price point
Plenty of built-in programs
iFit Coach comes free for a year
Great weight capacity
Strong motor for most types of workouts
Convenient accessories like cup and tablet holders
Cooling fan
Easy folding and unfolding abilities
Great coverage warranty
WHAT WE DON'T LIKE?
No touchscreen
Only handlebar heart rate monitoring
Conclusion
I consider the ProForm SMART Power 1295i one of the best treadmills you can add to your home gym, particularly at this price point. It works well for a range of fitness users, whether you are looking to run regularly or have a stable walking treadmill. Overall, I would say that the SMART Power 1295i can help you reach your health and fitness goals as long as you dedicate yourself to using it.
Related Treadmills Review: 
Summary
Reviewer
Review Date
Reviewed Item
Proform Smart Power 1295i Treadmill Review
Author Rating