*TreadmillReviewGuru helps consumers find the best home fitness products. When you buy a product we recommend, we may earn a commission.
Last Updated: July 9, 2023
The Theragun Mini massage gun is Therabody's entry-level model massage gun. It's meant for traveling and on-the-go use. The Theragun Mini is also great for beginners who might want lighter percussive therapy since it doesn't dig into the muscle tissues as much as the higher-end models. Don't be discouraged by its compact design though, this massage gun still gets the job done.
The Theragun Mini has Therabody's patented triangular shape for convenience and easy gripping. In this Theragun Mini massage gun review, I'll take you through everything you need to know and our reviewers' thoughts.
Why You Should Trust Our Review Of The Theragun Mini Massage Gun
Massage guns can be expensive and with all of the options on the market nowadays, it can be confusing to know which one you should buy. The company Therabody is definitely one of the most popular brands because of their infamous Theraguns. For this review of the Theragun Mini, our reviewers tested out the massage gun to give you our insight so you can determine if it's the right recovery tool for you.
We also compared it to Therbody's premium massage gun, the Theragun Pro to see how this entry-level model compares.
Our Theragun Mini Review Video
---
Pros
The lightweight and compact design allows you to take it with you anywhere.
It has a strong 12 mm amplitude for an entry-level massage gun to reach further down into tissues for more relief and faster recovery.
It's easy to use and the triangular body is great for gripping and reaching difficult parts of your body.
It's powerful for its compact, portable design.
The vibration in the handle is minimal to avoid discomfort in your hands when using it.
It has 3 preset speed settings to offer different treatment types.
Cons
It doesn't come with additional attachments.
It's loud compared to other massage guns.
It doesn't have any Bluetooth connectivity to connect with the Therabody App.
---
3 Calibrated Speed Settings (1750, 2100, and 2400 percussions per minute)
Standard Ball Attachment
Portable, Compact Design
Triangle Easy To Grip Handle
Comes In Multiple Colors
Motor: QX35 Brushless Motor
Dimensions: 6" x 5.3" x 2.25"
Weight: 1.43 lbs
Amplitude: 12mm
Stall Force: 20 lbs
150 Minutes of Battery Life
80 Minutes of Charging Time
12V Internal Lithium-ion Battery
Soft Case included
Power Adapter Charger
1-Year Limited Warranty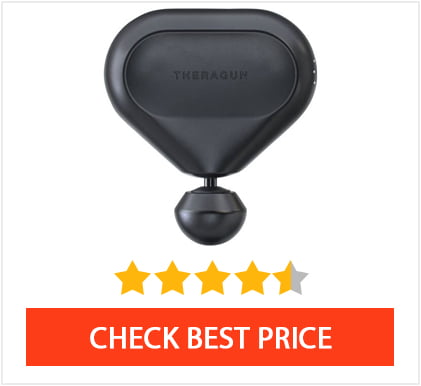 In-depth Review of Theragun Mini Massage Gun
---
Construction
The Theragun Mini fits well in your hands and comes with a soft, zippable case so you can take it anywhere. It's also available in multiple colors. We chose the white Theragun Mini for this review. The Theragun Mini is the smallest massage gun from Therabody. We are impressed with its capable motor and firm construction.
We think the Theragun Mini is best for those who want to take their massage gun with them to the gym or while traveling. It's also great for users just getting into percussive therapy and want a massage gun to start out with.
Motor
The Mini has a QX35 brushless motor that feels powerful during use. It changes the percussion speed quickly and evenly. The motor also doesn't seem to cause the machine to feel hot, even after a lot of use. Plus, the entire device feels really solid when you're holding it, which is definitely a nod to this well-performing motor.
It has a stall force of 20 lbs. Considering this is a lot less than the 60 lb stall force on the Theragun Pro, you could press firm enough to stall the motor. I wouldn't recommend actively trying to stall the motor because it could damage it. I also would caution on pressing into your muscles too firmly with the Mini because it could do more harm than good being used this way. And if you do want to use more force, I suggest looking into the other Theragun models.
Amplitude
Along with the motor, the 12 mm amplitude makes the Theragun Mini feel like a hearty little device. The amplitude is the depth that the Mini goes into your skin every time it comes in contact with your body. This amplitude isn't quite as high as the other Theraguns, but it still feels really effective at providing relief.
The 16 mm amplitude that the Theragun Pro has is the highest level found in massage guns. The fact that Therabody was able to create such a small device with 12 mm amplitude is impressive and innovative.
Handle
The Theragun Mini is a triangular shape which is Therabody's patented design. It is only 1.43 lbs so your hands and wrists don't get tired or sore from using it either. I do have to admit that it feels a little heavier than I thought it was going to.
When used, the handle has really minimal vibration in it. The power and vibration are targeted to the head, so your hands won't fatigue or have discomfort when holding it while it's in use. The handle on the white Mini feels really smooth and the indentation on the front and back is a nice depth to grasp your fingers around. I don't have the smallest hands, but I am a smaller person at only 5'1", and the Theragun Mini fits really well in my hands. I really like this handle.
Percussion Settings
The Theragun Mini comes with 3 built-in speed settings. The speeds are measured in percussions per minute which is the number of times the head of the device will come in contact with your body when you're using it. The settings are 1750, 2100, and 2400 ppm. Therabody states that these settings are scientifically calibrated for you to reap more benefits from the device.
Although it only has 3-speed settings available, the lowest and highest speed is the same that is found on the Theragun Pro.
Standard Ball Attachment
Unfortunately, the Mini only comes with one attachment, the standard ball. It can be swapped out for other attachments though, so if you also have the Theragun Prime, Elite, or Pro you can use the other attachments. You can also purchase different attachments separately.
The standard ball is round and pretty firm to touch. Therabody gives it a 5/10 rating for impact level. They also recommend it for use on small and large muscles. I'm able to use it all over my back and legs, but I do wish it came with other attachments for more choices.
Functionality & Performance
The Theragun Mini is a surprisingly powerful massage gun packed into a small, travel size. It feels really solid to use and will fit well in most users' hands.
It's also simple to operate. It has one button that turns it on, off, and adjusts the percussion setting. When on, a small light turns on in the middle of the button. It will display green, blue, or red depending on how much battery is left. There are 3 white lights on the side of the button that light up when it is on. These show which speed setting is on. One light signifies the lowest speed while three signifies the highest. This feature is very streamlined, simple, yet really functional.
One thing to note is that it is a little noisy. I've used quieter massage guns, so I was slightly taken aback at the level of noise coming from such a small device. When using it and trying to have a conversation, it is a bit difficult. I wouldn't recommend it for use in some public settings or in shared spaces during quiet times.
An aspect missing in this model is Bluetooth connectivity. Therabody has an app that provides guidance in using your Theragun. All of the other Theragun models connect to the app so you can control the settings from your phone. This connection also lets you choose custom percussion speed settings within the 1750 to 2400 range. The Theragun Mini isn't Bluetooth enabled, but you could still use the app if you want extra guidance on when and where to use it.
The Mini has a built-in battery and comes with a plug-in charger. The battery is said to have 150 minutes of life. We ran it for 2 hours on the highest setting continuously. The battery still had about half-life left from when it started fully charged. The handle got a little warm, but not warm enough to discourage use. We're really impressed with its battery life and how cool it remained throughout this test.
Being that the Theragun Mini is smaller and less powerful than Therabody's other Theraguns, we don't recommend it for professional use, or for users looking for a high-powered massage gun for serious recovery. In that case, one of the other models will be a better fit. If you're looking for a smaller massage gun in addition to the one you already have to take with you places, or if you're just starting out with percussive therapy, then the Theragun Mini is an excellent choice.
Warranty
Therabody includes a 1-year limited warranty for the Theragun Mini as well as a 60-day risk-free trial.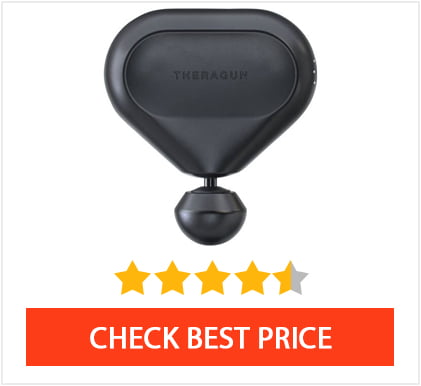 Bottom Line Review: Theragun Mini Massage Gun:
Therabody's entry-level and smallest massage gun is the Theragun Mini. It's the perfect size to fit in your gym bag or suitcase to take with you on the go. It has a handy travel case and its patented triangular shape makes it really easy to use. The design lets you grasp it in multiple ways so you can reach all areas of your body.
We're impressed with its 12mm amplitude that massages deep into your muscles to maximize recovery and tension relief. The three percussion speed settings also let you use the device all over while being able to pick which setting feels best. The included standard ball attachment can be used on all of your major muscle groups. You can purchase additional attachments separately, too.
The Theragun Mini does make a good amount of noise so it might not be best to use in certain settings where noise is limited. It does feel really hearty and powerful to use though. It will definitely help aid in your recovery. We highly suggest looking into the Theragun Mini if you're new to massage guns and percussive therapy. It's also excellent if you need a travel size device.