*TreadmillReviewGuru helps consumers find the best home fitness products. When you buy a product we recommend, we may earn a commission.
Last Updated: July 9, 2023
Massage guns have become extremely popular in recent years. They use percussive therapy to ease sore muscles, reduce tension, and promote muscle recovery. One of the top massage guns out there, and arguably the most popular is the Theragun from Therabody. Therabody has multiple models, but in this review, we are taking a look at the Theragun Pro which is the top-of-the-line massage gun from Therabody.
The Theragun Pro from Therabody has a unique design and comes with 6 different attachments to be used on every area of the body. It's a hearty handheld machine that provides customizable settings to pick the speed of vibration and pressure you want. Throughout this review, we'll go over everything Theragun Pro has to offer and what we think of it.
Why You Should Trust Our Review Of The Theragun Pro Massage Gun
Here at Treadmill Review Guru, we believe that recovery is just as important as working out. Recovery allows your muscles to repair themselves so they come back stronger for your next training session. We were really jazzed to try the Theragun Pro. It's one of the best massage guns out there.
During our review process, our reviewers tested it out and used it regularly for several weeks. That way we can see how it holds up and if it lives up to its reputation.
Our Theragun Pro Review Video
---
Pros
It's designed for professional and personal use, which makes it feel really powerful and durable.
It comes with 6 different attachments to use on areas all over your body. The arm is also adjustable for more usability.
You can connect to the Therabody app to give you more guidance when using it. The app also creates a personalized routine for you.
The multi-grip handles let you get to hard-to-reach areas, yourself.
There are 5 different settings for the vibration speed and customizable speed settings within the app.
The percussive therapy gets deep into the muscles to release tension.
The handle doesn't have much vibration when you're holding it. The vibration only comes out where you're using the machine on your body.
Cons
The noise output is loud and makes it harder to use in quieter settings.
It feels pretty heavy in your hands but this speaks to its hearty construction.
The price and quality might be overkill for some users.
---
OLED screen with Force Meter
Rotating Arm has 4 different positions
Patented Triangular Handle gives multiple grip options
5 Built-in Speeds (1750, 1900, 2100, 2200, and 2400 percussions per minute)
Customizable Speed Range
6 Attachments
3-App Guided Preset Routines
Bluetooth Connectivity to Free Therabody App
Size: 10" x 7.1" x 3"
Weight: 2.9 lbs
Motor: QX150 Commercial-Grade Brushless
Amplitude: 16mm
Stall Force: 60 lbs
2 interchangeable batteries (150 minutes of life for each)
Lithium-ion Battery Charger
PRO Wireless Charging Stand
Zipper Carrying Case
Multi-Device Wireless Charger
World Travel Charger
2-year limited warranty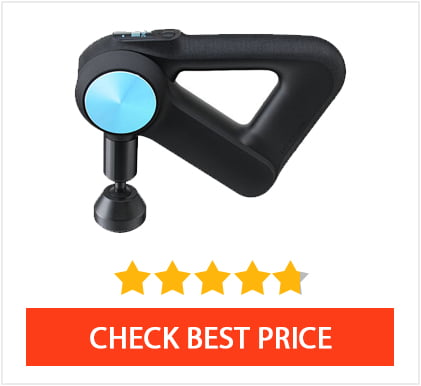 In-depth Review of Theragun Pro Massage Gun
---
Construction
The Theragun Pro feels really solid in your hands. It weighs almost 3 lbs and is built for personal and professional use. Although, it might be too powerful for beginners or those looking for a more surface-level massage at home. It's targeted more at professionals, athletes, fitness professionals, and individuals looking for a tool for maximum muscle recovery.
Motor
The QX150 motor is a commercial-grade brushless motor. It adjusts the percussion speeds evenly and remains powerful while changing the speed. It has a 60 lb stall force which means that you can apply pressure into the body that's up to 60 lbs before the motor will stall. We tested this and the amount of pressure needed to reach the stall force is significantly greater than the pressure you should be using. Applying this max amount of pressure when using the Theragun Pro would likely harm your body and cause discomfort rather than relief.
We don't recommend testing the stall force with your Theragun Pro because it could damage the motor, as well. This high stall force lets you use this massage gun without worrying about stalling out and damaging the machine.
Amplitude
The amplitude is where Therabody's Theragun Pro stands apart. The Theragun Pro has an amplitude of 16 mm. This is how deep it goes into your body when using percussive therapy. 16 mm is the highest level of amplitude for massage guns. This allows you to get deeper into the tissues without having to use a lot of force. Although, the 60 lbs of stall force in the motor lets you push harder, too.
All of this innovation makes the Theragun Pro that much more of a valuable tool.
Handle
The triangular design is a reason why Therabody has some of the top massage guns out there. I really like using this handle, rather than other guns that simply have one handle. The handle has a luxurious feel with a smooth, yet slight texture so it won't slip out of your hands. The texture really makes the machine feel high-end.
Attachments
The Theragun Pro comes with 6 different attachments that all have different purposes. Switching out the attachments is fairly easy, you just have to pull off the attachment and line up the indents with the bulbs when putting one on. The bulbs keep the attachment locked into place so it doesn't rotate.
When switching them out, the top part of the arm extends out and pushes back inward, making it a little more challenging to swap out for a different attachment. Once you get the hang of it though, it's pretty easy to change them out. Now, let's get into each attachment.
Dampener
The dampener is recommended by Therabody for overall use. They score it as a 3/10 for impact. Its rounded shape makes it ok to use on more sensitive spots. It also is softer than some of the other attachments. When I push on it, there's a little bit of a squish, as opposed to others that don't have any give to push into with your fingers.
I'm able to use this all over, even on more tender areas around my joints. If you're just starting out, this is a great attachment to start with.
Standard Ball
The standard ball has the roundest shape out of all of them. It is firm and definitely harder than the dampener. The standard ball has a higher impact level of 5/10 and I notice that it's less forgiving than the softer attachments when I use it. I like it best for larger muscles like my glutes, quads, and lats.
Thumb
The thumb looks like the tip of a thumb and is one of the smaller attachments. Because it's smaller it's also a bit harder so it limits where you can use it. It has a pretty high impact level of 7/10. When I use it on my back I notice that it digs in and targets specific spots more than the larger attachments. I wouldn't recommend it for sensitive areas or areas that are really tender or sore. If I run it over areas with fewer muscles that are close to joints, it jumps or bounces a bit more off my body than when it's used on muscles that it's intended for.
Cone
The cone is aptly named because it's coned-shaped with a pointy end. The tip of the cone is small to get into precise places to target the percussive therapy. It has the highest impact rating given by Therabody at 10/10. It's recommended for areas like the hands and feet, rather than larger muscle groups. I ran it over my back briefly and felt more discomfort than anything. It's much better on my hands and feet.
Wedge
The wedge has a thin flat tip and can be used to flush out certain areas. It clips in and remains with the flat edge facing vertically. It feels a little softer than some of the other attachments and has an impact level of 5/10. It definitely feels firmer when you're using it though. It's recommended for shoulder blades and IT bands. I prefer it on the latter because it was a little too firm for my shoulder blades.
Supersoft
The supersoft is the only attachment that has a spongy, soft texture. It's for the most sensitive areas. It's a bit harder to clean than the other attachments because of the fabric, but it comes with a plastic protective cover to help keep it clean when it's not in use. If you're very sensitive and responsive to percussive therapy or have some really tender spots, I recommend starting out with the supersoft attachment. It has the lowest impact level of 1/10. The fabric feels really soft and it's a little cool when I use it. I can use it near my joints and my neck with ease.
Adjustable Arm
The arm has 4 different adjustments which really adds to the functionality of this massage gun. When you press the round button under the arm, you can move the arm and lock it into a different position. It's quick and easy to do and it definitely contributes to why the Theragun Pro is different. Many other massage guns don't have a movable arm to reposition in order to reach certain areas.
Theragun Pro Technology
Screen & Percussion Settings
The OLED screen displays what speed the percussive therapy is at. There are default settings of 1750, 1900, 2100, 2200, and 2400 percussions per minute. When you use the Therabody app, you can customize the ppm within the 1750 to 2400 range. This lets you get the therapy at a more specific level to work best for you.
The OLED screen is small and on the back of the Theragun Pro. Along with the speed level, you can see the battery level and how much force you're using. This is shown as a meter that goes up as you apply more force.
Therabody App
The Theragun Pro is Bluetooth enabled to connect to the free Therabody app. When you create a profile in the app, it will ask you if you have problem areas, which of the attachments you prefer, and what activities you participate in. Based on that information it creates your routine with recommended areas of your body to target with your Theragun Pro.
The app is available to give you guidance on how and where to use your Theragun Pro. The Therabody app is really easy to navigate and has different categories, as well as a search bar to find specific treatment sessions.
A session gives you a step-by-step guide on which body parts to focus on and where. There's a timer to tell you how long to use the Theragun Pro on each area. It will tell you how long the session is in total and which attachment(s) to use. Once you're ready you'll turn on your Theragun Pro and connect it to the app. The Theragun will automatically start at the recommended speed for the percussions per minute.
There are sessions for warming up, recovery, wellness, lower body, upper body, and lifestyle. I really like that there are specific sessions for sports. Sports of all kinds like golf, swimming, tennis, softball, basketball, and more are available. They even offer sessions for equestrians, like me. These are offered for both warmup and recovery in all kinds of sports. Plus, there are warmup and recovery categories for specific forms of exercise like Pilates, yoga, weightlifting, kickboxing, and more.
Within the app, you can connect to the Health App on your phone and to your Apple Watch if you have one. When connected to your Apple Watch, you can use your watch to adjust the settings. The Health App can be used to pull over activity data to the Therabody app for it to track. You can also go in and add any pain, ailments, or discomfort you may have from day to day.
When you use the right and left arrows on the on/off button, you can choose from 3 different preset treatments. These are programmed in the app and saved to let you choose custom percussive speeds.
The Theragun Pro is intended to be used every day and I think the Therabody app is a nice way to help get into a routine. I think it's a valuable app that can help users get more out of this massage gun.
Functionality & Performance
Overall, we're impressed with the Theragun Pro. After using it regularly, I've noticed I'm less sore after workouts because I'm assuming the massage gun is helping my muscles recover faster. The different attachments and unique design let me use the Theragun Pro all over, without having problems reaching areas like my back.
When I've used other lower-end massage guns that have a singular handle, I've had a hard time reaching my back, which is a problem area of mine.
Our only big knock on the Theragun Pro is that it's pretty loud. When I first turned it on, I was surprised by the noise. Using it at my desk while writing this review has been a bit disruptive to my coworkers I'm sure. The noise is pretty jarring and not best for shared spaces when noise may be an issue. I wouldn't use it while watching television or talking with someone, because it's hard to hear over the machine.
Even though it is loud, all of our reviewers enjoy using it. We each have our own favorite attachments. One likes the cone, while I prefer the dampener, and another favors the supersoft. With all of the different choices, you're sure to find one or a few that relieve your discomfort best.
Therabody claims that each of the two batteries that come with the Pro have 150 minutes of total use. We used it continuously to test the life and it died just short of 2 hours at 1 hour and 55 minutes. The 150 minutes claim might be a bit of a stretch, or their measurement is based on just having the massage gun on rather than using it continuously like we did. Either way, close to 2 hours of actually using the Theragun Pro is a hefty amount of time, especially when you consider that you probably won't be using it for that amount of time straight.
It's nice to know that it can handle longer periods of time without dying or overheating. The side that is blue (we opted for the black which has light blue accents versus the red) did start getting warm after the first half-hour and continued to feel pretty warm until the battery ran out of juice. It never felt hot in any part of the handle, arm, or attachment though.
When using it, I find that the lowest speed setting works the best for me. If I'm using the dampener or supersoft attachment I can use it at a higher setting sometimes. Otherwise, the intensity of the percussive therapy can feel a bit much for me depending on the attachment I'm using. I also really like the hard, zippable case it came with. It holds the Pro, both batteries, and the attachments.
Warranty
Therabody includes a 2-year limited warranty for the Theragun Pro. They also offer a 60-day risk-free trial to test out the Theragun Pro to see if it's right for you.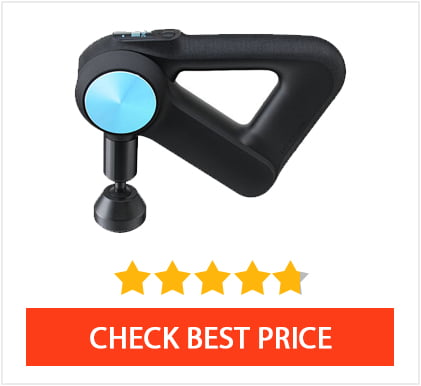 Bottom Line Review: Theragun Pro Massage Gun:
The Theragun Pro is Therabody's top-of-line massage gun. It has a rock-solid design and really feels like commercial-grade quality as Therabody says. The patented triangular handle and 4-way adjustable arm help you reach even the toughest areas on your body with ease. It's also part of what sets the Theragun Pro apart from competitors.
Another innovative aspect is the 16mm amplitude which is the highest level that the percussive therapy penetrates into your tissues. This allows the Theragun Pro to really enhance your recovery. I found the Therabody app to be really helpful in giving me guidance on how and where to use the Theragun Pro.
It connects through Bluetooth to the app. There are all kinds of sessions that you can go through for certain purposes like warming up and recovering from sports, workouts, and even just for daily life like tech neck which is prevalent if you spend a lot of time sitting or looking down at your phone. You can also customize the speed setting on the percussions per minute to find a specific speed to work for you.
It's important to know that it is pretty loud to use. Using it in a shared space might be disruptive to others. It also might be a little bit of an overkill for users looking for a massage gun to use casually. The Theragun Pro is great for professional use, athletes, and users who want to up their muscle recovery and relieve tension.
We can see why Theragun Pro is at the top of its league. It's impressive, has ingenious technology, and is an invaluable tool.