*TreadmillReviewGuru helps consumers find the best home fitness products. When you buy a product we recommend, we may earn a commission.
Last Updated: May 8, 2023
In recent years, subscription content has taken off with home fitness equipment. Not only are streaming content and touch screens commonly found on exercise bikes and treadmills, but they are also on rowing machines. That is what helps make the Aviron and Hydrow Rowers stand out and a large reason why we consider them to be among some of the best rowers in the industry. In this comparison, I'll highlight how each subscription works, what they have to offer, as well as how the Aviron and Hydrow perform, and their overall constructions. This way you can decide which one to take home.
Why You Should Trust Our Comparison Review
Buying equipment like an indoor rower is an investment that affects not only your wallet, but your body, mind, and home. We create these reviews so you can see how different models compare and decide which one is better for you. To compile this review, we've thoroughly tested each of these rowers, as well as written and filmed full individual reviews of each. You can trust that our reviewers are fitness experts and experts on both of these rowers. It's our job to know these machines, and we pride ourselves on being good at our job.
---
Pros & Cons of the Aviron:
Pros Aviron
The subscription offers video gaming content, streaming from apps like Netflix, guided workouts with and without an instructor, competition-style rowing, and virtual outdoor rowing.
It can be folded in half when not in use and it wheels around very easily. It's also lightweight at only 97 lbs.
It has a long monorail and 397 lb weight capacity to handle users of all sizes.
It uses magnetic and air resistance for a challenging, yet realistic rowing experience.
You can still use the rower, even without a subscription.
Cons Aviron
The air resistance does make some noise which can make it harder to hear content like Netflix without turning the volume up high. The speakers also project away from you, which doesn't help this.
The seat is nice and wide but a bit stiff.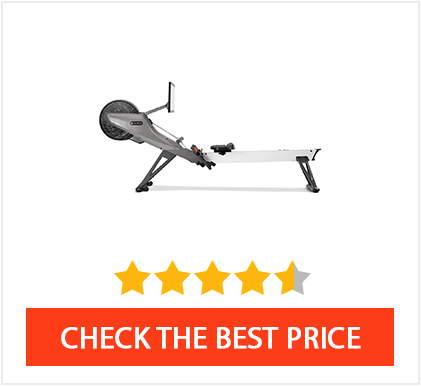 Pros & Cons of the Hydrow:
Pros Hydrow
The subscription offers trainer-led rowing classes to guide you while you work out. They are filmed outdoors and the instructors are world-class professionals.
The design is hearty, yet it looks elegant in the home.
It supports up to 375 lbs and can handle users of pretty much all sizes.
The magnetic resistance is smooth and adjustable to offer a lot of tension to pull against.
The rounded handle and cushioned seat are comfortable to use.
Cons Hydrow
It is heavier and harder to move around. Plus, it requires a kit as well as proper ceiling height to be stored upright.
Functionality is limited without a subscription.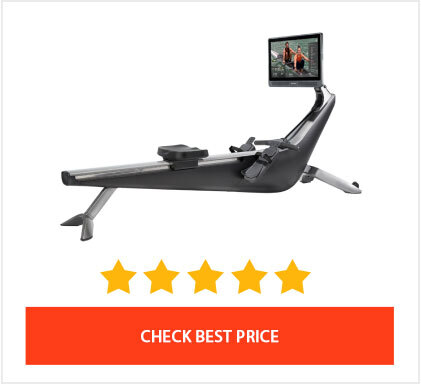 Aviron Specs:Hydrow Rower Specs:
22" Hardened Glass Touch Screen
Aluminum and Steel Frame
Footprint: 97" x 21" W 43" H
Folded Footprint: 54" L x 21" W x 62" H
Weight Capacity: 397 lbs
Rower Weight: 97 lbs
Height Limit: 6'7"
Whisper Nylon Belt
Dual Air and Magnetic Resistance
Warranty: 10-year for the frame and 1-year for parts.
22" Full HD Touch Screen
Aluminum and Steel Frame
Footprint: 86″ L x 25″ W x 47″ H
Stored Upright Footprint: 33" D x 25" W x 86" H
Weight Capacity: 375 lbs
Rower Weight: 145 lbs
Max Inseam Length: 36"
Belt Drive
Magnetic Resistance with adjustable drag factor
Warranty: 5-year for the frame and 1-year for components, screen, other electronics, and labor.
---
Recommendation:
The big difference between these two rowers is the experience you get on each of them. Rowing is an intense workout that I know I personally need some extra motivation to do sometimes. That's where the 22" touch screen and subscription content found on both of these rowers comes in. If you're looking for a rower that you can hop on and off for interval training, and if you're just looking to track your workout metrics, then I recommend checking out rowers like the Concept2 or AssaultRower Elite.
For really engaging content though, both the Aviron and the Hydrow are excellent choices. It just depends on what kind of content you're looking for. Hydrow excels in trainer-led outdoor rowing classes and training off the rower. It's considered the Peloton of rowing machines and for good reason. The new kid on the block is the Aviron which offers some trainer-led content with an instructor and without. It also offers a wide variety of gamified content that makes it stand out. So, if you love following along with an instructor, then check out the Hydrow, but if you want more options like games and even streaming from popular apps like Hulu and Netflix, then the Aviron is for you. But trust us, you can't go wrong with either rower.
In-Depth Comparison of the Aviron and Hydrow Rowers
Aviron Vs Hydrow Content
The content really is the determining factor that makes these rowers stand out, as well as differ from each other. A quick overview is that the Hydrow offers top-notch trainer-led content, while the Aviron offers some trainer-led workouts plus video games, competitions, streaming apps, and more.
Aviron Content
The Aviron has probably the most extensive variety of content that we've seen on a rower. Most notably, Aviron offers a huge selection of video games which really makes using the Aviron fun. They have a lot of games to choose from. Some allow you to compete against friends and other members, while others are designed to be like a well-rounded workout.
Even though the games are definitely unique, engaging, and impressive, they barely scratch the surface of all that Aviron has to offer. We love that you can stream from preloaded apps like Netflix, Hulu, Amazon Prime, and Youtube. All you need to do is log into the respective account and watch while you row.
For those who are competitive, the Aviron has racing games as well as a feature where you can see how your rowing stacks up to professional rowers and athletes. Yes, it's intimidating and yes it is very motivating!
The games and streaming are fun, but without proper form and guidance, you can get hurt. Aviron has on-demand workouts that are available with and without an instructor. The video workouts feature guided training from Austin at Training Tall. He has a fun, engaging personality and offers form correction and motivation when you need it. We were pleasantly surprised with these guided workouts that are available on and off the rower for more well-rounded training. These classes don't compare to the quality of Hydrow's trainer-led classes, however.
Last, Aviron lets you explore outdoor locations while you row. These are just ok, mainly due to the film quality. The videos aren't exactly crisp, but they're a nice option that might potentially get an upgrade at some point since Aviron regularly updates the software. Aviron does have a leaderboard and connectivity with other members as well as your friends who have the Aviron to play games and compete together, as well.
Hydrow Content
Although the Hydrow doesn't offer quite as much variety with its content, this doesn't mean that there isn't a large library of classes to choose from. There are over 3000 workouts to choose from with new classes being added all the time. The classes are led by knowledgeable instructors who guide you through workouts while rowing outside. There are on-demand classes to be taken anytime, as well as a live schedule of classes.
Classes are filmed in water locations all over the world. The graphics are crisp and the experience is really immersive when you're rowing on the Hydrow. We really like that the camera captures multiple angles of the instructor, instead of just their feet as they row. The camera also pans to show the surroundings so you can enjoy more of the scenery.
In addition to rowing classes, Hydrow offers multiple series of classes to be taken over the course of a few weeks or months and training off the rower so you can incorporate strength training, yoga, and pilates in your routine.
You can also explore on your own by rowing virtually through remote areas in the Journey feature. This feature lets you work out without an instructor so you can go at your own pace. You can connect and compete against other members on the leaderboard as well.
Hydrow was made by rowers and when you take the classes, you know that you're getting world-class training. The content is excellent for rowers of all levels, and their library of classes has something for everyone.
Aviron Vs Hydrow Console
Both of these rowers have large 22" touch screens attached. This is where the majority of the functionality of each rower is. The magnetic resistance is adjusted on the screen, and your metrics, content, and resistance level is displayed on the screen, too. Now, let's take a closer look at each console.
Aviron Console
The 22" screen can be tilted and adjusted for better visibility. Navigating the content is easy because everything is clearly labeled with titles and images. Plus, there is a search bar with filters to narrow your search for specific games and workouts. There are also buttons below and on the top and side of the screen for added functionality. This is where you can go back in the menu, adjust the volume, turn the screen on and off, and adjust the resistance.
The speakers go up pretty loud, but they are mounted on the back of the screen so the sound projects away from you. I did notice that if I'm watching a movie or show, it can be harder to hear over the sound of the rower while rowing. I have to turn the volume up almost all the way to hear some dialogue more clearly. We would like to see the speakers mounted on the front in the future. This could help make more of the content easier to hear.
Hydrow Console
This touch screen can be pivoted 25 degrees to each side for use off of the rower, as well as angled up and down. We appreciate how the screen clearly displays the classes. Navigating through Hydrow's library of classes is pretty straightforward with a navigation bar at the bottom of the screen. You can scroll through classes as well as use the filters to find exactly what you're looking for. You can also highlight classes you like with a star to take them later or again.
During class, you can see your workout metrics and adjust the drag factor of the resistance on the screen. We really appreciate the front-facing speakers on the Hydrow. This way the sound projects at you rather than away like on the Aviron. You can also adjust the volume by the trainer's voice or music to mute one or the other or balance them both. The volume goes plenty loud, too.
Construction Quality & Durability
The Aviron and Hydrow have completely different looks. The Hydrow is a bit sleeker and resembles a rowing shell or crew boat on the water. The Aviron on the other hand has a new design that we haven't really seen on other rowers. Even though they look so different, we are impressed with both of the constructions. They feel stable and can comfortably fit all of our reviewers ranging from 5'0 to 6'5".
They have similar weight limits, although the Aviron's is slightly larger at 397 lbs versus Hydrow's 375 lb capacity. The Aviron is also longer at 97" compared to Hydrow which is 86" long.
Aviron Vs Hydrow Frame
The Aviron weighs only 97 lbs, while the Hydrow weighs 145 lbs. This doesn't influence how each of these rowers feels when you're using them, but it does affect how easily they can be moved. The Aviron is designed to be folded in half when it's not being used. Its folding mechanism is easy and moving this rower is even easier. Instead of just 2 wheels mounted on the front, there are 4 so when it's folded all you have to do is push the rower where you want it to go. No lifting is required.
The Hydrow doesn't fold up, and it can only be stored upright when you purchase the storage kit, which is sold separately. In order to move the Hydrow, you have to lift the back end to engage the wheels. Even though it can be stored upright, it won't work if you don't have the proper ceiling height. And not all users will be able to store it this way because it might be too heavy for some.
Both rowers have a sturdy monorail design that is smooth and stable to support rowers of most sizes.
Geometry/Dimensions
Aviron
Footprint: 97″ L x 21″ W x 43″ H
Folded: 54" L x 21" W x 62" H
Pedals: 13" L
Monorail: 46" L x 18" H
Seat: 13" W x 10" D x 20" H
Belt Drive: 30" from where the belt appears from the flywheel
Hydrow
Footprint: 86″ L x 25″ W x 47″ H
Stored Upright: 33" D x 25" W x 86" H
Pedals: 12" L
Monorail: 41" L x 14" H
Seat: 12" W x 9" D x 16" H
Belt Drive: 27" from where the belt appears from the flywheel
Aviron Vs Hydrow Footboard & Pedals
The pedals on both of these rowers are nicely spaced apart. Other rowers, such as the Ergatta, have pedals that are very close together. This can make larger users especially feel a little cramped. All of our reviewers are comfortable using the pedals on the Aviron and Hydrow.
When measured, the footboards are slightly longer on the Aviron, but both can accommodate any athletic shoe up to most sizes. The pedals adjust similarly on each rower and they allow for some flexion when you're in the catch. The straps on either aren't my favorite because I prefer velcro, but they're easy enough to tighten and loosen. I might be alone in preferring velcro over regular straps.
Aviron Vs Hydrow Handle
We really like the handle on both the Aviron and the Hydrow. They are round and fit well in your hands. The Aviron's can be rotated to help keep your hands and wrists in proper form, while the Hydrow's is ergonomically angled. Both are comfortable and plenty wide for all of our reviewers. We do wish they both included vents or a cut-out for single-armed rowing, though.
Aviron Vs Hydrow Seat
The Aviron's seat has a lot of cut-outs and a different design than what we've seen on other rowers, but the cushioning isn't as forgiving as the Hydrow.
I don't get any discomfort from using either seat and most users should find either seat to be sufficient. Most users should feel plenty supported by each seat as they are wide, sturdy, and smooth when gliding over the rails.
Aviron Vs Hydrow Flywheel
The flywheels on these rowers are a little different. The flywheel on the Hydrow is built into the body, while the Aviron has a fan attached. They both use belts that attached the handle and flywheel together. This is much quieter than chains which can be found on air rowers like the Concept2 and AssaultRower Elite. The Hydrow's belt feels a bit tighter and encourages you into the recovery position a bit more than the Aviron. They each create smooth consistent strokes though.
The flywheels on the Aviron and the Hydrow do make some noise when you're rowing. The Aviron sounds more like a fan, while the Hydrow makes more of a whirring sound. Neither rowers' noise output is excessive, but if noise is an issue this is something to consider.
Aviron Vs Hydrow Resistance
The Hydrow uses magnetic resistance which is adjustable on the screen. Magnetic resistance is measurable so you can see how much resistance you have on the screen. Instead of just levels though, Hydrow uses a drag factor which signifies the amount of tension that is felt when you're rowing. The default setting is 104 but it can be adjusted up or down depending on your fitness level.
The Aviron is a hybrid rowing machine that uses both magnetic and air resistance. Air resistance is known for providing unlimited tension to pull against because the harder your row the more air enters into the flywheel to give more resistance. You can adjust the magnetic resistance on the screen up to level 16. Both rowers provide plenty of tension for users to row against.
Performance & Functionality
We are immensely impressed with the Aviron and the Hydrow. They are some of the best rowing machines on the market because of their content and high-quality designs. The Hydrow does offer a more classic rowing experience with its overall design resembling a rowing shell and its professional outdoor rowing classes. The Aviron on the other hand has a less conventional design and content. More often we see trainer-led workouts on fitness equipment, but with brands like Aviron, we are seeing more and more gamified workouts.
We do highly recommend subscribing to the memberships on the Aviron and Hydrow. The Aviron does offer some functionality of the rower without a subscription, definitely more than the Hydrow. When buying equipment like this with an attached touch screen, you're really paying for the content. The content really enhances the overall experience of each of these rowers, even though they are solid machines on their own. While we might be partial to the design of the Hydrow because it looks so grandiose in the home, the Aviron pleasantly surprised us with how comfortable and easy it is to use and store. Both rowers are pretty easy to get on and off of, but since the Aviron sits up a little higher, it might be the better option if you have limitations when sitting close to the ground.
Warranty
Aviron and Hydrow offer fairly standard warranties for their rowers. Hydrow offers 5 years for the frame and storage kit, and 1 year for components, screen, other electronics, and labor. Aviron is a little more extensive with a 10-year warranty for the frame, and a 1-year warranty for parts.
We usually recommend two people for a smoother assembly process, but one person can assemble the Aviron pretty easily considering it is lightweight. The Hydrow offers in-home delivery and assembly that we highly suggest getting. The Hydrow is large and heavy, and it's always helpful when a brand offers assembly.
---
BottomLine/ Recommendation
We recommend both of these rowers, but for different reasons. They both have solid, stable designs but it's the content that really makes them stand out and differ. On each of the attached 22" touch screens, you'll find different types of subscription content. The Hydrow offers a huge selection of workout classes that are led by professional rowers. Most of the classes are filmed outdoors in remote locations. There are also mat classes off the rower to incorporate into your fitness routine.
The Aviron on the other hand has a wide variety of content. From engaging video games, and competitions with professional athletes and other members, to streaming from Netflix and taking guided workouts with and without an instructor, the Aviron has a lot to choose from. So, if you're looking for a more classic rowing experience and want to follow along with an instructor then look into the Hydrow, and if you want to play games and maybe watch your favorite show while you row, get the Aviron. But trust us – you can't go wrong with either!