*TreadmillReviewGuru helps consumers find the best home fitness products. When you buy a product we recommend, we may earn a commission.
Last Update: May 10, 2023
The Teeter FitSpine X1 is the base model that Teeter offers, but it is in no way basic. Teeter is a big name in the inversion table world. They have been in the game for almost 40 years, with a singular focus on inversion tables and the relief of back pain. Their tables are the cream of the crop, and the Teeter FitSpine X1 is no exception. The X1 is a fantastic product that can help with a wide array of back and neck issues. With its all-steel frame and 8-point suspension bed, you get both a durable and comfortable inversion bed. It's UL-certified, and FDA-Registered, which means it is indicated for back pain, sciatica, spinal degeneration, tight back muscles, tension, herniated disc, and even degenerative disc disease. With the Teeter FitSpine X1, you are getting a product that has gone through extensive testing and is proven to be effective, safe, and high quality. Not many other brands have done that. You'll love the sturdy, durable design and simple function of the FitSpine X1.
---
Why Trust Our Review Of The Teeter FitSpine X1 Inversion Table
During our testing process, our team is sure to try out all the features and components of the equipment. Sometimes we even get lucky enough to have different models from the same brand on hand, so we can see how they compare. This helps us create full comprehensive reviews like this one of the FitSpine X1 inversion table. This is Teeter's most affordable model, and we were able to draw from our experiences using the FitSpine X3 and FitSpine LX9. When reading this review, know that our team did our due diligence testing and using these inversion tables to help you make informed buying decisions.
Our Teeter Inversion Tables Video Review
---
Pros
FDA-Registered as a 510(k) Medical Device
11 gauge heat-treated steel frame
Very comfortable ankle lock – won't hurt your feet
Awesome bed 8 point suspension bed
Rock-solid design is strong and not top-heavy
Precision balancing design allows user to rotate and oscillate the table
5-year warranty
30-day trial program
Cons
A bit heavy, but that weight is what makes this a safe, sturdy inversion table
FitSpine Acupressure Nodes
The acupressure nodes are amazing when trying to work out muscle knots and spasms. The included acupressure nodes are removable and customizable allowing you to place them where you need to or remove them altogether. They are different shades of blue and the darker the shade, the more intense the experience.
FitSpine Lumbar Bridge
The Teeter FitSpine X1 comes with an adjustable lumbar bridge. It easily slides in and out of the inversion beds lumbar notches. It can be put to good use by those who have lower back pain and need the added stretch, but it can also be removed by those who find it uncomfortable.
FlexTech Floating Bed
The FlexTech 8-Pt Floating Suspension Bed is a unique inversion bed design. While other companies make a static hard bed with no give, the FlexTech bed will move with you. This gives you the best of both worlds by having a supportive bed while also having the ability to move it. When you move to perform any stretch, the bed will flex with you to complement and support that stretch.
Ergo-Embrace Ankle Supports
The cushioned ankle supports on the FitSpine X1 are extremely comfortable. The inner cuff is made with a pressure-reducing material that keeps you secure when inverting but also keeps your feet and ankles from feeling the force. These are such an upgrade from the foam roller supports seen on some other inversion tables.
UL Tested
Teeter has submitted their inversion tables to go through rigorous testing for UL certification. UL is an independent nonprofit organization that tests the quality and safety of products. That certification means that the X3 was tested at 4 times its specified weight (1,200) for at least 30,000 inversion cycles. What makes this so worthwhile in this case is that Teeter wasn't required to have their products tested. But going through the process to ensure a quality product.
Height Limits: 4'8″-6'6″ (142-198cm)
Weight Capacity: 300lb (136kg)
Non-use Dimensions: 58" x 29" x 61"
Max In-Use Dimensions: 81" x 29" x 87"
Product Weight: 59.3 lbs
FitSpine Acupressure Nodes: Custom placed removable nodes that help with muscle spasms and sore spots.
FitSpine Lumbar Bridge: Adjustable and removable lumbar bride for better lower back alignment and stretching.
FlexTech Floating Bed: Flexible bed with 8 independent points of movement for comfort and support in stretching movements.
Warranty: 5-Years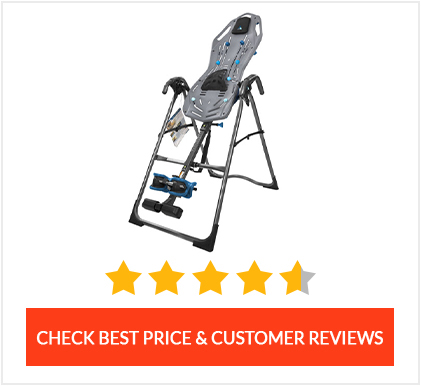 ---
In-depth Review Of The Teeter FitSpine X1 Inversion Table
Construction
Frame
Teeter went above and beyond with their frame design and construction. The X1's frame is made from heat-treated 11-gauge steel making this inversion table extremely strong and stable. With a 300 lb weight limit, you won't have to worry about it being wobbly or not supporting you. It can handle more than just hanging. You could use this unit to do some upside-down sit-ups or find other ways to add it to your workout routine.
Bed
The bed is designed with an 8-point suspension system that is comfortable, supportive, and well-designed. The bed will flex with you through the various stretches you can do. So if you're twisting to stretch your mid-back, the bed will move with you to offer more support and help you maintain a good comfortable stretch. You'll notice that the X1 doesn't come with any sort of padding on the bed and honestly, I didn't even miss the padding. Some other brands may offer memory foam pads or the like but those can interfere with the spinal decompression effects of the table.
---
Functionality / Performance
If you are reading about inversion tables, there's a good chance that you suffer from back and/or neck pain. Inversion tables like the Teeter FitSpine X1 decompress the spine and stretch back muscles giving you much-needed relief from the many side effects of spinal compression and muscle tension. There have been studies that support the notion that spinal decompression and paraspinal muscle stretching can decrease back pain with continued use. That's not all hot air. Teeter's inversion tables have helped decrease my back pain more than any other product I've ever used.
Teeter products, including the X1, are FDA-Registered as devices suitable for alleviating the pain and compression associated with multiple spine and neck conditions. The Teeter X1 is registered with the FDA as being useful for back pain, sciatica, spinal degenerative joint disease, spinal curvature due to tight muscles, degenerative disc disease, and spinal stenosis. It can also be used to relieve pressure from herniated discs, facet syndrome, and muscle spasms in the neck and back. Inverted therapy relieves the normal spinal compression that is a natural result of gravity and allows the spine to be gently stretched and elongated to relieve both pain and immobility.
The best part about the FitSpine X1 is its ease of use. Once you secure yourself in the ergonomic ankle supports, you just lie back and relax. You can invert the bed by simply putting an arm or two over your head. There's no straining or flailing to get down or back up. It's all done with simple arm movements.
(Disclaimer: As always, we recommend you consult with your doctor before trying an inversion table.)
The X1 comes standard with an inversion angle tether that allows you to set the maximum inversion angle that you're OK with. That is an excellent feature to have, especially for beginners, because it prevents you from inverting further than you're comfortable with. That way, you don't get in over your head… get it? It's also useful for experienced users who know what inversion angle works best for them. You just set the strap and start inverting and stretching out your back.
Storage / Folding
We all know how hard it can be to find the room to store yet another piece of equipment. But, the X1 folds down small enough to fit in a closet, making it great for anyone, even those who are short on space. Keep in mind since it uses heavy-duty materials, it is a little heavy and awkward to move. It may also be too tall for closets with certain shelving configurations. I personally fold mine up and put it in my walk-in closet, but have several friends who also keep them next to their treadmill or other home fitness equipment.
For storage, the X1 does not have to be leaned up against the wall. We have pictured it leaning here for display — but if you leave the legs of the frame separately slightly, it will stand on its own. This is very convenient for upright storage.
No matter where you keep it, It's easy to fold the X1. You flip the bed all the way back then simply walk the rear feet towards the front feet, and it'll fold up nicely.
Acupressure Nodes
By placing the node in the right area, you can essentially perform your own Pressure Point Therapy. This can be an excellent solution for those who can't seem to get rid of those stubborn knots. A little disclaimer: It's best to place these after knowing where your problem areas are. If you just throw them on and lay down, you could end up laying on a nerve or putting pressure on a bone.
What I do is after I find a knot, I have somebody place the acupressure node for me so that it hits the knot directly. This has saved me a lot of painful shifting and guesswork. But if you don't have anybody who can help you place it, you can use trial and error to get the node in the perfect spot.
Something to note is that the darker the color of the acupressure node, the more protruding and intense the experience. So if you have an extra sore spot, try starting out at the lightest color node first and work your way up from there. You should be careful when trying this out for the first time because they can be a bit painful until you get the hang of the placement and desired pressure.
Ankle Lock
The support uses a pin ankle enclosure. This means you pull the pin to adjust the cups to fit around your ankles. The cups themselves are lined with a comfort foam that prevents chafing and discomfort while also keeping you secured to the inversion table. You adjust the cups to fit snugly around your ankles, and then you're ready to rock.
If you are someone who has trouble bending over, then the pin system on the FitSpine X1 may be difficult or painful for you to use. If that is the case, then check out the FitSpine X3 or the LX9 because it comes with some great ease-of-use add-ons, including the Deluxe EZ-Reach Ankle System. The EZ-Reach System allows you to secure your ankles with a locking lever without bending much.
A lot of people complain at first that their inversion table hurts their feet. We found the X1 inversion table by Teeter to have one of the most comfortable ankle locks on the market. We didn't have any problem with it hurting ankles – even those we tested it with who inverted for the first time. However, if you do have any issues we recommend wearing socks or shoes, and both options work great with the FitSpine from Teeter. If you have leg hair, I would recommend wearing socks, or else it might get pulled out. And it hurts.
Lumbar Support
The FitSpine X1 by Teeter comes with adjustable lumbar support that comes in handy if you're suffering from back pain. The support helps to achieve the neutral alignment of your spine and hips. I think this is a great feature because the lumbar support helps the decompression effect of the X1 inversion table. If you find that it is too intense and hurts your back, it is adjustable.
The lumbar support may not be for everyone, which is why Teeter made it removable. If you're worried it might hurt your back or if you haven't had good luck with it in the past, it's very easy just to remove.
Worth Mentioning
Assembly
Something that Teeter does that I appreciate is that they assemble most of the inversion table. All you have to do is attach the bed and ankle supports to the steel frame. All of Teeter's inversion tables come with easy-to-read instructions, an assembly DVD, and the option to use the BILT app. I used to BILT app to assemble the X1 and it was way easier than the instructions or the DVD. What the app does is take you step by step through the installation process and allows you to position and rotate the image the table to better see how to assemble it. It even reads you the instructions while you put it together.

Another cool aspect of the BILT app is it will show you a couple common incorrect assembly mistakes made. It'll start by giving you a verbal warning and then an animation on what went wrong and why it doesn't work.
Another nice feature is the free Teeter Move app. This is an app you can download to follow along with guided videos to learn how to properly use your inversion table and get tips for stretching and fully inverting. These videos are beginner, intermediate, and advanced-friendly. So no matter your experience using inversion tables, you're sure to find this app helpful.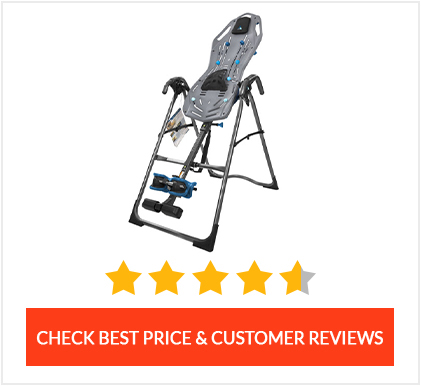 ---
Bottom Line:
One of the main reasons that we rate the Teeter FitSpine inversion tables at the top of our best inversion tables list, is because Teeter's primary focus is on back pain, and their inversion tables reflect that. The Teeter FitSpine X1 is a premium inversion table that has been carefully designed and crafted to be the best. It is FDA Registered for the relief of multiple neck and back conditions and has been researched and engineered to provide both pain relief and even facilitate recovery and rehabilitation when needed. The Teeter FitSpine X1 features a heavy-duty frame that is not top-heavy, so rotation and oscillation are both possible during use. The comfortable 8-point suspension bed and acupressure nodes further enhance its overall usefulness and value.
You also can't go wrong with a company like Teeter. They have gone the extra mile with UL certification and FDA clearance while also including a 60-day money-back guarantee, a 5-year warranty, and a 30-day trial offer. They even have 0% interest payment options or the possibility of buying it with an FSA/HSA account. Heck, you can even use Paypal. They definitely give you plenty of payment options.
That being said, if you like this inversion table but want a few more features, check out Teeter's X3 or LX9 inversion tables. They include stretching handles, a boarding platform, and/or storage caddy/cup holder.
Related Inversion Table Reviews: