*TreadmillReviewGuru helps consumers find the best home fitness products. When you buy a product we recommend, we may earn a commission.
Last Updated: May 10, 2023
The Teeter FitSpine LX9 is the top-of-the-line model in the FitSpine series and is our top pick for "Best Inversion Table". It includes all of the features and similar specs to the X3 models while adding a boarding platform, storage caddy, and more robust Stretch Max handles. The LX9 is FDA-Registered for several back and neck conditions and has been UL tested for safety. You also get an inversion table that has been almost 40 years in the making, meaning that it has 40 years of improvements already done. Teeter has put a lot of thought and top-notch engineering into this model, and you will not find a better inversion table.
---
Awards: Best Inversion Table of 2023
The Teeter LX9 has thoughtful features like a boarding platform, convenient ankle support system, storage caddy, and angle tether to provide safety and ease of use. We're impressed that Teeter ensures the LX9 is FDA registered and UL safety certified so you can be sure you're using a quality, comfortable, and safe inversion table. The FitSpin LX9 is at the top of our best inversion tables because of all of this and more that I'll detail throughout this review.
Why Trust Our Review Of The Teeter FitSpine LX9 Inversion Table
Overall health and well-being is important to us here at Treadmill Review Guru. We believe in being active and striving to feel our best. We want that for you, too. That is why we test inversion tables and other fitness equipment types and compile these reviews. Our goal is to provide you with insight into how a product works before you bring it home. We want you to feel confident and secure in your buying decisions and to love and use the equipment.
For this review, our team was fortunate enough to be able to test all three inversion tables from Teeter including the FitSpine X3, and FitSpine X1 so we could compare the functionality and features of the FitSpine LX9.
Our Teeter Inversion Tables Video Review
---
Pros
FDA Registered as 510(k) medical device for several back and neck conditions
Voluntarily UL tested and certified
Included boarding platform
Best ankle lock support system
Excellent construction
Great 5-year manufacturers warranty
30-day trial available
Heavy-duty 11-gauge heat-treated steel frame
The boarding platform makes it easier to fold the FitSpine LX9
Cons
The top-notch construction and high-quality materials make this inversion table a little heavy and awkward to carry. But it will stand upright on its own when folded.
FlexTech Floating Bed
The FitSpine LX9 is designed to include the FlexTech 8-Point Floating Suspension Bed. This bed gives you the freedom to flex and move by moving with you. This takes a lot of the effort out of twisting and stretching.
Deluxe EZ-Reach Ankle System
This is the most comfortable and easy to use ankle support system that we've tried. It uses two cuffs with comfortable, supportive material lining the inside. This gives you the support you need to invert without the discomfort of foam rollers.
EZ-Stretch Traction Handles
The EZ-Stretch Traction Handles help you add control over the amount of traction you experience at any angle. This means that you can add extra traction by pushing the handles, or by pulling them, you can lessen it if it's too intense.
EZ-Angle Tether
The EZ-Angle Tether allows you to set the maximum angle of your inversion easily. With pre-marked angles of 20, 40, and 60 degrees, you can figure out which one works best for you and easily set it in the future. This takes the guesswork out of setting up the FitSpine LX9.
Stretch Max Handles
These handles are excellent for getting that extra stretch in. With the robust supportive handles, you're able to pull into the stretch, giving you a better deeper stretch and relief from muscle tension.
LX Boarding Platform
A feature unique to the FitSpine LX9 is the boarding platform. It is a non-slip and elevated surface that makes it easier to get on the LX9 and get off of it.
LX Storage Caddy
Another feature that is found standard on the LX9 is a storage caddy. This comes in handy to hold a drink, cell phone, or anything else you don't want to fall out of your pockets.
UL Certified
Teeter volunteered the FitSpine series of inversion tables to undergo UL testing. The LX9 went through at least 30,000 inversions with 1,200 pounds strapped to it. It far exceeded the test and received UL certification while experiencing zero failures. UL LLC is a safety testing company with offices all over the world. UL is one of the companies that conducts safety testing for OSHA, the Occupational Safety and Health Administration. As a UL tested product, the LX9 has demonstrated both safety and durability and is recognized as a quality health device.
Min – Max Height: 4'8″-6'6″ (142-198cm)
Max User Weight Capacity: 300lb (136kg)
Non-use Dimensions: 57" x 28" x 61"
Max In-Use Dimensions: 82" x 28" x 87"
Product Weight: 70.8 lbs
FitSpine Acupressure Nodes: Are very useful for muscle knots or turning your inversion sessions into a massage. They are adjustable and removable with 4 levels of tension relief included.
FitSpine Lumbar Bridge: Helps to square your hips to ensure better spinal decompression and muscle stretch. It is adjustable to fit your natural arch and is removable.
FlexTech Floating Bed: 8 separate points move independently on the bed, giving you support even when you move.
Deluxe EZ-Reach Ankle System: Easy to adjust with the most comfortable ankle support on the market with an extra-long handle.
EZ-Stretch Traction Handles: Allow you to customize the amount of traction you're receiving on the table with a simple push of the hands.
EZ-Angle Tether : A tether that has 20, 40, and 60-degree markings.
Stretch Max Handles : These help you ease back on the inversion table while also giving the support you need for a deep stretch.
LX Boarding Platform: The boarding platform is a great non-slip step for the inversion table.
LX Storage Caddy: The storage caddy gives you a place to store your phone, keys, and wallet.
Warranty: 5-Years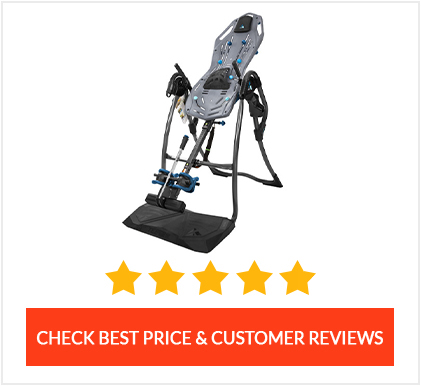 ---
In-depth Review Of The Teeter FitSpine LX9 Inversion Table
Construction
The Teeter FitSpine LX9 is built with top-notch materials. Some things that stand out on the construction:
Frame
The frame of the LX9 is 11-gauge high-carbon heat-treated steel. High-carbon steel is a great choice in metal because it is less prone to stress fatigue and breakage. This means that with continued use of your inversion table, it won't break and drop you on your head. It is strong and will hold anything under 300 lbs and invert without getting close to the unit's critical max capacity.
I could tell the difference between the cheaper brands and the LX9 at first glance and even more after using it. Teeters don't wobble (as long as your floor is even), and you can tell that the materials used to build it are better than all of those other brands. During my many inversion sessions, there hasn't been a squeak or a wobble. These are exceptionally well-built tables that feel supportive and stable.
Bed
The FlexTech 8-Point Suspension bed is built to be flexible and supportive. It is meant to support your body movements and amplify your stretch. The shape is meant to match the natural curvature of the spine with lumbar and cervical protrusions as well as a thoracic dip. This makes the bed naturally supportive and comfortable. It also helps the spine realign by providing the best position for it while you're inverted.
---
Functionality/Performance:
Teeter is an industry leader for inversion tables. Teeter not only designs and builds quality products, but they have also used their continued market domination to improve the industry and increase the standards for design and testing. Teeter's X1 and X3 are both excellent tables but the LX9 stands out as clearly the best in the lineup.
The Teeter FitSpine LX9 is FDA-Registered as suitable for alleviating pain and compression associated with spine and neck conditions. Specifically, the FDA has designated the LX9 as useful for back pain, sciatica, spinal degenerative joint disease, spinal curvature due to tight muscles, degenerative disc disease, and spinal stenosis. It can also be used to relieve pressure from herniated discs, facet syndrome, and muscle spasms in the neck and back. Inverted therapy relieves the normal spinal compression that is a natural result of gravity and allows the spine to be gently stretched and elongated to relieve both pain and immobility.
When you stand upright, gravity pulls the spine towards the floor. Scientific tests have proven that even healthy people are taller (by micro-measurements) in the morning than in the evening. This is due to the effects of gravity on the body. For those with spinal compression or injury, this gravitational pull can cause tremendous pain and exacerbate stenosis and sciatica. The LX9 inverts and elongates the spine and utilizes gravity to decompress and stretch your back. This can often help people find relief from pinched nerves, lessened spinal mobility, and even back spasms and muscle knots. Studies completed by third parties have tested inversion tables (teeter tables included) and found a decreased need for surgery with regular use. So if you're questioning whether or not inversion tables work and if a Teeter inversion table is worth it — it is!
Storage/Folding
The FitSpine LX9 is considerably easier than both the X1 and X3 to fold. It is also easy to store once it's folded. As you can see, the LX9 stands upright when folded which is very convenient.
It may be a little heavy and awkward to carry, but it can fit in a walk-in closet, or it can be put in the corner for later use. I like to keep mine folded up and close to my other fitness equipment so I can use it before or after a workout.
As previously mentioned, it is a little heavy, but what makes it awkward to carry is that it is top-heavy. Keep that in mind as you try to move this inversion table. But that is a small price to pay because you're getting a really well-built machine that'll last you longer and serve you better than those other cheaper flimsier brands.
Acupressure Nodes
The Acupressure Nodes can really come in handy if you have a muscle knot in your back. If you do, you can place these nodes in whatever configuration you'd like or remove them completely if they're not your cup of tea. Acupressure uses pressure point therapy to exhaust the muscle knot and cause it to release. They can be useful in a pinch, but they're worth their weight in gold if you have a recurring muscle knot.
A quick word of warning to anyone putting one up for the first time. We recommend having two people on hand to make sure the table is properly set up. Also, if you put the most aggressive node on and it ends up hitting a nerve or a rib, then it's not going to feel great. It is better to have someone help with the initial adjustments and node placements the first time you use the table.
Deluxe EZ-Reach Ankle System
Having used both the standard pin lock system and the EZ-Reach system I can say that the EZ-Reach is far superior in terms of ease of use. The long handle with the button on top is really nice to have, especially after inverting when the last thing you want to do is fold yourself in half trying to release the pin. But where I think it shines the most is that it's easier to secure your feet and find a more custom fit. That is due to the micro teeth in the locking mechanism that allows you to make smaller adjustments when compared to the big leaps made with the pin lock system. Without the EZ-Reach you may find the ankle cuffs too tight or too loose. With the EZ-Reach you can find a comfortable fit.
EZ-Stretch Traction Handles
Sometimes you may want more traction while inverting. Teeter's EZ-Stretch Traction Handles are the answer to that. These handles give you the ability to increase the intensity of traction by pushing with your hands. It also gives you complete control to help you find the perfect traction scenario. I can see how this would be incredibly useful for people who aren't comfortable with going past 20 or 40 degrees but want traction similar to 60 or 90 degrees. I found it useful to increase the traction on the 60-degree tilt.
The way it works is as you're inverted; you push the handles away from your body, which stretches out your back and further decompresses your spine. And it's not just for beginners; it can be used by more advanced users to increase the intensity of their decompression and stretch further.
EZ-Angle Tether
This is an extremely useful feature and is super easy to use. The EZ-Angle Tether comes pre-marked with 20, 40, and 60-degree markers. The beauty of it is that you can find your sweet spot every time. It makes it easier to set up in that since it uses a buckle system, you can set it and forget it. And if you decide one day that 40-degree tilt is no longer your sweet spot, you can easily adjust it to whatever you like or remove it altogether.
If you make frequent adjustments to your inversion it may be a little more difficult to find the exact angles that you were using before without the EZ-Angle. I found that it is handier than you'd think and it helps you remember and note which angle worked better for your pain. I found that the 60-degree inversion did a lot more for my mid-back than the 20 or 40 degrees. So now I just leave it adjusted to that angle.
Boarding Platform
The boarding platform has a good quality solid feel to it. It is made with a plastic non-slip surface, and it offers a bit of a boost to get yourself ready to go on the inversion table. Our reviewers range from 5'0" up to 6'5" and we all found it to be beneficial, especially our shorter reviewers. The boarding platform did make it easier to get on and off the LX9.
One unexpected aspect of the boarding platform that I really liked was it made folding the LX9 much easier than the X1 and the X3. To fold it up you grab the end of the Stretch Max handles and simply walk the table towards you. It's very easy to do.
There is a small downside to the platform and that is it increases the footprint of the inversion table even while it's folded. It doesn't increase it by much — just about 5 inches at the base.
Storage Caddy
The storage caddy gives you the ability to store a cup, keys, or maybe your phone. This was most helpful when I was listening to music on my phone. Without the caddy, you end up putting the phone on the floor, and you have to reach awkwardly over to change a song or adjust the volume. The storage caddy puts your phone right in arm's reach making it easy to change the song or answer an urgent phone call. It is also a great place to store the acupressure nodes if you don't use it for a water bottle or your phone. Overall it is a great addition that I'm sure you could find a use for.
Worth Mentioning
Assembly
If you're worried about assembling the LX9 just know that it comes 80% assembled. And it comes with clear and easy-to-understand printed instructions. It also comes with a step-by-step installation DVD that can really make the process easier. But my favorite is using the BILT app. This comes with step-by-step virtual instructions. You can zoom in and rotate the image to get the best view while assembling. It'll also show you exactly where to put bolts and if the table is assembled correctly. BILT makes it much easier.
Speaking of apps, the Teeter Move app is excellent for beginners and those who want some guidance while using the LX9. This app includes videos on how to properly set up and use your Teeter inversion table. There are videos designed like classes to guide you through inversion and recovery, as well as using Teeter's other equipment.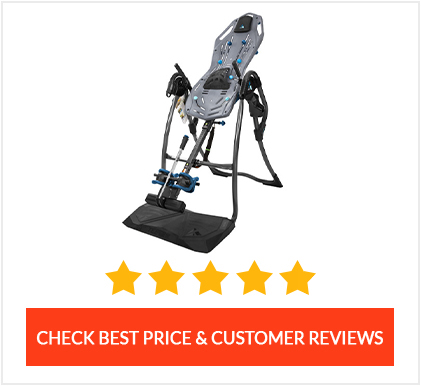 ---
Bottom Line:
The Teeter FitSpine LX9 is an excellent inversion table that is high quality, durable, and safe. Teeter states, if used regularly, the FitSpine series can relieve your back pain and improve your quality of life. The LX9 is FDA-registered and has a UL certificate of safety. Teeter has spent years in the industry engineering and developing products that are safe and beneficial. The FitSpine LX9 is a tool worth investing in and could save you money even if it just lessens the need for chiropractic visits alone. And just know that with Teeter, you're getting a quality product and a reasonably low cost, and it is 100% worth it.
Our team has had a fair share of different back issues and pain. The Teeter LX9 provides relief for the discomfort and helps us feel our best, especially after sitting while writing reviews!
All that being said, this is an excellent inversion table that you will love. It is worth every penny. That is why it is rated as our top inversion table for 2023. It can relieve your back pain and save you money by lessening visits to chiropractors or helping you avoid expensive back surgery. Heck, it's even cheaper than a few cortisone shots. Buy it. You won't regret it.
If you don't have the money, Teeter offers 0% financing and even a try-before-you-buy program. They take HSA, FSA, and even Paypal. They've made their products affordable and available to all.
Related Inversion Table Reviews: