*TreadmillReviewGuru helps consumers find the best home fitness products. When you buy a product we recommend, we may earn a commission.
Last Updated: May 10, 2023
The Teeter FitSpine X3 is an amazing piece of engineering. It has the same great pain-relieving features as the FitSpine X1 and on top of that you get the EZ-Reach ankle support system, EZ-Stretch Traction Handles, EZ-Angle tether, and StretchMax handles. This combination of features, along with Teeter's quality construction and engineering, make the X3 an impressive high-end inversion table for relieving back and neck pain. The Teeter FitSpine X3 is FDA-Registered for multiple neck and back disorders and Teeter acquired a voluntary UL certificate for product safety. UL LLC is an independent safety analysis company that tests and rates all kinds of products and equipment. Teeter submitted the FitSpine X3 for testing and analysis to receive a UL quality certificate for the X3. This places Teeter in a category of its own.
---
Why Trust Our Review Of the Teeter FitSpine X3 Inversion Table
Experiencing discomfort and back pain can significantly impact your life in a negative way, we know this because it has for us. As fitness professionals and enthusiasts, our goal is to optimize our health and do what we can to eliminate pain, in the most healthy way possible. While we aren't health providers and we encourage you to speak with your doctor before using an inversion table, we have found that the Teeter FitSpine X3 is among some of the best out there. We've been using inversion tables from Teeter for years and you can trust that this review is based on our team's experience actually using the equipment. Being that the FitSpine X3 is the midrange model in Teeter's lineup, we compared it to the lower (X1) and higher-end (LX9) models during our testing process, too. This is to help give you determine which model is right for you.
---
Our Teeter Inversion Tables Video Review
---
Pros
Registered as a 510(k) medical device
EZ-Reach Ankle System
EZ-Stretch Traction Handles
EZ-Angle tether with 20, 40, and 60 degree quick set angle markers
Tough heat-treated 11-gauge steel frame
FlexTech 8 point suspension bed moves with you
Extremely sturdy construction is supportive but not top-heavy
Precision balancing design allows user to rotate and oscillate the table
Long 5-year warranty
30 day try before you buy
Cons
The heavy-duty construction makes this inversion table a little heavy but also makes it stable and safe.
FlexTech 8-Point Floating Suspension Bed
The 8-point suspension gives you both the efficiency of the static beds found on other brands with the ability to move and bend it. As you pivot and stretch, the FlexTech moves with you giving you an added element of support. You'll find that the bed doesn't tilt too little or too much but instead will work with your movements.

Teeter products, including the X1, are FDA-Registered as devices suitable for alleviating the pain and compression associated with multiple spine and neck conditions. The Teeter X1 is registered with the FDA as being useful for back pain, sciatica, spinal degenerative joint disease, spinal curvature due to tight muscles, degenerative disc disease and spinal stenosis. It can also be used to relieve pressure from herniated discs, facet syndrome and muscle spasms in the neck and back. Inverted therapy relieves the normal spinal compression that is a natural result of gravity and allows the spine to be gently stretched and elongated to relieve both pain and immobility.
Deluxe EZ-Reach Ankle System
For those of you who have a hard time bending over due to back or hip issues, you may have been discouraged by other inversion tables that require you to bend down to lock your feet/ankles in. The Deluxe EZ-Reach Ankle System provides a lever that allows you to lock in the ankle support without having to bend. This is a great feature that'll help you skip that initial pain and discomfort and move on into pain relief.
EZ-Stretch Traction Handles
The EZ-Stretch Traction Handles are geared towards beginners but can be useful no matter your experience. These handles allow you to control the amount of spinal decompression and stretch you get no matter the angle. So if you don't like the feeling of being at a 60-degree decline, but love how your back feels, then you can use these handles to get similar results at 20 degrees.
EZ-Angle Tether
The EZ-Angle Tether is such a good idea. The angle tether is used to limit how far the inversion table can tilt, and the EZ-Angle Tether has specific angles already marked. So you can easily preset the angle to 20, 40, or 60 degrees without having to measure or guesstimate. Or you can detach it completely to hang upside down. Either way, this is a great option for those who want an accurate and quick angle adjustment.
Stretch Max Handles
The Stretch Max handles are used for assisting your stretches. They're used to help you position your body and assist you in getting a deeper stretch than you could unassisted. This feature is convenient to relieve muscle tension and spasm in your back. The entire FitSpine line of inversion tables has gone through extensive UL testing and has met and exceeded safety and quality standards. The table is required to hold 4 times more than the max specified weight for 30,000 inversion cycles. The FitSpine series surpassed that. The cool thing to note is that Teeter submitted to this testing voluntarily because UL testing is not required for inversion tables. That fact alone helps us trust teeter more than its competitors (we've also been using Teeter's products for over 10 years without any problems).
Height Limits: 4'8″-6'6″ (142-198cm)
Weight Capacity: 300lb (136kg)
Non-use Dimensions: 58" x 29" x 61"
Max In-Use Dimensions: 81" x 29" x 87"
Product Weight: 65.8lbs
FitSpine Acupressure Nodes: The acupressure nodes are customizable and completely removable.
FitSpine Lumbar Bridge: The lumbar bridge provides adjustable lumbar support and is completely removable.
FlexTech Floating Bed: 8 points of independent movement on a flexible bed.
Deluxe EZ-Reach Ankle System: Long adjustment handle that allows for micro-adjustments to be within arms reach.
EZ-Stretch Traction Handles: Handles that help you customize your traction experience on the inversion table.
EZ-Angle Tether: Pre-measured and marked tether strap, helping you get the angle right every time.
Stretch Max Handles: Handles that help you stretch your back better than you could on your own.
Warranty: 5-Years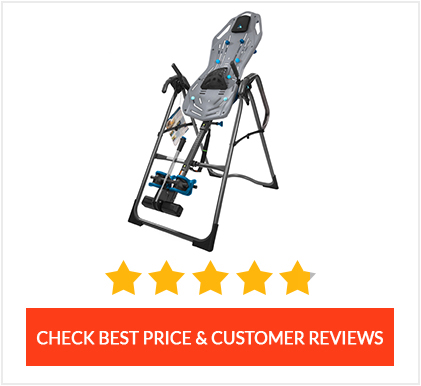 ---
In-depth Review Of The Teeter FitSpine X3 Inversion Table
Construction
The Teeter FitSpine X3 is built with quality materials. A few things stand out on the construction:
Frame
The Teeter FitSpine X3 is engineered to be safe, sturdy, and stable. This is immediately evident in the materials used in the frame construction. The X3's frame is made from 11-gauge steel that's been heat-treated for increased strength and durability. It can hold up to 300 lbs and invert without base even budging. I've been on a few inversion tables, and the FitSpine X3 feels absolutely solid and uncompromising. Even as I invert and do my stretches.
Bed
The bed was built to be flexible. With 8 independent points of suspension, the bed will move with your body. I noticed this not only when I was stretching my back, but by just moving around on the bed. Having that flexibility makes the bed very comfortable to the point where you don't miss any sort of padding. I also didn't have to lift off the bed to stretch but instead could use the bed to stretch, and it supported me. This is cool because you have the supportive benefits of a rigid bed with the added benefit of a flexible one.
---
Functionality / Performance
The main reason someone is looking at an inversion table is that they have back or neck issues. Teeter's mission is to help relieve those issues through non-evasive means such as surgery. They have developed an inversion table that addresses many of the issues of back pain.
The Fitspine X3 includes the Stretch Max handles, Acupressure nodes, and an 8-point Suspension Bed to help the back pain caused by muscular spasms and tightness. Teeter also includes the Lumbar Bridge, and EZ-Stretch Traction handles to complement and intensify the decompression effects of the inversion table.
The Fitspine X3 uses the aforementioned features and gravity to stretch the back muscles and decompress the spinal column, which has been found to offer pain relief to many people. I've added this to my daily routine and have found it makes a world of difference in my back. The X3 has been a literal game changer in my life and has given me more relief from back pain than any pill or chiropractor. Because it is FDA-Registered, users can rest assured that the X3 is not only safe but it is also proven beneficial for a number of spine and neck conditions. Many products on the market proclaim to provide back relief, but it is difficult to get a product registered with the FDA. Teeter inversion tables are backed by scientific evidence and product safety testing that makes them safe, useful, and helpful for all kinds of back and neck pain.
Storage / Folding
So if you're tight on space, you can move the X3 into a large closet or put it in the corner of the room. The way you fold it is by rotating the bed all the way around and then walking the front feet towards the back feet. There is no need to disassemble anything, making it a quick and easy thing to do.
While we demonstrate it here leaning against a wall for contrast, the X3 will stand on its own when folded. Simply leave the legs of the frame separately slightly, and it will stand upright. This is very convenient for upright storage.
I fold mine and keep it in my walk-in closet, so it only comes out when I intend to use it. It's thin enough that it could fit in most closets barring you don't have any shelving systems blocking the height of the inversion table.
Acupressure Nodes
The acupressure nodes are removable protruding nubs that can help release any muscle knots through pressure point therapy. The node placement is customizable, so you can place them near your muscle knot or sore spot. Or if you don't like them, they are completely removable.
Just a little warning, you should do some exploration with the nodes before you try to use them as they can be painful if not placed right. Especially if they're placed directly on a bone or a nerve. The way you can avoid this is by using someone to help you set it when you're on the inversion table. If you don't have someone to help, you can use a mirror to help you.
Deluxe EZ-Reach Ankle System
The inner material on the cuffs is soft and oh-so-comfortable. It offers excellent support as you're inverted without putting too much pressure on your feet or ankles. It also has an extra-long handle that allows you to make micro-adjustments to the tightness of your ankles without bending over.
The EZ-Reach feature makes the X3 an excellent option for people with stiff/sore backs or an inability to bend over. The handle is within arm's reach, so there's no need to bend too far to reach it.
EZ-Stretch Traction Handles
We found the EZ-Stretch Traction Handles to be an exceptional addition. The FitSpine X3 does an excellent job of decompressing and stretching your back on its own, but the traction handles let you take that traction to a new level. It gives you such control over the amount of stretch and traction you experience, and it gives you the ability to increase the intensity of them.
EZ-Angle Tether
The EZ-Angle Tether makes setting the maximum angle of the X3 really easy. We found it very simple to use. You adjust a buckle to green (20 degrees), orange (40 degrees), or red (60 degrees). There's no need to mark anything or bust out the college algebra it's already done for you. I found this especially handy in that the 40-degree mark helps my back the most with the use of the EZ-Stretch handles.
Stretch Max Handles
I don't know why the handles like the Stretch Max handles aren't included on every inversion table. They are the best for getting a good twisting stretch. As you lay back on the X3, you can use the Stretch Max handles to leverage a better stretch by using your arms.
Worth Mentioning
Assembly

The Teeter FitSpine X3 has three great assembly instructions. The first is the paper copy that normally comes with anything that needs assembly. The instructions are clear and easy to read. The second is a step-by-step instruction DVD guide you through the assembly. The third option and the one that I would suggest would be using the BILT app. The BILT app gives you a step-by-step set of instructions and more detail than you'd get with the paper copy and the DVD. You're able to zoom in and rotate the inversion table within the app to see the build from a different angle or zoom in and check bolt placement. The BILT app made it much easier to assemble the FitSpine X3.
Another app that we found to be beneficial is the Teeter Move app. This app allows you to ensure you're using the X3 appropriately and provides videos with guidance for stretching, inverting, and core strengthening. There are different difficulty levels to follow along with, and also other videos that guide you through using other equipment from Teeter.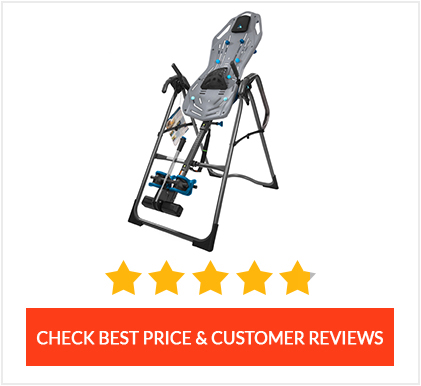 ---
Bottom Line Review: Teeter Fitspine L3 Inversion Table
The bottom line is that with the FitSpine X3, you're getting a top-notch inversion table with a lot of great features. If you're looking for an inversion table, then this is an amazing choice. The Teeter FitSpine X3 is a top-of-the-line inversion table that was carefully designed to be the best. It is FDA Registered for relief of multiple neck and back conditions and has been engineered to provide pain relief and even facilitate recovery and rehabilitation as needed. The Teeter FitSpine X3 features a heavy-duty frame that is not top-heavy, so rotation and oscillation are both possible during use. The comfortable 8-point suspension bed and acupressure nodes add to its overall usefulness and value.
If you don't need the EZ-Reach Ankle System, EZ-Stretch Traction Handles, or EZ-Angle tether then check out the FitSpine X1, which has the same functionality and pain-relieving effects as the X3. Or if you don't quite have the money for a Teeter inversion table, then you'll be glad to hear that Teeter also offers 0% interest financing and a trial program. They also offer the ability to buy it with an HSA or FSA account. If you need an inversion table, then Teeter has made it possible.
Related Inversion Table Reviews: