*TreadmillReviewGuru helps consumers find the best home fitness products. When you buy a product we recommend, we may earn a commission.
Last Updated: September 15, 2023
Do you suffer from back pain or sciatica? If you do, then you are part of the 80% of all adults who suffer from various types of back pain during their lives and could benefit by owning an inversion table and implementing a daily practice of inversion therapy.
*Click here to skip to the bottom-line if you just want to see our top picks for best inversion tables. However, if you are new to inversion therapy and need to be convinced that an inversion table will do amazing things for getting rid of your back pain then keep reading*
Here at treadmillreviewguru, our team is very active. We all run a lot, and as runners we often pay the price in terms of back pain. Personally, I suffered from lower back pain and sciatica when I trained for my first marathon 10 years ago.
So what did I do to get rid of my back pain? Well, I went to the orthopedic doctor. Why? Honestly, I was young and just assumed that's where you start. When I learned that surgery was not really a good option, I went to a physical therapist and then to a chiropractor. The latter two helped me a little bit but I still was suffering from back pain every time I ran. And then a co-worker sold me her husband's Teeter inversion table. With just one week of inversion therapy my back pain was gone (and I also learned that I loved the meditative practice of hanging upside down). My life was changed, and to this day I have an inversion table at my office and one in my closet at home so I can keep my back pain at bay.
As TreadmillRevewGuru.com has grown, we have decided to expand outside of treadmill reviews and information to help runners (and everyone really) live a more healthy life and recover from the physical problems that arise when you live an active lifestyle. One of those areas that we find people need help most is with getting rid of back pain – and that's why we have created our list of best inversion tables for 2023. We've reviewed more than 15+ inversion table brands (most brands suck to be honest) and 40+ inversion tables to find only the best options for you below.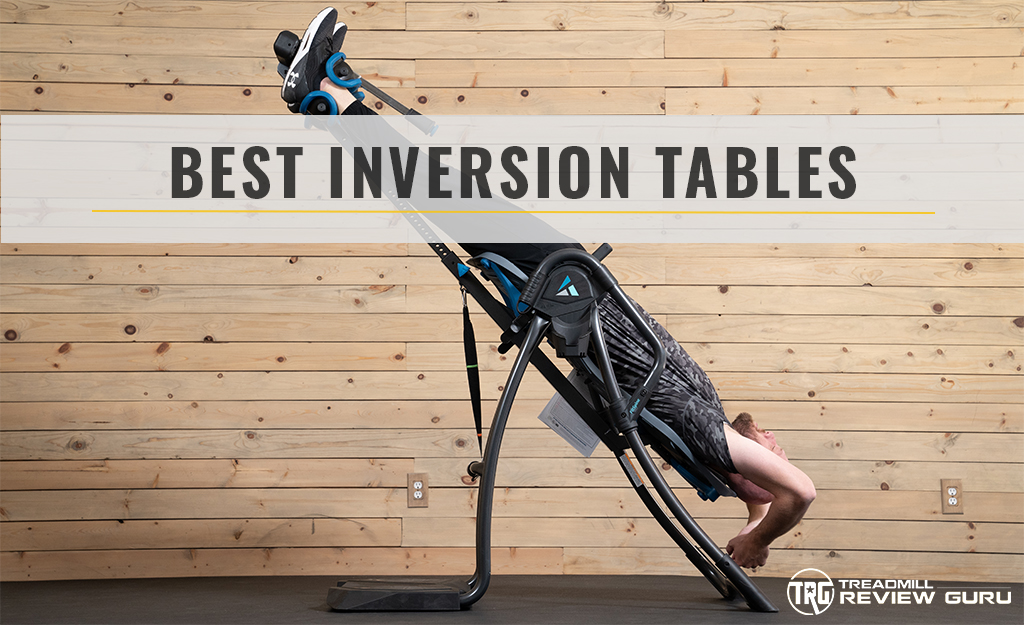 Here are the Best Inversion Tables of 2023
Why You Should Trust Us
We believe that being active and taking care of the body is a priority, and recovery is a large part of taking care of the body. An inversion table is a great way to ease back pain and take care of your body. We've tested all kinds of inversion tables so we know all of the features and specs to look for, and what not to look for. Our team has been testing and using inversion tables for several years, so we're here to help you find the best inversion table for you.
How We Rate Inversion Tables
Our inversion table reviews and ratings are based on the following:
Functionality. A good inversion table will comfortably allow you to hang upside down and stretch your back and get rid of your back pain with little to no hindrance on part of the machine. A great inversion table will do all of that while also making it easier to use as well as more functional all while having safety certifications and great warranties.
Features. My original inversion table was pretty basic. Fast forward 10 years and there are tons of great features you can find on inversion tables that increase the effectiveness. The features that matter most are the ankle locks, beds, and folding for storage, etc.
Build Quality / Durability. If you are hanging upside down you need 100% assurance that you will be safe and not fall and break your neck. The first time you invert is a little scary. Every one of our top 3 rated inversion tables are built exceptionally well, with the best materials, and have exceeded industry standard safety tests.
Comfort. One of the most common questions people ask us is if inversion tables hurt their feet. The answer is that they shouldn't, but some do (the crappy ones). The ones on our list are very comfortable and you won't have a problem using them once you get used to inversion therapy (it will take a few times, but we have some advice on how to invert for the first time as well).
Price. Inversion tables are actually very cheap when compared to other back pain relief options (chiropractic care, surgery, physical therapy, etc.). Trust me, I know. However, you still don't want to pay more than you need to when buying an inversion table.
Sneak peek of the best inversion tables:
Best Inversion Tables 2023 – Top Picks By Our Experts
Check out the following inversion tables that we consider to be the best inversion tables on the market.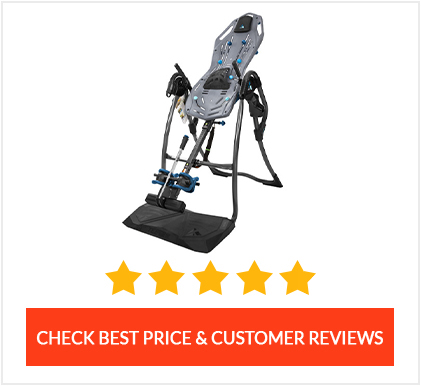 The Teeter FitSpine LX9 is the cream of the crop in the FitSpine series. It has all the features of the FitSpine X1 and X3 but with some noteworthy additions.
For anyone looking for the best inversion table available look no further than the FitSpine LX9. All of the features that set it apart from the X3 make the LX9 easier to use. You'll find the boarding platform, storage caddy, and an easier folding mechanism. These all allow for easier and quicker use of the table while also making it a more comfortable experience.
The LX9 also comes with a measured and marked angle tether that lets you set your desired angle with markings for 20, 40, and 60 degrees.
You'll also find the best ankle support system on the market — bar none. It is called the Deluxe EZ-Reach Ankle System. It has a micro adjusting ratchet mechanism that fastens the comfortable ankle cuffs around your ankles. All this is controlled with a lever with a palm activated button on the top. This makes it incredibly easy to fasten and unfasten while not having to bend all the way over.
Apart from features another aspect that makes this the best inversion table of 2023 is the company that backs the LX9. When people think inversion tables, most people think of Teeter. This is not only due to the founder's name being perfect for a machine that literally teeters you back and forth, but it's because Teeter was the company who pioneered the modern day inversion table way back in 1981 after suffering from debilitating back pain. As an engineer, Roger Teeter then set out to build the best quality inversion tables for back pain – and we think that is exactly what Teeter has done.
We rate the Teeter FitSpine LX9 as our top-rated inversion table for 2023 because of:
Teeter's commitment to quality and durability. The Teeter FitSpine series are all independently certified by the industry's highest UL safety standards. In fact, I still have my original Teeter inversion table I bought used over 10 years ago!
An inversion table that does exactly what it should do every time. Inverting on a Teeter FitSpine is very controlled, safe, and easy. One of the challenges with other inversion tables is figuring out the right balance point so you can get the most out of inversion therapy. This includes inverting at different angles, but also being able to teeter-totter back and forth between inversion angles. Teeter does a great job with all their products with this – and is one of the main reasons we rank the Teeter models so high.
One of the most comfortable ankle locks in the industry. A lot of people complain that inversion tables hurt their feet. Not so with a Teeter FitSpine.
Great value for your $$$. A Teeter is the top-of-the-line model in the inversion table available and it costs a tiny fraction of ongoing chiropractic care and surgery.
30 day in-home trial. I know this isn't technically part of the inversion table, but I think it's a great way to allow people who are suffering from back, neck, and sciatica pain to try the product before they commit 100% to it.
60 day money-back guarantee. Again, this just shows how much Teeter believes in their product, and you should take them up on that offer.
*Also, remember, The Teeter FitSpine (very similar to their EP-560 model) is for those who suffer from back pain, sciatica pain, spinal degenerative joint disease, degenerative disc disease, and other back issues. Teeters machines have also been shown to help reduce the need for surgery by 70%!
Read our full review of the Teeter FitSpine LX9
Pros
UL tested and certified to the highest industry standards (Voluntarily)
300 lb weight capacity
Can fit users from 4'8" to 6'6"
Included boarding platform
Only inversion table brand registered with the FDA as a 510(k) Medical Device
Easy to assemble (average time 20-30 minutes)
Easy to store while not in use
Best materials and construction in the industry
EZ Angle Tether strap to control the inversion range.
Full 5-year warranty
Free Shipping
Multiple methods and guides for easy assembly
Cons
A slightly larger footprint because of the boarding platform
Acupressure Nodes are used mainly for releasing muscle knots and spasm. These can be placed almost anywhere you'd need them.
Lumbar Bridge – squares your hips and helps your spine to return to its neutral position before your inversion begins.
FlexTech 8-Pt Floating Suspension Bed is an extremely comfortable bed that adjusts with you as you move.
Deluxe EZ-Reach Ankle System is the best in the industry. The easy to access and robust lever has a button built into the handle that lets you adjust the tension of the ankle support system. The ankle cuffs are the most comfortable ankle support that I've ever tested.
EZ-Stretch Traction Handles give you a way to intensify amount of spinal decompression you're getting at any angle.
The EZ-Angle Tether is premarked with 15, 30, 60 degree markings making it easy to preplan you inversion experience.
Stretch Max Handles help the user to not only ease into inverting, but also can be used to help stretch the back.
The Boarding Platform Base helps the user get on and off of the LX9 with less effort. It can also be used to help fold the unit up.
Storage Caddy – Can be used to hold a bottle of water, cell phone, keys, or even the acupressure nodes when they're not in use
Min – Max Height: 4'8″-6'6″ (142-198cm)
Max User Weight Capacity: 300lb (136kg)
Non-use Dimensions: 57" x 28" x 61"
Max In-Use Dimensions: 82" x 28" x 87"
Product Weight: 70.8 lbs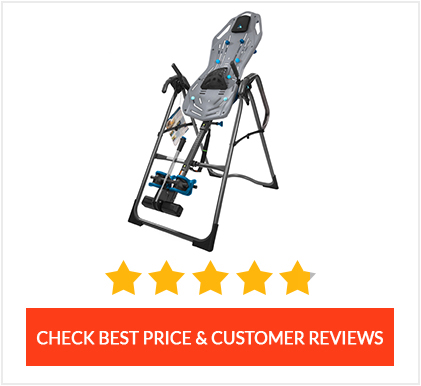 The FitSpine X3 is Teeter's middle-tier inversion table. Don't get me wrong even the most basic Teeter model is better than the other brands top tier inversion tables. So you're still getting a top-shelf piece of equipment. That's why we consider this to the best the best inversion table runner-up.
The FitSpine X3 has a comfortable specialized suspension bed, EZ-Stretch traction handles, Deluxe EZ-Reach ankle system, EZ-Angle tether, and oversized Stretch Max Handles. All of these features make the X3 more comfortable and more effective in helping you with your pain. Giving options for better angles and better stretches on top of the already beneficial inversion therapy.
The X3's ankle support system is just like the LX9 and is one of the most secure and most comfortable that we've ever used. It is very adjustable especially since the rotating foot pads were added which allows for a unique height adjustment.
With the X3 you're still getting a product that has been through extensive UL testing that led to it being passed and certified safe. It also got the FDA nod of approval that classifies it as a safe and effective 510(k) medical device. There is no other brand on the market that can say the same thing.
Teeter also has a 0% interest financing option and many payment options including HSA and FSA payment methods.
X3 vs. LX9
The Teeter FitSpine X3 is just as functional and effective as the LX9, but it does lack some features. What it does have is the amazing EZ-Reach Ankle System, FlexBed, EZ-Angle Tether, and EZ-Stretch Traction Handles. However, it doesn't come with the storage caddy or boarding platform, which both make using and storing the inversion table easier. Everything else is the same.
Read our full review of the Teeter FitSpine X3
Pros
Comes standard with EZ-Reach Ankle System
Includes EZ-Angle Tether
FDA cleared as a 510(k) medical device
11-gauge steel heat-treated steel frame
5-year warranty
A month try-before-you-buy trial
FlexTech 8-point suspension bed is one of the most comfortable available.
Cons
The amazing construction of this inversion table makes it a tad heavy.
Because it doesn't have a base like the LX9, you will need to lean the table next to a wall when you store it (although it does have a smaller footprint when folded vs the LX9)
Acupressure Nodes – Completely removable and adjustable nodes that help to release stubborn muscle knots and spasms.
Lumbar Bridge – An adjustable and removable plate that helps square your hips and increase the effectiveness of the inversion. It's also pretty comfortable.
FlexTech 8-Pt Floating Suspension Bed – Moves with its user by having 8 independently moving points that make this bed one of the most comfortable we've ever tried.
Deluxe EZ-Reach Ankle System – Is the Ferrari of all ankle systems. It is identical to the one found on the LX9 and is an absolute dream to use.
EZ-Stretch Traction Handles allow you to adjust the amount of traction that happens during inversion.
EZ-Angle Tether lets you easily preset what angle you prefer before inverting
Stretch Max Handles give you a great way to stretch your back while you invert. They also give you a way to control the speed at which you invert, which is great for advanced users and beginners alike.
Min – Max Height: 4'8″-6'6″ (142-198cm)
Max User Weight Capacity: 300lb (136kg)
Non-use Dimensions: 58" x 29" x 61"
Max In-Use Dimensions: 81" x 29" x 87"
Product Weight: 65.8 lbs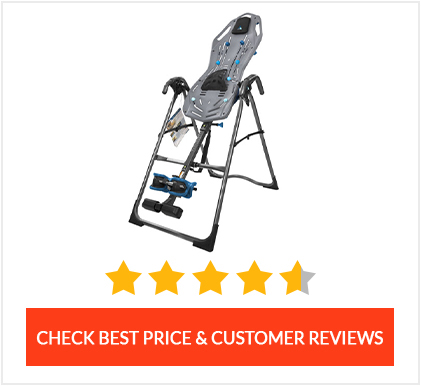 Our number 3 rated inversion table is the Teeter FitSpine X1. The X1 is Teeter's entry-level inversion table. It is less expensive because it lacks some of the aforementioned features of the LX9 and X3 models. But at this price point you're getting a lot of bang for your buck still.
The X1 uses a pin system to secure your ankles in their super comfy ankle cuffs. It comes with acupressure nodes, a lumbar bridge, and one of the best beds found on inversion tables. It also is very adjustable like the other Teeter Inversion Tables to work for a wide range of heights.
The FlexTech 8-Pt floating suspension system gives you flexibility when inverting without hindering the decompression effect. It also has spaces and gaps through the bed's face to attach the 8 included acupressure nodes. There are so many spaces and that gives you complete control of the placement of the acupressure nodes.
X1 vs X3
The Teeter FitSpine X1 will provide you with the same high-quality inversion therapy that the X3 provides but with fewer bells and whistles that make the machine easier to use. The X1 doesn't come with the EZ-Reach Ankle System, EZ-Angle Tether, and EZ-Stretch Traction Handles. So if you don't want those features but still want an amazing inversion table then this would be a great choice for you.
Read our full review of the Teeter FitSpine X1
Pros
Comes standard with EZ-Reach Ankle System
FDA approved 510(k) medical device
Thick heat-treated 11-gauge steel
Extended 5-year warranty
Risk free 30 day trial
FlexTech 8-point suspension bed is one of the most comfortable available.
Cons
Doesn't come with a pre marked angle tether
Lacks the EZ-Reach Ankle system
Acupressure Nodes are used to release muscle spasm and can be a saving grace when used while inverting
The Lumbar Bridge was designed to bring your spine to its neutral setting to allow for a more efficient spinal decompression.
FlexTech 8-Pt Floating Suspension Bed moves with the user and is one of the most comfortable inversion table beds out there.
Min – Max Height: 4'8″-6'6″ (142-198cm)
Max User Weight Capacity: 300lb (136kg)
Non-use Dimensions: 58" x 29" x 61"
Max In-Use Dimensions: 81" x 29" x 87"
Product Weight: 59.3 lbs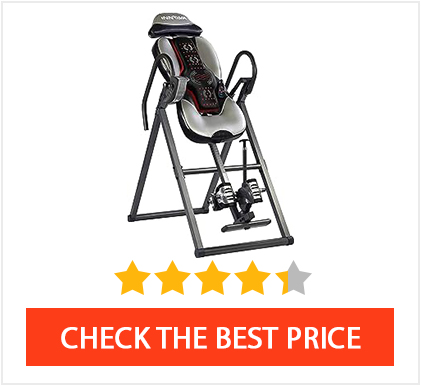 Innova is another contender in the inversion table arena that has been producing some quality products.
The Innova ITM5900 is our number 4 pick in the best inversion tables for 2023 lineup. With it, you're getting a unique 6 pin locking system, two way adjustment system, and a vertical heat and massage pad. It also comes with a True Balance system that helps you find a well balanced tipping point that can be controlled by extending your arms.
The ITM5900 is built using a robust steel frame designed to hold users up to 300 pounds. It also has a lever-activated ankle lock system that keeps you comfortably in place while you're inverting and can be activated without bending over very far. This inversion table has a heavy-duty build which is what you need when inverting.
If you're looking for an inversion table that offers a bit more features like heat and massage, then check out the Innova ITM5900.
Pros
Easy to set angles at 15, 30, 45, 60 degrees with pin system
300 lb weight capacity and 6'6" height limit make this great for larger users
Easy to use ankle support system
Cons
Doesn't fold up
Some parts feel flimsy
For those who have skinnier ankles the cuffs may be too big for you.
6 Pin Locking System gives you the ability to choose an angle before you invert. This can be especially useful to those who know which angle works best for them. You can set it and forget it.
2-Way Adjustment System allows you to adjust the headrest as well as the ankle system for a better more personal fit.
Combination heat and massage pad bring a new level of comfort to inversion therapy. The heat can help increase circulation while the vibrating massage can help you relax.
Easily adjustable ankle support is great for those with sore backs who can't or don't like to bend over to adjust ankle supports. This system is adjusted using the included adjustment lever.
Soft foam handlebars give you a comfortable grip as you invert.
Min – Max Height: 4'10"-6'6″ (147-198cm)
Max User Weight Capacity: 300lb (136kg)
Non-use Dimensions: 40″ L x 28″ W x 66″ H
Max In-Use Dimensions: Same as above
Product Weight: Not listed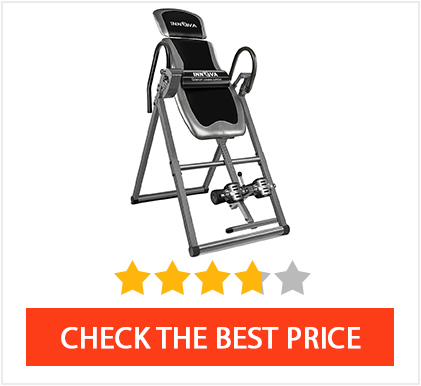 The Innova ITX9600A has a few unique features that make it a good choice for an inversion table. It is inexpensive and has a specialized angle system. The 6-pin angle system lets you preset what angle you're comfortable with. So as a beginner, if you want to try a 15-degree incline it's as easy as screwing the locking pin into the designated slot.
The bed has a foam covering that makes inverting comfortable. Included with the Innova ITX9600A also comes a lumbar pillow that can help take some of the pressure off of your lower back. The ankle support system is adjustable for 4'10" people to someone who is 6'6". This huge range allows it to fit all sorts of users. And with a 300-pound weight capacity, you can be sure that this inversion table will fit you.
If you're looking to save on an inversion table, this is one to check out. The Innova ITX9600A is what we consider to be the best budget inversion table and it is available on Amazon to buy.
Pros
Inexpensive but still high quality
6 pin system is an excellent feature
Comfortable padded bed
Fits a wide range of people
Great Surelock ratchet ankle system
Cons
Ankle lock system uses half cuffs and half foam roller.
Very hard to fold.
6 pin angle system – Allows you to easily adjust your angle with a pin system. Lock it in place and invert and it won't go past what you set. The 6 settings are 15, 30, 45, 60, and 85 degrees.
3 adjustable headrest positions – This feature gives you the ability to move the headrest and find the most comfortable position.
True Balance System – lets you control your inversion with just the extension of your arms.
Min – Max Height: 4'10"-6'6″ (147-198cm)
Max User Weight Capacity: 300lb (136kg)
Non-use Dimensions: 46″ x 28″ x 63″
Max In-Use Dimensions: 46″ x 28″ x 63″
Product Weight: 52 lbs (23.6kg)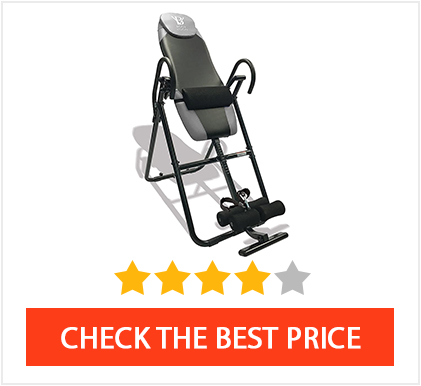 The Body Vision IT9825 is another expensive option in our list of best inversion tables of 2023. This inversion table is basic in that it will fulfill the needs of inversion therapy without any of the bells and whistles that you see in some of the more advanced models
One of the strengths is that the Body Vision IT9825 will fold almost completely flat which is a plus when you're tight on space or you don't want your living room looking like a gym.
It has a comfortable backrest with a headrest pillow and adjustable lumbar support. Both of those are attached using a velcro strap.
This inversion table has an interesting design in that it can only go 1 of four angles 20, 40, 60, or 90 degrees which are all preset before you invert.
The ankle supports are an older design but are still functional. They consist of foam rollers that secure your ankles instead of using an ankle cuff support system as the Teeter models do. It still works great and it'll keep you from falling out but it most likely won't be as comfortable as the others. Check this one out if you're looking for the best folding inversion table.
Pros
Foldaway backrest makes storing easier
Included transport wheels are great for moving your inversion table even when if its not folded up
3 pin angle system gives you great customizability
AirSoft ankle cuffs are a dream
Cons
Limited features
Uses older ankle support technology
Limited 250lb weight capacity
4 Position inversion system lets you preset your inversion without having to use an angle tether strap.
Space saving design – this inversion table will fold flat so that you can store it in a walkin closet or against a wall.
Heavy-duty steel frame – The IT9825 has a rounded heavy duty steel frame that is powder coated.
Min – Max Height: 5'1″-6'6″ (155-198cm)
Max User Weight Capacity: 250lb (113kg)
Non-use Dimensions: 24″ x 31.7″ x 63.6″
Max In-Use Dimensions: 79″ x 31.7″ x 76.3″
Product Weight: 76.3 lbs (34.6kg)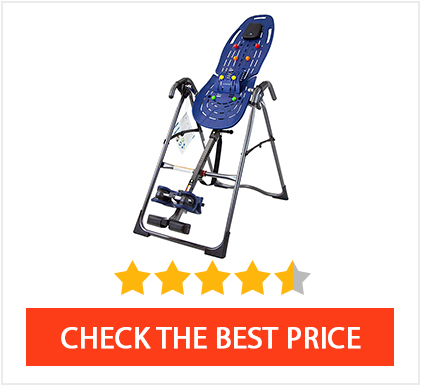 Rounding out our list is the Teeter EP-560. This inversion table is an excellent option if you're looking for quality at an affordable price point. Like the top three inversion tables on this list, the EP-560 is FDA-registered and UL safety-certified. We recommend checking out this inversion table if you want a cheaper alternative to Teeter's top three tables. This one is available on Amazon for purchase.
We like that the bed offers some flexion to move with you when you're inverted and stretching. The handles also help provide support with balance and stretching when you need it. The adjustable lumbar support and acupressure nodes allow you to remove and place them wherever you need tension relief. The design also folds up and can handle up to 300 lbs like the inversion tables from Teeter.
The padded cups around the ankles allow for comfort and stability when inverting on the Teeter EP-560. You do have to bend over to reach the adjustment knob to tighten and loosen to ankle supports though.
Pros
An affordable FDA registered and UL certified Teeter inversion table.
The spring-loaded ankle lock is secure and provides comfort when inverting
The adjustable lumbar support and acupressure nodes allow you to target specific areas of tension.
The frame and bed is precision balanced for a smooth experience when inverted.
Cons
It is a bit heavy, making it more difficult to transport.
You have to bend forward to adjust the ankle supports.
Adjustable acupressure nodes to release muscle knots.
Adjustable lumbar support to square your hips and provide relief for your lower back.
Suspension bed is light and flexible to move with you and encourages your spine to decompress.
Spring-loaded ankle closure has thick foam liners to provide comfort and stability around your ankles.
Frame folds in half for easy storing.
Min – Max Height: 4'8" – 6'6" (142-198cm)
Max User Weight Capacity: 300 lbs (136kg)
Max In-Use Dimensions: 48.5″ x 30" x 8.9"
Product Weight: 68.3 lbs
Benefits of Inversion Therapy
Safety precaution for all users of inversion tables: The benefits of inversion table are many but it's always a good idea to check with a qualified and licensed health professional before you use an inversion table. This is especially true if you have any health issues. It's also a good idea to have another person with you as you enjoy your inversion therapy. Also, make sure you read the documentation that comes with your inversion table as it has helpful information as to the function of the machine as well as precautions and warnings that'll keep you safe.
Alleviates Back Pain
Inversion tables function off the principles of inversion therapy. As you're inverted the effects of gravity are taken off of the spine allowing it to decompress. Upon decompression the spinal disc undergoes a fluid exchange that can lead to disc rejuvenation and renewal. Toxins are flushed from the disc as new fluid floods it. This leads to more cushion between each vertebra as well available space between the facet joint and nerve roots.
Some studies1 support that those who suffer from back pain are more likely to get better if they perform inversion therapy compared to other forms of treatment. For instance, 78% of people who participated in physical therapy still had to have back surgery, whereas only 23% of those who did inversion therapy had to undergo back surgery.
Joint Pain Relief
Sometimes joints tend to experience stress after heavy workout sessions. This is where inversion therapy helps reduce the build-up of excess stress on the joints. Hanging upside down elongates and stretches the muscles surrounding the joint area, thereby eventually reducing the pain. Moreover, there may be potential misalignment caused due to one-sided activities like tennis. Inversion therapy eventually corrects any miss alignments that may have occurred. Also, people with arthritis can incorporate this therapy in their daily routine for a reduction in joint pain.
Joint and Muscle Pain Relief
There are many reasons for joint and muscle pain. They can happen when you exercise too much or too little. Even your desk job can wreak havoc on your back causing the overcompensation of certain back muscles eventually resulting in muscle spasms. The way inversion tables help issues like these is that when you do a normal stretch you experience a neural reflex arc that protects you from muscle tears and over extension. This arc takes up to a minute to release, and that's when the real stretch begins. With an inversion table you normally invert for 2-5 minutes (more than that can result in spikes of intraocular, intracranial, and blood pressure). This allows the neural reflex arc to release the protective muscle contraction and initiate a good, deep stretch. There are many ways to stretch your back, but an inversion table stretches some of your least complying muscular groups like your traps or erector spinalis muscle. You even get a pretty good stretch in your abs and legs.
In terms of joint health, a good inversion table will take the pressure off of your knee joints and give you some relief.
Improves Blood Circulation
As we go about our day-to-day lives gravity is putting constant pressure on us in a directly downward direction. This eventually leads to a compression of our skeleton, but it mainly affects our spinal column. By inverting (flipping upside down) you're using gravity to stretch you out and decompress what it compressed in the first place. Inversion therapy causes your muscles to stretch and relax. Tight muscles can inhibit optimum blood circulation. Blood is still going where it needs to go but not as efficiently as it could. By relaxing those muscles you're taking the pressure and strain off of all those capillaries, arterioles, veins, and arteries. This makes it easier for the blood to get around. Better circulation is always a good thing.
Finding the Perfect Inversion Table: Features to Consider
Construction Quality – Not all inversion tables are considered equal. Just because it does the same thing doesn't mean it's made out of the same stuff. When buying an inversion table it's important to make sure it was built using high quality materials and by expert craftsmen. Inversion tables that use low quality materials can result in serious injury while inverting.
In terms of padding there are a couple of different arguments. Some say that padding is a must for people with sore backs and is one of the necessary additions you should look for. The other side argues that padding actually inhibits spinal decompression because the foam cradles your body instead of letting it stretch. Both arguments make sense so it comes down to what your preference is. Although something to keep in mind is that there are beds that don't include foam but are just as comfortable as their foam counter parts (like Teeter).
Stability – Tables that wobble are ones you don't want to be on. Stability is key when you're hanging upside down. All of the tables we've listed will be stable (assuming they're assembled correctly and without manufacturer defect).
High-end Features – While investing a good amount on inversion tables, users should look for at least some of the features like comfortable bed, angle tethers and high-quality ankle supports, inversion pin locking system etc.
Height & Weight Limit – Inversion tables have height and weight limits. Make sure you are within those limits before you purchase one. A lot of tables out there support a height range from 4'8" to 6'6″, and body weight between 250 lbs to 350 lbs.
Warranty Period – Regular usage of inversion table will undoubtedly wear out the table with time. However, products that have long warranty coverage generally communicate that the product will last longer than those with a year warranty. Think if a crappy product were given a 5-year warranty. The company would go bankrupt fixing their product time and time again. Therefore a longer warranty generally means that there is a significantly smaller chance of breakdown or defect. In essence the warranty then protects you and the manufacturer.
Company – One of the most important things a buyer should consider while buying an inversion table is the company. While you look at reviews the of inversion tables pay attention to what previous/current customers are saying. A lot of times this can give you a few clues into how reputable the company is and if they resolve any customer issues.
Conclusion
As you can see inversion therapy can be very beneficial, especially when you have the right equipment. Teeter is the brand that we recommend in that they offer longer warranties, trial periods, and genuinely care about customer satisfaction. They also produce the highest quality inversion tables on the market and are the only inversion tables that are UL certified and FDA approved. The other brands produce good inversion tables too and would definitely help relieve back pain, but they just aren't quite on the same plane as Teeter yet.
*1: Pilot Study Sees Reduction in Need of Back Surgeries. (2012). Clinical Trials Week.
Frequently Asked Questions
Do inversion tables help with neck pain?
Yes, inversion tables can be used to help with neck pain. Just like they help alleviate pressure on the spine, they can do this for the neck as well. An inversion table can especially help relieve pain in your deck if the vertebrae in your neck are compressed.
When should you not use an inversion table?
Inversion tables hang you upside down which causes more blood flow and pressure to go towards your head. People who have hypertension and circulation disorders shouldn't use inversion tables. Extra pressure will also go towards your eyes so those with glaucoma or problems with retinal detachment should avoid inversion tables as well.
How long should you use an inversion table?
You should only use your inversion table for a few minutes at a time. When you first start out, only a couple minutes or even just one minute might be long enough. You should only be using your inversion table for a maximum of up to 5 minutes at a time.