*TreadmillReviewGuru helps consumers find the best home fitness products. When you buy a product we recommend, we may earn a commission.
Last Updated: January 5, 2023
The Bowflex TreadClimbers are a set of walking machines that allow users to get the benefits of a treadmill, elliptical and stair stepper all in one. There are two models in Bowflex's TreadClimber lineup, the TC100 and TC200. The TC100 is the entry-level model with a lower price tag and simpler features. But both machines are great options for those who want a challenging workout that stays low impact for joint and back support. The TreadClimber TC100 conditions the powerhouse muscles in your legs such as your quads, calves, hamstrings and glutes and allows for gentle to intense conditioning — depending on your needs. The TC100 has a multifunction console, smooth motion, and is quiet during pedaling. This machine is rather large and doesn't fold up, so we recommend it for users who have a dedicated workout space.

Who It's For: Those looking for a low impact workout machine with gentle walking motion
The Bowflex TreadClimber TC100 offers:
Smooth treadle motion for comfortable walking motion
5 Different Workout Programs, such as: Just Walk, Calorie Goal, Time Goal, Distance Goal, and Interval
Speed Range of .5 – 4.5 mph
Free TreadClimber App with integrated Bluetooth® 4.0 connectivity syncs with My Fitness Pal, Apple Health Kit and Google Fit.
TreadClimber App provides four different user profiles
Fully Backlit LCD Display with intuitive console layout
Heart-Rate Monitor with integrated contact grips + chest strap
Built-In USB Charging Port
Pros
Two treadles allow users to walk comfortably but still get a good workout
This is the ultimate low impact walking machine
Supports up to 300lbs of user weight
Quiet in use, does not create a lot of noise
Great for those with joint or mobility issues
There is a nice sized tablet shelf for personal devices, phone, tablet, etc.
Has heart rate sensors in the handlebars
Cons
Limited training options
No subscription option for additional classes or content
High price tag for limited tech in the console
---
Two User Profiles

If you have multiple users in your family, there are four profile options so different users can get accurate metrics with each workout.

4 Training Functions

The Bowflex TC100 tracks Calories, Time and Distance so you can keep track of different metrics with each workout.

Provides the elements of a treadmill, stepper and an elliptical in a single machine

For users who value a low impact workout, the TC100 is smooth and gentle on your spine and joints. You still gain the benefits of calorie burn and conditioning.

Speed ranges from 0.5 to 4.0 miles per hour, which is perfect for walking

The speed doesn't compare well with running treadmills, but the TC100 is designed for walkers with a good speed range for walking workouts.

12 Levels of Resistance

Select any of the 12 resistance levels to tailor your training as needed with each workout. You can go light and fast on a low resistance level, or crank it up and really power through a heavy resistance challenge.

Integrated grips for heart rate workouts

Heart rate training is the most accurate way to assess how hard you are working and how your body responds to different challenges. The TC100 includes built in heart rate sensors on the static handlebars.

Console layout includes water bottle cups, media shelf/tablet holder, and USB charging port

In addition to being comfortable underfoot, the TC100 console has been updated with a few enhancements that make your experience more enjoyable. Cup holders, a media shelf, and USB charging port are nice additions on this upgraded model.
Construction:
Dimensions: 57" L x 31.5" W x 59" H
Minimum ceiling height recommended: User height + 14.5"
Transport wheels allow it to be moved
Machine weight: 158 pounds
Max user weight: 300 pounds
Console:
Backlit LCD console with 4 Workout functions: Speed, Distance, Time, Calories
Two user profiles
Water bottle holder
Media shelf/tablet holder
Climb indicator on console
Oversized cup holders
Large buttons
Stationary handlebars with heart rate sensors
Functionality:
.5 – 4.5mph Speed Range
Two Treadles with individual belts
Smooth elliptical motion
Gentle walking yields high intensity workout
Burns calories and strengthens muscles as you walk
Low impact design
Integrated heart rate sensors
Built in USB charging port
Compact design
Warranty:
2 Years frame & parts
90 Days labor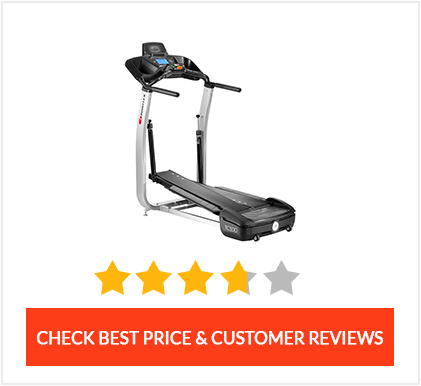 In-depth Review of TreadClimber TC100
---
Construction
Frame


The TreadClimber TC100 looks like a treadmill, but it features a dual treadle track which is split in the middle. Each treadle has its own walking belt and they operate separately, so one foot can lift up while the other steps down. This bipedal design is better than a standard treadmill frame that has one solid deck because the treadles lift to support your feet as you walk. Both treadles have their own rollers and belt guide to hold the belt on securely. A drive motor and drive belt keep the motion fluid and smooth.
The TC100 frame has a sturdy base with two adjustable leveling feet on the front end and two wheels on the rear. There is a steel handle on the front of the frame so you can lift the machine and roll it slowly when needed.
Deck
Cushioning/Feel

The treadles are designed to flex gently underfoot which impacts your step and mitigates some of the impact from walking. The cushioning is much better than you typically find on a treadmill since the deck inclines slightly as you proceed through each footstep.

Belt

Both treadles have their own belt and rollers — which may occasionally need to be adjusted. Due to the fact that the treadles are narrower than a treadmill belt, they can wander a bit to one side during use. Tightening the treadle belt is not difficult. The rollers underneath each treadle move the belt along smoothly.
Motor
The Bowflex TreadClimber TC100 includes a drive motor under the deck, but there is limited information from Bowflex about the power, size or capacity of the motor. In use, we found motor power to be relatively quiet and sufficient for the design of the machine.
Console
Screen


The TC100 features a back lit LCD display that provides a readout of your stats while you workout. The TC100 has four different metrics: Speed, Distance, Calories and Time. This is not a touchscreen, so there are buttons on the right and left of the console to toggle through settings and metrics.
One of our biggest concerns about the TC100 is the limited tech in the console. While this is a good machine with impressive functionality, the console doesn't compete with other machines in the same price range. Many other companies include touch screens with subscription content on their treadmills and ellipticals, so the Bowflex TreadClimber falls short when comparing tech in the console. While some users may appreciate the simple console and limited program options, others may be looking for additional content or video options on a machine in this price range.
Console Layout


The console is very simple and easy to use. There aren't extra buttons, logos or icons on the console that can make it look cluttered.
There are two main panels in the console. The larger panel sits higher and contains the screen and main menu control buttons, along with four arrow keys.
The lower panel holds the Start/Stop buttons along with Speed +/- 1 and Speed +/- .5 buttons. These speed buttons are very helpful. You can quickly increase or decrease your resistance by .5 mph or 1mph by just touching the up/down arrows. While we would like to see maybe a few preset buttons for specific miles per hour (maybe the four most popular speeds), these manual controls are at least easy to see and use.
Just below the lower console panel is an angled horizontal bar that is comfortable and well placed. It has heart rate contact sensors on either side for an easy grip while walking.
Tablet Holder
There is a media shelf on the upper panel of the console on the TC100. A tablet holder allows users to watch or read from their personal device while using the machine. This is a handy addition on a piece of fitness equipment, especially one that doesn't include a color touchscreen or video options. You can turn on Netflix or read the news on your tablet while you do your daily workout. The tablet holder is plenty wide and should hold most devices.
Storage
The TC100 has oversized water bottle holders on either side of the console. These are large and wide enough to hold any number of items. There is not an extra storage tray that hovers above the treadles.
Functionality
Walking for Weight Loss
When many people buy exercise equipment, their ultimate goal is often to lose weight. A mistake we see people frequently make is choosing equipment they have either never used or are unfamiliar with. Too often, people find they don't end up using this kind of equipment as much as they expect, so eventually it gets moved to the garage before finally sold at a garage sale. When investing in exercise equipment, it is best to buy something you are either already familiar with and enjoy using — or select a machine that mimics an exercise you already do. This way, people are more likely to use what they buy. The benefit of the TreadClimber is it is a very simple machine to use and it capitalizes on an exercise most of us already do every day: walk. Walking is not only easy to do, it is low impact and doesn't cause as many injuries as running. It is also more comfortable than sitting on a bike and doesn't take up as much space as an elliptical. Additionally, walking can help with mobility issues and is often recommended by health specialists as beneficial for both cardiovascular conditioning and bone strength.
The TreadClimber has 12 different resistance levels and the treadles make the walking motion feel fluid. This provides a range of workout options. Users with limited mobility or those who are working through an injury can use the TreadClimber on a low resistance level and still gain the benefits of movement and exercise. Those who are focused on weight loss but otherwise have no movement limitations can crank up the resistance for a more challenging calorie burn. The TreadClimber is more likely to be used than other equipment because it isn't weird and it doesn't feel weird — in fact, it feels very natural.



The TreadClimber is different from walking outside however, since Bowflex engineers have designed this machine to challenge you just enough that you benefit from each step. The Bowflex TreadClimber TC100 has a 3-in-1 walking motion that requires you to pick up your foot with each step, propel yourself forward, and then push back again as the treadle belt moves behind you. This engages more muscles than walking alone so you maximize your benefit but still stay low impact.
12 Resistance Levels
Another benefit of the TreadClimber TC100 is the number of resistance levels. New users may stay at levels 1-3 for several months as they gain strength and mobility. Stronger, more experienced users can crank it up higher for more of a challenge. Since you have the option of selecting your resistance level, new users won't burn out quickly and decide they hate the machine because it's too hard initially. Similarly, stronger users will find enough challenge in each workout to keep them engaged and motivated. As you use the TreadClimber you'll always find greater challenges to work through which makes it so you don't plateau and/or get bored with your workout.
TreadClimber Workouts
The treadclimber tracks four different metrics during your workout: Speed, Distance, Time and Calories. Users can set a specific goal for any of these four metrics and work to accomplish it during the exercise season. Perhaps last time you worked out for 20 minutes and peaked at level 8 resistance. This time, you can challenge yourself to work out for 25 minutes and peak at level 9 resistance for one minute. Maintain this goal until you find it easy and then add more challenges.
Similarly, a user could set a goal to stay on the machine until they burn 200 calories — or set a goal to walk four miles in a single session. Using these four different metrics, you not only get accurate information, you can use your own workout metrics to set personalized goals for yourself each workout.
Noise Level
The TreadClimber TC100 uses magnetic resistance and is therefore very quiet in use. There is a bit of foot noise as your shoe connects with the treadle, but the resistance and motion of the treadle itself does not create extra noise. This would be a fine machine to use at home without disturbing those around you. You can also use the TC100 while watching TV or reading a book and the noise won't limit your ability to hear your program.
Storage / Folding
The TreadClimber TC100 does not fold. It has two wheels on the base and a handle on the front so you can tilt and roll it as needed. However, it does take a bit of space, so make sure you have adequate clearance and floor space for the TC100. Also, since the treadles move be careful to hold them securely when moving the TC100. Unlike an elliptical however, the treadles do not jut out in front of or behind the machine so all movement is contained within the footprint.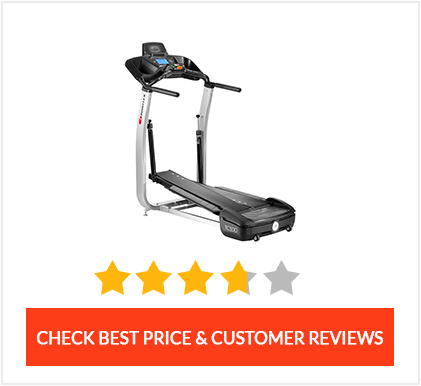 Bottom Line:
Bowflex's TreadClimber TC100 is the more popular model in their TreadClimber series. This machine offers great functionality, is low impact, and utilizes an exercise all of us do daily! We love the fact that people can walk for weight loss and find great success by moving more each day. The TC100 allows you to workout at home, in safety and comfort. You avoid traffic, germs, and all the hassle of having to go outside or to the gym. The TreadClimber is an especially good option for anyone with limited mobility or who requires a low impact workout.
While the console is not as tech-enhanced as others in this price range, it still has good functionality. We think this would be a good machine to those who don't want to pay for an extra subscription, don't want to watch videos or use an app, and who appreciate a machine with a simple, easy to use interface. However, if you are someone who is looking for additional subscription content and/or classes or videos, then this is not on par with what other treadmills and ellipticals have to offer. In our opinion however, the TreadClimber TC100 has good overall functionality. The 3 in 1 design incorporates the benefits of a treadmill, elliptical and stair stepper so you get an enhanced calorie burn even while walking. The TreadClimber TC100 also has a 300 pound max user weight and provides a 2 year warranty. When considering walking for weight loss, the TC100 is a popular and effective option.