*TreadmillReviewGuru helps consumers find the best home fitness products. When you buy a product we recommend, we may earn a commission.
Last Updated: July 24, 2023
Ahh, Costco… a one-stop shop for practically everything – groceries, clothes, furniture, electronics, pharmaceuticals, and even fitness equipment. I can hear my mother-in-law's voice now: "You need this? Get it at Costco!". Sure, Costco is one of the world's largest retailers and provides goods to consumers at pretty low prices. But, is Costco where you could find the best treadmill?
Let's first weigh the pros and cons of buying a treadmill at Costco.

Pros Of Buying A Treadmill At Costco
Could save money on a treadmill
A treadmill is an investment that can really put a dent in your wallet and we know that you want to get the best deal possible on a model. When buying a treadmill at Costco, you can sometimes get discounts on models from popular brands. Costco usually offers lower prices, so you might find a good deal.
Costco has an excellent return policy
If for some reason you get your treadmill from Costco home and you don't like it, you can return it. Typically, you have 90 days to return and get a full refund. That's 3 months of using the treadmill to see if it's for you.
Earn cash-back rewards
For current Costco members, buying a treadmill from the retailer might have added perks because of Costco's rewards. Executive members earn 2% rewards on the purchases they make at Costco which translates into receiving a Reward Certificate every year. Treadmills are included in these purchases.
Cons Of Buying A Treadmill At Costco
Limited inventory
When writing this article, I only found a handful of treadmills online at Costco, and a couple of those were actually out of stock. You don't have the same variety and selection of treadmills to choose from as you do going directly to the treadmill's brand. So, if you're looking for a treadmill for specific purposes that you want to get a lot of use out of, it's better to buy directly from the manufacturer.
Discontinued models
A large majority of the treadmills that I saw on Costco's website were from popular brands. Most of these, however, weren't treadmills currently offered by the manufacturer. In fact, treadmills at Costco are often older, discontinued, or even pared-down models. So, although you could save a few bucks, you might end up with a lower-quality treadmill than if you were to buy straight from the manufacturer.
Brands might not honor warranties
The great thing about buying a treadmill from the manufacturer is that it comes with a warranty. The treadmill you buy from Costco could come with a warranty, but the manufacturer might not honor it, especially if the model has been discontinued. You also will have to work through Costco (since you purchased it there), to try to get the warranty from the manufacturer. It is to our knowledge that this isn't always a smooth or even achievable process.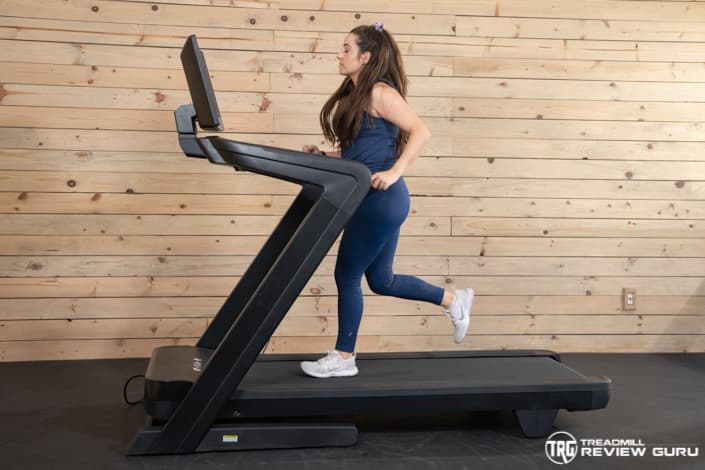 Treadmills At Costco
Treadmills from the following brands are often available at Costco.
NordicTrack Treadmills At Costco
NordicTrack treadmills are some of our top recommended. The X32i Incline Trainer is at the top of our best treadmills list and has been for years. We know treadmills from NordicTrack have soft cushioning, hearty motors, large running surfaces, and interactive fitness content. We use NordicTrack's treadmills a lot and can speak to their longevity as well. NordicTrack treadmills can be found at Costco, however, there are not many. In fact, at the time of this article, there was only one NordicTrack treadmill at Costco and it was the same price on NordicTrack's website. So, in this case, you're not even getting a deal and your best bet to avoid problems with the warranty is to buy from the manufacturer.
Shop NordicTrack Treadmills
ProForm Treadmills At Costco
ProForm is another brand that is commonly found at Costco. Owned by the same parent company as NordicTrack, ProForm offers similar treadmills and fitness equipment as NordicTrack for more affordable prices. You can expect ProForm treadmills to have adequate cushioning, compact frames, nice motors, and excellent fitness content. The ProForm Pro 2000 is also found on our list of best treadmills that we often recommend because of its quality, price, and size. Although there were more treadmills from ProForm at Costco when writing this, all but one were out of stock. So all in all, you can't be picky when buying a treadmill at Costco.
Other brands can be found at Costco, like Echelon treadmills, but it is hard to say when they're available and for how long. ProForm and NordicTrack are more commonly found at Costco and even models from these brands are few and far between.
Shop ProForm Treadmills
Final Verdict On Costco Treadmills
Buying a treadmill from Costco can seem convenient and enticing. In our experience, it is better to buy directly from the treadmill's manufacturer. This way, if the treadmill breaks and is under warranty you can go through the manufacturer directly and don't have to worry about using Costco as a middleman. Costco's inventory of treadmills is pretty scarce, so you probably won't have a lot of options to choose from. Some of the models might be discontinued or have fewer features than what the brand currently offers, so it really is the best bet to buy straight from the brand, especially if you want a treadmill that will last you a long time. If you're in the market for a treadmill make sure to check out our treadmill buying guide to find the perfect treadmill for you.