*TreadmillReviewGuru helps consumers find the best home fitness products. When you buy a product we recommend, we may earn a commission.
Last Updated: May 25, 2023
Not only is it important to be active, but it's important to keep your body feeling good for physical activity. We prioritize recovery just as much as working out, so we review all kinds of recovery equipment like massage guns and even supplements. In this review of the Chirp Wheel, we used every size as well as the posture corrector that comes in The Ultimate Back + Neck Bundle. This review highlights what comes with the bundle, what we think of it, and if the Chirp Wheel is worth it.
Why You Should Trust Our Review Of The Chirp Wheel
After spending hours testing fitness equipment like treadmills, we like to relieve our sore and tired muscles using various equipment like massage guns and foam rollers. We also test and create reviews of these products because valuing rest and recovery is the best way to help people feel their best. Not only do we want to help you find a machine you'll love to work out on, but we want to help you find the best tools to use before, after, and in between your workouts. The Chirp Wheel is currently a popular tool, so we put it to the test to help you decide if it's right for you.
---
Pros
There are different-sized wheels depending on your needs, tension, and experience level.
The wheels are designed to help with back pain, core stability, posture, and flexibility.
The built-in spinal canal helps to align each wheel to your back while protecting the spine from pressure.
Each wheel offers different levels of pressure and has various purposes.
Mild tension and discomfort in the body can help to be relieved with each Chirp Wheel.
They come in a carrying case that keeps them all together so you can store them better and take them with you.
The posture corrector is adjustable and helps to encourage better posture.
Cons
It isn't best for certain individuals with moderate to severe back pain and skeletal back issues like spinal stenosis.
They're a little higher in price than regular foam rollers.
---
Specs
Ultimate Back + Neck Bundle Includes
12" Gentle Chirp Wheel
10" Firm Chirp Wheel
6" Deep Tissue Chirp Wheel
4" Focus Chirp Wheel
Posture Corrector
Carrying Case
Construction Materials: ABS Plastic & EVA Foam
5" Width
11mm Max Comfort Foam Padding
Spinal Canal
Weight Capacity: Up to 500 lbs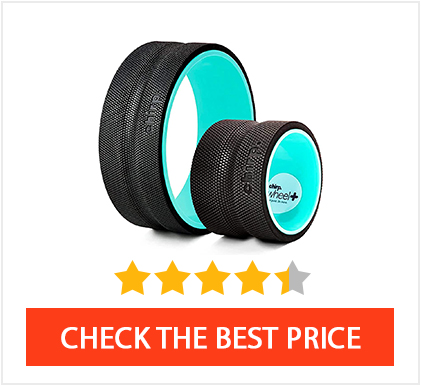 ---
In-depth Review of the Chirp Wheel
---
Construction
For this review, we tried the entire Ultimate Back + Neck Bundle. This includes 4 of the Chirp Wheels, a carrying case, and an adjustable posture corrector.
Each Chirp Wheel is available in different sizes ranging from 12" to 4". This is the size of the diameter of each wheel. All 4 are made with the same construction which consists of 11mm EVA foam padding and an injection molded ABS plastic core available in black as well as a mint color. The EVA foam wraps around the ABS plastic and it's textured and black.
Each Chirp Wheel is rated to handle up to 500 lbs of user weight, so pretty much any sized person can use them. What makes the Chirp Wheels unique from other foam rollers is they are only 5" wide. They also have less padding than what other foam rollers tend to offer. Also in the padding is a ridge down the center that's called the "spinal canal". This is designed to take the pressure off of your spine.
Chirp Wheel+ 12 Inch
The largest Chirp Wheel is 12". If you've seen the Chirp Wheel, you've probably seen this one. It kind of looks like a foam roller, but a really thick one at that. This is the one that is said to provide the most gentle amount of pressure on your back. So, if you're new to foam rolling, I would start with this one.
It also provides a good stretch. I find that the wide diameter when used on your mid back helps to open up the chest and encourage stretching of those muscles that are most likely tight if you're prone to slouching, like me.
Chirp Wheel+ 10 Inch
The second largest Chirp Wheel+ is the 10". This one provides more pressure than the 12", so it is a little bit of a step up. Being that it's still larger in size than most foam rollers, I get a similar amount of stretch in my chest when using this Chirp Wheel as I do the larger 12" one.
Chirp Wheel+ 6 Inch
This Chirp Wheel reminds me of other foam rollers since it's similar in size, apart from being only 5" wide, like the other Chirp Wheels.
As someone who has used foam rollers, I think this Chirp Wheel is more versatile than the larger two. I can use it on my calves, quads, hamstrings, and glutes, as well as my back. While I don't get a stretch on the 6" Chirp Wheel+ as I do with the 10 and 12", this one targets sore muscles in my back a bit more because it provides more pressure.
Chirp Wheel+ 4 Inch
The smallest Chirp Wheel+ is the 4". This one is said to provide "rigid" pressure. It definitely feels the most intense to use compared to the other three. The 4" is best for your neck, feet, and legs. It can be used on your back, but it might feel like too much pressure, at least it did to us. I like using it on my legs and neck the most. The 4" is best for targeting specific areas of tension and for those who are well-versed in using foam rollers and handling deeper pressure from massage therapy.
Chirp Wheel Posture Corrector
The final product available in the Ultimate Back + Neck Bundle is the Posture Corrector. This is an adjustable harness designed to help correct your posture. Your arms fit through the straps kind of like a backpack. Each strap over the shoulder has light mesh padding and straps to tighten the corrector. This essentially pulls your shoulders back, so if you slouch your shoulders this could help by encouraging them back and stretching out your chest.
Functionality & Performance
So, now that you know what you're getting with this bundle, is the Chirp Wheel worth it? I think it is. I've noticed a difference in my posture and back discomfort from using all of the wheels and the posture corrector. I think for most people who have minor muscle aches and pains, whether they be from poor posture or an active lifestyle, the Chirp Wheel can definitely be a beneficial tool to help stretch and relieve tension in your back and other areas of your body.
I would use caution and consult your doctor if you have moderate to severe back pain and skeletal issues. The Chirp Wheel isn't a cure-all and it isn't appropriate for every body, so it's important to consult a healthcare professional before using it.
Using all of the wheels and posture corrector went as expected for us. Due to the narrow design, a common concern is balancing on the Chirp Wheels, especially the 12 and 10" ones. It can take some getting used to, especially if you've never used a foam roller before. You'll want to take it slow and start on your lower back with your hips closer to the floor for added stability. For those who have used foam rollers, you shouldn't have a problem, although I'd still caution you to take it slow at first. When the 12" Chirp Wheel+ is at your mid back and your hips lift off the floor, it can feel a little wobbly. Engaging my core helps me to control the motion and allow the maximum amount of stretch with the two largest Chirp Wheels.
My favorite is the 6".
On my chair, I can place it on my lower, middle, and upper back. Using it this way serves as a great way to help straighten my posture. The Posture Corrector helps too, but it's a little more aggressive than the Chirp Wheels. Plus, if I'm not actively focusing on my posture (not just pulling my shoulders back), my shoulders can get a little tight from the Posture Corrector.
I really like that the spinal canal groove in the foam padding doesn't allow pressure to be placed on the spine. When I'm using the Chirp Wheel, the muscles surrounding my spine feel the pressure. This is what Chirp is going for and I have to say it's an effective design.
I'll admit that I wish the Chirp Wheels were a little wider than 5", but for relieving general tightness in my back, Chirp Wheel has been effective. Plus, I'm sitting and standing a little taller after using these, which I'll take since I'm only 5'1".
When you purchase this bundle, a carrying case comes included. It is a zipper case that fits all 4 wheels and the Posture Corrector.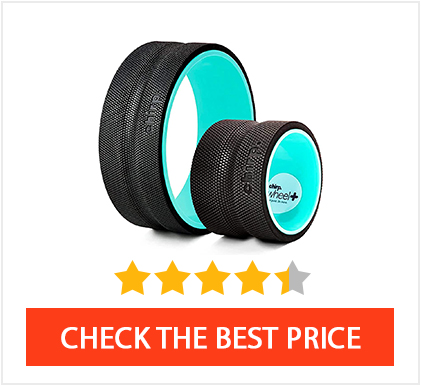 Bottom Line Review: Chirp Wheel
The bottom line is that the Chirp Wheel can certainly help those who have minor muscle tension and aches. We are not medical professionals, so you should of course consult your doctor before using the Chirp Wheel, especially if you have specific back problems and moderate to severe pain. If you've used a foam roller, you'll probably find that using the Chirp wheel feels similar, however, the large 12 and 10" Chirp Wheels go a step further to help stretch your back and chest to encourage correct posture in addition to relieving tension. With the different-sized Chirp Wheels, each one provides a different level of pressure and can be used for different things. Beginners will probably benefit most from the 12 and 10" Chirp Wheels, while those more versed in foam rolling might prefer the 6 and 4". While the Chirp Wheels are a little pricy, especially when you purchase them in a bundle like the Ultimate Back + Neck Bundle that we have for this review, they're worth it if you're looking to improve your back discomfort and posture.