*TreadmillReviewGuru helps consumers find the best home fitness products. When you buy a product we recommend, we may earn a commission.
Last Updated: May 7, 2023
ProForm offers affordable treadmills with thoughtful features. The ProForm Carbon T14 is at the top of ProForm's Carbon Series which consists of their mid-range models. In this review of the ProForm Carbon T14, I'll take you through what we think of this treadmill based on our team's experience using it.
To give you an idea of what the Carbon T14 is all about, in short, this treadmill makes for an interactive workout experience with a subscription to iFit, comes with a 14" touch screen, and has a 2.75 CHP motor. We recommend this treadmill for users interested in walking, hiking, jogging, and light running.
Why You Should Trust Our Review Of The ProForm Carbon T14 Treadmill
We have been testing treadmills for years and know all the ins and outs of them. When I say "we", I mean our team of reviewers who are all fitness professionals and product-reviewing experts. When you read one of our reviews, know that you can trust us because we put time on the equipment that we review. We also create these reviews for you, so you can make informed buying decisions.
During our testing of the ProForm Carbon T14, we used every feature and compared how this treadmill performs next to the ProForm Carbon T10, NordicTrack EXP 14i, and the Sole F80, among other models we have on hand.
---
Our ProForm Carbon T14 Review Video
---
Pros
The 14" touch screen is enabled to use iFit for an interactive training experience, that's hands-free with the auto-adjust feature.
The layout of the quick-touch buttons makes sense and is convenient. You can jump from high and low speeds on the right side of the screen, and change your incline level quickly with the buttons on the left.
It has a pretty compact footprint and foldable deck to take up less space when it's not in use.
The ISO Flex Cushioning offers shock absorption and feels comfortable to run on.
The 2.75 CHP motor paired with the 55" long deck, makes this treadmill perfect for walking, jogging, and light running for most.
Cons
Not recommended for heavy use or for multiple users.
The deck length is too short for users with longer strides to comfortably run on.
The built-in fans are loud.
---
iFit membership included for the first month
iFit membership: $39/ Month for Family Plan (Includes up to 5 profiles)
Dual 2" Bluetooth Speakers (For Wireless Headphones)
Tablet Holder
2 Cupholders
CoolAire Fan
Folding Deck
Oversized Leveling Feet
Quick Adjust Buttons
14" Smart HD Touch Screen
Footprint: 73.5" L x 35.2" W x 57.5" H
Motor: 2.75 CHP
Weight Capacity: 300 lbs
Belt: 20" x 55"
10 mph max speed
12 incline levels
ISO Flex Cushioning
Warranty: 10-year frame, 1-year parts and labor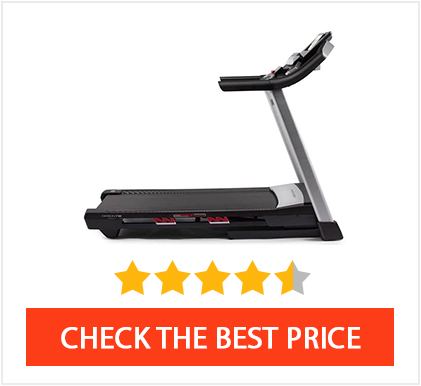 ---
In-depth Review of ProForm Carbon T14 Treadmill
---
iFit
iFit is an interactive training platform found on a wide variety of fitness equipment. ProForm has rowers, exercise bikes, workout mirrors, ellipticals, and treadmills that are enabled with iFit. We use and review iFit regularly, so here is our quick overview of what you can expect.
Whenever we test equipment that has an attached touch screen and programming, we usually recommend subscribing or at least trying out the content. When it comes to iFit, the features offered are definitely worth it. Without a subscription, you won't have access to every feature and full functionality of the screen. iFit comes free for the first month to try out. iFit does offer a free version with limited classes and onboard workouts that you can use without a subscription if iFit isn't for you. So, know it isn't required to use this treadmill.
Here's what you get with a subscription. iFit offers over 16,000 classes all primarily led by knowledgeable instructors. iFit has classes in a variety of disciplines that use equipment or even just bodyweight exercises. You can also work on mindfulness and meditation. In addition to being found on enabled equipment, iFit is also available as an app for your device and TV.
They are filmed on every continent on Earth and let you explore beautiful landscapes all over the world. The quality and graphics are unmatched and make you feel like you're there. iFit also has indoor classes filmed in studios. These feel similar to taking studio fitness classes in person.
Both class types feature an instructor who guides you through the workout. One of my favorite features of iFit is SmartAdjust which will adjust the ProForm Carbon T14 based on the terrain and/or the instructor's cues throughout the class. Another iFit feature is ActivePulse, which adjusts the treadmill based on your heart rate. You can purchase the compatible armband through ProForm separately to use this feature. We wish the armband was included when you buy the Carbon T14.
iFit's classes are on-demand and available to be taken at any time. In class, you can track your metrics like duration, speed, and elevation change. iFit also offers a selection of music stations to listen to. The music isn't integrated into the classes, so you can change the station as you go to switch songs. We do wish that some of iFit's classes had music integrated into them because this can add to the energy of the class. You can, however, adjust the volume level to balance the sound between the trainer's voice and music, or mute one or the other on the touch screen.
iFit has challenges and series to encourage you to take a group of classes over the course of a few weeks or months to progress your fitness. These usually feature the same instructor and/or location, and often get progressively more challenging, if you take them in order.
iFit also has a Google Maps feature so you can create your own route. A map of the world will pop up and in pretty much any location you can draw your own route to follow. As you go, you'll see a series of Google street images that change as you make your way through the area.
iFit does require wifi to use. The free version does as well. Manual mode tracks your workout metrics but doesn't require wifi or a subscription to iFit to use.
Console
This is where you adjust the treadmill and stream iFit from the touch screen. The Carbon T14 has a 14" touch screen which is sufficient for viewing iFit. 22" and larger screens usually feel more immersive, but most users should be able to clearly view everything on this 14". A downside to larger screens is that they can wobble while you run. The 14" screen and console remain in place while you run. We don't experience any shaking of the screen. The screen has very limited adjustability, however.
For added functionality and convenience, ProForm has included quick-touch adjustment buttons on the console. These are the numbers found on either side of the screen. When you press one of the numbers on the right, it will adjust the speed to that number in mph. On the left, the numbers represent the different levels of incline. We love this layout on the T14. It just makes sense.
Some of ProForm's other treadmills like the Carbon T10 and Pro 9000 have them mounted horizontally below the screen. Since the buttons for speed and incline are on top of each other, it can be a little harder to remember which row is which. I sometimes accidentally adjust the incline when I mean to adjust the speed on these treadmills. The layout on the Carbon T14 is more intuitive and easier to navigate.
You can also adjust the speed with the buttons below the screen by 0.1 increments and the incline by 0.5%.
The speaker is positioned to project at you and clearly plays iFit's classes. We haven't had a problem with speakers on ProForm's treadmills not going loud enough or sounding fuzzy when the volume is loud, and these are no different.
There are two fans on either side of the console below the touchscreen. They generate a fairly nice airflow but are loud. I can still hear my iFit class over them, but they aren't as quiet as others we've tested. I wish the air pointed more toward the center rather than the sides.
For storage, the two cupholders on either side of the console hold my water bottle, phone, and keys, steady. There is a rack for your device to use your phone or tablet, too. It is just in front of the touch screen. Depending on the size of your phone/tablet, it will block some, if not all, of the treadmill's screen.
What this means is that you can stream whatever you want from your own device if you want to take a break from iFit or opt-out of the subscription altogether.
Construction Quality / Durability
The overall build of the ProForm Carbon T14 is similar to the Carbon T10 and T7, but with some upgrades that I'll get into.
The 300 lb weight capacity is nice and consistent with ProForm's other treadmills, as well as NordicTrack's lineup. For a heavier weight capacity, we recommend checking out the Sole F80.
Frame
The frame is made of steel and so are the uprights that connect to the frame. I really like that there is a steel crossbar positioned in between the uprights below the console to help keep the console in place.
A nice addition to the crossbar would be a storage tray over top. For instance, the Sole F80 has one over the crossbar. This makes the crossbar a bit more functional and aesthetically pleasing.
The handles are covered in textured plastic to help prevent your hands from slipping. I like that the T14 has a front horizontal handle. It is very similar to the NordicTrack EXP 14i. Considering the other ProForm Carbon Treadmills don't have a horizontal handle, the T14 is the better bet out of the three if you have balance issues.
Motor
The Carbon T14 has a 2.75 CHP motor. In our experience testing and using treadmills, this motor size is best for handling walking, hiking, jogging, and light running. This size motor isn't best for heavier use, so if you're planning to train for a marathon on a treadmill, you should look for a treadmill with a larger motor, like the ProForm Pro 9000.
The Carbon T14 goes up to a 12% incline and 10 mph max speed. This isn't the highest incline and fastest we see treadmills go, but it should provide enough challenge for most users.
Treadmill Deck
The deck is 20" wide by 55" long. In our testing, we've found that 60" long decks are best for all users when it comes to using the treadmill for running. Most should be able to walk and jog comfortably. Although the motor can handle some running, users with longer running strides might not be able to use the Carbon T14 at that faster pace. If you like a bit wider of a surface to move around on too, you might want to look for a treadmill with a 22" wide deck, like the NordicTrack 1750 or Sole F80.
None of us felt constricted at any point, either. Our taller reviewers can jog, but running at a fast pace isn't the best for them with the deck length. The deck height is only 8" so it has a pretty low profile. This is the same as the other Carbon Treadmills, and this is important to factor in when determining if your ceiling height is appropriate.
The Carbon T14 uses ProForm's ISO Flex Cushioning. To add a little flair to the design, there are red accents along both sides of the deck to represent the cushioning. Underfoot, the cushioning feels pretty soft. I wouldn't say it is as soft as premium models like the NordicTrack X32i Incline Trainer, but it is definitely a step up from entry-level models. It feels pretty comparable to the ProForm Pro 2000. All in all, the cushioning is designed to help protect your joints from the impact that's created when walking, jogging, and running, and this cushioning does just that.
Performance & Functionality
Overall, we found the ProForm Carbon T14 to be sturdy and easy to use. This treadmill is functional, yet compact and foldable.

Plus, it offers plenty of training options for most users. I really like the layout of all the adjustment buttons, especially the quick-touch buttons. The volume and fan buttons are very conveniently located and I found myself using the volume button on the console rather than the screen to control the speakers.
The console does have Bluetooth but only for headphones. You can't connect your device and listen to your own music through the speakers. You also can't stream from apps like Netflix or surf the internet on the touch screen.
As far as noise, the motor is pretty quiet. It's not the quietest that we've used, but it doesn't generate a lot of noise for a treadmill, either. The incline feature makes less noise than the T10, T7, and NordicTrack EXP 14i. Overall, we recommend the Carbon T14 for most homes.
The T14 is also pretty compact and folds up when not in use. There are also transportation wheels mounted on the front so you can tilt and push the treadmill where you need it to go.
The folding and unfolding mechanism uses a hydraulic assist, so when you unlock the deck it slowly lowers to the floor. The assist helps lighten the weight of the deck when you fold it up, too. The ProForm Carbon T7 and T10 have manual folding mechanisms that lock the deck with a pin-lock. When unlocked, you must lower the deck yourself otherwise it will come crashing to the floor.
Warranty & Customer Service
ProForm backs up the construction of the Carbon T14 with a nice 10-year warranty. This helps back up the solid construction. ProForm also offers a 1-year warranty for parts and labor.
Bottom Line Review: ProForm Carbon T14 Treadmill
The bottom line is that we're impressed with the Carbon T14 from ProForm. This treadmill is best for walking, jogging, hiking, and light running for most users. It isn't best for heavy use like marathon or event training because of the motor and deck sizes. Users with longer running strides might not have enough room to run on this size deck either.
For the price, the Carbon T14 has a lot of thoughtful features. It's enabled with iFit on the 14" touch screen, and it's pretty compact and has a foldable deck. With a max speed of 10 mph and a max incline of 12%, users should be able to get in some great workouts on the ProForm Carbon T14.