*TreadmillReviewGuru helps consumers find the best home fitness products. When you buy a product we recommend, we may earn a commission.
Last Updated: May 6, 2023
Playing games while you row? Sign us up! Despite looking completely different, the Aviron and Ergatta both have engaging gaming content that makes rowing fun. These are popular models that are perfect for your home and we consider them to be some of the best rowers on the market. But, which one is right for you? In this comparison review, I'll dive into exactly how the Aviron and Ergatta Rowing Machines compare and differ. So, if you're unsure of which one to buy, our team can help you narrow your rower search.
Why You Should Trust Our Comparison Review
We spend a lot of time on rowing machines. When we create these comparison reviews, our team of reviewers hops back and forth between machines so we can directly see and feel how they compare. We set the Aviron and Ergatta side by side to analyze the content, construction, and functionality of each rower. Our reviewers also range from 6'5" to 5'0", so we're able to test how each rower performs for users of pretty much all sizes.
---
Pros & Cons of the Aviron:
Pros Aviron
There is a wide variety of games to play, plus you can stream from apps like Netflix, follow guided workouts, row virtually in outdoor landscapes, and compete against professional rowers and athletes.
The rower itself is lightweight and folds in half to save space. It also has wheels so you can push it around easily.
The monorail and seat sit up 20" high so it's pretty easy to get on and off.
It uses air and magnetic resistance, so it's adjustable and provides plenty of tension.
The handle is round and rotates so you can change your grip on it.
Cons Aviron
It uses air resistance, so it does make some noise when you row. When streaming videos the volume has to be up to hear over the rower.
The seat has contouring cut-outs, but the padding isn't very forgiving or comfortable.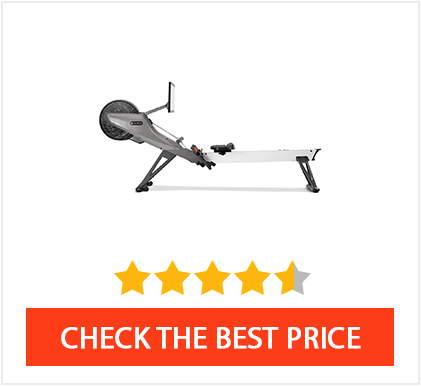 Pros & Cons of the Ergatta:
Pros Ergatta
The content consists of games that especially cater to competitive users. There are also programs that use progressive overload to help you increase your rowing strength.
The water provides a realistic rowing experience and sounds really soothing as you row.
It has a weight capacity of 500 lbs.
It has a cherry wood frame that fits into any home and looks elegant.
It has transportation wheels and can be stored upright.
Cons Ergatta
There are no guided workouts to help with form correction.
The water resistance isn't quantifiable or adjustable on the screen.

Aviron Rowing Machine Specs:Ergatta Water Rower Specs:
22" Hardened Glass Touch Screen
Aluminum and Steel Frame
Footprint: 97" x 21" W 43" H
Folded Footprint: 54" L x 21" W x 62" H
Weight Capacity: 397 lbs
Rower Weight: 97 lbs
Height Limit: 6'7"
Whisper Nylon Belt
Dual Air and Magnetic Resistance
Warranty: 10-year for the frame and 1-year for parts.
17.3" Touch Screen Swivels 30 Degrees
Replenishable Cherry Wood
Footprint: 86″ L x 23″ W x 40″ H
Footprint Store Upright: 23" W x 22.5" L x 86" H
Weight Capacity: 500 lbs
Rower Weight: 103 lbs (with water)
Rower Weight: 76 lbs (without water)
Max Inseam Length: 40"
Belt Drive
Water Tank with Water Resistance
Warranty: 5-year for the frame, 3-years for parts, and 1-year on the tablet
---
Recommendation:
We recommend both of these rowers, however, they do offer different experiences. They both offer gaming content, but the Aviron has a wider range of content to choose from. You can stream from apps like Netflix and take guided rowing classes versus the Ergatta which just has gamified content. The Ergatta is great if you're competitive. The Aviron is also if you want more to do than just play games.
The Ergatta sits closer to the floor than the Aviron, so it might not be best for users who have trouble sitting low to the ground. The Aviron uses air and magnetic resistance so it does make some noise whereas the water resistance on the Ergatta is most often considered relaxing and soothing rather than disruptive. The Ergatta might be better if noise is an issue, but be aware that both rowers do make some sound. The Ergatta has a chic, elegant design that most people gravitate toward but it can only be stored upright. The Aviron Rower folds in half.
In-Depth Comparison of the Aviron and Ergatta Rowers
Aviron Vs Ergatta Content
The Aviron and Ergatta have pretty comparable content because they are the only rowers we've tested with gamified content. They both make for really fun experiences when using these rowers. In order to access the gaming content on each of these rowers, you do need to subscribe to their memberships. We suggest doing this for each rower that way you'll have access to all of the content.
Aviron Content
In addition to video games, Aviron's membership offers guided workouts with and without an instructor, virtual rowing in outdoor locations, competitions, and streaming from apps like Hulu and Netflix. This is the widest variety of content on a rower that we've seen.
Some involve shooting targets, running away from scary things like sharks and zombies, and there's even a game that lets you fly around on a flying rower. Other games let you race against your friends or other members. These allow you to host a private or public race to compete. The PowerPlay section of the gaming content is structured more like workouts. These feature multiple lanes and your avatar is a car that drives down them, collecting points.
The graphics on the games are clear and the variety to choose from is really fun. Something to be aware of is that there isn't any form correction or rowing guidance in any of the games, so if you're new to rowing you might want to check out Aviron's coached and guided programs before diving into the games. Rowing is a technical exercise that requires proper form in order to help prevent injuries. The coached programs feature an instructor who leads you through various workouts on and off the rower. These feature Youtuber Training Tall, and he has several classes that are split into different programs meant to be taken over the course of a few weeks or months. The guided workouts offer guidance throughout the workout in the form of a rating and text giving feedback. There is also a graphic on the screen to demonstrate each move.
For those who are competitive, the Pros vs Joes category is where you can see how your rowing stacks up to professional rowers and athletes. It's motivating and a bit intimidating. There is also virtual rowing where you can do your own thing by rowing in various outdoor water locations, virtually. The video quality isn't quite as clear in these videos as in other programs we've used, but it lets you do some free rowing and gives you another option to choose from.
You can also stream from third-party apps on the touch screen. The apps include Netflix, Hulu, Disney+, Youtube, and Amazon Prime. We're excited to have these options on the Aviron and all of this content to choose from while rowing.
Ergatta Content
The Ergatta offers different gaming content and free rowing. Beyond a couple of general instructional videos on rowing basics, there aren't any guided rowing workouts. Beginners might want to seek outside resources for proper form when first starting on the Ergatta. Overall, the gaming content is simple yet motivating. Every game has an objective and often pushes you to focus on a specific pace and intensity level. Every game is also structured as a workout, too.
There are several of these programs to choose from, as well as interval training workouts. These have preprogrammed targets and paces, so your focus is on hitting your goal and keeping within the target areas.
There are also races that let you compete privately and publicly against other members. These feature a lane for each competitor and they allow your competitive side to really shine. The Ergatta has a lot of challenges that you can participate in as well. Plus, there are leaderboards to show how you rank compared to other members.
The Ergatta also offers free rowing where you can choose from several prerecorded videos that are filmed on water. These are very similar to Aviron's virtual rowing content, however, on the Ergatta you can do free rowing or customize them ahead of time to be a more structured workout with specific duration and goals.
The Ergatta also has a Feed.fm music feature so you can choose from multiple preselected playlists depending on the genre of music to listen to while you row. This feature is available during free rowing as well as during the gaming content.
Aviron Vs Ergatta Console
The console on both of these rowers primarily consists of the touch screen. This is where you access and view the content on each. The Aviron has a slightly larger 22" screen compared to the Ergatta's 17.3" touch screen. The difference in screen sizes isn't very noticeable when using either rower, though.
Aviron Console
The screen is a little difficult for me to reach when both of my feet are strapped into the pedals. This is probably due to my petite 5'1" frame and the fact that my hips are usually tight. There are a few functionality buttons externally from the touch screen on the front, side, and top to do things like turn the screen on/off, and adjust the volume, and resistance.
Since the Aviron uses magnetic resistance it can be adjusted on the screen and this is easy to do with the arrows at the bottom of the screen. The speakers are mounted on the back of the screen, so the sound projects away from you, unfortunately. We wish they were front-mounted that way they might be easier to hear over the sound of the fan when rowing. I notice when watching videos I have to keep the volume up pretty loud in order to hear them more clearly.
Ergatta Console
This screen is also a little difficult for me to reach the screen while I'm strapped in, most likely because of those tight hips. All of the functionality is within the screen.
The speakers are on the rear of the screen like the Aviron, but these are weaker. In order to listen to the music available on the Ergatta, I have to have the volume pretty much all the way up. The resistance isn't adjustable so that isn't an option on the screen.
Construction Quality & Durability
The construction is where both of these rowers really differ. They're made of different materials, offer different weight capacities, and the rail heights are very different. Both rowers do have large weight capacities with the Aviron handling up to 397 lbs and the Ergatta handling a whopping 500 lbs.
Aviron Vs Ergatta Frame
The Ergatta uses a dual-rail that sits just 6" above the ground.
The Aviron has a monorail that is 18" high making it easier to get on and off.
Geometry/Dimensions
Aviron
Footprint: 97″ L x 21″ W x 43″ H
Folded: 54" L x 21" W x 62" H
Pedals: 13" L
Monorail: 46" L x 18" H
Seat: 13" W x 10" D x 20" H
Belt Drive: 30" from where the belt appears from the flywheel
Ergatta
Footprint: 86″ L x 23 W x 40″ H
Stored Upright: 23" W x 2.5" D x 86" H
Pedals: 12" L
Dual Rail: 40" L x 6" H
Seat: 12" W x 8" D x 12" H
Belt Drive: 20" from where the belt appears from the flywheel
Aviron Vs Ergatta Footboard & Pedals
When comparing the footboards and pedals, we prefer the Aviron's overall. First, the footboard is slightly longer and the pedals are more spaced out than the Ergatta. On the Ergatta, our larger reviewers tend to feel scrunched because the pedals are very close together. The nylon strap is also just one piece which makes it sometimes shift from side to side. The Aviron also uses nylon straps but they're a bit easier to adjust and stay in place.
Aviron Vs Ergatta Handle
The Ergatta's is molded to support a specific hand position, so it isn't round but rather oval in shape. It doesn't rotate to allow you to switch your hand position like the Aviron. The handle on the Ergatta does have a nice texture to avoid your hand slipping when sweaty. Something to make note of is that this is based on our preference for handles.
Aviron Vs Ergatta Seat
To be clear, seats on rowers usually aren't the most comfortable. Meaning, that you won't want to spend a long period of time sitting on them. The Aviron's seat is larger and wider in fact, one of the widest we've seen on rowers, but the padding is firm and uncomfortable. The Ergatta's seat is smaller but more cushioned.
Aviron Vs Ergatta Flywheel
The flywheels have very different looks and functions on these rowers. The flywheel on the Aviron rower is a fan with blades that move when you row and vents that suck air in for the blades to move against. It is positioned up high behind the screen. The Ergatta's is a water tank with paddles that sits low to the ground, much like the frame.
Both of these rowers use belts that connect the flywheel to the handle. Belt drive systems help cut down on noise and help create a smooth rowing experience. The belt on the Ergatta doesn't always stay on its track and we've noticed that ours has some fraying on the edges from use. Because of the build of these rowers, the Aviron's belt emerges about 10" higher from the flywheel than the Ergatta. Both allow you to be in a correct positioning throughout the stroke and both keep their tension in the finish.
Aviron Vs Ergatta Resistance
The Ergatta is a water rower that uses water resistance. Traditional rowing enthusiasts tend to prefer water rowers because it feels realistic to rowing outdoors, but it isn't quantifiable. This means that you can't see what level of resistance you're at on the screen. It isn't adjustable on the screen either, but if you want more tension you can add more water into the tank. The harder and faster you row, the more resistance from the water you get. This is also how the air resistance works on the Aviron. It can't be out-rowed because the tension increases with your intensity.
The magnetic resistance is adjustable and has specific levels from 1-16 that are displayed and changed on the screen. Neither type of resistance is better than the other, it is more up to what you like. It's also important to consider the type if you want or don't want to adjust or see your resistance displayed.
Performance & Functionality
Both of these rowers offer engaging content on well-constructed rowers. They both performed well for us and all of our reviewers were able to fit on them well. The Ergatta is quieter than the Aviron and we prefer the sound of the water over the air.
As far as navigating the content, they both have filters and ways to select different durations of each workout, which is nice. Some workouts on both of these rowers are as little as a minute or two. There are also longer durations available, too. You do get more of a variety on the Aviron as far as content to choose from, however, both rowers are engaging and the content is motivating for each. We highly recommend subscribing to each rower's membership that way you'll get full access to the content and functionality of the touch screens. Although the build of these rowers is nice on their own, what really sets them apart is their content.
Warranty
The warranty is a little more extensive on the Aviron than the Ergatta. Aviron offers a 10-year warranty for the frame and a 1-year warranty for parts. The Ergatta rower comes with a 5-year warranty for the frame, a 3-year warranty for parts, and a 1-year for the attached tablet (touch screen).
---
BottomLine/ Recommendation
The Aviron Rower and Ergatta Rower help to make rowing fun with their gamified content. They require memberships to access all the content on the screen, and we highly recommend subscribing. The Aviron does offer a wider range of content like games, competitions, virtual rowing, and streaming from Netflix. The Ergatta on the other hand has gaming programs and free rowing virtually outdoors.
Aside from the content, the Aviron and Ergatta use different types of resistance and have completely different builds. The Aviron is made of steel and aluminum, folds in half, and is a hybrid rower that uses air and adjustable magnetic resistance. It makes more noise than the Ergatta which is a water rower made of wood. The Ergatta can be stored upright but sits closer to the ground when you're rowing than the Aviron, making it harder to get on and off. We like the build of both of these rowers, but they do provide different experiences. We hope this comparison review helps you determine which one is right for you.
Related Rower Comparisons and Reviews: