*TreadmillReviewGuru helps consumers find the best home fitness products. When you buy a product we recommend, we may earn a commission.
Last Updated: June 5, 2023


The Echelon Reflect 50" is a workout mirror that projects classes and training content in your own home. When not in use, it looks like a regular mirror, but when activated, it displays personal-trainer led classes and workouts that can be done at any time. This innovative equipment is one of just a few workout mirrors on the market today. With many people looking to exercise at home for both convenience and safety, there is a demand for new options and Echelon looks to fill this niche with the Reflect mirror.
Who It's For: Users looking for new and innovative ways to workout at home using what otherwise looks like a regular mirror
The Reflect 50" Mirror provides a few unique features that may be of interest to users who:
Want the safety of working out at home
Value convenience
Don't have space for a full home gym
Want trainer-led content that is updated regularly
Have wall space for a large mirror
Are disciplined to use the Reflect regularly for best results
Pros
You can workout at home anytime.
Echelon FitPass includes a number of different classes and content
The Mirror projects the instructor image and reflects your image so you can see proper body positioning
When not in use, the Mirror looks like a regular mirror hung on your wall.
Touchscreen capabilities make it so you can use the mirror easily with just a touch of your finger
Volume and brightness control for sound and resolution
Access the classes you want, when you want them. No need to go to the gym.
Safety and protection from germs and viruses in crowded, sweaty environments
Cons
Touchscreen users have complained about residual fingerprints that regularly need to be cleaned off
Mirror is heavy and requires proper installation
FitPass is required to access any classes or content;the Mirror has no functionality without the monthly subscription
Cases of damaged Mirrors upon delivery have been reported
Classes and content are still in production phase and may be somewhat limited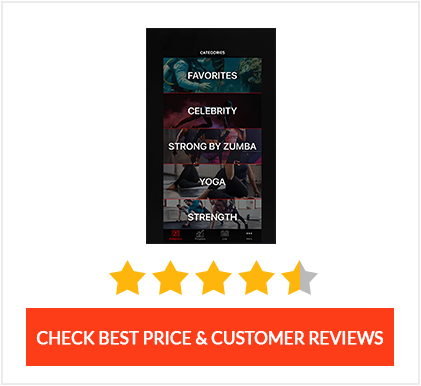 ---
+50" Reflect mirror with 32" HD Touchscreen Display
This mirror comes with hanging hardware so you can hang it anywhere in your home where you have space to workout
Size: Weighs 52lbs, 3mm Thick

When not in use, the Reflect mirror looks like any other regular mirror
Mirror NANO crystal coating, fingerprint resistant glass

The glare-resistant coating and fingerprint resistant glass keep the surface of the Reflect mirror clean and useable.
Class Categories: Favorites, Celebrity, Strong by Zumba, Yoga, Strength

Classes are categorized for convenience with your Favorites listed first
Fitness Classes: Zumba, Strength, Cardio, Core, Boxing

High intensity cardio or strength classes make it easy to work up a sweat
Toning Classes: Meditation, Barre, Pilates, Stretching, Tone, Yoga

Toning classes are slightly lower impact but still plenty effective for strengthening and toning your muscles
Requires a monthly subscription to Echelon's FitPass

If you already have an Echelon bike subscription, the Reflect mirror subscription is free. For new users, there is a monthly subscription cost to access classes and content.
Live Classes

Echelon FitPass includes regular Live Classes.
On Demand Classes

There is also a database of pre recorded classes that can be accessed anytime.
Construction:
Footprint: 47.75″ H x 24″ W x 2″ D
50" Reflect mirror with 32" HD Touchscreen Display
Weighs 52lbs
3mm Thick
Mirror NANO crystal coating, fingerprint resistant glass
Technology:
Android 7.1 OS
Screen: 32" Full HD, 1080p 60 Hz Touchscreen
Hardware: 1.8 GHz Quad core CPU
Sound 2x8w Speakers
WiFi 802 b/g/n
Bluetooth 4.2
100 Mbps Ethernet
8 megapixel front-facing camera for future 1:1 coaching
Power requirements: 100V-240V
Functionality:
Class Categories: Favorites, Celebrity, Strong by Zumba, Yoga, Strength
Fitness Classes: Zumba, Strength, Cardio, Core, Boxing
Toning Classes: Meditation, Barre, Pilates, Stretching, Tone, Yoga
Live Classes
On Demand Classes
Touchscreen functionality built into mirror
Requires a monthly subscription to Echelon's FitPass
Warranty
2-Year Limited Parts and Labor Warranty
Quick Summary
The Echelon Reflect 50" mirror is a smart mirror you can hang anywhere in your home to do workouts at your convenience. The Echelon FitPass subscription gives you access to both on demand and live classes you can enjoy with other participants. Many subscription apps can be streamed on a home television screen, some of which are nearly as large as the 50" Reflect mirror. One benefit of the Reflect is it hangs vertically in portrait position so unlike a television screen which is usually horizontal (landscape), you can see more of your full body reflected as you workout. There is some expense to both the Reflect and the app, so while this is a good option for those who consistently workout at home, it is not necessarily cheaper than a membership to a gym or boutique facility. This piece of equipment is designed to replace your gym expenses with an at-home option that doubles as a normal accessory on your wall when not in use.
In-depth Review of the Echelon Reflect 50" Mirror
---
Construction
Mirror Surface: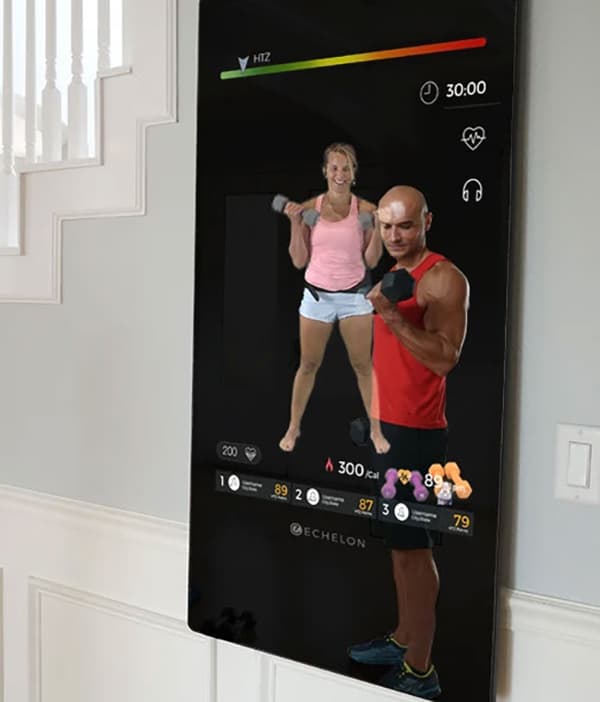 The Reflect mirror itself is 47.75″ High, 24″ Wide, and about 2" Deep. It is 3mm thick and has a nice black bezel around the perimeter of the mirror which makes it look chic on your wall. The 50" Reflect mirror features a 32" HD touchscreen display so you can select and watch classes with ease. The mirror weighs 52 pounds, so it is heavy and requires proper installation. Echelon uses a NANO crystal coating and fingerprint resistant glass on the Reflect. While this is designed to eliminate fingerprints on the glass, that is nearly impossible to do and so we recommend users wipe down the Reflect after each use to minimize fingerprint residue.
Technology:
The Reflect 50" mirror uses an Android 7.1 operating system and has a built-in 1080p 60 Hz touchscreen. We found the screen to be mostly clear — sometimes it is hard to see both your reflection and the instructor's image at the same time. While the screen itself seems clear, the overlapping images sometimes make the experience feel blurred or fuzzy. The Reflect features a 1.8 GHz Quad core CPU, so it is essentially a computer that reflects your image. There are speakers that project both the instructor's cues and music in the background. It is Bluetooth enabled, so it will sync with a compatible chest strap and the Reflect has an 8 megapixel front-facing camera that is supposedly there for future 1:1 coaching. Echelon does not currently offer this feature. One thing to note is the Reflect mirror requires a 100v-240v power outlet, so you will need to hang this over or adjacent to a plug. This is one consideration when deciding where to place the mirror.
Control
Touchscreen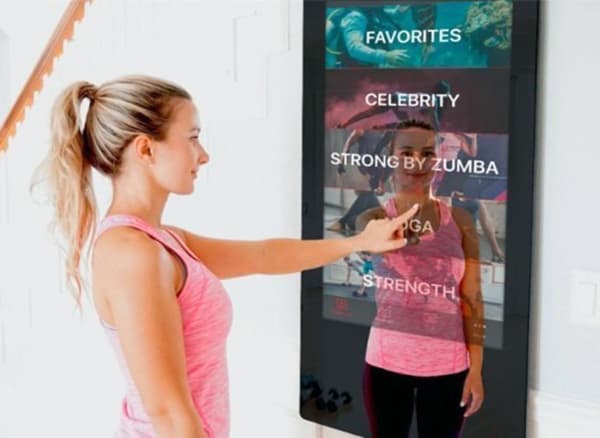 Touchscreen functionality is adequate; there were a few times we had to tap the screen twice to access a feature. And while the touchscreen capability is nice, it really is hard to not see fingerprints in the Reflect mirror. Several users have noted that using your phone to access content is not necessarily any harder and it keeps the mirror clean and easy to see. From the touchscreen, you can access your favorite class, or select by instructor, class type or length. A few more filtering options would be helpful like having an ABS subheading under STRENGTH, etc. The screen also displays your heart rate, estimated calorie burn, a bar that shows time elapsed and time remaining, and also icons of other participants who are taking the class at the same time. While you can't see them, you do see a box of their metrics for comparison.
Layout
The portrait layout allows for more of a full-body image. Time elapsed is displayed via a color bar along the top of the Reflect. The instructor's full-body is displayed in the center of the mirror and this is where your image is reflected as well. Metrics of heart rate and calorie burn show on the user's right just below the instructor image; and a list of other class participants shows at the very bottom. The screen layout is nice and navigation is easy. When selecting a class, you can touch your preferred category and then scroll down through any number of options. The Reflect mirror also tracks your progress and allows you to select upcoming Live classes.
Storage
When not in use, the Reflect mirror looks like a regular mirror. Even though the Reflect has a clean, sophisticated design, it is a bit too large to look like a standard mirror and a bit too small to pass as a full-length mirror, so even though it looks nice, it still resonates as a piece of fitness equipment. Also, as mentioned above, the Reflect requires a power outlet, so that is another thing to consider when determining placement. It is not advised to move the Reflect mirror around as it is very fragile. Don't try to place it on a stool or chair to elevate the height because the weight is an issue. Appropriately hanging the Reflect mirror with the proper mounting hardware is recommended when you first receive it.
Required Equipment
Echelon has several equipment packages you can choose that include some workout items. The basic package includes cycling shoes, a yoga mat, water bottle and 2lb weights. The upgraded kit includes the basic package plus a heart rate chest strap and the family plan includes the basic package plus two chest straps and two pairs of shoes. The cost of these packages range from $126 for the basic package, $206 for the upgraded package, and $312 for the family package.
---
Classes


Navigation
Classes are organized by categories initially which can be accessed via the touchscreen. Simply scroll through to find the class you want. Some of the categories only contain a few classes. While Echelon claims to be building a database of classes, one regular complaint is a lack of options. There are both live classes and pre recorded classes, but more of both would be advantageous.
Intensity
As most exercisers know, it is hard to match the full intensity of a class at home. There's something motivating about working out with and around others. While the Reflect does display the name of other participants, you don't see them, so it's not super motivating. The instructors cue good form and intensity is up to the user, but we had a hard time breaking a sweat in several classes. It's also a bit distracting to constantly be watching yourself. I occasionally became so preoccupied with my form and physique I lost the motivation of the instructor. Currently, there are as many or more of the toning, yoga and stretching classes as there are the more intense cardio and Zumba classes.
Diversity
Class categories seem diverse enough. We could use more long classes of 45-60 minutes and a greater range of class options would be nice.
Length
Most classes range from 10-30 minutes. There are currently very few classes at 45 or 60 minutes.
Music
The music is preset and cannot be changed. Also, music volume and instructor volume are linked, so you can't turn the music up or the instructor down. Music is adequate but more of a background effect; don't expect it to carry you along.
---
Functionality
Mid-Sized Mirror May Be Limiting for Some Users
The Reflect mirror is 50" high, so it will reflect much – but not all – of your body while exercising. It is beneficial to be able to see yourself and this is one of Reflects biggest selling points — it's more than just another TV screen. However, the 50 vertical inches is somewhat limiting as it requires the Reflect mirror be hung at the right height. If you lean the mirror against the wall, you have to stand quite a ways back to see your head. Also, if you have more than one user, you'll need to approximate the best height to allow everyone adequate reflection. If you hang it too high, shorter users will miss their legs and feet. If you hang it too low, taller users won't be able to see their head. Also, due to the width of the mirror, you don't see your hands or forearms when doing lateral raises, etc. Cardio exercises such as side to side jumps could also push you outside the lateral boundaries of the mirror.
Heart Rate Monitoring
One of the benefits of the Reflect mirror is integrated heart rate monitoring that syncs with your Bluetooth chest strap. Your heart rate appears on the screen and this gives you metrics in real time. You can correlate your heart rate with the class outline or challenge yourself to stay in or work outside of a certain range. Heart rate classes allow users at all conditioning levels to find the right exertion for them. If your heart rate quickly jumps with just moderate movements, then that helps you regulate your exertion levels appropriately so you don't wear yourself out. If you are fit and need a bit more of a challenge, your reflected heart rate gives you an idea of how much more intensity to add to each movement. Heart rate conditioning is extremely beneficial when training, especially at home, since you know exactly how hard your body is working.
Reflective Screen
The screen is very reflective, which is great for seeing yourself. However, sometimes this makes it hard to see the instructor clearly. The instructor image is also quite a bit smaller than your reflected image (depending on how far back you stand from the mirror), so there is some disparity in the size of your reflection (quite large) and the instructor (comparatively small).
---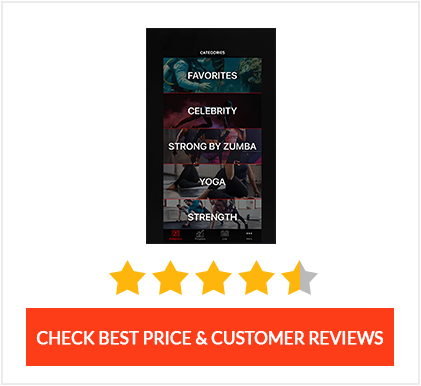 Bottom Line:
The Echelon smart Reflect 50" mirror is a touchscreen enabled mirror that doubles as workout equipment by day and a lovely wall mirror by night. This is a great way to get your workout in whenever you want, without having to navigate gym schedules or classes. You also avoid the issues of sweat, locker rooms, and other germ-friendly areas commonly found at your local gym. The Reflect mirror will hang nicely over any wall outlet so you can place it anywhere in your home or garage. It is important to install it correctly and since it weighs 52lbs, it is not recommended to move it around or rest it against a wall. Currently, Echelon has limited class options, but these are regularly expanding. There are both Live and On Demand classes from 10-30 minutes. Strength, cardio as well as Barre and toning classes are available. The Reflect mirror does require a monthly subscription to Echelon's FitPass app which currently runs about $39/month in addition to the initial purchase price. The benefits of the Reflect mirror are the convenience and safety of working out at home; it doesn't take up a lot of space like other pieces of fitness equipment; and you get a growing database of classes and content. Limitations include initial expense and ongoing subscription costs and no included weights or other equipment. If you are looking for a chic, non-intrusive piece of fitness equipment that is easy to use and provides both Live and On Demand classes, the Echelon Reflect mirror is a great option.
Related Exercise Mirror Reviews: