*TreadmillReviewGuru helps consumers find the best home fitness products. When you buy a product we recommend, we may earn a commission.
Last Updated: May 10, 2023
Roger Teeter founded Teeter in 1981. After experiencing success with inversion, Roger Teeter created inversion tables and low-impact fitness and recovery equipment to help others live without back pain. His daughter, Rylie Teeter, is the current CEO who carries on her father's mission and passion to bring innovative, quality equipment and products to their consumers.
What To Expect From Teeter Inversion Tables
What really makes Teeter's FitSpine Inversion Tables stand out is their construction which is FDA registered and UL safety certified. With the FDA, Teeter Inversion Tables are registered as medical devices that can be used for sciatica, herniated discs, muscle tension and spasms, facet syndrome, spinal degenerative joint disease and spinal curvature due to tight muscles, and back pain in general.
In order to become UL certified, Teeter made sure to put their entire lineup of inversion tables under Underwriter's Laboratories' third-party testing. With this certification you can trust that inversion tables from Teeter are safe and of high quality.
---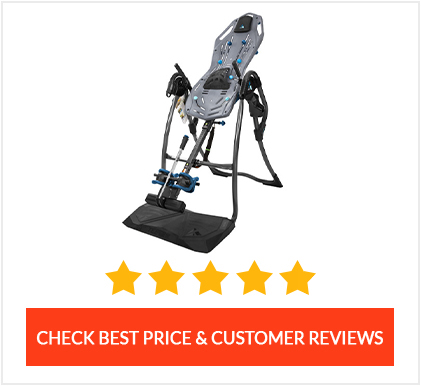 The Teeter FitSpine LX9 Inversion Table is Teeter's top-of-the-line model. It's also at the top of our best inversion tables list. The FitSpine LX9 has thoughtful features in addition to the safe, durable construction that we know Teeter to have. Along with the boarding platform, there is a storage caddy to hold items like your phone or water bottle nearby. These are only available on the Teeter FitSpine LX9.
Starting at the base is the boarding platform designed to help you step in and out of the ankle locking system. For comfort, we really appreciate the Ergo-Embrace ankle supports. These thick blue foam liners provide some cushion while locking securely around your ankles when inverted. The Deluxe EZ-Reach Ankle System makes securing these supports very easy. An arm extends up towards you when you're in position on the table so you don't have to bend over to adjust the system around your ankles.
There are two types of handles meant for stretching on the LX9 to allow you to get a good grip and stretch. The 8-point FlexTech floating bed is engineered for precision balancing so you can adjust to your height, weight, and degree of inversion and use the Teeter FitSpine LX9 to decompress your spine and lessen your back pain.
FitSpine LX9 Specs:
Height Range: 4'8" – 6'6"
Weight Capacity: 300 lbs
Non-Use Dimensions: 61" x 28"x 57"
In-Use Dimensions: 82" x 28" x 87"
Product Weight: 70.8 lbs
FlexTech Floating Bed
Foldable
EZ-Stretch Traction Handles and Stretch Max Handles
Warranty: 5-Years
---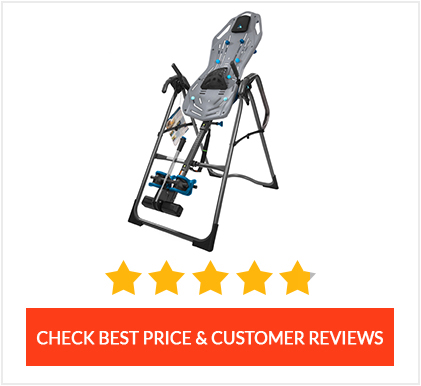 The Teeter FitSpine X3 Inversion Table has a lot of the same features as the LX9 but at a cheaper price point. My favorite feature is the Deluxe EZ-Reach Ankle System. This is best for users who have limitations when it comes to bending and reaching toward their feet, plus it makes locking and unlocking your ankles fast and easy.
Also found on the two other inversion tables from Teeter, are the acupressure nodes and lumbar bridge. These are plastic components that are adjustable and removable. The nodes are meant to provide relief from muscle knots and specific muscular areas of tension. The lumbar bridge can help square your hips and relieve pressure from your lower back. I like placing this low to allow the best stretch and decompression in my lower back.
You'll also find the EZ-Stretch Traction and Stretch Max Handles on the FitSpine X3 as well. These allow you to stretch your back in multiple different ways. Instead of the bed being padded, which can inhibit your spine from decompressing while inverted, the bed is plastic and designed to be flexible. The slight give makes it comfortable and supportive while providing optimal decompression and relief.
FitSpine X3 Specs:
Height Range: 4'8" – 6'6"
Weight Capacity: 300 lbs
Non-Use Dimensions: 58" x 29"x 61"
In-Use Dimensions: 81" x 29" x 87"
Product Weight: 65.8 lbs
FlexTech Floating Bed
Foldable
EZ-Stretch Traction Handles and Stretch Max Handles
Warranty: 5-Years
---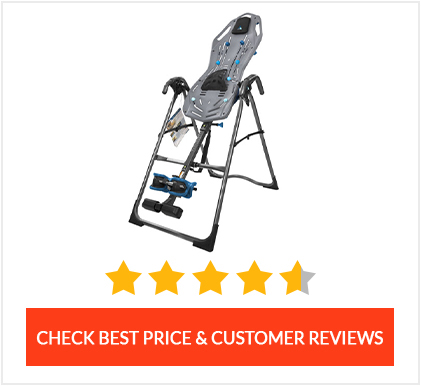 The low-end, most affordable inversion table from Teeter is the FitSpine X1. We love that although it has fewer features than the LX9 and X3, Teeter didn't sacrifice construction and quality when designing the X1. This makes the FitSpine X1 a great option if you're looking to save some money but still reap the benefits of a high-end, safety-certified inversion table.
Although the ankle supports aren't as easy to adjust as the other two higher-end inversion tables, they have the same blue thick foam liners that are comfortable around your ankles, even when you're fully inverted to 90 degrees. The Angle Tether is a great way to control the amount of degree you invert. The tether has a D-ring clip and premeasured markers on the strap to easily determine how far you want to be inverted on the table.
When you're done using any of Teeter's inversion tables, including the X1, you can simply fold them up and store them out of the way. When in use, the X1 feels just as secure, stable, and smooth as the others above, while helping relieve tension and pain in your back.
FitSpine X1 Specs:
Height Range: 4'8" – 6'6"
Weight Capacity: 300 lbs
Non-Use Dimensions: 58" x 29"x 61"
In-Use Dimensions: 81" x 29" x 87"
Product Weight: 59.3 lbs
FlexTech Floating Bed
Foldable
Warranty: 5-Years
---
Pros / Cons of Teeter Inversion Tables
Pros
All of the inversion tables are FDA registered and UL safety tested and certified.
They all have a durable, 11-gauge heat-treated steel frame.
The ankle supports are adjustable and come with thick foam padding for comfort for your feet and ankles when inverted.
The floating bed has an 8-pt floating suspension that has some flex to move with you and allows for support, stretch, and spinal decompression.
They fold up and can be stored out of the way.
All the inversion tables come with acupressure nodes and lumbar support that are adjustable and removable.
Cons
The heavy construction makes them very sturdy but heavy and difficult to carry and transport.
Other Teeter Equipment
In addition to their inversion tables, Teeter has other equipment that involves inversion. The Dex II Inversion & Core Training System, for instance, can be used for decompression as well as strengthening your body. The upper and lower handles allow for various upper body movements like tricep dips and pushups. Although your legs are bent, the Dex II allows your upper body to be fully inverted to 90 degrees.
Another inversion system is the Gravity Boots Doorway Inversion System. The Teeter Gravity Boots clamp around your ankles and lower legs and hook to the doorway rack that mounts to the top of a door frame. This lets you be fully inverted and is FDA registered to help with back pain and issues like sciatica, muscle tension, and herniated discs.
Teeter has some cardio and strength equipment, too. We like that their cardio machines are low-impact. These include the FreeStep LT3, FreeStep LTI, and Power10 Elliptical Rower. The Power10 combines the movement of a rowing machine in a seated elliptical design. It provides a total-body workout. The FreeStep Recumbent CrossTrainers are also total-body working machines. They use magnetic resistance and are similar to a recumbent bike because you're in the same seated position. However, the handles and pedals move like an elliptical. The LT3 and LTI are nice options if you're wanting a machine like an elliptical that you can do seated instead of standing.
For strength training, the Teeter FitForm uses a platform and resistance cables to do a wide variety of exercises to strengthen every muscle group. The Teeter Move app is great for following along with an instructor and getting guidance for using the FitForm Home Gym. The Teeter Move app also provides tips and guidance for using Teeter's other equipment, including the inversion tables.
Overall Rating of Teeter Inversion Tables:
In our opinion, Teeter offers the best inversion tables on the market. All three models are at the top of our best inversion table list. The innovation, features, and construction make all of them ideal for aiding in back pain. When using an inversion table from Teeter, know that you're getting an FDA-registered and UL safety-certified piece of equipment that is heavily tested and of high quality.
We appreciate that Teeter stays true to its mission of helping people live pain-free, by providing low-impact equipment for total-body training, too.
Related Inversion Table Reviews: