*TreadmillReviewGuru helps consumers find the best home fitness products. When you buy a product we recommend, we may earn a commission.
Last Updated: May 2, 2023
If you're in the market for a piece of cardio equipment for your home, you've come to the right place! There are many different types of machines available for doing cardio, and one isn't necessarily better than another. It only matters which kind is best for you.
Whether you're a serious runner looking for a treadmill, an avid indoor cyclist, elliptical junkie, or a newbie to indoor rowing, there's an option for you among these best cardio machines. We'll guide you through the ins and out's of the top machines that we recommend for cardio, and also dive into why cardio is important for your overall health.
Why You Should Trust Us
Here at Treadmill Review Guru, we specialize in testing all kinds of cardio equipment. We use our experience in the industry to analyze every machine we test so we can help you find the best one for you and your fitness goals.
Things like mobility and joint issues, content, and cardio preference help dictate the type of machine that is best for you. We keep all of these factors in mind during our review process, that way we can provide you with the best cardio machine options for home use.
Best Cardio Machines 2023
See the details, Pro's and Con's and why each treadmill made our best list below.
Sneak Peek of the Best Cardio Machines:
Best Cardio Machine 2023 – Our Experts Top Picks
Here is the list of top picks for the Best Cardio Machine of 2023 by Treadmill Review Guru – you can't go wrong with any cardio machine on this list.

The NordicTrack x32i is a premium treadmill that has a lot of features to offer and really stands out in both construction and content. It inclines up to 40% and declines to -6%, which is a lot more than most treadmills on the market. The x32i also has more cushioning than a lot of its competitors, making it more forgiving on the joints.
The hearty 4.25 CHP motor can handle all kinds of training, from running, sprinting, hiking, and even sled push workouts. Once you log in to your iFit account, you'll be able to train virtually all over the world with high-class instructors on the massive 32" touchscreen.
You can check out the full review of the NordicTrack x32i, here.
Pros
It inclines to 40% and declines to -6%, which is higher than most treadmills.
32" touchscreen and iFit enabled to access content
Large running surface of 22" x 65"
Quiet and powerful 4.25 CHP motor
Cons
It doesn't fold.
It's heavy and requires 2 people to move.
+40% incline and -6% decline feature
32" HD touchscreen
Reflex cushioning
Enhanced AutoAdjust
iFit enabled
iFit monthly membership: $39
Bluetooth enabled
Heart rate chest strap included
Non folding
16,000+ live and on-demand fitness classes on iFit
4.25 CHP DurX Commercial Plus Motor
Footprint: 76"L x 40"W x 73" H
Running surface: 22" x 65"
Weight: 462 lbs (when in box)
Weight capacity: 300 lbs
Speed: 0-12mph
Two speakers
Two water bottle holders
Warranty: 10-year warranty on the frame, 2-year warranty for parts, and 1-year warranty for labor
We recommend the NordicTrack x32i because it offers a wide variety of training options which are all really great for cardiovascular health. You aren't limited to running and walking on the x32i, and the content available on iFit will make sure you're never bored doing cardio again.

The AssaultRunner Elite Treadmill is a manual treadmill that doesn't require electricity or wifi. The belt moves with your legs, so the faster you run, the faster the belt will go.
The slats on the belt are very durable and it can handle up to 400 lbs, so it's great for larger users. It also has a steel frame and is rated for commercial and residential use. The console is a small battery-powered LCD screen that displays your metrics and doesn't require a subscription to operate.
Read our full written review of the AssaultRunner Elite, here.
Pros
It has a low carbon footprint because it is fully manual and requires no electricity.
The curved and narrow belt helps promote great running form.
It doesn't have a max speed, so it will go as fast as you can run.
It is lighter weight than other treadmills at 290 lbs and has a large weight capacity at 400 lbs.
Cons
It doesn't fold up.
There isn't an incline feature.
Battery operated LCD console
Bluetooth enabled
Front wheels and leveling feet
Rubber slat belt with 62 individual slats
Curved running surface
Non-folding
Reinforced steel construction
Weight capacity: 400 lbs
Weight: 290 lbs
Footprint: 70"L x 32"W x 64" H
No max speed
Running surface: 17" x 65"
Warranty: Lifetime warranty on the belt, 10-year on the frame, 3-year for parts, and 1-year for labor
If you're a runner, we recommend checking out the AssaultRunner Elite Treadmill. It's manual so it technically doesn't have a max speed and can go as fast as you can. The curved belt also helps promote good running form and can help you burn more calories than an automatic treadmill.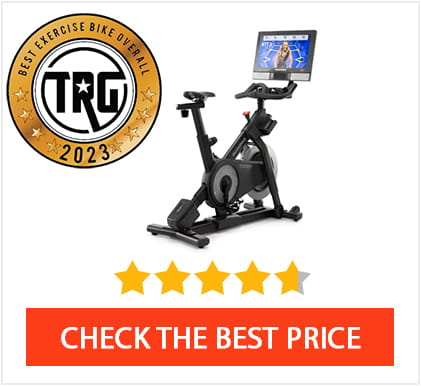 The NordicTrack S22i Studio Cycle bike isn't your average spin bike. On top of the 22" HD touchscreen, the S22i has a quiet motor that inclines and declines the bike while you're riding. So, on top of adding the magnetic resistance onto the bike for tension, the S22i will tilt up to 20% and down to -10% as you pedal.
This feature simulates the experience of riding outside, and the graphics and clarity of iFit on the large 22" touchscreen will make you feel like you're in whatever location your class takes place in. You can change your resistance and incline levels easily on the handles and even get in an upper body workout with the included 3 lb weights.
The extra features aside, the NordicTrack S22i is a solid bike that can accommodate taller and larger users up to 350 lbs. The 32 lb flywheel is heavy enough to give you a smooth, fluid pedal stroke as well.
Check out our full review of the NordicTrack S22i Studio Cycle Bike.
Pros
Inclines and declines to simulate the experience of riding a bike outside.
iFit offers countless studio and outdoor rides all led by professional instructors.
SmartAdjust through iFit will automatically change the resistance and incline levels for you.
The console has fans built in, to help keep you cool during your ride.
Cons
The seat is a little stiff and uncomfortable, but it can be swapped with a different seat.
It doesn't fold up, but can be moved.
+20% incline and -10% decline feature
22" Smart HD touchscreen
iFit enabled
SmartAdjust automatically adjusts in iFit
iFit membership is $39/month
Practically silent magnetic resistance
3 adjustment points for a good bike fit
4 leveling feet- front 2 are adjustable
Handlebar controls to change resistance and incline/decline levels
A fan is attached to the console
Footprint: 61"L x 22"W x 58" H
Weight capacity: 350 lbs
32 lb flywheel
Padded racing saddle
Hybrid pedals: SPDs and toe cages
24 resistance levels
2 amplified speakers
2 water bottle holders
Warranty: 10-year warranty on the frame, 2-year for parts, and 1-year for labor
We recommend the NordicTrack S22i for cardio because it has interactive features and content that keeps you engaged and feeling as though you are actually riding outside. Plus, indoor cycling is a low-impact cardio activity so you'll minimize the stress on your joints while riding.

Rowing is becoming increasingly popular in home gyms, and the Hydrow is working to keep up with that trend. The Hydrow Rowing Machine offers top-notch subscription content on a large 22" touchscreen. The trainer-led workouts help guide and motivate you as you workout, which is great for newer users.
Not only are the live, on-demand, and outdoor workouts excellent, but the rowing machine itself is high-end and comfortable. The magnetic resistance is quieter than rowers that use air resistance, and the nylon strap doesn't make much noise as well. We found the seat and handles to be really comfortable making the Hydrow great for rowing for long periods of time.
Click here to read our full review of the Hydrow Rowing Machine.
Pros
The subscription content is impressive, engaging, and updated continuously.
The design is sleek and the magnetic resistance is quieter than air rowers.
The classes feature a leaderboard to compete against and connect with other users.
It can handle up to 375 lbs and the foot pedals can accommodate any size shoe.
Cons
It doesn't fold in half and has a larger footprint when used.
There are limited "free-row" options, so most of the programming is led by an instructor.
22" touchscreen
Monitor is adjustable and tilts side to side
Uses quiet computer-controlled magnetic resistance
Subscription app is $38/month
Bluetooth enabled
Front-facing amplified speakers
Monitor folds flat for storage
Aluminum and steel frame
Footprint: 86"L x 25"W x 47"H
Footprint when stored vertically with upright storage kit: 25"W x 33"D x 86"H
Weight capacity: 375 lbs
Weight: 145 lbs
Seat: cushioned with a 10-roller system
Nylon handle strap
Warranty: 5-years for frame and upright storage kit, and 1-year for components, screen, other electronics, and labor
Rowing is a really great full-body, low-impact workout. The Hydrow Rowing Machine keeps you engaged with their content and comfortable as you row on the high-quality rower. The Hydrow is also really helpful if you're new to rowing and want to make it a preferred cardio choice because you'll get insight and guidance from experienced instructors.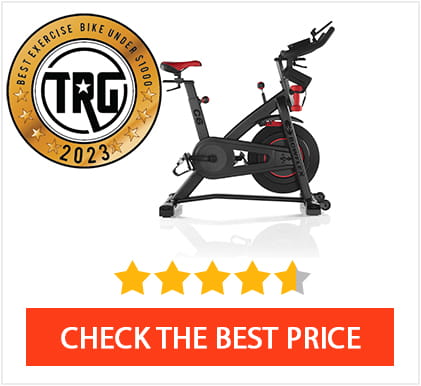 The Bowflex C6 exercise bike lets you choose what you want to watch while you ride. It's Bluetooth enabled, so you can connect to third-party apps like Zwift and you can use subscription apps like iFit or Bowflex's JRNY, as well. All you need is your phone or tablet to place on the entertainment tray, or skip it and just ride.
The C6 uses magnetic resistance which is pretty much silent, and it offers a smooth pedal stroke that is low-impact on the joints. Even though it doesn't come with a large touchscreen, the quality and functionality of the C6 bike is comparable to bikes on the market that are higher priced. The Bowflex C6 provides a lot of comfort and flexibility with how you use it.
You can read our full written review of the Bowflex C6 exercise bike, here.
Pros
The bike is practically silent, lightweight, and smooth to ride.
You can watch the content of your choosing or use third-party training apps from your phone/tablet as you ride. You aren't locked into a monthly subscription.
The 4 adjustment points allow users of all sizes to get the perfect fit on the bike, and the hybrid pedals make it more accessible to use.
It comes with 3 lb weights to work your upper body and an armband heart rate monitor to track your heart rate.
Cons
The entertainment tray doesn't swivel or adjust.
Requires electricity to use.
LCD backlit console
Armband heart rate monitor included
Front-mounted 3 lb weights included
Practically silent magnetic resistance
4 adjustment points for a great bike fit
Bluetooth enabled to connect to apps like Zwift, JRNY, and Peloton
No preloaded programs
Footprint: 48.7"L x 21.2"W x 51.8" H
Weight capacity: 330 lbs
Bike weight: 112 lbs
40 lb flywheel
Lightly padded racing saddle
1-100 resistance levels
Hybrid pedals: SPD clips and toe cages for regular athletic shoes
Requires power source to use console
2 oversized water bottle cages
Warranty: 10-year warranty on the frame, 3-years electronics/parts, and 1-year for labor
If you love cycling but don't always like taking classes with an instructor, we recommend checking out the Bowflex C6. Cycling is an excellent form of cardio and will boost your muscle endurance, especially the muscles in your legs. Log mile after mile on the C6 and enjoy the sturdy, functional, and comfortable ride.

The Sole F85 treadmill is well-built and can handle users of all sizes and abilities. The sturdy construction has an impressive 400 lb weight capacity, a hearty 4.0 HP motor, and a large yet firm running surface. We've begun to expect these aspects with Sole's treadmills, but the F85 goes a step further with its 10" touchscreen and extra entertainment options.
Apps like Netflix, Youtube, ESPN, and several news sites are preloaded into the treadmill, so all you have to do is connect to wifi, log into your account in the app, and start streaming. Now, Sole offers the digital fitness platform, Studio, if you want to take trainer-led classes. Although, you can always skip connecting to the internet and use the on-board workouts or even manual mode to do your own workout.
We really like the Sole F85 because you have lots of options for how you can use it.
To learn more about the Sole F85 treadmill, check out our full written review.
Pros
It comes with 7 preloaded apps, like Netflix as well as the option to use the subscription fitness app, Studio.
The construction is very solid and it has a large weight capacity of 400 lbs.
It folds up when not in use and has 4 wheels for easy transportation.
The tablet/phone holder gives you more entertainment options while you use it.
Cons
The cushioning is firmer than comparable models.
The fan isn't as strong as other treadmills on the market.
10" android screen
7 preloaded apps
0-15 incline levels
Step up height: 8"
Cooling fans
Included heart rate monitor chest strap
Bluetooth enabled
Easy fold assist
4 transportation wheels
$19.99 per month optional subscription to the Studio app
Syncs with Zwift
4.0 HP DC Motor
Footprint: 66"H x 82"L x 37"W
Running surface: 22" x 60"
Weight: 308 lbs
Weight capacity: 400 lbs
Speed: 0.5-12mph
Two speakers
Two water bottle holders
Warranty: 10- years for frame, 5-years for electronics and parts, and 2-years for labor
Running and even walking on a treadmill has amazing cardio benefits. We recommend checking out the Sole F85 treadmill if you want a lot of entertainment options while you workout, or if you're a serious runner looking for a treadmill that can keep up with you. The running deck has firmer cushioning that feels similar to running outdoors, but still provides enough impact absorption to protect your joints.

The Concept2 Model D Rower is popular in the indoor rowing community. It uses air resistance so if you're a stronger rower, you won't have to worry about not having enough tension to pull against. However, air rowers can be loud, and the Concept2 is no exception. So, if noise is an issue for you, this is something to consider.
The Concept2 doesn't require wifi or an electrical outlet to use. You can simply hop on and start rowing. The console is pretty straightforward and basic compared to other rowers, but it still offers some programs and even a few games to play while you workout. The Concept2 is also Bluetooth enabled so it will connect to compatible heart rate monitors and you can save your workout history in the ErgData app.
Read more about the Concept2 Model D rower, here.
Pros
It has nice construction quality and is comfortable.
The foot pedals fit any shoe size, and the impressive 500 lb weight capacity handles larger users.
The display turns on automatically when you start to row.
It can be stored vertically and it's lightweight.
Cons
The air resistance is louder than other rowers but offers unlimited max tension to row against.
The seat might be a little too narrow for some users.
Battery -powered console
Syncs with the Concept2 ErgData app
Bluetooth enabled
Monitor arm is adjustable
Folds in 2 parts for convenient storage
Uses air resistance
Comes in 2 colors: light gray or black
Welded steel frame
Weight capacity: 500 lbs
Weight: 57 lbs
Footprint: 96"L x 24" W x 14" H
Seat: contoured and lightly padded
Seat height: 14"
Steel chain connects to the handle
Footprint: 96"L x 24" W x 14" H
Warranty: 5-years for frame and 2-years on the moving parts and console
The Concept2 Model D air rower is a great option for cardio, especially if noise isn't a factor in your home. It's also a solid option if you don't want a rower with a monthly subscription. If you're like me, you'll be sweating and out of breath after just a few minutes of rowing, so it shouldn't take you long to start reaping the cardio benefits either.

The NordicTrack Commercial 1750 treadmill is a solid treadmill that has great programming and thoughtful features. Being from NordicTrack, it's iFit enabled so you can take the same classes on the 14" touchscreen as other NordicTrack treadmills.
Treadmills from NordicTrack have some of the softest cushioning that we've tested, and the 1750 is no exception. It offers a good amount of cushioning which is great for reducing impact on your joints. It's excellent for all-around use as well as heavy training. We especially love it for interval training because of the quick touch adjustment buttons on either side of the screen. These let you jump from high to low speeds and grades, easily. The 1750 also declines to -3% as well as inclines up to 15% for even more variations to work within your workouts.
On top of the quiet 3.5 CHP motor, the NordicTrack 1750 also folds up and can be moved around fairly easily.
Click here to check out the full written review of the NordicTrack Commercial 1750 Treadmill.
Pros
It has a solid construction and countless classes with an iFit subscription.
It inclines to 15% and declines to -3%. Many other treadmills don't offer decline options.
It has a large 60" x 22" running surface to do everything from walking to sprinting.
The 14" touch screen can be pivoted side to side for training on and off the treadmill.
Cons
The 300 lb weight capacity is limiting for larger users.
A heart rate monitor isn't included, but it's bluetooth enabled to connect to the compatible armband.
+15% incline and -3% decline feature
14" Tilt & Pivot HD touchscreen
Automatic trainer control
iFit enabled
iFit monthly membership: $39
Bluetooth enabled
Dual workout fans
Lift assist for easy folding
16,000+ live and on-demand fitness classes on iFit
3.5 CHP DurX Commercial Plus Motor
Footprint: 80"L x 38"W x 65" H
Running surface: 22" x 60"
Weight: 340 lbs (when in box)
Weight capacity: 300 lbs
Speed: 0-12mph
Two speakers
Two water bottle holders
Warranty: 10-year warranty on the frame, 2-year warranty for parts, and 1-year warranty for labor
If running is your chosen form of cardio, check out the NordicTrack 1750 treadmill. You'll never get bored while running again with access to all of iFit's extensive running and walking classes. Plus, the deck provides nice comfort to help lessen the impact on your joints.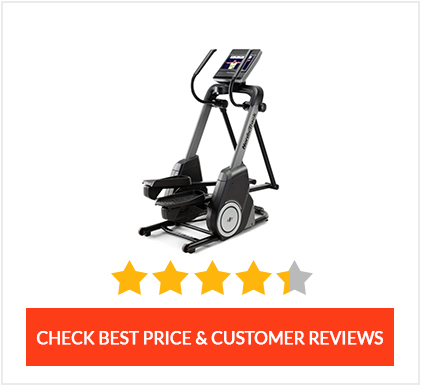 The NordicTrack FS14i FreeStride Trainer is a 3-in-1 elliptical that can also function like a stair-stepper, and treadmill. It offers a 32" stride length for plenty of range, and the pedals adjust to you, keeping you in control. When you use the handlebars attached to the pedals, you'll get a full-body workout on the FS14i.
The FS14i is compatible with iFit so you can stream countless trainer-led workouts to keep you motivated. The 14" touch screen is plenty large to clearly see your metrics and iFit instructor. Enjoy taking walking, running, elliptical, and hiking classes on the FS14i. We personally enjoy taking iFit's outdoor classes on the FreeStride Trainer.
The impressive 375 lb weight capacity also makes it accessible to users of all sizes. The 20 lb flywheel makes it feel stable and secure to use. Users will benefit from the low-impact, high-intensity workout that this home cardio machine provides.
You can read our full in-depth review of the NordicTrack FS14i FreeStrider Trainer, here.
Pros
The 26 resistance levels, 10% incline, and -10% decline bring a lot of variability to your workouts.
It's iFit-enabled so you can access the extensive library on the 14" touchscreen.
The pedal stride adjusts to you and can function like an elliptical, treadmill, and stair stepper.
The magnetic resistance is quiet and smooth.
Cons
It has a larger footprint than most ellipticals.
It doesn't have a stationary handle, so getting on and off can be a little challenging.
0-10% power adjustable incline
-10% decline
14" Smart HD Touchscreen
32" auto-adjustable stride
iFit enabled
iFit membership is $39/month
AutoBreeze workout fan
24 digital resistance levels
Transportation wheels
Over-sized levelers
SMR silent magnetic resistance
Commercial solid steel construction
Footprint: 58.5"L x 29.5"W x 74" H
Weight capacity: 375 lbs
Flywheel weight: 20 lbs
Water bottle holder
Warranty: 10-years for the frame, 2-year parts, and 1-year labor
The NordicTrack FS14i FreeStride trainer gives you more options than your standard elliptical. With the 3-in-1 pedal functions paired with the iFit membership, you'll have many workout options. Plus, the FS14i is a low-impact, total body workout that is a solid cardio option. If you have the space, we recommend checking it out.

Another excellent high-intensity, low-impact cardio machine is the CLMBR. This climbing machine has a unique, sturdy frame and attached 21" touch screen. It doesn't take up much floor space, in fact, the base dimensions are only 35" x 32". The CLMBR does require at least an 8-foot high ceiling to use, though.
The CLMBR has moving pedals and handles that work your body in a vertical motion. The maximum step and reach lengths are 20", but can be adjusted as you use the cardio machine. Targeted training is also possible on the CLMBR. The moving handles lock up and out of the way, and the dip bars and crossbars stationary handles can held to isolate the lower body. When using the moving handles, they can be adjusted in 1" increments and offer 3 grip options to target your upper body muscles differently. The CLMBR works for users of various heights and weights up to 350 lbs.
On the touch screen, CLMBR offers trainer-led content at an additional monthly cost. With a full subscription, users have access to workout classes led on and off the CLMBR to work the entire body. The classes provide guidance, motivation, and target metrics to hit while using the CLMBR. There are also races you can take against other members to see where you stack up.
Check out our full written review of the CLMBR.
Pros
Provides a full-body, low-impact workout that is challenging.
The 21" touch screen offers subscription content with over 500 trainer-led classes.
The moving handles adjust for your height and offer different grip options.
It can handle users up to 350 lbs.
Cons
It makes noise when in use.
The warranty is less extensive than what other brands offer.
21" touch screen is enabled with subscription content
$39 per month membership
Over 500 trainer-led classes
Bluetooth connectivity
Multi-grip handles
1" adjustability for proper height
Multiple stationary handles for targeted training
Oversized textured pedals with adjustable foot straps
Takes up small amount of floor space
Transportation wheels
Footprint: 32" W x 35" D x 88" H
Weight capacity: 350 lbs
Product weight: 180 lbs
User Height: 4'11" up to 7'
Frame: Cast and extruded aluminum
Step length: 20"
Reach length: 20"
Magnetic resistance
Resistance: 1-11 levels
Device holder
Water bottle holder
2 large water bottle holders
Warranty: 1-year
For an effective cardio workout, check out the CLMBR. It uses adjustable magnetic resistance and by adjusting your body, you can make the workout more intense. All the muscles in your upper and lower body will get in a great workout while you have the option of following along with energetic and engaging instructors on the CLMBR.

The ProForm Pro HIIT H14 is at the top of ProForm's lineup of elliptical trainers. It offers a challenging workout that feels somewhere between an elliptical and a stair-stepper. The pedals move 5" horizontally and 10" vertically for an effective workout for your posterior chain, as well as the rest of your body. The handles let you grip multiple places depending on your height and preference. The handles move like an elliptical and the HIIT H14 gives you a workout that's forgiving on the joints.
The ProForm Pro HIIT H14 has a 14" touch screen that is enabled with iFit. You can take classes specifically on the HIIT machine, as well as walking, running, and hiking classes filmed indoors and out on iFit. With a subscription to iFit, you can even create your own outdoor routes using the Google Map feature. This lets you explore locations on your own, or by following an instructor with iFit's large library of classes.
The HIIT H14 has a compact footprint compared to other elliptical machines, making it perfect for those looking for total body training that doesn't take up a huge amount of space. The ProForm Pro HIIT H14 has 26 levels of magnetic resistance that are adjustable.
Click here to read our full in-depth review of the ProForm Pro HIIT H14.
Pros
The 14" touch screen is enabled with iFit to provide guided workouts.
It is very quiet to use and appropriate for any home space.
The 26 levels of magnetic resistance offer a lot of tension and is great for high-intensity training.
It is compact and doesn't take up a large amount of space.
Cons
The air output from the fan is weak.
The handles and pedals move in conjunction with one another even when it's unplugged, making it hard for some users to get on and off.
14" touch screen is enabled with iFit
30-day iFit free trial
CoolAire Fan
Dual 2" Bluetooth speakers
Audio aux port
Water bottle holder
Footprint: 52" D x 29" W x 66" H
Weight capacity: 325 lbs
Product weight: 225 lbs
30 lb inertia-enhanced flywheel
10" vertical and 5" horizontal pedal motion
Multi-function handles
Oversized leveling feet
Oversized cushioned pedals
Front-mounted transportation wheels
Warranty: 10-years for the frame, 2-years for parts, and 1-year for labor
The ProForm Pro HIIT H14 offers a stable, compact elliptical training experience that also resembles a stair-stepper. The 30 lb flywheel and 325 lb weight capacity help make this a sturdy cardio machine, and the 26 levels of magnetic resistance provide a lot of tension for users of all abilities to get a great cardio workout.

The Sole E95 Elliptical is smooth, quiet, and has an adjustable stride length. The maximum length of each stride is 20" and the weight capacity is 400 lbs, making this a great elliptical for a wide variety of users. The handlebars also offer different grip options to make it more functional to use.
The Sole E95 has 10 onboard workout programs, it's Bluetooth enabled and has an entertainment tray so you can watch/read your own content on your tablet or phone. The Sole E95 doesn't require an internet connection to use and offers 20 different resistance levels to change up your workouts.
You can read our full in-depth review of the Sole E95 Elliptical, here.
Pros
The pedals are cushioned and the stride length is adjustable.
It has a 27 lb flywheel for a smooth and fluid pedal stroke.
The power incline mode targets your lower body more than many of its competitors.
It has an integrated tablet/phone holder so you can use your own content.
Cons
The LCD 10" screen is only in black and white.
There's only 10 onboard workouts available on the console.
1-20 power adjustable incline levels
10" LCD white back-lit console
20-22" max stride length
10 on-board workouts
Cushioned pedals with 3 pedal positions
Chest strap included
Bluetooth audio speakers
Whisper quiet front drive system
Cooling fans
Steel frame
Footprint: 82"L x 31"W x 71" H
Weight capacity: 400 lbs
Flywheel weight: 27 lbs
Step up height: 14"
Water bottle holder
Warranty: Lifetime warranty for the frame, 5-years for electronics and parts, and 2-years for labor
The Sole E95 Elliptical is one of Sole's most popular ellipticals that also works the lower body more than standard ellipticals. Using an elliptical is effective for improving your cardiovascular system, and it's also friendly on your joints. If you don't want to be tied into a monthly subscription and want to use your own device while you workout, the Sole E95 is a great option.
---
What To Look For When Buying A Cardio Machine
So, how do you pick what type of cardio machine is right for you? We've included the top 4 factors we consider to be most important when determining cardio equipment that's best suited for you.
Health Limitations
First and foremost, do you have any health limitations? Assuming you've checked with your doctor prior to getting into an exercise routine, which we strongly encourage, do you have any joint or mobility issues? Some cardio equipment, like running on a treadmill, is a higher impact activity and can cause added stress on your joints.
That's why we recommend looking into the cushioning on a treadmill. Some offer more cushioning than others, which helps absorb some of the impact on your joints. And if running is out of the question for you, there's plenty of other lower impact equipment available that's provided on this list.
How is your mobility? When indoor rowing, some of the machines sit close to the ground and require a bit more hip mobility to use. Considering any prior ailments before purchasing a piece of cardio equipment for your home can help prevent injuries, let you safely workout, and encourage you to use your machine regularly.
Home Workout Space
Another factor that's important to consider is where your new cardio machine is going to be in your home. How much space do you have for it? Will it need to be stored out of the way when it's not in use? Is noise going to be an issue?
Some equipment takes up more space than others. Various treadmills can fold up to take up less space, while a number of rowers can be stored vertically when not in use. While exercise bikes tend to have similar footprints, an additional screen attached can make them take up more space than expected. Elliptical sizes can vary pretty greatly as well.
What about your ceiling height? Ellipticals and treadmills typically take up the most space height-wise, and features like inclining on both treadmills and bikes, as well as vertically storing a rower might not work if your ceiling is too low.
Most likely, your equipment may make some amount of noise but some machines are quieter than others. On exercise bikes and rowers noise can be dependent on what type of resistance they use. Treadmills and ellipticals vary on their noise output, too.
Cardio Preference
No matter what type of cardio you do, you should enjoy doing it. It's important to do cardio workouts regularly to improve your cardiovascular fitness and stay in shape. Liking your cardio routine and equipment will help encourage you to keep up with them.
Otherwise, you could end up with a treadmill in your home that you never use because you hate running. Cardio definitely doesn't have to be torture, we think it should be fun.
Content Preference
Another factor that can influence how much you like/dislike your machine and how much fun you have on it, is the content it offers. Lots of brands nowadays provide subscription fitness apps to use on their equipment, while others include a few on-board workouts and let you use your own device.
If you like having someone tell you want to do when you're exercising, then you should check out equipment that have trainer-led subscription classes. Subscription content is also really great if the aspect of having to pay for a monthly subscription motivates you to use the machine regularly.
Or maybe you like to zone out when you workout, or do your own thing? There's plenty of options that don't require subscriptions, too. We've included a wide variety of content options on this list, so you're sure to find a machine that aligns with your liking.
Benefits Of Cardio
There are numerous benefits to doing cardio. Cardio can have positive effects on your body, both internally and externally, as well as your mind.
Starting with internal benefits, regular cardio strengthens your heart. When conditioned, the heart will pump blood more efficiently through the body. The heart is an important muscular organ, and keeping it in shape can help reduce many diseases such as heart disease, high blood pressure, as well as decreasing your chance of having a stroke and heart attack.
On top of the benefits it can have on your cardiovascular system, cardio exercise can help relieve some pain associated with arthritis by lubricating your joints. A few more internal benefits (there's many beyond what I'm listing!) are better sleep, improved immune system function, and a faster metabolism.
Plus, the more cardio you do, the more stamina you'll have in your workouts and your muscles will also get stronger.
Of course, regular cardio exercise can help shed excess weight, and you might notice more muscle definition. If you're older, cardio aerobic exercise can help reduce your risk of falling.
Exercise, including cardio, releases endorphins into the body which are the feel-good hormones. Cardio may help reduce symptoms of depression, anxiety, as well as reduce the risk of Alzheimer's disease.
The list goes on for all the benefits you'll reap from with regular cardio activity. What's better than feeling good on the inside and out, and improving your overall health?
Frequently Asked Questions
Is It Ok To Do Cardio Every Day?
Or maybe you're thinking: "How much cardio do I need to do?" The CDC (Centers for Disease Control and Prevention) recommend that adults should get at least 150 minutes of physical activity per week. If you're doing higher intense cardio then the minimum recommendation per week is about 75 minutes. The World Health Organization suggests doing whatever kind of cardio exercise for at least 10 minutes at a time to see the most benefits.
As far as a maximum duration for cardio sessions, there really isn't one. But we don't recommend doing high intensity cardio everyday. Rest is very important for the body to recover and for muscles to repair themselves. Rest also helps prevent burnout and injuries. However, lighter aerobic activity like walking is more attainable to do every day.
What Is The Best Low-Impact Cardio Machine?
Ellipticals, rowers, and exercise bikes are all low-impact machines. As far as which one is best, depends on you. The size of the equipment, how much noise it makes, and the type of activity you enjoy and are able to do helps to determine which of these low-impact machines will work best for you.
Each of these machines comes with their own pros and cons so it's a good idea to check out the features that they offer as well as the type of movement they require, and areas of the body that they work.
How Do Beginners Build Cardio?
It's always a good idea to check with your health provider before jumping into a workout routine, especially if you have never done cardio, or are coming back from an injury or illness.
For beginners, I recommend starting small and slow and then building from there. For example, if you're getting into running, try starting with walking and running intervals for around 30 minutes. If you're not up to doing 30 minutes, try 15. Once you're up to 30 minutes, try going for longer and walking less.
It's not worth it to over do it the first day, because it can make building a routine discouraging. In order to get the most out of cardio, it's important to do it regularly, otherwise it will always feel torturous -think those times when you're gasping for breath and wishing it would end.
Trust me, cardio doesn't have to be torture, so listen to your body and what it can handle and try to incorporate cardio consistently in your workout routine.
Where To Buy Cardio Equipment?
We recommend buying cardio equipment online directly from the brand manufacturer. While many brands are available at local sporting goods stores and online retailers, warranties on the machine are issued by the manufacturer and have to be handled directly through the manufacturer.
Often other retailers sell equipment that they have on hand which might no longer be available from the manufacturer because it's older. Buying directly from the manufacturer guarantees that you are buying most current and updated models available.
Plus, buying from the brand manufacturer helps us here at Treadmill Review Guru so we can continue providing you with in-depth and thorough product reviews.