*TreadmillReviewGuru helps consumers find the best home fitness products. When you buy a product we recommend, we may earn a commission.
Last Updated: May 22, 2023
Often considered the leader of the pack for indoor cycling bikes, Peloton is still immensely popular despite the company's decline over the past few "ish" months. While Peloton still has a huge following and an abundant community of members, some people are hesitant to buy their favored bikes. And for good reason.
Don't get me wrong, their bikes are sleek and stylish, but there are plenty of equivalent high-quality exercise bikes on the market. And yeah, Peloton's fitness classes are some of the best out there, but they're certainly not the only option. There are numerous subscription workout apps that are comparable to Peloton and some even offer more choices like taking classes filmed on literally every continent on Earth, or even watching Netflix while you ride. In case you didn't know, no you can't watch Netflix, Hulu, or any of your favorite shows on the Peloton Bike.
So, if you're looking for a cheaper exercise bike or better option then keep reading to find out what we consider to be the best Peloton alternatives. All of the bikes below are also on our best exercise bikes list.

Why You Should Trust Us
The classes offered at Peloton are modeled after group spin classes offered in studios and commercial gyms. Our reviewers here at Treadmill Review Guru consist of spin instructors and fitness experts who know what exactly goes into making these kinds of classes. We also heavily test subscription workout programming that is found on a lot of home exercise equipment nowadays, so we know which ones to recommend as well as which ones compare the most to Peloton. We've logged countless hours and miles on all of the exercise bikes on this list, so you can trust that we know how they perform and stack up to the "king of exercise bikes".
Here Are The Best Peloton Alternatives For 2023
---
Sneak Peek of the Best Peloton Bike Alternatives:
Here's The Best Peloton Alternatives For 2023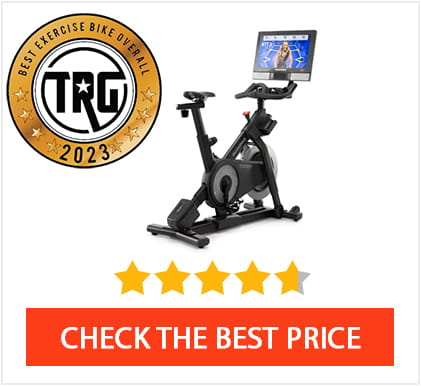 The NordicTrack S22i Studio Bike is our top-rated bike on our best exercise bike list and best Peloton alternative overall. The S22i is the most comparable to both of Peloton's bikes, but it comes with a few more features. First, this isn't a typical stationary bike. Instead of having to add resistance to simulate climbing up a hill, the S22i's frame tilts up while you're riding to make it feel like you're actually riding up a hill. It has a quiet motor attached that allows it to incline up to 20% and decline to -10%. Of course, you also have silent magnetic resistance to add even more tension on top of this impressive feature.
Another big factor that makes your experience on the NordicTrack S22i highly interactive and fun, is its programming. The S22i is enabled with the workout subscription, iFit. iFit rivals Peloton's content for a number of reasons. It offers a variety of indoor studio classes led by engaging and motivating instructors, there's a leaderboard, challenges, and automatic resistance changing with the trainer's cues on enabled equipment. iFit is found on other equipment like treadmills, rowers, ellipticals, and fitness mirrors. In addition to all of these classes, iFit also offers mat classes like yoga, pilates, strength training, meditation, and even mindfulness classes and content like TED Talks. Peloton also offers a variety of classes on their app, Tread, and bikes, but iFit's library is more expansive.
iFit also offers a huge array of outdoor workouts and classes in just about all of the categories above. They have classes filmed on every continent! So, you can take a ride in places like Lake Tahoe, California, Santiago, Chile, and Florence, Italy. We're fairly certain Peloton has drawn inspiration from iFit when creating their small but growing library of outdoor classes. iFit even lets you create your own routes in the Google Map feature by picking from any location in the world.
The NordicTrack S22i has a large 22" touch screen, which is my favorite sized screen to take workout classes on. It's a touch smaller than the Peloton Bike+, but we can't tell the difference. The screen also pivots to either side making it perfect for those bike boot camp and mat classes on iFit to supplement all the cardio you'll get on this bike.
There are even more features that I haven't gotten into, so you can check them and more in our full review of the NordicTrack S22i.
Pros
iFit's library is more vast than Peloton's because of the variety of disciplines offered, and the impressive amount of outdoor classes. iFit also has a lot of the same features as Peloton, such as a leaderboard and AutoAdjust.
The attached motor makes riding this bike unique and even more fun because it inclines to 20% and declines to -10%, simulating the experience of pedaling up and downhills.
It has hearty, solid construction and a larger 350 lb weight capacity.
There are 24 levels of smooth, silent magnetic resistance and a belt drive system to make the bike very quiet to use and suitable for all spaces.
Cons
In order to access all of iFit's classes, you have to become a member.
The 22" touch screen only displays iFit and preprogrammed workouts. There isn't an option to browse the internet or stream content from other apps.
---
Inclines up to 20% and declines to -10%
Comes with a free month of iFit
Hybrid pedals with toe cages and SPD cleats
30 W premium audio
Autobreeze fan
Bluetooth headphone connectivity
Dual water bottle holders
Included 3 lb weights
Transportation wheels
22" 360-degree pivoting touch screen
Footprint: 61" L x 22" W x 58" H
Weight capacity: 350 lbs
Bike weight: 205 lbs
Flywheel: 32 lbs
Welded steel stabilizers
Dc motor
24 digital resistance levels
Warranty: 10-year frame, 2-year parts, and 1-year labor
We highly recommend the NordicTrack S22i if you're wanting a sturdy, quiet bike that has engaging content. With its heavy 350 lb weight capacity, large reach, and leg span, a wide variety of sized users should be able to log a lot of miles on this exercise bike.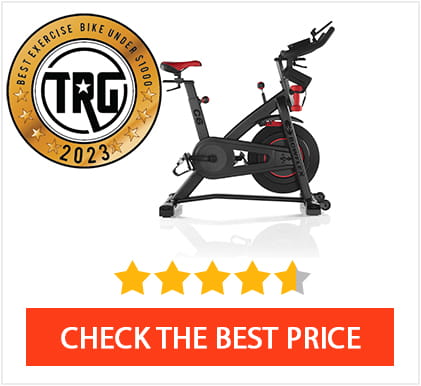 The Bowflex C6 is an all-around excellent bike. It's also a really affordable option. Not only is it a great buy at under $1000, but you can use the Peloton app on it while you ride. That's why we've awarded it as the best budget Peloton Alternative on this list. The C6 doesn't have an attached touch screen like some of the other bikes on this list, but it has an LCD backlit console and tablet holder. This way you can place your phone or tablet on the holder and view your own content. This makes the C6 a wonderful, cheaper alternative to either of Peloton's bikes.
So, if you're a lover of Peloton's classes you can follow along and even connect the C6 to see your RPMs displayed in the Peloton app. You won't have access to some of Peloton's other features, however. If you're interested in other subscription content, you have lots of choices on the BowFlex C6. You can connect the C6 to other 3rd party apps like Zwift, or use BowFlex's JRNY programming. You'll of course need your own device to stream from. JRNY has trainer-led classes, preprogrammed workouts, and scenic rides in areas all over the world. Plus, JRNY comes free for one year when you purchase the C6, so you can try it out at no extra cost. You're also not limited to just fitness content on the C6, since you can technically stream whatever you want on your phone or tablet.
Additionally, the BowFlex C6 has a very solid construction with a 330 lb maximum weight limit and steel frame. The heavy 40 lb flywheel also helps contribute to the overall stability and smooth ride on the C6. We love that the handles and saddle can be adjusted horizontally and vertically. This way users of all heights can get a perfect fit. The hybrid pedals are our favorite because they let you ride how based on your preference. Wear any athletic shoes and strap into the toe cages, or clip in with your SPD cleats. SPDs are more common than the Look Delta cleats found on the Peloton bikes.
Similar to Peloton, the C6 uses magnetic resistance that offers 100 levels. The C6 is also practically silent, and more compact than most bikes with attached touch screens, so it's ideal for any home setting.
Check out more of the details on the BowFlex C6, here.
Pros
You can stream Peloton classes from your device on the tablet holder, as well as sync to other apps like JRNY.
It has a very solid steel build with a 40 lb flywheel and 330 lb weight capacity.
It feels incredibly smooth to pedal and is almost silent when in use.
It is lightweight, easy to move, and more compact than most bikes with attached screens.
Cons
Viewing content from a tablet screen is typically smaller than a touch screen attached to a bike.
All of the third-party streaming apps require subscriptions.
---
Compatible to sync with apps like JRNY, Peloton, Zwift, and more
Comes with a free year subscription to JRNY
Cadence sensors built into the pedals for RPM tracking when connect to separate apps
Hybrid pedals with toe cages and SPD cleats
Tablet holder
4 adjustment points
Two water bottle holders
Included 3 lb weights
Transportation wheels
Included Bluetooth HR armband
Backlit LCD metric console
Footprint: 48.7" L x 21" W x 51.8" H
Weight capacity: 330 lbs
Bike weight: 112 lbs
Flywheel: 40 lbs
Welded steel frame
100 digital resistance levels
Warranty: 10-year frame, 3-year mechanical parts and electronics, and 1-year labor
If you're looking for a compact and quiet bike that's comfortable, yet stable to use, then we suggest checking out the BowFlex C6 Exercise Bike. You can connect the C6 to a variety of fitness apps, including Peloton, so you can choose the type of content you want to consume. And if you just want a solid bike at home to zone out on, the C6 has you covered.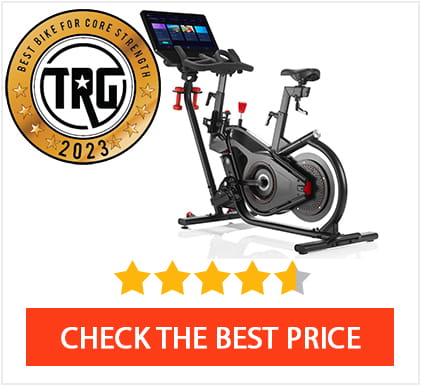 Another great bike from BowFlex is the Velocore. Similar to the NordicTrack S22i, the Velocore isn't your average exercise bike. This frame of the bike tilts from side to side to let you lean when you're riding. You can also keep the frame from leaning and lock it into place for standard riding. While this feature probably won't give you a chiseled 6-pack, it's fun and makes using the Velocore more enjoyable.
The Bowflex Velocore comes with two touch screen sizes: 16" and 22". It also comes with a free year's subscription to Bowflex's programming JRNY. You can connect to your device and use the Peloton app while riding the Velorcore, too. Personally, I would try out JRNY with the included subscription. JRNY offers trainer-led studio classes, onboard workouts, scenic rides that let you explore areas all over the globe, yourself, as well as streaming from preloaded apps. A common question that we get asked about fitness equipment with attached touch screens is if you can stream from apps like Netflix on them. Well, with a subscription to JRNY on the Velocore bike, you can! Apps like Netflix, Hulu, Disney+, and HBO Max are a part of JRNY's entertainment options. All you have to do is log in to your respective account and watch while you ride. So, if you're looking for a Peloton alternative with Netflix, check out the Velocore.
Although, JRNY's classes aren't quite at the same level as Peloton's having all of these different options on a bike is nice. Plus, the BowFlex Velocore is a hearty bike to boot. It can handle up to 325 lbs on the steel frame. It has a similar footprint to the Peloton Bike, but it has SPD and toe-caged pedals. It has 3 adjustment points, as well as a tilting screen so you can angle it to avoid any overhead glare. Plus, you can lift the rear stabilizer and wheel the Velocore around just as easily as any other bike.
I also appreciate that the Velocore has a rear flywheel. This keeps it out of the way of sweat and even water while riding, so it's less prone to damage from corrosion.
Head over to our full written review of the BowFlex Velocore to see more about the bike that leans.
Pros
It comes with a free year of JRNY which lets you take professional studio fitness classes, onboard workouts, and scenic rides. You can also stream from popular movie and television apps on the touch screen.
The bike offers a leaning feature that's fun and interactive but also locks in place to use as a regular stationary bike.
There are 100 levels of silent magnetic resistance to pedal against, making this bike challenging yet quiet to use.
The 325 lb weight capacity and steel construction make it feel extremely stable to ride, even as it leans from side to side.
Cons
The 2-year frame warranty is a bit limiting compared to other comparable bikes.
The included weights are difficult to reach while riding.
Tilts from side to side to offer a leaning feature
Comes with a free year subscription to JRNY
Compatible to sync with the Peloton app on your device
Hybrid pedals with toe cages and SPD cleats
Tablet holder
3 adjustment points
Two water bottle cages
Included 3 lb weights
Transportation wheels
Bluetooth speakers
Included Bluetooth HR armband
16" or 22" touch screen display
Footprint: 60" L x 24" W x 55" H
Weight capacity: 325 lbs
Bike weight: 160 lbs
Flywheel: 33 lbs
Steel frame
100 digital resistance levels
Warranty: 2-year frame and parts, and 1-year electronics and labor
We love all of the options on the BowFlex Velocore bike. It offers two different ways of riding: stationary and leaning, as well as a huge selection of entertainment choices. Stream your favorite shows while following along with an onboard workout, take an on-demand studio spin class, or ride through the French Riviera at your own pace. Oh, and take Peloton classes on it from your device, if you still want to after having all these choices.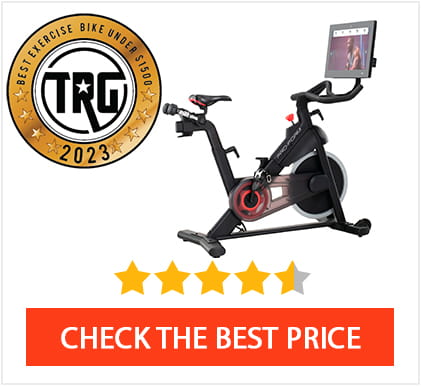 The ProForm Studio Bike Pro 22 is a sturdy exercise bike that has a lot of similar features to Peloton's premium Bike+ but at a more affordable price. The Pro 22 has a 32-lb flywheel that makes every pedal stroke feel even. This also makes the bike feel solid to use. It uses silent magnetic resistance as well as a belt drive system, so it's quiet and really smooth to ride. Side by side, the handlebars are really similar to the Bike+ and offer multiple areas to place your hands.
The ProForm Studio Bike Pro 22 comes with a swiveling 22" touch screen and a free month's subscription to iFit. Just like the NordicTrack S22i, the Pro 22 offers access to the same library of high-quality classes. iFit is extremely comparable to Peloton, if not better. So, if you're not completely sold on Peloton's content, check out iFit. The Pro 22 will also adjust the resistance throughout whichever iFit class you choose to take, so you can have a hands-free experience. You can of course bypass this feature at any time and change your resistance on the screen, too.
We love that iFit has indoor and outdoor cycling classes on a range of terrains. You can ride up mountains, across gravel, and even in races. iFit films real-life events like the Boston Marathon for you to take, virtually. It also has classes led by Olympic athletes like Michael Phelps. iFit offers a complete training experience with cycling, treadmill, rowing, elliptical, mat classes, and more. So, if you have other enabled equipment you can use one membership to access the library, as well as take classes on the go on your phone or TV.
We appreciate the extended warranty that ProForm offers on the Studio Bike Pro 22. It's more extensive than Peloton's and backs up the solid design of this bike.
To learn more about the ProForm Studio Bike Pro 22, read our full review.
Pros
It's enabled with iFit on the large, clear 22" touch screen to take a myriad of cycling classes as well as workouts off the bike to train your whole body and mind.
It's affordable, yet includes similar high-end features found on more expensive bikes.
It's quiet, compact, and transportable which is perfect for most home spaces.
The handlebars offer multiple grip options and a nice coating that is comfortable.
Cons
It has a 250 lb weight capacity, so it's not best for larger users.
The adjustment pins can stick out, so be sure that they're tucked out of the way after you're done adjusting the saddle and handles.
---
Free month of iFit included
Toe cage pedals
Speakers
Audio aux port
3 adjustment points
Water bottle holder
Included 3 lb weights
Transportation wheels
22" touch screen with smart swivel
Footprint: 56.5" L x 22" W x 54" H
Weight capacity: 250 lbs
Bike weight: 144 lbs
Flywheel: 32 lbs
Solid steel frame
24 digital resistance levels
Warranty: 10-year frame, 2-year parts, and 1-year labor
The Studio Bike Pro 22 from ProForm has features that you're sure to find value in. It has solid steel construction, adjustable magnetic resistance, and a lightly padded racing saddle that is ideal for long rides. We love that it's enabled with iFit for highly engaging classes led by over 180 instructors.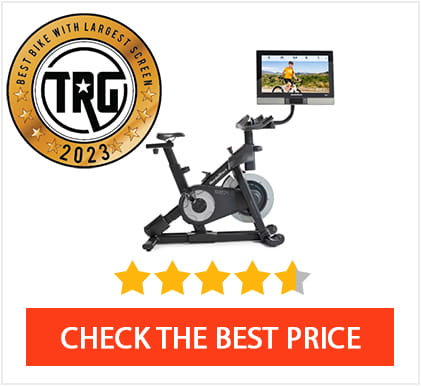 The NordicTrack S27i Studio Bike is the S22i's big brother. It's also currently the bike with the largest attached touch screen. So, if you're looking for a Peloton alternative with a larger screen, the S27i is it. The S27i has a massive 27" touch screen. It's also highly adjustable. It can be tilted and turned side to side so you can get the perfect angle as well as do plenty of on and off-the-bike training. Being from NordicTrack, the S27i has iFit built into the screen. So, you can take an energizing indoor interval ride and then turn the screen and take a pilates class on a beach in Aruba. iFit has over 16,000 classes and they're constantly adding to the library. You can schedule rides ahead of time, compete on the leaderboard, and see all of your workout metrics at the top of the screen. iFit also has radio-style music options with preselected playlists on different genre stations. This lets you pick what you want to listen to.
Like the S22i, the S27i inclines up to 20% and declines to -10% with the motor that is attached to the rear stabilizer. This, paired with the 24 levels of adjustable magnetic resistance, gives plenty of tension to pedal against. Instead of using a resistance knob to change the resistance, the S27i has handlebar controls. The incline/decline and resistance levels can also be changed on the screen. In our experience, it's a bit harder to adjust to a specific resistance level on the Peloton bikes because they use a knob.
We love that the S27i has a 350 lb weight capacity that allows larger users to ride this hearty bike. This is about 50 lbs more than the limit on Peloton's bikes. The premium steel construction has corrosion resistance and is backed by a nice 10-year warranty from NordicTrack. The included 3 lb weights also sit just behind the saddle, so they're out of the way but within reach when you need them.
If you're interested in the NordicTrack S27i, click the link here.
Pros
This bike has an enormous 27" touch screen to view iFit classes from. It also pivots to the side so you can use the screen to take mat classes, too.
It is perfect for most users because of its adjustability and 350 lb weight capacity.
The motor, resistance, and drive system are quiet and make this bike smooth and fun to ride.
The console has a built-in fan to cool you down when you get sweaty.
Cons
The bike is heavy at 217 lbs, which speaks to its solid construction.
The content on the screen is limited without a subscription to iFit.
Inclines up to 20% and declines to -10%
Comes with a free month of iFit
Hybrid pedals
30 W premium audio
Autobreeze fan
Bluetooth headphone connectivity
Dual water bottle holders
Included 3 lb weights
Transportation wheels
27" rotating and tilting touch screen
Footprint: 57" L x 28" W x 65" H
Weight capacity: 350 lbs
Bike weight: 217 lbs
Flywheel: 32 lbs
Premium steel construction
Dc motor
24 digital resistance levels
Warranty: 10-year frame, 2-year parts, and 1-year labor
If you are looking for a stable bike with a large screen, then you're in luck with the NordicTrack S27i Studio Bike. The screen makes you feel like you're actually in the beautiful locations that iFit's classes are filmed in. Plus, the incline and decline feature makes you feel like you're riding outside.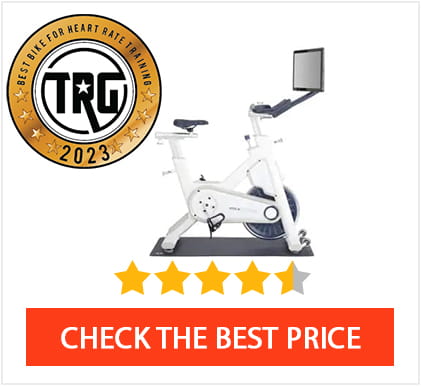 The MYX II Exercise Bike is an impressive bike that comes at a nice price point. It has a swiveling 21.5" touchscreen that offers subscription fitness content on the screen. The subscription app BODi stands for Beachbody On Demand Interactive and it's where you can train with Beachbody instructors and have access to their expansive library of classes and nutrition content. The MYX II is also referred to as the Beachbody bike or BODi Bike Studio because of this.
Like Peloton, BODi offers live studio cycling classes and other total body workouts. What's cool about BODi is that you're able to get feedback from the instructor in real-time and even utilize the bike's camera to be featured working out from home along with other members on a screen behind the instructor during class. As far as the instructors, you'll probably recognize some of them because they're from Beachbody. If you've heard of Insanity, you probably know of Shaun T who is among some of the instructors on BODi. The app also offers nutrition programs in addition to several workout programs.
Aside from the plethora of Beachbody content, the MYX II bike is stable with a 350 lb weight capacity and a heavy 41 lb flywheel. The flywheel makes the pedal stroke feel incredibly smooth even though the bike uses friction resistance. While you can't see what resistance level you're at because of the friction resistance, there isn't a delay when you add on tension like magnetic resistance. Plus, the MYX II utilizes heart rate training in the programming and on the bike. This lets you focus on your effort rather than being at a specific resistance level, so your training is tailored to you. It comes with an included armband to track your heart rate.
Unlike most bikes with attached screens, the MYX II offers 4 adjustment points. This means that you can adjust the handles vertically and forward and back. This allows users of all heights to fit the bike to them. The saddle also has this adjustability.
For all of the other aspects of the MYX II that I haven't mentioned, read our full review.
Pros
The subscription workout content offers countless training options, as well as valuable nutrition content.
The bike feels very sturdy and of high quality, plus it works for all users because of its 4 adjustment points.
The classes utilize heart rate training to focus on your effort rather than competing on a leaderboard.
You can purchase the plus package to get a weight set that makes the bike feel more like a complete home gym. This is also great for mat classes in the apps.
Cons
It comes with only a 12-month warranty. This is more limiting than other bikes on the market.
The friction resistance can't be measured so you can't see what level you're at, unlike magnetic resistance.
Comes with the option to subscribe to BODi
Polar OH1 heart rate armband included
Integrated speed sensor tracks your speed, cadence, and distance and displays it on the screen
Educational content as well as watching the news on Newsy
USB charging port
Hybrid pedals with SPD cleats and toe cages
Two 20W speakers
Two water bottle holders
4 adjustment points
Transportation wheels
21.5" touch screen that swivels up to 360 degrees side to side
Footprint: 54" L x 21" W x 47" H
Weight capacity: 350 lbs
Bike weight: 150 lbs
Flywheel: 41 lbs
Premium steel construction
Friction resistance knob/brake
Warranty: 12 months
The MYX II Exercise Bike offers excellent training content. With heart rate training, as well as several workout programs and classes to choose from, you won't get bored on the MYX II. You can even purchase an additional package of equipment such as dumbbells to use for off-the-bike training.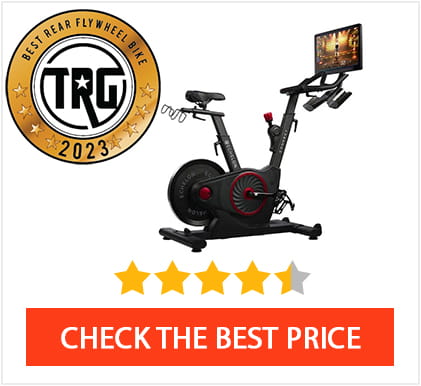 The Echelon EX-5s has many features that are in line with Peloton. On either the 22" or 10" touch screen (depending on which option you choose to buy), you'll have access to Echelon Fit. Echelon Fit offers a variety of trainer-led class types, primarily filmed in studio settings. They have over 60 instructors and offer over 40 new live classes a day. There's a leaderboard on the right side of the screen to see where you rank among members and can bring out your competitive side. Like Peloton, the music is integrated into the class. This allows you to ride to the beat with the instructor. There are also classes featuring artists like Pitbull. Echelon understands how important music can be while taking a spin class. There are also scenic rides to let you explore the outdoors.
We appreciate that the Echelon EX-5s has a rear flywheel that weighs 29 lbs. It's less prone to damage from sweat in this position and it's heavy enough to create a smooth, fluid stroke while pedaling. So, if you want the best Peloton alternative with a rear flywheel, we recommend the EX-5s. We've also found the handles to offer nice grip options, and the saddle to be surprisingly comfortable. It's narrow, like typical saddles on exercise bikes but it has nice padding to provide a little more comfort.
The Echelon EX-5s is quiet because it uses a belt drive system and magnetic resistance. There are 32 levels offered that are adjusted via the resistance knob. We love that the EX-5s have hybrid pedals with SPD clips and toe cages to accommodate different riding preferences.
We have a full review of the Echelon EX-5s, where you can learn more about this bike.
Pros
The Echelon Fit app offers classes on and off the bike, as well as on other equipment. They have an impressive number of live classes and integrated music displayed on the 21.5" touch screen.
There are 32 levels of adjustable, quiet magnetic resistance.
There are four points of adjustment for a good bike fit.
The padded saddle is more comfortable than the others we've tested.
Cons
The one-year warranty is more limited than comparable bikes.
The screen graphics aren't as crisp as other bikes with touch screens.
---
It is enabled with Echelon Fit to offer live and on-demand workout classes
Hybrid pedals with SPDs and toe cages
Rear flywheel out of the sweat zone
Two water bottle holders
Included rear-mounted 3 lb weights
Transportation wheels
22" or 10" touch screen that flips 180 degrees
Footprint: 58" L x 21.5" W x 61" H
Weight capacity: 300 lbs
Bike weight: 124 lbs
Flywheel: 29 lbs
Powder-coated steel
32 digital resistance levels
Warranty: 1-year parts and labor
If you're looking for a bike that has similar features to Peloton, then the Echelon EX-5s is a nice option. They have a wide variety of classes and the touch screen accommodates training on and off the bike because it can be turned from side to side. The leaderboard is also nice for extra motivation.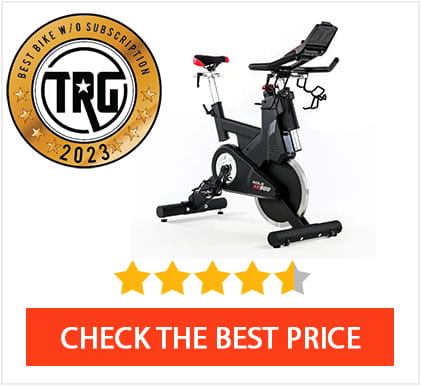 To round out our list of best Peloton alternatives, we recommend the Sole SB900. It's a nice affordable option, yet it's a really durable bike. Sole backs its design with a lifetime warranty, and we've come to associate Sole with building really solid machines. It has 4 adjustment points and a 300 lb weight capacity to handle a wider range of users. The 48 lb flywheel is extremely heavy and makes all the difference in the quality and consistency of the pedal stroke. It also makes the SB900 feel really solid. That's why we've awarded the Sole SB900 as the best heavy flywheel Peloton alternative.
The SB900 comes with an LCD screen to display your metrics like RPMs, time, distance, and speed. It has an integrated tablet holder as well. This way, you can choose what content you want to watch on it by streaming from your own device. So, you could use the Peloton app or try out the STUDIO app that is available to use with Sole's equipment. STUDIO isn't quite up to par with Peloton, but we're impressed with the video quality and the continued updates that are made. You can take classes like indoor cycling, elliptical, treadmill, strength, yoga, rowing, and boxing. The classes are filmed indoors and feature on-demand workouts. They have high-energy, engaging instructors and integrated music curated by the instructors.
The Sole SB900 exercise bike is great because it lets you use subscription content if you want to. You don't have to be locked into a monthly price, and you can just use the bike by itself. It has hybrid pedals compatible with SPD cleats as well as any type of athletic shoe. It also uses magnetic resistance and a belt drive, so it's really quiet and appropriate for any space.
Check out everything you need to know about the Sole SB900, here.
Pros
The build is incredibly stable because of the steel frame and 48 lb flywheel.
The LCD console and tablet holder let you choose what you want to watch (if anything) while you ride.
You don't need wifi or even an electrical outlet to use this bike.
The pedal stroke is smooth and almost silent, making it perfect for shared spaces
Cons
While the resistance is magnetic, there are no digital resistance buttons so you can't see what level you're at.
The LCD screen is small and might be hard for some users to see.
Comes with the option to use the STUDIO app or Peloton app
Integrated tablet holder to securely hold your device
Hybrid pedals with toe cages and SPD cleats
Bluetooth audio speakers
USB charging port
4 adjustment points
Water bottle holder
Transportation wheels
3" x 4" LCD display
Footprint: 40" L x 21" W x 42" H
Weight capacity: 300 lbs
Bike weight: 160 lbs
Flywheel: 48 lbs
Steel construction
Eddy current magnetic resistance
Warranty: lifetime frame, 3-year electronics, and parts, and 1-year labor
For an affordable price, the Sole SB900 is a good Peloton alternative. We love that you can take classes from different apps, even Peloton's, from your device or go for a more "unplugged" feel and just ride. The SB900 is already unplugged because it doesn't require an outlet or wifi to use.

---
How We Picked These Peloton Alternatives
We test a lot of exercise bikes, so we know which ones are the most popular as well as the best quality. Included in the bikes that we've tested in the Peloton Bike and Peloton Bike+. We've logged lots of miles on both of Peloton's bikes so we know how they perform, and know which ones perform similarly.
What makes Peloton, Peloton in our opinion is the content. Their classes are led by trainers who are like celebrities. We understand the craze because we also enjoy taking their classes. That's why we made sure to include bikes that you have the option to use Peloton on. Some of these options are affordable at under $1000, because fitness should be accessible, and you don't need a Peloton bike to stream Peloton's content.
While we recognize that Peloton excels in its classes, we also know there are plenty of other options out there. Whether you like taking studio fitness classes or want the option to explore locations around the world, or even just want to watch Netflix on a high-quality bike, we have you covered in our list of best Peloton alternatives. We hope that this variety can open your horizons to other brands, and give you other choices.
What To Look For When Choosing The Best Peloton Alternative
What interests you about Peloton? Is it their engaging classes, their equipment, or just all the hype? What is of most importance to you when it comes to indoor cycling at home? Asking yourself these questions will help you determine what you should look for. We also recommend considering the following.
Quality
No matter what kind of bike you choose, you want to make sure that it is of great quality. Even if you're on a budget, you can still get a high-quality exercise bike for your home. A few things to look out for to determine if a bike is of nice quality are the weight capacity, the weight of the flywheel, and the warranty.
350 lbs is typically the highest weight capacity that we see on exercise bikes. Bikes with limits closer to this, tend to be really solid to use. The weight of the flywheel is also very important. Heavy flywheels, usually over 20 lbs, help to create a smooth, fluid pedal stroke. There are bikes with light flywheels (10 lbs and under) that are also of excellent quality as well as smooth to ride. These are often more priced at around $2000 and up. So, if you find a bike that's say $500 and has a 10 lb flywheel, it's probably not going to have a consistent pedal stroke and be of very good quality.
Now, an extended warranty doesn't necessarily indicate that the bike is of high quality and vice versa, but it's nice to have in case you face any problems with your purchase. And generally, a long warranty points to a well-built bike.
Content
Most likely if you're looking for a Peloton alternative, you're interested in taking workouts led by instructors. If this is the case, you'll want a bike with an attached touch screen or tablet holder. The latter gives you more wiggle room in the fitness platforms that you stream from because usually bikes without large touch screens don't require subscriptions to have full access to the screen.
Exercise bikes, and even other fitness equipment, with large screens, attached usually require a monthly subscription to get the full functionality of the screen and content. With the rise in popularity of virtual fitness classes (largely thanks to Peloton), more brands are coming out with their own content, like NordicTrack's iFit and BowFlex's JRNY. Even though the attached screens look like tablets or TVs, they often don't function like them. Instead, screens on fitness equipment usually lock you into the content embedded.
Other Preferences
A few other things to consider are some of the components on the bike. What kind of pedals does it come with? Can you use regular athletic shoes, or do you have to clip in? Peloton's bike uses specific clips that usually require users to purchase their shoes in addition to the bike, just to use it. Other bikes, however, use popular SPD cleat clip-ins that most outdoor cyclists use.
Resistance is another important factor. Do you like to see what resistance level you're at? What about your watt output (effort/power)? Maybe you want a bike that is low maintenance? If any of this is the case, then I recommend you look into a bike with magnetic resistance. On most bikes, it's measured by a specific range of levels and it doesn't put pressure on the flywheel so it requires less maintenance.
Friction resistance uses a felt pad to drag or rub against the flywheel. The pads often wear down over time and have to be replaced. Friction resistance also can't be measured by specific levels. Instead, this requires you to go by feel when pedaling, to determine if you have enough tension.
What if you don't want to be tied into a subscription platform?
Monthly subscriptions can be costly. It's totally understandable to not want to be tied into a fitness subscription platform. If this is you, then I recommend looking into bikes without attached touch screens. These usually don't require a subscription to operate. However, there are some exercise bikes with screens that have preprogrammed workouts that don't require a monthly subscription. iFit for instance offers a free version without a membership. With this option, there are a couple of trainer-led classes, as well as other workouts with preselected resistances to give you guidance.
If you don't want to pay for a monthly membership make sure to check if the bike requires one or not. Reach out to us if you're unsure if the bike you want requires one or not.
Frequently Asked Questions
Why is Peloton so popular?
A big reason why Peloton is so popular is because of the instructors. They are like celebrities who have large followings even outside of Peloton. Often people get sucked in because of a class they took with an instructor that they really like. Every trainer has a different personality that is often magnetic and even inspiring. The all-star instructors paired with sleek, high-quality equipment help to make Peloton what it is.
What bike is most comparable to Peloton?
In programming and quality, the NordicTrack S22i Studio Bike is the most comparable to Peloton. Some could even argue that it's better than Peloton. The bike has a heavier weight capacity, an inclining and declining feature, and a wider variety of content. iFit offers more class types than Peloton, as well as outdoor classes. We haven't found another fitness platform that offers extensive outdoor content as iFit.
Can you DIY a Peloton?
Yes. You can stream Peloton's app on your phone, tablet, or television when riding your exercise bike. We suggest getting a bike with a basic console, not a touch screen, and possibly a tablet holder (if you plan to stream from your phone/tablet). If the console doesn't display your cadence, then you might need to purchase a separate cadence sensor to see this metric. Peloton instructors often refer to specific cadences, so this can be helpful to know where you're at when they mention this in class. It isn't required though. Check out our full article here about how to DIY a Peloton Bike.
What is the cheaper version of Peloton?
The BowFlex C6 exercise bike is an ideal cheaper version of the Peloton. The bike is under $1000 and comes with a tablet holder that lets you stream Peloton classes from your device. All you need is the $12.99/month membership to the Peloton app. The C6 is also an incredibly stable and comfortable bike to ride.