*TreadmillReviewGuru helps consumers find the best home fitness products. When you buy a product we recommend, we may earn a commission.
Last Updated: May 5, 2023
The Concept2 rowers are well known as the best indoor air rowers on the market. Concept2 rowers are used worldwide in big box gyms, professional training facilities, CrossFit boxes, studios, and home gyms. Concept2 rowers are commercial grade and designed to withstand repeated use by strong, heavy competitors. The Model D is the most popular Concept2 rower, but the Model E has been designed for larger users who want a bit more substance beneath them and a higher seat height. Identical in nearly every way to the Model D, the Model E is just the larger older brother. This quality rower is ideal for larger athletes or those with limited mobility issues who may prefer a rower that sits up higher off the floor. While the Model D seat is just 14" high, the Model E seat is 20" high which makes it much easier to get on and off. The Model D weighs 57 pounds and the Model E is 65 pounds due to a fully welded steel frame. The Model E rower will support up to 500 pounds (as tested by Concept2) which makes it an excellent training tool for athletes and novice users of any size.

Who It's For: Rowing enthusiasts who want the excellence of a Concept2 rower on a slightly larger frame
The Model E rower is a great option for users who:
Want to sit up higher on an elevated monorail and seat
Are looking for a sturdier frame comprised of welded steel
Have a room with enough space for rowing since the rower requires a bit of floor space
Are able to bend knees to sit on a seat that is 20 inches high
Can stand up on their own from a height of 20 inches
Want all the quality of the Concept2 Model D rower with compatible PM5 display
Are able to sit and lean forward while exercising
Want to increase core, back and arm strength in addition to the leg muscles
Want a durable machine that doesn't require electricity to operate
Pros
Ergonomic frame and components designed for stability and durability
Higher 20" seat is "chair height" which makes this an excellent conditioning tool for anyone needing to sit while exercising
Air flow through the flywheel generates resistance equal to each user's strength so you cannot out-row the Model E, but it is also perfect for new users looking to develop more upper body strength
Concept2 rowers are known worldwide as the premier indoor air rowers
PM5 console is the same as on the Model D and is compatible with any Concept2 machine
Very affordable for such a quality machine
500lb user capacity makes this ideal for users of any size
Does not require an electrical outlet
Cons
Air resistance can be loud
Model E requires 9 feet long x 4 feet wide for safe use
---
Footprint: 96" L x 24" W x 20" High

The Concept2 Model E is designed for those who need a higher seat. The 20" seat is "chair height" and should work for those who may need to transition from a wheelchair or who have limited knee mobility and can't bend down low.

Max User Weight: 500lb, Machine weight: 65lbs

Despite its heartier frame, the Concept2 Model E only weighs 65 pounds, which is remarkably lightweight for exercise equipment. It will also support up to 500 pounds of user weight, making it an excellent option for those who may be unable to tolerate high-impact workouts and need to sit while exercising.

Storage: Folds into two parts for easy storage

As mentioned, the Concept2 Model E folds in half and can be stored upright or along a wall to open floor space as needed.

Air Fan Resistance

Air resistance is generated based on the user's pull strength, so if you pull harder, it is more of a challenge. The Model E rower is perfect for stronger rowers as well as novices who are just learning. The air fan resistance will not overtire new users since the fans only generate resistance commiserate with each user's strength.

PM5 backlit display

The Concept2 Model E does not require electricity. The PM5 display is battery powered and turns on as soon as you begin rowing.
Metrics for: distance, speed, pace, calories burned, and watts
Various games, programs and rowing distances
Construction:
Footprint: 96" L x 24" W x 20" High
Seat height: 20" high
Monorail length: 54" long
Frame: Welded steel construction
Chain: Nickel-plated steel chain, fully enclosed
Monitor: PM5 – requires 2 D-cell batteries
Max User Weight: 500lb
Finish: Double powder coat with glossy finish
Color: Light gray
Storage: Folds into two parts for easy storage
Resistance: Air Fan Resistance
Machine weight: 65lbs
Seat: Contoured sweat resistant and lightly padded
Footboards: Sturdy molded plastic
Pedals: Wide and textured with an adjustable foot strap
Console:
PM5 backlit display – requires 2 D-cell batteries
Syncs with Concept2 ErgData app
Metrics for: distance, speed, pace, calories burned, and watts
Various games, programs and rowing distances
Connects to wireless heart rate monitors
Bluetooth enabled
Custom positioned with adjustable monitor arm
USB flash drive
Designed for machine to machine racing
Warranty:
5-years on frame
2-years on moving parts and console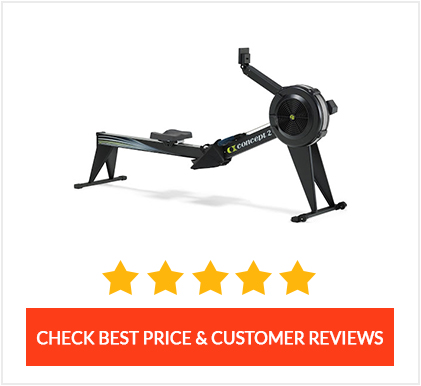 Quick Summary
The Concept2 Model E rower uses the same quality components and design features as the ever-popular Model D with a heavier frame and higher seat. The Model D is the standard rower found in most gyms and professional training facilities worldwide. However, Concept2 knows that rowing is one of the best full body exercises you can do, so they designed the Model E for those who may need to exercise sitting down and appreciate a higher seat height.
In Depth Review of the Concept2 Model E Rower
---
Construction
Frame
The Concept 2 Model E is a commercial-grade rower. Concept2 products are designed to hold up to the constant use of both big box and studio gyms. A few differences between the Model D and Model E are the E has a single leg design in both the front and rear for more stability. The frame is slightly heavier (65lb vs. 57lb on the Model D) and the seat is higher at 20" instead of 14". Other that that, the Model E is the same length and width as the Model D and also folds up when not in use.


Geometry
Footprint: 96" L x 24" W x 20" High
Folded footprint: 47" L x 27" W x 54 in" High
Seat height: 20" high
Monorail length: 54" long
Pedals: Wide and supported with an adjustable strap
Saddle: The saddle is molded for comfort with leg contours on the front and a cutout for your tailbone on the back
Pedals
The Model E and Model D use the same pedals. These are wide and supported by a sturdy footboard underneath. The pedal is flexible to allow your foot to flex slightly during the drive and they are textured along the top so your foot doesn't shift forward. An adjustable strap holds your shoe in securely with plenty of lateral width. The molded overlay has several notched positions to accommodate all shoe sizes.


Handle
The Model E handle is comfortable with overmolded soft rubber grips. The handle is sweat resistant and can be easily wiped down to sanitize. The handle has five vents in the center so you can wrap your fingers through the center of the handle with one hand to row unilaterally. The position of the handle in relation to the pedals also keeps knees upright in the proper position.
Seat


The Concept2 seat is ergonomically designed with contoured areas for your legs and tail bone. The scooped out back section on the seat reduces the likelihood of your tailbone rubbing on the saddle during the drive and finish. The seat slides gently along the monorail on large rollers. The surface of the seat is gently padded and sweat resistant. Like the handle, it can be wiped down to sanitize. The seat is wide enough for most users, but those above 300lbs may want to swap out for a larger seat or add a pad for comfort.
FlyWheel
The Concept2 flywheel is composed of a hi-impact, ABS Thermo-plastic that can withstand both the heat and power of high air speeds. Concept2 has also added a "Quiet Cog" system that reduces rowing sound by dampening the chain noise with a urethane washer on each side of the cog. The idler pulleys and travelling pulley is also a Thermo-plastic elastomer for increased durability and noise reduction. The flywheel is positioned above the monorail so users can sit upright and look forward rather than have to lean down during the catch or recovery.

Damper
The damper is the lever on the side of the flywheel with marked levels from 1 – 10. Most new rowers misunderstand how the damper works and assume it is a resistance lever. It is not. The damper controls how much air flows through the fan blades. When set to 10, the maximum amount of air is allowed through. When set to 1 a minimum amount of air passes through. However, resistance is commiserate with each rower's strength and the force of each stroke. The damper simply changes the way the stroke feels. When set to 10, the stroke is much heavier and simulates rowing a large, heavy rowboat. When set to 1 the stroke is lighter, similar to the feel of a sleek rowing shell. However, either way, the person rowing can generate tremendous amounts of power in the row stroke; the damper just changes what is referred to as the "drag factor." The drag factor can be displayed on the PM5 screen by changing the settings. Most rowers should set the damper between 3 – 5. New rowers should hold it between 1 – 3. Only experienced, strong rowers need to set the drag factor to 8 or higher. Many people, when they first sit on the rower, immediately turn the damper all the way up to 10 assuming that is maximum resistance. Then, the drag factor is so heavy they experience low back discomfort and/or wear out early. Instead, we recommend holding the drag factor below 5 for most of your rowing sessions to get the most out of each stroke. Keeping the drag factor at a reasonable level also helps new rowers learn and develop good form. Over time, with enhanced muscle development and experience, rowers can then increase the drag factor to higher levels.
Air Resistance
The Model E is an air resistance rower. There are several advantages to air resistance rowers. First, air resistance is easy to calibrate and measure. Concept2 has dialed in their rowers to be so precise that these rowers are considered the gold standard for rowing challenges and contests. Air resistance is also inexpensive and does not require electricity. Air resistance is also unlimited — which means, the harder you pull, the more resistance is generated by the flywheel. This makes it so the Concept2 rowers generate a sufficient challenge for those who are new to rowing as well as experienced athletes competing in the CrossFit games. There is literally no max resistance on a Concept2 rower. One drawback to air resistance is it is noisy. When the damper is set to 10 quite a bit of air passes through the flywheel fan and the motion of the chain moving in and out along with the flow of air produces some background noise. Water rowers are comparatively noisy but harder to calibrate (since even the slightest difference in water level will change the resistance). Magnetic rowers are quiet and precise but do not feel as fluid through the rowing stroke.
Console/Controls
Performance Monitor 5 (PM5)

Display
The PM5 display screen is battery operated and will light up as soon as you start rowing. The monitor is also powered from the rowing motion as a backup which extends battery life. This backlit screen looks simple but actually has extended functionality. There are several screens, customization options and workouts you can use on the PM5. The home screen displays:
Just Row
Select Workout
Connect
Memory
More Options
Rowing Programs
1. Standard List of Rowing Distances or Time (under the Just Row screen)
2000m
5000m
10000m
30:00
500m/1:00r
2. Custom List allows users to change the preset goals for personalized training
3. ReRow allows users to race against previous workouts in the saved memory list


4.Games:
Fish Game
Darts
Target Training
Racing
Biathlon

5.All Data screen displays:
Time
Strokes per minute
Strokes per 500/m
Time average per 500/m
Split meters
Split per 500/m
Projected time for completion
6.New Workout brings up options for:
Single Distance
Single Time
Intervals: Distance
Intervals: Time
Intervals: Variable
Memory
Users can save and then access previous workouts sorted by type, date, and summary. The LogBook data is stored on the internal memory or from a USB memory stick (if you plug your USB into the back of the monitor). Concept2 provides utility software that allows users to upload data to their online logbook or transfer data to a personal Mac or PC. Compatible with FAT and FAT32 USB formats only.
The workout detail includes total time, split times, meters, pace (500m), stroke rate, and heart rate if stored. The memory feature allows users to compete against each other by storing and using custom workouts on their own USB memory sticks — or you can upload your data when competing in rowing competitions, etc.
More Options
Drag Factor

Drag factor is determined by the damper level.

Heart Rate

If you use a compatible chest strap heart rate monitor, the PM5 will display and store your HR data with your workout. The PM5 is compatible with Bluetooth, ANT+, Garmin and Suunto devices.

Information

Overview

A brief description of how to use the PM5 monitor. We highly recommend viewing this the first time since the PM5 does more than you would expect.

PM5 Details

Information about buttons, data, graphic displays, workouts and the USB flash drive

How to Row

A short rowing lesson that includes pointers on technique with rowing animation

Drag Factor

A quick explanation of how to use and interpret the drag factor

More

Information about games, racing, battery, heart rate

Utilities
Bluetooth
The PM5 is bluetooth enabled to sync with heart rate chest straps. The Concept2 ErgData app will also sync with the rower to upload and store your workout data. The ErgData app will sync with any Concept2 machine: rower, bike, skier, etc.
Power
The PM5 requires two D cell batteries. Monitor power is supplemented by the spinning flywheel to extend battery life.
Accessories
The fan inside the flywheel creates quite a bit of air flow, more of which is generated when the damper is set higher. However, this doesn't provide the same level of cooling power as an electric fan directed right on you.
Noise Level
As mentioned, all air rowers create noise as air passes through the fan blades. The Concept2 Model E has several features to reduce noise, and this is certainly quieter than previous models or other air rowers. But this isn't a machine you can use while someone works, reads or sleeps in the same room without them noticing. However, the Concept2 rower is such a quality machine that it is worth the value to have a commercial grade rower even if it makes a bit of noise when in use.
Storage / Folding
Like the Model D, the Model E will separate into two pieces for easy storage. The monorail disconnects from the junction between the pedals and the seat and rail portion can be stored in a vertically folded position in front of the flywheel. Make sure that the locking mechanism is completely engaged when reattaching the monorail. To detach, release the locking mechanism and the monorail will separate. The Model D and Model E use the exact same design for separating.



In some gyms, we've seen Concept2 rowers stored vertically without separating the monorail. Since the frame is light enough to lift, many people assume you can simply pivot the end of the monorail upwards and store vertically as one single piece. Concept2 does not recommend this as the rower is not stable in this position and can fall over. This could damage the rower itself or possibly injure people or equipment in close proximity.



When open, the rower is 96" long, 24" wide and 20" tall. Concept2 recommends a space 9 feet long and 4 feet wide to properly operate either the Model D or Model E rowers. Make sure you have enough space to the sides and rear of the rower since you lean back through the finish. Do not place the rear of the rower directly in front of a wall. Also, there are some combination exercises you can do off the rower (such as stand behind the rower, place one foot on the seat, and then allow that leg to open laterally for a deep side lunge), so more area may be needed depending on your planned usage.
Concept2 also sells ladders that sit under the rower and allow the frame to gently slide forward and back during your row stroke which simulates rowing on the water. These can be purchased directly from Concept2 and add a fun element of reality to your rowing practice.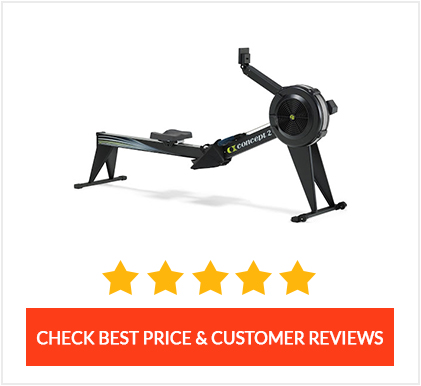 Bottom Line:
The Concept2 Model E rower is the larger, reinforced big brother to the lightweight Model D. The Model E offers a higher monorail and seat, and sturdier front and rear support legs — however, other than this, both rowers function and feel the same. The Model E is a great option for anyone who needs a more accessible seat height. The seat has been set at "chair height" of 20 inches, so those users who may need to transition directly from a wheelchair can just slide right onto the seat. Similarly, anyone with limited mobility or knee issues will find the Model E much easier to use. Rowing is an excellent, low impact, full body exercise that engages more than 80% of the muscles in the body. It develops strength in the legs through the rowing drive, and engages arms and core during the catch and finish. Rowing has become a favorite exercise for both conditioned athletes and new users alike and the Model E makes it a great option for those who may need low impact conditioning on a comfortable machine. It also provides the advantage of being able to exercise while seated. The Concept2 Model E is excellent for rehabilitation, mobility training, cardiovascular conditioning, or extended rowing competitions and competitive games. The unlimited air resistance does not require electricity and will generate resistance commensurate with each user's strength. The Model E has an incredible 500lb weight capacity but only weighs 65 pounds and will separate and fold up when not in use.
The PM5 console also adds more features with games, rowing challenges based on distance or time, instructions and a USB port for saving or uploading your workouts. You can compete against yourself or others and upload your workout to the Concept2 system for competitions. We are impressed with the Model E and recommend it as a great option for those who want the quality design and durability of the Model D but also appreciate the higher seat height and slightly heavier frame.
Related Treadmill Reviews: