*TreadmillReviewGuru helps consumers find the best home fitness products. When you buy a product we recommend, we may earn a commission.
Last Updated: January 1, 2023

The ProForm HIIT Trainer Pro is a multifunction trainer with both vertical and horizontal pedal motion and multi-position handles for both upper and lower body training. This HIIT trainer stands upright so it takes up much less floor space than a comparable elliptical machine. Built with a 30 pound flywheel and oversized pedals, this is one of the best at-home HIIT trainers you can find.
Who it's For: Users who want to get the most out of their home exercise equipment
This multi-function trainer gives you lots of training options for both upper and lower body!
Stay in shape with over 16,000 iFit workouts on the lovely 10" touchscreen
iFit comes free for one month with up to five profiles
Multi-position handles allow for various hand positions to work different muscle groups
QuickTouch buttons make adjusting resistance easy
Pros
This is a fun machine that takes up half the space of an elliptical machine but still gives you a great low-impact workout!
Multi-function handlebars make it so you can engage those upper body muscles, or use the static handles with EKG grips to see your heart rate on the screen.
Nice 10" touchscreen is easy to see and use and features thousands of iFit workouts
Large, ergonomic pedals are comfortable and supportive.
Upright design, wide pedals and static handles make it easy to get on and off the machine
Great for HIIT training or low-impact cardio work — this machine offers lots of training options!
Cons
The HIIT trainer does not fold up (but it doesn't take up much space either)
iFit requires an ongoing subscription after the first month
Stride: 10" Vertical, 5" Horizontal

This half stair-stepper, half elliptical design gives you the best of both worlds! The pedals are designed to engage both vertical and horizontal movement, so you use more muscles in both your upper and lower body!
30 Lb. Effective Inertia-Enhanced Flywheel

A heavy flywheel makes all the difference in pedal motion. The inertia-enhanced 30lb flywheel keeps a smooth motion throughout your stride without any lag.
Oversized, Cushioned Pedals

You don't have to sacrifice comfort for performance — the HIIT Trainer oversized, cushioned pedals offer a comfortable foot hold with gentle texture to keep your shoe from slipping.
Upper-Body Grips and Multi-Function Handlebars

The HIIT Trainer has both moving and static handles. The moving handles work in conjunction with pedal motion to challenge muscles in your arms, chest and back. The static handles have EKG sensors and control buttons for convenience.
Includes 30 Days of ProForm iFit® membership

The 10" touchscreen on the HIIT Trainer showcases ProForm's iFit database of workout classes and outdoor routes. Via the touchscreen you can select and view any number of walking, hiking or other outdoor trails while on your HIIT Trainer Pro. You can also do indoor classes led by a personal trainer. This is a great feature and an exceptional value!
34 Preset Workout Apps

For those who don't want to use iFit, there are 34 preset workouts on the HIIT Trainer Pro that will work without any internet or wifi.
SMR™ Silent Magnetic Resistance with 26 Digital Resistance Levels

Digital resistance is silent when in use, so the pedals on your HIIT Trainer Pro don't make any noise. They slide back and forth silently so you can use your machine anytime of day or night. Digital preset levels make it so you can always find the right level of resistance each time.
350 Lb. User Weight Capacity

The sturdy build of the HIIT Trainer Pro makes it ideal for all size users. The machine will support up to 350 pounds which makes it a great option for those looking to increase their fitness but stay low-impact.
Compact Footprint

One of the biggest issues with home workout equipment is the space it takes up in your home. The HIIT Trainer Pro solves this problem with a vertical design that uses half the floor space of an elliptical machine. You get a great workout without crowding your room or having to move furniture!
Construction:
Stride: 10" Vertical, 5" Horizontal
26 Resistance Levels with SMR™ Silent Magnetic Resistance
30 Lb. Effective Inertia-Enhanced Flywheel
Oversized, Cushioned Pedals
Upper-Body Grips
Multi-Function Handlebars
Front-Mounted Transport Wheels
Footprint 29.25″ W x 52″ D x 66.7″ H
Oversized Leveling Feet
350 Lb. Weight Capacity
Console
iFit® Enabled, 30 Day Membership Included
10" Smart HD Touchscreen
EKG Grip Pulse Heart Rate Sensor with Included Chest Strap2
CoolAire™ Fan
Integrated Tablet Holder
Audio Auxiliary Port
Water Bottle Holder
Functionality
34 Preloaded workouts (no subscription required)
10" Smart HD Touchscreen
EKG Grip Pulse Heart Rate Sensor with Included Chest Strap2
Stride: 10" Vertical, 5" Horizontal
26 Resistance Levels with SMR™ Silent Magnetic Resistance
30 Lb. Effective Inertia-Enhanced Flywheel
Warranty
10-Year Frame
2-Year Parts
1-Year Labor Warranty
In-depth Review of ProForm HIIT Trainer Pro
---
Construction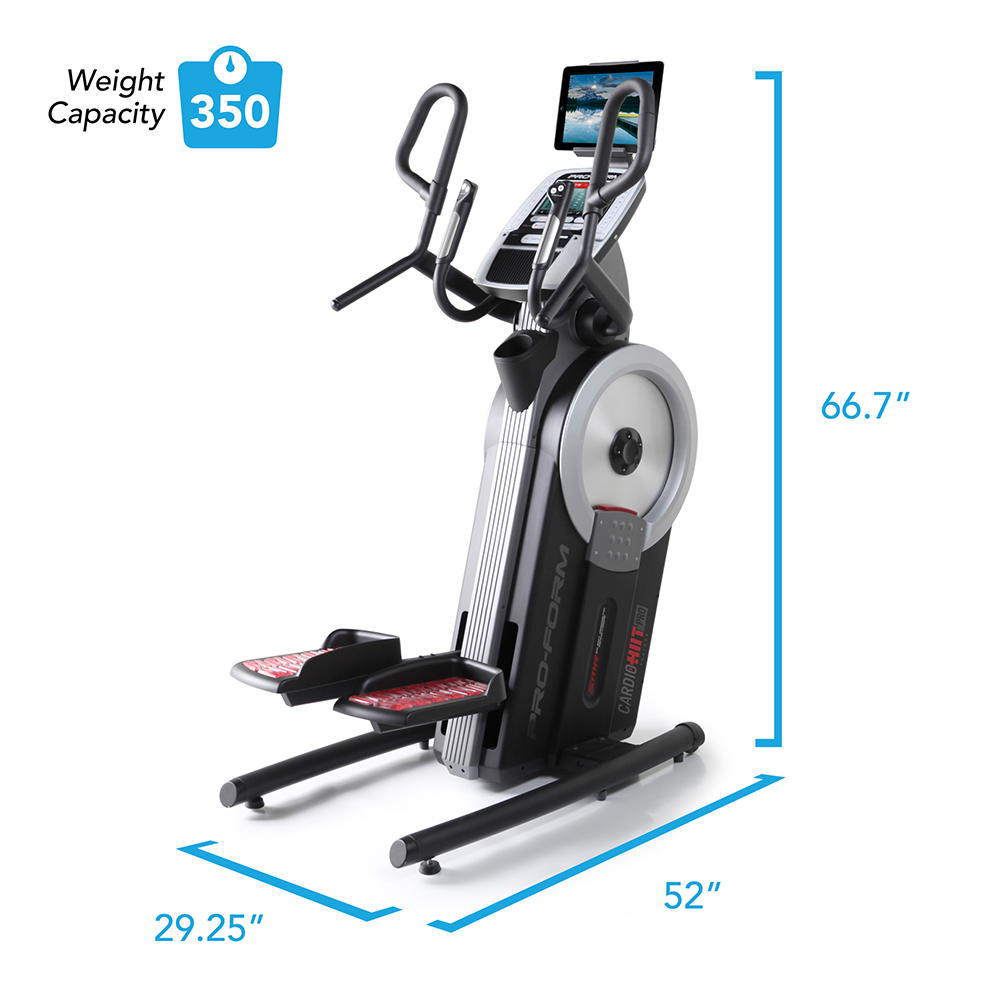 Frame
The HIIT Trainer Pro is an upright exercise machine that is part elliptical and part stair-stepper. The vertical and horizontal motion keeps users' feet in the pedals at all times for a truly low-impact workout. All pedal and handlebar motion stays within the footprint of the HIIT Trainer so you don't have pedals or handles jutting out into your room when in use. This compact design is safer and opens up options for placing your Trainer in a room — you can tuck it behind a couch or in a corner and it won't collide with furniture or walls when in use.
Steel stabilizers with leveling feet keep the Trainer securely on the floor. Larger users may notice a bit of wobble when using the machine, but this doesn't affect the functionality of the HIIT Trainer.
Pedals
The foot pedals are extra-wide and designed to work with any size shoe. There is a slight ledge around the perimeter that holds your foot on the pedal. The surface is textured so your shoe doesn't slip.
The pedal is also oversized and glides easily up and down the track.
Handles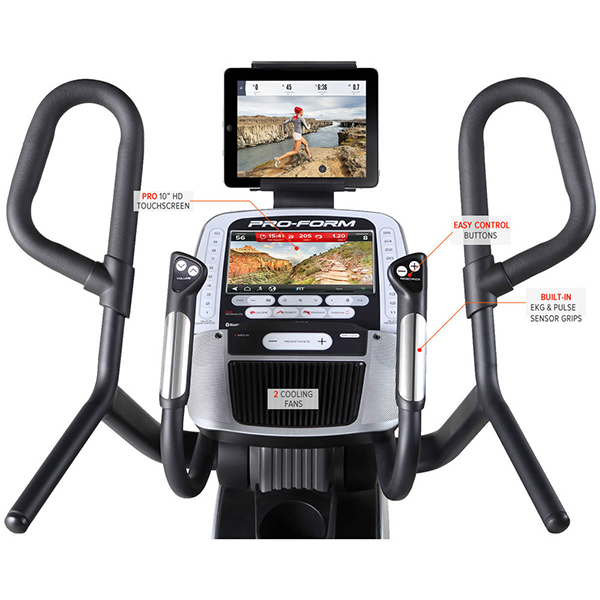 Static handles extend vertically in front of the console and they are angled to provide a symmetrical grip so you can keep your wrists, elbows and shoulders in alignment while in use. A spongy grip material adds a bit of cushion to the steel beam bars.
Kinetic handles connect down to the pedal beams so motion is streamlined between hands and feet. The handles allow you to use more upper body muscles than on other types of cardio equipment. Pulling the handles towards you engages the biceps, anterior deltoids, and lats. Pressing the handles forward engages the triceps, rear delt, and forearms. This feature makes the HIIT Trainer Pro beneficial for multiple muscular systems since you can develop both lower body and upper body conditioning all at once.
Lower static handles allow users to lean down and really focus on strengthening the glutes and hamstrings. This multi-function design makes this a great full-body HIIT trainer.
FlyWheel
The solid 30lb flywheel is tucked inside the upright body of the HIIT Trainer and helps move the pedals along smoothly. This design lifts and centers the weight of the machine and may be the reason we see a bit of wobble from time to time with high intensity routines. However, this design keeps the footprint compact and engages both upper and lower body muscle systems for well-rounded conditioning.
Resistance
Magnetic resistance is quiet and smooth. Magnets adjacent to the flywheel oppose the wheel's rotation to create resistance. There is no friction which reduces both noise and wear on the flywheel.
26 resistance levels are digitally set to be precise and consistent. Whether you use an iFit program, follow a preloaded routine, or just adjust the resistance yourself, you can always find the same level of resistance. This is tremendously beneficial compared to a tension knob that just randomly increases resistance but isn't measurable.
---
Console/Controls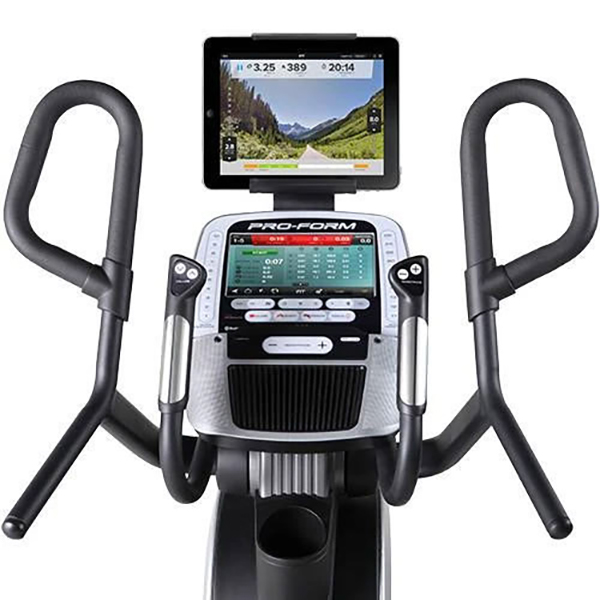 Screen
10" Touchscreen

This lovely 10" touchscreen is easy to see and navigate. It is centered in the console and gently pivots up and down so you can eliminate overhead glare. You can select an iFit program or one of the 34 preloaded programs to watch on the touchscreen.
A white stat bar at the top of the screen displays:

Resistance
Calorie Burn / Est Burn / Watts
Time Elapsed / Time Remaining
Distance / Total Distance
Speed / Average Speed
Console
OneTouch buttons for resistance levels flank the screen on either side. Levels 1-10 are on the left with a separate button for each. Levels 12-26 are on the right and skip by 2.
Fans sit at the base of the console and control buttons are just below the screen. There are four fan settings.
Dual speakers in the console are Bluetooth enabled so you can sync your phone and play your music on the speakers. Volume buttons sit just below the screen as well.
Manual -/+ resistance buttons are centered in the console so you can select smaller increments if needed.
Tablet Holder ledge sits just below the screen and is wide enough to support a phone or tablet. This is a great place to set a tablet — however, depending on the size of your tablet it may block part of the screen.
Noise Level
Since it uses magnetic resistance, the HIIT Trainer Pro makes very little noise. The pedals glide smoothly and the handles are attached in such a way that you can exercise without disturbing those around you.
Storage / Folding
The HIIT Trainer Pro does not fold, but it doesn't need to. The upright design of the machine makes it relatively compact so it will fit in the corner or along the wall of most rooms. Wheels under the stabilizers make it so you can pivot and then roll the HIIT Trainer when needed, but it isn't designed to be moved around with each use.
---
iFit and Onboard workouts
Pre-programmed workouts
There are 34 pre programmed workouts on the machine that will guide you through various intensities and resistance. The onboard workouts are sufficient to keep you active and provide plenty of training variables. This is a perfect exercise machine for users who want functionality but simple tech. It doesn't have all the extra bells and whistles that many users don't want to pay for.
iFit Subscription
iFit is included free for the first 30 days with up to five profiles. Classes are filmed in a studio with a trainer in front of you and other participants working out alongside. Trainers are excellent at varying your training with both light cardio and intense HIIT classes.
The resistance on the HIIT Trainer Pro is automated, so it will automatically adjust to whatever the trainer is doing. If you are hiking an outdoor route, the Trainer resistance will automatically match the natural terrain of that route — which means you can keep your hands on the handlebars at all times for both safety and conditioning. You don't have to readjust resistance manually (unless you want to — manual controls will automatically override any automation).
There are also hundreds of outdoor classes that are amazing! Many of these are hiking routes all over the world with incredible views. Since the HIIT Trainer foot motion is up/down as well as forward/aft, it feels very natural to follow along on a mountain trail as the trainer hikes ahead of you. We love the outdoor routes in iFit and the 10" touchscreen brings it all to life right in the comfort of your own home!
Bottom Line
The ProForm HIIT Trainer Pro is a great home-use machine that functions as both a stair-stepper and elliptical with multiple handlebars for great full-body conditioning. You can climb, hike or walk along any number of outdoor iFit routes all over the world. We love the varied handle positions. Automated controls also make it so you can keep your hands on the handlebars at all times for both safety and conditioning — the resistance will automatically match the outdoor terrain or preset class routine. Our only issue is we did notice a bit of wobble sometimes during use and this is most likely due to the fact that the flywheel is lifted and centered in the body of the machine. When you really get going, the Trainer may shift a little from side to side — but we didn't notice this every time and it didn't affect the performance of the machine or the quality of our workout. If you are looking for a compact, full-body, low-impact workout, take a look at the HIIT Trainer Pro today! It is great for walkers, hikers, and anyone who loves HIIT training.