Sunny Health & Fitness SF-T4400 is an excellent fitness machine that effectively caters to the needs of an efficient workout session. This entry-level treadmill is superbly packed with basically all the hi-tech features that its competitors hardly match up with.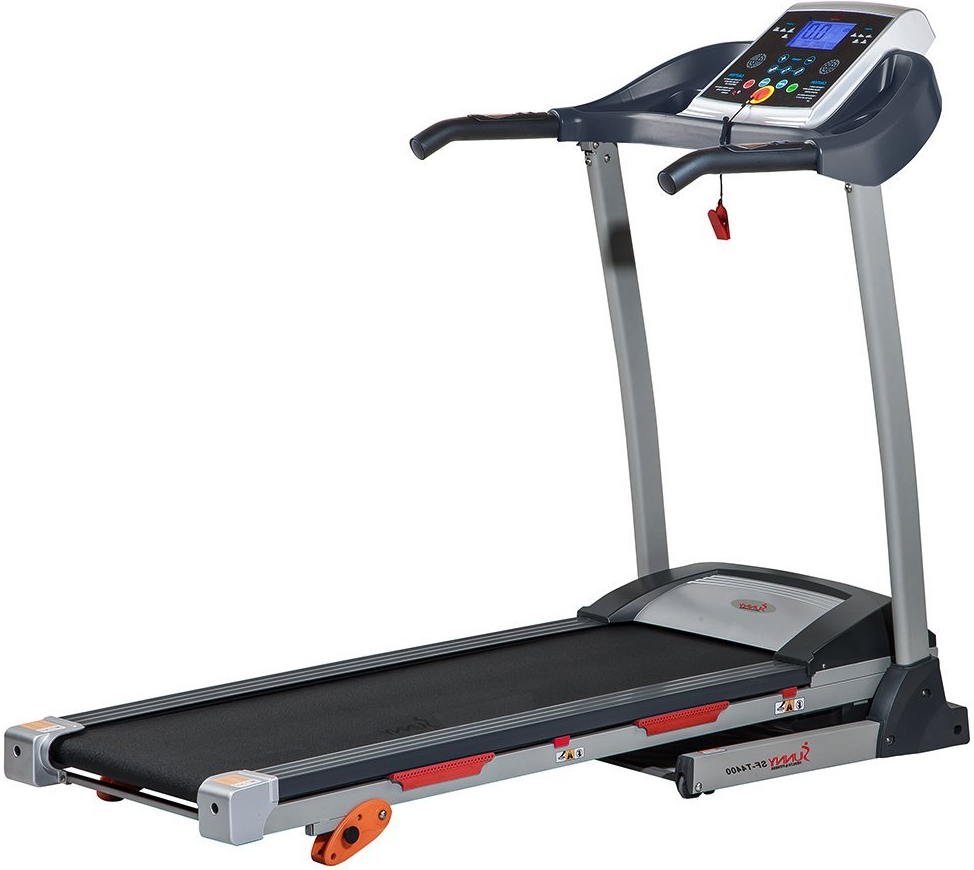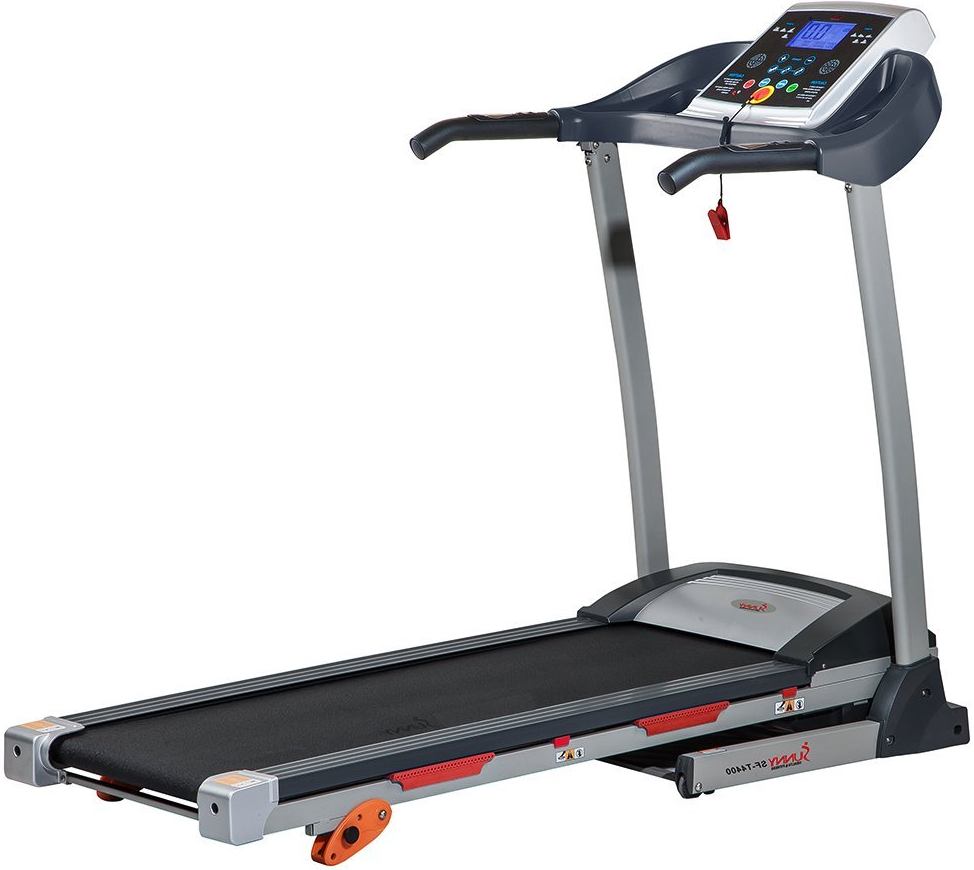 Despite being a low-priced fitness machine, SF-T4400 has a sturdy construction and its running belt is powered by a 2.20 peak HP motor that provides a reliable, smooth and noiseless operation while carrying a maximum weight of 220 lbs. With its wide range of speed options, it makes for a great cardio machine by allowing you to go from 0.5 mph to 9 mph with 0.1 mph incremental adjustments.
It has nine built-in workout programs plus manual mode and is equipped with advanced features like hand grip pulse monitors, handrail control keys, soft drop system, safety stop key, BMI (a measure of body fat) calculator, tablet rack etc., which are not always found on treadmills in its price range.
To further increase your calorie burn rate, SF T-4400 can be manually inclined up to three levels. With its small size and light weight, this treadmill is quite comfortable to be used at small home/ apartment as it doesn't covers up much space. After you are done with your workout session, it can be effortlessly folded and moved for storage with its inbuilt wheels. Lastly, this treadmill comes with lubrication oil and required set of tools for assembly and maintenance over time.
Pros
Provides all the amazing features of high end treadmills without exerting much pressure on wallet.
Folding treadmill with Soft Drop System for hassle-free folding and unfolding every time.
Built-in hand grip pulse sensors are provided to monitor your heart rate in real-time during workout.
9 pre-defined workout programs along with manual mode to help you in accomplishing your fitness goals.
3 easy quick speed buttons, using them you can quickly change from walking, to jogging, to running.
Shock absorption system to allow user to workout longer and feel less fatigue in legs, joints, knees and body.
With built-in controls on handrails you can easily Start/ Stop and adjust your speed.
Equipped with additional features like two bottle holders and media ledge to keep user well hydrated as well as entertained during workout session respectively.
Cons
Like most low-budget treadmills this Sunny model has a narrow and rather short track of dimension 15.75″ x 48.82″ which may create problem for tall user.
The product disappoints with its low weight capacity and shorter warranty of 3 years on frame and 90 days for other parts and components.
To make unfolding process hassle free, this compact treadmill is featured with Soft Drop System. This soft drop mechanism assures when unfolding, treadmill's deck falls down like a feather on a pillow. It prevents loud bangs, pinched toes or fingers as well as damage to your wooden or carpet floor.
Sunny Health & Fitness SF T-4400 comes with an excellent 2.20 hp Peak motor that is specifically designed to save energy with its efficient drive system and can work for prolonged workouts without over heating.
The large easy to read LCD screen displays your workout information in terms of speed, distance covered, time elapsed, calories burned and heart rate.
The SF-T4400 treadmill offers nine preset workout programs in addition to the manual mode which its competitor treadmills lack in. Therefore, SF-T4400 easily excels this part. Moreover, these programs are very easy to understand and have been provided with a printed guidance on the machine for the convenience of the user.
You can easily monitor your heart rate in the real-time with the help of hand grip pulse sensors provided on handrails. Which is far more better for this price range.
3 Level Manual Inclination
SF-T4400 comes with three inclination options (0%, 2%, 4.37%) so that you can you can add resistance to your workout sessions and make them even more effective. But it lacks the functionality to shift through its various inclination modes dynamically. So, you need to get off the treadmill, set its inclination manually and then, you can resume your workout.
The treadmill deck is well cushioned, which reduces the workout harmful impact on your knees, back and joints thereby allowing you to work out longer with less fatigue versus running outside on hard asphalt.
This treadmill comes with a safety stop key which is attached to the body of the user and treadmill's console. This safety stop key feature ensures that treadmill should stop automatically the moment key is disconnected thereby protecting user from potential accidents.
For a smooth and seamless workout session, this treadmill has been equipped with controls in its handrails using which you can easily start, stop and adjust your speed.
To keep your training session interesting, a holder has been provided alongside the LCD panel that lets you securely dock your tablet or smartphone.
SF-T4400 is indeed a space saver and covers less floor area with its footprint of just 27 inches × 62 inches. This is a great thing if you lack workout space or live in small home or apartment. On the top of that, being a foldable machine, you can gain even more of your house space by folding and storing it when it is not being used.

Motor: 2.20 HP.

Incline: Manual Incline.
Speed: 0.5 – 9 mph.

Dimensions: 62″ L x 27″ W x 50″ H.

Folding: Yes.
Running Area: 15.75″ W x 48.82″ L.

Max. User Weight: 220 lbs.

Treadmill Weight: 103 lbs.
Benefits
Sunny Health & Fitness SF T-4400 offers numerous benefits that are definitely worth the price. First of all, this treadmill will keep you away from the harmful effects of sedentary lifestyle and 9 built-in workout programs will assist you in achieving your fitness goals that too at a much reasonable price.
Secondly, its 2.20 peak HP motor with efficient drive system consumes less power and will save good amount on your electricity bills. Moreover, being small and lightweight it can be moved around with ease and is the best choice if you lack on workout space and looking for great cardio exercising machine to tone leg muscles and lose weight.
Final Verdict: Sunny Health & Fitness (SF-T4400) Treadmill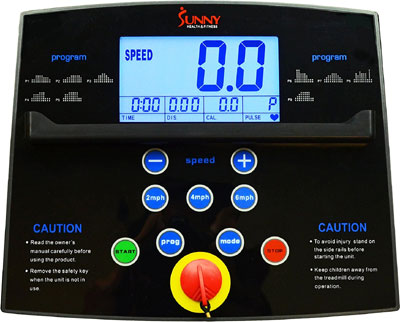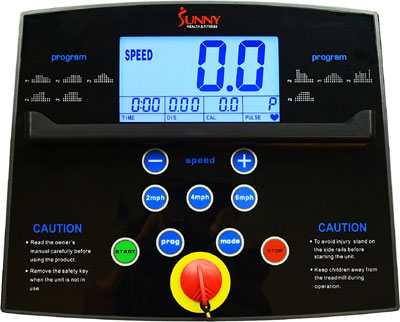 If you are still in two minds and confused whether to choose this treadmill or not. We would recommend you reading this final verdict.
After looking the treadmill in both of its aspects (Pros & Cons). All we would say is, the performance and features offered by SF T-4400 are unmatched that you may hardly find on any other treadmill in this price range. Consequently, you will have to pay more to get those features.
Though it has few drawbacks like low weight capacity of 220 lbs and small running area of 15.75″ x 48.82″. Other than that short warranty of 3 years on frame and 90 days for other parts and components is acceptable considering the price range – after all, if it is free of manufacturing defects, it will last much longer than 90 days, specially when used in home .
These drawbacks aren't going to matter unless you are very tall or weight more than 220 lbs. These drawbacks only make this treadmill a bit less imperfect, but in the end it is really worth the money and doesn't brings a substantial financial burden on pocket.
What We Like?
Available at an affordable price with all necessary features.
Folding Treadmill.
Variety of built-in programs.
Heart rate monitoring.
Comfortable Cushioning.
Safety emergency stop key
Light weight & easily movable.
Compact size.
What We Don't Like?
Small running area.
Short warranty.
Low weight capacity.
Conclusion
If you are an average height person weighting less than 220 pounds and looking for a cheap and compact treadmill to use at home, for a regular and basic usage, you can go blindfolded for this treadmill. With its ease of usability, and the options to choose from its three inclination setting in addition to its nine program modes, it checks on all the essential points a basic fitness machine should have.
On the other hand, if you are obese weighting more than 220 pounds and taller than 6ft or if you already own a treadmill and looking for another treadmill to try out some intense workouts, you must consider treadmills in higher price range. For all of your other fitness needs the Sunny Health and Fitness SF-T4400, being an economic well-engineered unit, is worth considering. It is durable, affordable and a real space-saver that takes care of your fitness needs by fitting in your home quite well.
Related Treadmills Review: 
Summary
Reviewer
Review Date
Reviewed Item
Sunny Health & Fitness SF-T4400 Treadmill
Author Rating